DisneyToon Studios/Walt Disney Home Entertainment (June 14 2005), single disc, 72 mins plus supplements, 1.78:1 anamorphic widescreen, Dolby Digital 5.1 and DTS Surround, Rated G, Retail: $29.99
Storyboard:
The film opens in the jungle just after the scene in the original movie where young Tarzan is wondering where he fits in with his ape family. We pick up the young tyke during a reprise of Phil Collins' Son Of Man song, with Tarzan practising his not so stealth-like skills and causing more commotion than respect among his adopted ape family, especially Kerchak, who still has feelings of resentment and distrust toward the young human. When Tarzan inadvertently puts his mother in danger, he feels he's let the whole family down and runs away, where he finds the mysterious, and supposedly evil Zugor, who unsurprisingly turns out to be simply a warm old grump. But when a dissident group of gorillas, Mama Gunda and her dumb-as-usual sidekick boys Uto and Kago, find out that Zugor isn't as all-powerful as everyone thought, the young boy must prove that he is ready to grow up and take responsibility for his actions…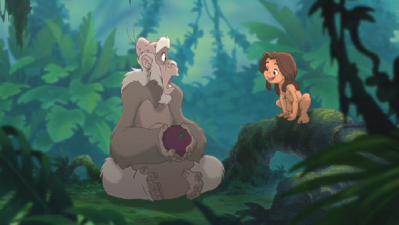 The Sweatbox Review:
In 1999, Disney's take on Edgar Rice Burroughs' legendary – almost mythical – tale of a man reared in the jungle by apes was a box office and critical smash hit, perhaps not on the scale of the earlier 1990s features Aladdin and The Lion King, but certainly the most successful release the Studio had seen in some years and undeniably the kind of entertainment for which Disney had become synonymous. So, naturally, we got a spin-off TV show, plus a direct-to-video offering that served to keep the Tarzan machine ticking over, though it wasn't an official sequel in name or design.
Now, six years after the debut of the vine swinging hero, not to mention Disney's groundbreaking Deep Canvas technique (all but now forgotten in this complete-CGI day and age), we get what is apparently a "proper" sequel, though the oft-used term "mid-quel" might be better to use, since it follows the footsteps of other Disney DTVs in expanding a section of the protagonist's younger lives to create new stories hitherto untold. In the same way that The Enchanted Christmas elaborated on the Something There sequence in the original Beauty And The Beast, and how the upcoming Bambi follow up will fill in the missing (and unneeded?) scenes between the death of the young deer's mother and his "twitterpated" growing up), this new Tarzan adventure sets out to do pretty much the same, and fill in the blanks from back when Tarzan was a young boy trying to find himself.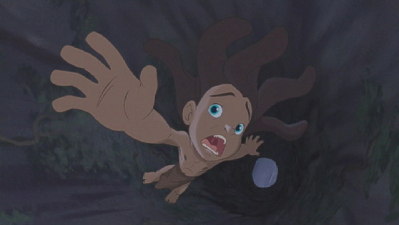 The original Tarzan feature was brilliantly adept at imparting a lot of information in highly visual montage sequences that served the story well and moved things along at the same time. In fact, there's no scene more economic in Disney films than the opening, which explains the background of Tarzan's parents in three short minutes. In comparison, and even with its slim plotline, Tarzan II for the most part does a pretty good job at mimicking the style. But without a clear-cut villain, or any real danger (we all know Tarzan will live and grow up to be the complex adult in the original film), this latest addition merely expands on a concept that is usually glossed over in the original films of this kind for a reason.
However, I caught my viewing of Tarzan II with its target audience: a bunch of kids, who for the most part sat and watched the story unfold patiently. There were a few scenes of restlessness (funnily enough, the more emotional scenes that I liked most), and most of the kids either asked where Jane was or when she was going to come into the film. One or two were surprised when it finished and the ape-man had not grown up. Granted, they were young, and probably didn't really take into account that this movie was just about Tarzan's youth. Both films open with very similar title treatments, and it has to be said that for the most part, the feel and tone of Tarzan II is good as its predecessor.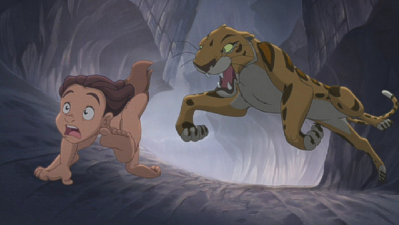 But there's none of the complexity of the first film's multi-layers and clever use of visual storytelling. After a well-staged and suspenseful opening, the film retains the original's ambitions until the "plot" kicks in and we meet the new comedy characters, with those comedic aspects very much brought to the fore (the back jacket even goes so far as to announce the film as "hilarious"). Much of this is down to the voicing of comic George Carlin (the Bill & Ted movies, as well as several near-the-knuckle adult stand-up shows) and the played-for-laughs relationship of Estelle Harris' Mama Gunda and her two gorilla sons. I don't really know Carlin as a comedy performer here in the UK, but he gives a heart-warming reading here, which surprised and impressed me. As for the new gorillas, well these comedy villains come off more as misguided rather than truly evil and, while amusing, adults will find the lack of real drama (as opposed to simplified tension brought on from some implied, but ultimately empty, danger) disappointing. Though my audience friends enjoyed it to a point, I must say that I was hoping for some more depth, and I got the impression that the kids were too!
We didn't really feel we got our full fill of Tarzan, as the lack of adult Tarzan means not only less dramatic scenes, but also, in a funny way, less action, since the young Tarzan is still learning the ways of the jungle. It's all played with more of a jolly comedic slant, though the gags and performances don't grate with the tone of the lushly staged original (apart from Rosie O'Donnell, of course, and even she was kept in check)! Here the new voices are pretty close to keeping everything sounding right, with Harrison Chad as Tarzan and Brenda Grate filling in for O'Donnell especially good at aping the originals. Even better, and reminding us of the heart the first movie had, is Glenn Close, reprising her role as Kala, Tarzan's adoptive mother, really bringing the movie to emotional life where it otherwise struggles to make any long-lasting impact. Lance Henrikson, as head of the group Kerchak, also returns, but only in a thankless and fairly redundant role.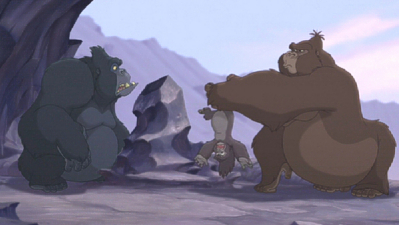 The animation on the whole could easily be mistaken for some of the scenes in the original (indeed, an added featurette includes such scenes and it is hard to see a difference), but every now and then there is an uneasy mix of the good and the TV-level. At some points, it reaches the almost-feature quality that the DisneyToon unit have been striving for in releases such as The Lion King 1½ and next year's Bambi And The Great Prince. There's even some background stuff here – the waterfall climax especially – that mimics the Deep Canvas look (but that I think is texture mapping rather than Deep Canvas itself) that really helps tie in this new film to the original, even at around a quarter of the budget.
On the other hand, however, some characters (and strangely it is a random bunch of characters that are the problem) seem drawn in the style of the TV spin-off The Legend Of Tarzan, which doesn't do the overall style any favors at all. Whereas most of the characters are made up of fine, individually colored ink lines, there are one or two that seem to be painted in one outline of the thick black variety found on the Disney TV shows. What gives? Beats me, but it occasionally jumps out and doesn't entirely sit pretty. There also seems to be a lack of enthusiasm in these animated scenes, but again, and strangely enough, such a character can be sitting in an otherwise beautifully rendered shot, with other characters that have been painted properly. But again to be fair, it has to be said that the lip-synching is bang on, and surely the result of the animation being primarily handled by the naturally English-speaking Aussie animators rather than having the shots farmed out to the cheaper Asia facilities.
Director Brian Smith keeps the pace going, though the initial pleasing moment I had when the cover listed the run time at 72 minutes was shattered when the film came to an end at just over the one-hour mark (the action clocks in at 64:30), with a long scroll of end credits filling out the length, and only then to 71 minutes (hey, where's my missing 60 seconds??)! At this duration, there shouldn't be any problem filling out the time with plot, of course, though even then it feels sketchy. The opening Son Of Man reprise could have simply done with being its original length, rather than the cut-down version we get here with two really bad sound edits that also mess up the lyrical rhyming scheme. That sets up – pretty early – the fact that this is, for however great it looks most of the time, just another DTV movie, and not something so special after all.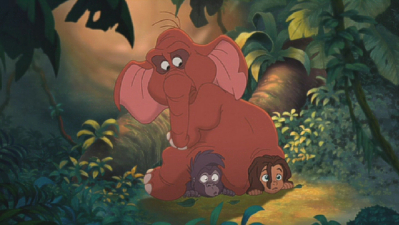 Of the other songs, Phil Collins has returned to fill out the movie with a couple of newbies: the bouncy Who Am I? being the standout track. While both of these are of the usual Tarzan/Brother Bear style he is famous for, and which worked very well to both those films' advantage, one can't but feel that perhaps these might have actually been written for, and may pop up in, the upcoming Tarzan Broadway stage show rather than specifically for this release (though it does make good copy on the cover!). He sings them again as indications of how the characters are feeling, their thoughts and emotions, and to be fair its often when this film truly comes alive and offers a peek at what might be a much better sequel trying to burst through. The score, by returning composer Mark Mancina, here joined by David Metzger, is as integrated as the original, often helped by using some of the memorable themes, especially You'll Be In My Heart, which ties things together nicely.
Fans of Tarzan – both the 1999 Disney version and of the character and original stories – may well be disappointed that the ape man's story has not been developed for a true sequel. The second half of the original book had Tarzan coming to London and exploring his family roots, but I guess that would have meant too much pre-production, more expense in designing new characters and the city itself, and would have negated the very lucrative reason these films are made in the first place. Why bother with telling a better story when the Studio can put out a substandard tale, told in bright colors and decent enough animation, which will probably end up taking just as much money? Cynical? Probably, but then so are most of these DTVs. Tarzan II, while feeling a little like a "by the numbers" production for its 60-minute run, is enjoyable enough, but the high list price might make this one a rental at best.
It just so happens that I am completing this review just as news has broken that Disney intends to shut down the DisneyToon Australian studio that has toiled away at such films as these, often under scrutiny and unfair automatic dismissal from Disney fans. True that the older classics should have been left alone, and true that even the recent films have their stories nicely wrapped up by the end of their runs. But it has to be said that, over the 20 or so years this studio has been running, their animation has come on leaps and bounds, and has approached feature quality, with such films as Return To Never-Land, The Lion King 1½, the upcoming Bambi and Lilo And Stitch sequels, and here with this Tarzan follow-up. It's such a shame that these obviously burgeoning talents will not be allowed to continue to flourish in this way and perhaps be rewarded with their own, first-run, traditionally animated feature that could have seen a return to such fare for the Mouse House. As such, the lip-synch that I mentioned above will be replaced with the bog standard "open and shut" style that is usually associated with television animation, since Disney will now start to outsource its DTV requirements to the "sweatshops" of Asia. Of course, this is a purely monetary decision, though it is such a shame that Disney once again seems to be blind to the fact that it has one creative output left for the type of entertainment that built the company, and that will soon close, after completing sequels to Brother Bear and another (again unneeded) Cinderella.
Stick around, at the end of Tarzan II, for the debut of the new DisneyToon logo, in which Mickey Mouse appears and paints the studio's name. Though this "brand" will no doubt be slapped on to the next generation of (cheaper) Disney product, it will certainly not stand for as much quality.
Is This Thing Loaded?
A far cry from the 2-disc sets for the Lion King sequels, and not even of the shallow depth of a Jungle Book 2 or Lady And The Tramp II, this latest cash-in only presents a limited number of limited supplements. Going the FastPlay route, which turns interactive DVDs back into VHS styled programs, the disc plays a selection of previews, the main feature and video based extras. Choosing the regular DVD option is the way to go, since it takes one to the main menu, where the Sneak Peeks can be accessed along with more titles. This time around, we get looks at the theatrical Chicken Little, plus upcoming discs Cinderella Platinum Edition, Lilo And Stitch 2: Stitch Has A Glitch, Pooh's Heffalump Halloween Movie, Kronk's New Groove, Bambi And The Great Prince Of The Forest and an awful looking Power Rangers series extension.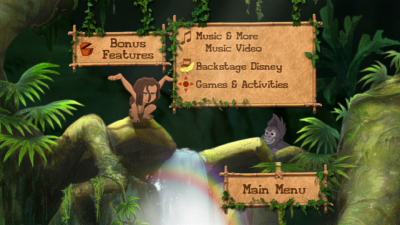 Going into Backstage Disney, we find the only real supplement of note: the full-frame Bringing The Legend To Life, a strange title for a making of featurette on a film that has little to do with the actual Burroughs original legend. Running just over five-and-a-half minutes, writer-director Brian Smith (of one of the worst Disney DTVs, Little Mermaid II, and one of the best, 101 Dalmatians II) talks mainly about working with the voice cast. He's joined by one of the film's producers (emphasizing the importance that Disney places on their execs) who somewhat laughably looks like bags of fun to work with (yeah, right!) and only pipes up once in the clip. Singer-songwriter Collins shows up in his recording studio, if only to tell us how pleased he is to be returning, while most of the piece is made up of clips from the 1999 original and the new film, which do at least go to show how styles were actively being carried across to the crew's best ability. A short but packed piece, and one that focuses on the voices and songs for a change, there's even time to touch on Tiffany Evans' pop version of one of the tracks.
Next up is the Pop-Up Trivia track that plays during the movie, for the entire feature's length. Mainly offering up general facts and fun on the animal cast, this can't really be described as enlightening, but does provide an alternative way for kids to watch the film, though the very sparse nature of the track can often make one forget it is switched on! In Games And Activities, we get the Gorilla Grumble game, a five-round memory challenge, and Terk And Tantor's Jungle Guide, which presents the duo's take on twelve of their jungle-dwelling friends. The "facts" themselves are fun, since Terk and Tantor don't really know what they're talking about, but a more knowledgeable narrator is able to set things right at the end with the true details. The clips add up to around eight-and-a-half minutes or so of material.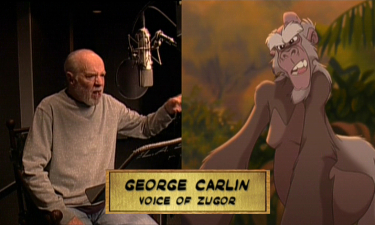 Finally, and as close to promotional materials as we get, is a Who Am I? music video performed by Tiffany Evans, seemingly another of the Mouse House's inexhaustible supply of young female knockout vocalists. Possessing a mature voice beyond her very young looking years, Evans belts out Phil Collins' new tune for the movie with gusto, but lacks the true emotion that an older singer might bring. The lip-synch was the main complaint for me here, but that could just be down to hearing such an amazing voice coming from such an unexpected source. I wouldn't be surprised if we don't see Evans turn up on The Disney Channel soon in her own spin-off show, and this is typically well produced, with a video that shows off her dance moves too, even if it does feel too super slick. Presented in full-frame, it runs just over three-and-a-quarter minutes and rounds out the slim but adequate extras presented here.
Case Study:
As with most of the Disney DTVs, and in a bid to make them more collectible, Tarzan II comes with a shiny, foil-printed slipcase, which again does little other than to re-print the cover's contents on cardboard. An insert lists the bonus features on one side and the chapter stops on the other, while a coupon booklet once again will opens kids eyes to other stuff they "must have", while offering their parents a few bucks savings on those items.
Ink And Paint:
Making up for the shortcomings in the storyline, the image presented here is absolutely spotless, surely as the result of a digital transfer, which predictably fills the entire 1.78:1 anamorphic widescreen frame. Once again, and as with many DTVs, the image is perhaps a little more "lighter" and brightly colored than the multi-textured look of the theatrical original, though a little contrast tweaking on my display made things look better and more film like. There's not much more to be added other than to say that Tarzan II looks as good as it should do considering it is computer-painted animation made within its DVD release year and, with a short running time, has plenty of space to breathe on the disc.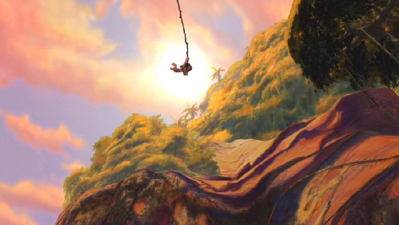 Scratch Tracks:
Perhaps in an added attempt to lure in home theater junkies eager for their next taste of ear candy, pumping DTS tracks were once standard options on the Disney DTVs, and I'm pleased to say that the choice returns here. The Dolby Digital mix isn't too bad either, and both made me sit up and take notice! Whatever else one might level at Tarzan II, the quality of the image and the loudness and depth of the soundtrack will not be among the complaints. A rip-roaring affair that, had the film offered just a little more in the way of sonic surround usage, would be a new standard for direct-to-video mixes. The DTS track offers a bit more range, and is well up there with the average theatrical feature soundtracks. A 5.1 French track and English subtitles are also included.
Final Cut:
Absolutely by no means the lowest of Disney's DTV sequel releases – that's still a toss up between Cinderella and Hunchback – this new Tarzan doesn't really do much for the audience, or to enhance the original movie. Much better would have been a direct sequel, with Tarzan going off to London. So what if it had been done in Pocahontas' lame follow up (anther contender for worst DTV)? It would have certainly stuck more to Edgar Rice Burroughs' original intent – something that the original film did surprisingly well. Aimed much more directly at kids, and dumbed down as a result of that, I was hoping that a Tarzan III would come along and redress the balance, but the news of the Australian crew's employment status seems to have put paid to that notion.
It's a sad day indeed when the department responsible for franchise extensions is one of the last outposts of traditional animated filmmaking, and worse still that we should end up lamenting its closure – and at Disney of all places! With only a handful of releases to come, the studio seems to have been cut off at its prime, with the upcoming Bambi And The Great Prince even applauded by current animation legend Andreas Deja. Of course, that doesn't justify such films being made in the first place, but does point out the drastic change of perception of these guys going from making "cheapquels" to actually churning out decent animation under tight time and budget constraints. $30 is still a lot to pay out for just over an hour of entertainment, especially with all the competition out there now, but Tarzan II is surely a look-see for Disney fans, and perhaps a rental is advised first to see if you think it's worth adding to collections. If anything, it will remain a reminder of where the DisneyToon team was headed.
Animated Classic or Back To The Drawing Board?