DisneyToon Studios (November 15 2004), Walt Disney Home Entertainment (February 1 2005), single disc, 79 mins plus supplements, 1.78:1 anamorphic widescreen, Dolby Digital 5.1 Surround, Rated G, Retail: $29.99
Storyboard:
Released internationally last fall (as Mulan-with-a-number-2, strangely), this new instalment picks up as Mulan and her handsome fiancé Shang prepare for marriage. Handily enough for story purposes, a loophole sees them both recalled to the Chinese Army, where the Emperor declares them the only ones he can trust to escort three princesses across the country to the opposing Mongol borders, where they will marry and create a union between the two sides. This is not-so-good news for Mushu, Mulan's guardian dragon, who has found his position will be relinquished when Mulan herself marries Shang, and so vows to break them up. Joining them on their mission are Yao, Ling and Chien-Po, who provide their own brand of "security". Along the way, Mulan's feelings that the arranged marriage goes against the wishes of the Princesses' true hearts are confirmed when they begin to fall for their three guards. But destiny will not disappear just like that, and soon the group must team up to pass through an enemy mountain route, which seemingly leads to tragedy. Mulan must then take it upon herself to complete the mission, ready to sacrifice herself for what she believes in…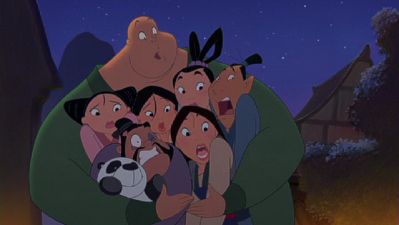 The Sweatbox Review:
The Disney "tradition" of sequalizing its most treasured (read: profitable) properties continues with their latest direct-to-video follow-up, Mulan II, and while the Studio has decided on another Pooh movie to fill their annual mid-February theatrical slot, Mulan II could have been a better bet, with some of that famous Disney tweaking.
Though not much can touch the power of a Pooh, those movies resemble more and more a string of TV-grade episodes, strung together to form a feature-length outing, but Mulan II has more than that – good quality cartooning of the mid-level type, which does a decent enough job of aping, if not reaching, Feature Animation standard, and a running time which surpasses the usual 66-minute length that places such endeavours firmly in the destined-for-TV movie category.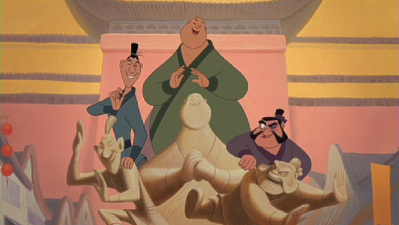 With that longer run time, the story and characters get a better shot at development, though certainly bowing to the sequel law of diminishing returns. Mulan II manages to be good fun, while not stepping on the more epic toes of the original. Part of the reason it doesn't build on the first film is down to the occasional moments of déjà vu and the nature of DTV sequels that trend to stay within the "safe" confines already established by the first film. What lifts Mulan II above this are the various flashes of originality (the I Wanna Be Like Other Girls number is a high-point) which do lend the film its own sense of being – but it is interesting when the first really good bit is a reprise of one of the songs from the original!
Added to these pros is the returning voice cast, joined this time by Lucy Lui, among others, as one of the Princesses, and Eddie Murphy stand-in Mark Moseley doing a game job of impersonating Mulan's ancestral guardian Mushu. His comic timing is not quite as spot on as Murphy's, naturally, and though he just about pulls it off, the absence of Murphy is what makes the difference between a DTV and full theatrical release. The voice differences shouldn't affect the perception of the film, however, and Moseley's performance here is more than suitable.
Also filling in for a missing contributor to the original is Mr-Disney-sequel-composer Joel McNeely, picking up the baton for legendary composer Jerry Goldsmith following his long fight against cancer and recent passing. As with the film itself, McNeely's music doesn't quite reach the heights of Goldsmith's Oscar-nominated, epic original, but it pushes all the right emotional buttons, especially considering that, due to the nature of such projects, he is unable to use melodies from Goldsmith's score. He comes very close more than a few times, which helps evoke those original music cues, though that one of the playful love themes sounds very reminiscent of one from West Side Story did keep pulling me out of the lovey-dovey business that was going on on-screen.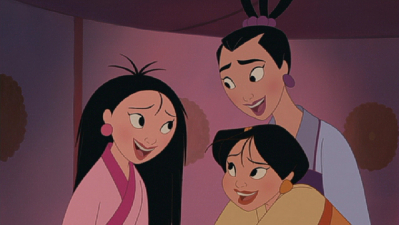 Integrated well enough into the score are several new songs, all of which do their job, even if they don't tread any new ground. If there is anything "wrong" with Mulan II, it's that the whole endeavour is overly simplistic, especially in following such an epic and fairly multi-layered first film. Everything from backgrounds to crowd scenes and especially the script, does feel extremely lightweight, and the lack of a villain (or any opposing forces for that matter) really doesn't help build a substantial story.
Mulan II sets out to expand the Mulan legend, but stumbles under the lack of a big budget and story depth. The whole thing, while perfectly adequate and aimed squarely at young girls, simply seems rather "small". Director Darrell Rooney has managed to make more of what he's been given to play with before (as with Lion King II and Scamp's Adventure), but here I think the unsophisticated, stretched out story line has gotten the better of him and he has trouble finding anywhere to insert a set piece or major action sequence. Cost cutting techniques, particularly animation cycles and "crowd control" (why have hundreds when you can get away with a handful?) are all too apparent, and even the mountain fight comes and goes all too quickly. The off-again/on-again status of Mulan and Shang's relationship gets pretty irritating as well, and is indicative of the frustrating nature of the movie itself – somewhere beneath the surface there's a bigger, better film itching to get out!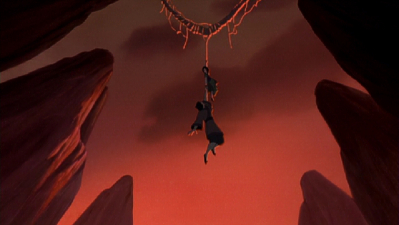 Animation-wise, Mulan II doesn't quite stretch to the almost-feature quality of a Return To Never-Land or Lion King 1½, but easily aces such duds as Hunchback II and Cinderella II. Characters are on model throughout, and there are the odd touches that remind that even a secondary, made-for-the-money Disney product such as this is still a cut above the rest of the mass-market animation world. As it is, Mulan II will be another middle-of-the-road hit for Disney DVD and its none-too-ambitions aspirations will satisfy the target audience of young girls.
Is This Thing Loaded?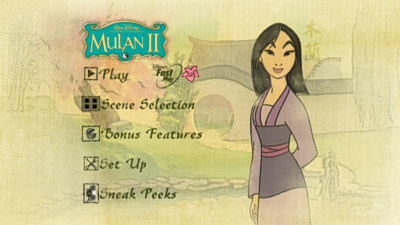 Not the suspiciously light 2-discer that has graced recent Disney DTV fare, Mulan II satisfies instead with a single disc release that, as with the film, plays like a continuation of the original's recent deluxe package release (even utilizing the same Goldsmith score cue for menu transitions). As with most Disney discs, the program kicks off with a handful of Sneak Peeks, also accessible from their own menu, including extended looks at Bambi, Pooh's Heffalump Movie, Lilo And Stitch 2, The Incredibles and the Disney Princesses lines. The Fast-Play option runs a selection of these, plus the main movie and video-based bonus features in one sitting. And speaking of which…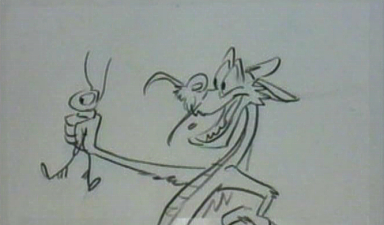 First up in the bonus section proper is a bunch of Deleted Scenes. After a fun intro and the pre-requisite "these are just pencil drawings" talk (which auto plays if one selects the Play All option), we get four clips – all of which demonstrate yet again that the DTV crowd can be counted on to remove the more ambitious moments of their films before they enter final animation – moments that, as usual, would have made their film instantly more epic! Best of all is a lengthy opening battle sequence that, even in storyboard form, puts all of what is in the eventual film to shame! Together, the clips add up to just less than 12 minutes of material.
Next is the two-and-a-half minute I Wanna Be Like Other Girls music video, supposedly featuring "pop sensations" Atomic Kitten, though the trio of babes are nowhere to be seen here, since their end-credit pop version of one of the film's songs is completely covered up by clips from the film.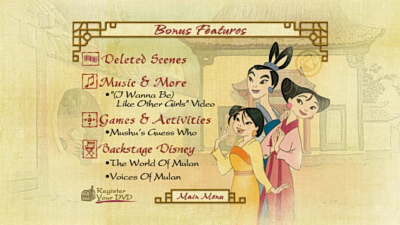 Mulan's Guess Who is a simple choice selection game that is easy to play, but doesn't offer any reward, while much better is The World Of Mulan, a series of three featurettes adding up to around seven minutes of material, including Mushu's introductions. Covering the Yin And Yang, Legend Of Mulan and the Food Of China themes touched on in the movie, these clips don't really qualify in their Backstage Disney position but do offer some limited information as well as a fun "surprise" feature which reveals which animal one is in Chinese New Year terms.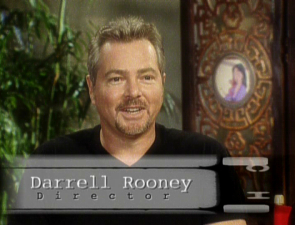 Finally, Voices of Mulan is a very brief, but very packed, three minute look at the voice cast, glossing over Murphy's no-show, but featuring soundbites from just about everyone else. The closest anything gets to a behind-the-scenes peek, this one just about cuts the mustard, though as with the main movie, the extras on the whole feel very light.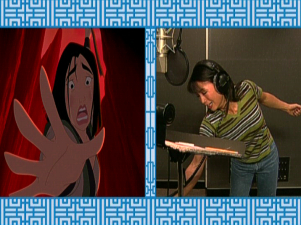 Case Study:
Again following in the footsteps of its more illustrious predecessor, Mulan II comes housed in slipcase packaging over its standard keepcase cover. Inside is a chapter index card, a chance to win a Disney DVD library, and a savings booklet that also promotes other upcoming product such as the Bambi Platinum Edition and Disney Channel's Kim Possible series.
Ink And Paint:
The image is presented in what looks to be an originally created ratio of 1.78:1, completely filling an anamorphic widescreen display. As with most DTVs and their inherent digital transfers nowadays, the image seems too bright and clinical, adding to the bland look of the artwork. It seems that Disney's home video-aimed films do have a lighter, simpler color palette, most likely brought on by budget cuts, but their conversions to DVD often mean no deep lighting and an image that feels too clean and washed out. I tried turning my contrast up and the brightness down and got a much more "theatrical" look, which really does help the production value. Perhaps instead of being too bright, the folks at Buena Vista could do with adding a little "mood" to their DTVs in future! One note: I did notice some definite issues with some of the deep reds in the film, most notably the end credit cards, which seemed to be more than a little over saturated.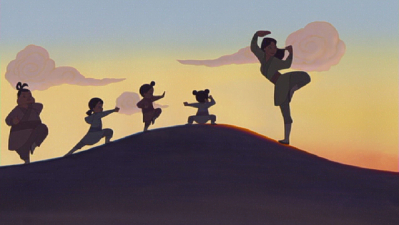 Scratch Tracks:
Presented in good old Dolby Digital 5.1, the mix is as lively as the film's narrative will allow. There's not much action this time around, but voices and especially the musical score do sound excellently reproduced. Unusually for a direct-to-video title, there's no DTS track to get stuck into (how come?) but the French and Spanish language dubs are as professionally rendered as one would expect from the Disney Company. Punching the bass up a little revealed a robust, if not exemplary, track.
Final Cut:
Everything an intelligent follower of the Disney sequel trend might imagine is exactly what Mulan II ends up being: a rather insipid film that is perhaps so weak in itself that it does not have the power to do anything that could really tarnish the original. Better than average DTV animation, a couple of nice moments that could have been expanded to help extend the scope of the picture, and a score that confirms that Joel McNeely really should be getting better gigs, audiences will find that Mulan II fills a gap that no-one really knew was there to begin with. Fine, competent filmmaking (even if it is for the wrong reasons), and sure to appeal to young girls, Mulan II is little more.
Animated Classic or Back To The Drawing Board?