Budget Monks Productions (2001-2004), DVD Released in 2004, 4 discs, 700 mins plus supplements, 1.66:1 letterboxed widescreen, Dolby Digital 5.1/Dolby Stereo, Not Rated – Contains Mature Content, Retail: $39.99
Storyboard:
In the quiet corners of the globe, four strangers receive a message… And so begins a personal yet epic story, told in a unique blend of animation and comic strip storytelling. Each of these strangers has a chilling vision connected to a great tragedy in the future. Each person is affected in different ways. As the story progresses, the four strangers come closer to the truth, and closer to each other.
The Sweatbox Review:
There is something wonderful about being a DVD reviewer. Sure, lots of you are thinking, "Yeah, free swag!" True enough, but the really great thing is that I am often called upon to take a look at something unique— maybe even something that I never would have otherwise checked out on my own. Some of it may be generously termed mediocre, but once in a while a DVD comes along that has the ability to pick you up out of your comfy chair and hurl you into a bold world of thoughtful imagination. Such a DVD is Broken Saints.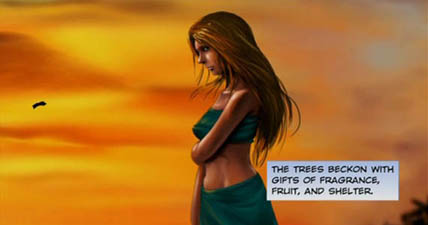 Broken Saints is essentially an animated comic book with sound, with skillful use of computer technology and a fascinating script. Writer Brooke Burgess, a former employee of games publisher Electronic Arts, is responsible for the story. Burgess is an interesting fellow, having quit a good-paying job at EA before traveling to the South Pacific for a few months. When he returned, he had the notion for a story that would hit upon a number of themes that were important to him. The story would include religious references, as well as commentary on geopolitics and multinational corporations; but most importantly the story would carry a humanitarian message.
Just as his creative juices were flowing, he met up with old friend Andrew West, a talented young artist. They had earlier discussed the notion of doing a comic book together, but both were now interested in doing something special. West offered to introduce Burgess to computer genius Ian Kirby, who had been teaching himself complex computer graphics programs since he was in his early teens. Kirby had become tremendously proficient at these programs— particularly Flash. Once Burgess saw what Kirby could do, the decision was made to put the comic on-line. They added to their mission the goal of producing a new form of entertainment whose quality could go far beyond what was normally viewed on the Internet. They knew that current technology, as well as creative talent, could offer much more than hollow commercialism and potty humor.
They partnered with Kirby's employer— Switch Interactive— for the production of the first few chapters, and the story debuted online in 2001. And it was all done for free, with the trio largely working out of a basement with no immediate potential for reimbursement.
So why do it for free? The story Burgess envisioned was so important to him, and he had such a strong desire that people be able to access it so that it could affect their lives, that he did not feel it was right to charge anyone for it. The website, BrokenSaints.com, would also never accept advertising. The message of the site was intended to be pure and free of commercial influence. Fans responded, with the site gaining many millions of hits, and a core base of over 20,000 fans worldwide.
The story and the artwork also captured the attention of numerous journalists, who wrote articles for magazines and websites in both niche publications and the mainstream press. Broken Saints became an even greater hit.
The story finally saw completion in 2003 with the online publication of Chapter 24. The creators still had dreams of seeing their work in different venues, which led to the deal for a computer game based on the series, as well as a grant from Telefilm Canada to allow them to re-do some of their work and prepare a new soundtrack that would add dialog and 5.1 sound for a DVD release. They still ran short of money, however, and had to hold benefit concerts to make up the difference. The DVD is now out, though, and it is a sight to behold.
When I first started researching Broken Saints, I figured I would try to attach a catchy name to the new form that the threesome created. Since they were working out of Vancouver, and the art seemed to be inspired by Japanese anime styles, I coined the term…. (wait for it)… "Vanime". (Catchy, eh?) But then I watched Broken Saints and was a little ashamed of myself. This work of art is so beyond trendy nicknames that it truly deserves the term that I later found out Burgess had coined: cinematic literature.
Broken Saints was produced as a serial, and as such the four discs in this set contain 24 chapters. The running time of each chapter varies greatly. The first few run about ten to twenty minutes, while the final chapter's run time is well over an hour. The longer chapters are divided into Acts that are individually selectable from that chapter's menu. All together, the story runs about 700 minutes.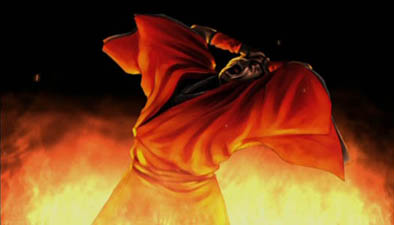 In the quiet corners of the globe, four strangers receive a message.
Shandala, a white girl who was adopted by a tribal family on the Fijian isle of Lomalagi years ago, becomes sick and is nursed to health by her father even as a sense of darkness begins to pervade her paradise home. A mercenary in an Iraqi bunker, named Oran, becomes delusional and strikes out at his friend. Kamimura, a Japanese Shinto priest, never seems the same again after his horrifying vision of a dark city, and he persists in a dreamlike state. Raimi, a jaundiced software engineer in Coast City, USA, has his vision while poking around his company's files to find out why he was taken off a project; after his vision, his illness is temporary but he becomes determined to find out exactly what his vision meant.
The first disc's chapters, eight in all, introduce us to the characters and show us their visions. By the last chapter on the disc, events are set in motion that will see the four eventually come together. Shandala meets a mysterious young man who promises to help her discover her past. Kamimura guards a mysterious treasure while hoping to solve the mystery of the "dark city" seen in his vision. Oran goes into the dessert, where he will eventually be picked up by NATO troops and brought to the U.S. Raimi has another vision that yields more clues.
The next chapters concern the personal journeys of each of the main characters. Their individual stories take precedence, but there is also the ongoing intertwining mystery of their visions. Raimi gets a peculiar promotion that brings him into contact with another of the characters, and the other two follow paths that lead them closer to the others. All the time, there is a sense of foreboding and eeriness. The conclusion of the second disc sees events come into focus as a grand conspiracy is revealed. The interests of several technology firms and the military apparently are connected in a horrifying way.
By the time the third disc has been viewed, the viewer has become aware of two mysterious figures overseeing events. The mystery only deepens, however, and as the four characters finally all come together the question remains what they are all going to do about it. The fourth disc naturally centers on the resolution, as all is revealed, difficult choices are made, and the story's greatest themes come into evidence.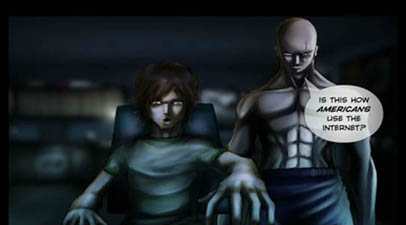 Each episode opens with a vignette that helps to set the mood for that section of the story. These vignettes are often homages to various screen productions, such as The Prisoner, Brazil, or the more mainstream The Wizard of Oz. Quotes that highlight the ideas of each chapter are also included, and are taken from a variety of sources that include comic scribes Neil Gaiman and Alan Moore, and classic writers like J.R.R. Tolkien and Lewis Carol, and many more.
As mentioned, this was done basically as an online comic, so there are captions and word balloons on-screen. The actual animation is cleverly done, avoiding the trap of simply sliding objects back and forth all the time (though that happens too), and utilizes various dissolves to aid the illusion of movement. Even though there is little in the way of what would be termed character animation, there is plenty of effects animation to liven up the visual presentation. Flashes of light, animated graphics, and simple object animation maintain viewer interest. This technical direction by Ian Kirby is actually stunning in its creativity. One has to see it to really appreciate it.
I also have to say that I was very impressed by the artwork. Andrew West obviously grew a great deal as an artist during the progression of the series, as evidenced by what the original version of Chapter 1 looked like (as seen on Disc 4). I'm glad he had the opportunity to tweak his art for the DVD, because overall there is now a fairly consistent level of draftsmanship present. Any occasional lack of polish is more than made up for by the dramatic posing, solid storytelling with dynamic staging, and a startling array of drawing styles that blends beautifully. This is the work of a true artist who uses a variety of techniques to contribute to a design sense that evokes comparisons to anime, Frank Miller, Joe Quesada, magazine illustrators, and countless others. Rather than coming off as too eclectic, the effect is that West brings the very most out of the script at every opportunity. It is scary and wonderful to think what he might accomplish once this young man continues to mature!
Some readers may be put off by the notion of an "animated comic book", but please put those prejudices aside. Consider that a novel allows the greatest amount of reader participation, since the reader must create every image in his or her mind's eye, while watching full animation is a largely passive if enjoyable endeavor. The beauty of comics is that one can enjoy terrific artwork while still being allowed to complete the picture in one's mind, even while absorbing the meaning of the printed word. Even with the voice work that was done for this DVD, the limited animation gives the viewer time to dwell on the ideas being presented, and to focus on the words that remain on-screen while a person is talking. Broken Saints is about ideas, after all, and the words here have a greater significance than any amount of acting. One would not want to see a book of philosophy or spiritual teachings animated— the words would become overshadowed by motion and activity; and so it is with Broken Saints.
The narrative style that is often used here allows the characters to muse philosophically in a way that encourages the viewer to enter into a silent dialog that explores the complex themes of Broken Saints. Watch this series with the house quiet and with an open mind for the best effect.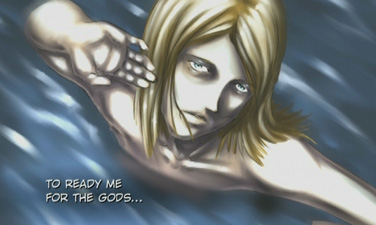 This is a challenging but exceedingly rewarding piece of work for many reasons. On its simplest level, it a well-crafted mystery that offers new clues just as more questions are raised. One must pay attention to each chapter to gain the full effect of the ongoing developments. As a mystery, it is engrossing and extremely interesting.
On another level, it functions very much like poetry. Ideas are presented, in both dialog and narration, that are beautiful in their language and daunting in their content.
For me, the biggest test of any production is whether or not I get "tingles". If a work attempts to be profound or affecting, I expect and hope to have an electric shock jolt up my spine in a singular moment of nirvana. I do not know if you know what I mean, but if you ever experience those moments, you know that they are a fantastic indicator of greatness. I get it when I watch Superman: The Movie, The Iron Giant, and It's a Wonderful Life. It is usually accompanied by tears, as my brain attempts to comprehend just how perfect a moment it has witnessed. As the conclusion of Broken Saints drew near, I began to wonder if it would happen for me this time. I began to doubt, as the minutes elapsed in the final chapter. I could not see how the story could end in such a way to evoke that almost spiritual reaction. And then… a simple moment of brilliance brought me what I had been seeking. My twelve hours of viewing were rewarded with a splendid tingle that arose from my lumber spine and shot up into my cerebral cortex. Aaahhh… that's the stuff. Well done, boys. I got my tingles, and a tear or two. Thank-you.
Is This Thing Loaded?
It should first be noted that this is a Region 0 release, which means that anyone in the world with a DVD player should be able to play these DVDs.
One thing I liked about the handsome animated menus is that they display the runtime for each disc as well as the individual chapters, which made it easier to plan how much time to devote to viewing each disc.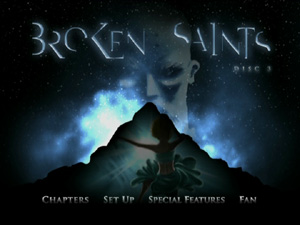 Each disc is brimming with bonus material, and it is generally excellent.
Disc 1: An AV Optimizer is available for calibrating your home theater for Broken Saints. It is somewhat similar to the well-known THX Optimizer, though not quite as in-depth. An Audio Commentary for Chapter 1 features the three creators— Brooke Burgess, Andrew West, and Ian Kirby. They discuss the series' inspirations, the computer effects, how many scenes were re-done for the DVD, and the choice of an Iraqi character. The interview is informative and fits in well with the plethora of additional content on these discs. Next, the Production Featurette (19:01) covers many of the technical aspects of the production, and there is candid talk about the making of the DVD.
A host of other bonuses large and small follows on this first disc, starting with some trailers. Prophecy Trailer (3:13) is for the BS DVD. The Corporation (1:54) is a trailer for a documentary that has some similar themes to Broken Saints. DaVinci Code Decoded (3:36) is an ad for what looks like a very interesting documentary about the famous book. There is a Classic Trailer (1:45) for the online version of BS, a BS Game Trailer (2:34) with solid 3-D graphics that make the upcoming 2006 game look quite promising, a Features Trailer (2:53) for the DVD, and another BS trailer titled Flash Forward Trailer (1:10).
Voice-Over and Audio Featurette (23:52) is a thorough piece that looks at the sound production for the DVD set. This featurette has a "guerrilla filmmaking" style that just helps to emphasize the tremendous amount of work that was completed in a short amount of time. Many members of the casts are interviewed here, and we meet some of the technical people behind the sound effects and music as well.
BS Benefit Concerts Collection runs an impressive 1:03:51. Yes, there is over one hour of footage from the benefit concerts that supported the DVD production. The creators, who contributed much of the music for the concerts, get much of the screen time here. It is fun to see how the fans came out with such enthusiasm to help make the DVD happen.
Finally, Disc 1 concludes with Credits. These are not just boring text screens, however; there are four video segments here spotlighting the forces and origins behind the DVD. Categories include Production (2:46), Background (2:36), Voices (4:01), and Music (1:55).
Disc 2: An Audio Commentary for Chapter 15, Act III examines the final section of the second disc's part of the story. Not coincidentally, this Act has some of the most impressive graphic design and special effects of all of Broken Saints. It is not nearly as informative as the previous commentary, but still worthwhile.
Biocom Website is a mock-up site for the corporation Raimi works for, and helps to bring this important entity into focus.
Writer Brooke Burgess speaks at a Walker Lecture (35:15). If you did not feel like you knew Brooke after all the content of the first disc, you will certainly get to see his views exposed in this piece. He speaks about his time at EA, why he left, his travels in the South Pacific and time spent in Fiji, hooking up with West and Kirby, his passion for comics, and his desire to do a new form of graphic literature in an effort to elevate the Internet culture. He also gives more background on how Broken Saints came to be produced in association with Switch Interactive, his desire to keep the work pure and free, and he reveals the story's greatest theme. (No, I'm not going to tell you.) There is also a question and answer session at the end of his talk, where he further explores gender rules, politics, technology, and spirituality.
Disc 2 also has a section called Buzz, which includes media reports on Broken Saints. There are television segments from Canada Now (4:40), which largely covers the Iraqi character angle; CBC Vancouver (4:00) looks at how the BS crew maintained artistic integrity; and Zed TV (5:37) has an interview with Burgess. There is also a taping of an amusing interview with My City Radio (21:27) that has all three creators. Then, there is a Press Slideshow (1:59) that has review quotes and snapshots of BS articles from the Web and print magazines.
Disc 3: The Audio Commentary this time is for Chapter 18, Act III. The chat this time is more informal. This is another dazzling Act visually, and they comment nicely on putting it all together.
BS Tarot Tree presents many of the characters in the story as Tarot cards, with descriptions that give new perspectives on their roles in the story. (A chapter on this disc inspires the Tarot motif.)
There is another section on Disc 3, called Fans, where "Saints around the world showcase their series love!" Numerous fan films are shown. These include Insertion Revisited (2:25), where a pivotal scene is revamped; Broken Legos (12:30) recaps BS in Lego animation and then has an odd little film by and about the creators of the Lego short; Cryptic (11:40) is an amateurish live action version of Chapter 2; Sponge Saints (8:53) just gets weirder; Flash Fan Film (0:53), DTTC (Death to the Closet): A BS Parody (6:47), a Fan Art Slideshow (7:20), and 3-D Fan Film (1:09) round out this surreal area of bonus features. Also look in this section for an Easter Egg that leads to a groovy video of Burgess at the San Diego ComicCon (7:24).
Disc 4: Stay tuned at the end of the Epilog for End Comments (4:05). Then watch the Epilog Commentary to hear some clarification on the ending to Broken Saints in case you had any questions.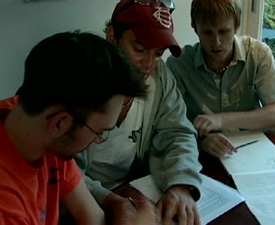 This final disc also has a BS Documentary (yes, another one!), this time from the Vancouver Film School. The three creators are interviewed, along with Switch Interactive's Catherine Winkler. Winkler offers her insight on the three young geniuses, while the creators discuss the site's free status, the Iraqi character choice, and fan response. While there is some repetition from other material on the set, I found each featurette on this set offered something new and was worth seeing.
The Sundance Featurette (28:53) is one of my favorites on the set. The three guys took a video camera with them as they took their trip to the Sundance Film Festival in 2003, where they won the Online Audience Award. The featurette, though, is really about the trip there and back, and how they spent their time when they were not attending official functions (there was a fair bit of merriment and joking around). Perhaps not everyone would be interested in seeing them at a bus station in Boise, Idaho, but I thought it was all fun.
BTS promises to include behind-the-scenes material, but really seems to be more of a "miscellaneous" section. There is a 3-D Face Test (0:30); Splitscreen Intro (0:44) compares the new 3-D and original non-3-D introduction; Process Slideshow (1:25) has photos of the guys at work; Oldschool Slideshow (3:44) has sketches, other artwork, and photos; Live From Berlin (1:38) features greetings from composer Tobias Tinker; Shadowmen Theme (2:51) shows Tinker at his piano; the Classic Intro (0:52) is shown; Visions Of Funk (1:14) is a music video of the cast getting funky (there is no context presented, but it appears to be a fan film); and then there is Chapter 1 Classic (15:55).
Poking around the discs, you will encounter a number of Easter Eggs. I got the impression I missed a number of them, but scout around to see a variety of oddities concerning the creators and their fans.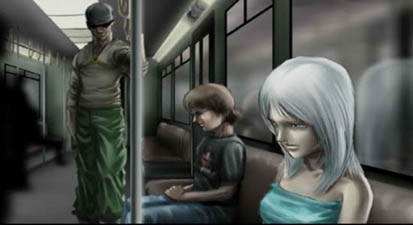 DVD-ROM: The third disc includes a number of features accessible by your PC. The first twelve chapters are presented in their original form, and there are numerous Links, MP3s and Broken Saints Wallpapers.
Case Study:
The whole caboodle comes in a double thick clear case that opens up to show two discs overlapping on each side of the case. (For best results, put the top disc in first; the bottom disc will help to hold it in place.) The design and artwork on the case is quite elegant, and properly sets the expectation of goodness to be found inside, even if it would be difficult to accurately convey the full wondrousness of the series and all the bonus material included.
Ink And Paint:
The 1.66:1 non-anamorphic video is very nearly perfect. I struggled to find any fault in the picture (as that is what we reviewers must do), and the only thing I could find was that little bit of shimmer one often sees in straight lines during pans. Otherwise, the viewer is treated to a very pleasing image devoid of any artifacts. Naturally, this is a fully digital work, so you need not worry about any physical blemishes.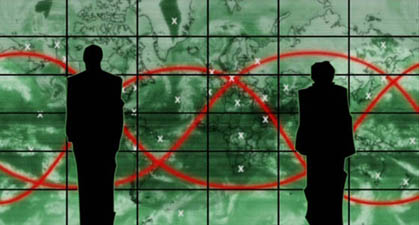 Scratch Tracks:
There are two audio options on the discs. The original stereo soundtrack is available, which offers a reasonably rich sound and duplicates what was (and is) on the online version. For the DVD set, however, an ambitious new mix was also created.
This new mix notably has voiceover work, much of it by known talents. William B. Davis from The X-Files has a major role, and Kirby Morrow of Dragonball Z fame plays Raimi. The large cast is uniformly strong, however, and the supervision of the creators assured that the performances matched the intent of the script.
The new voice recordings, along with the music and effects, were combined into a new 5.1 home theater mix. That is not just a gimmick for the box art, either; the sound design is superb, rivaling the best Hollywood productions. The sound engineers knew that there was little point in simply sprucing up a stereo mix; they instead managed to put together a very active soundtrack that should delight home theater enthusiasts. Rarely have my rear speakers been given so much to do during a movie. If you are looking for low-end rumbling from your subwoofer, there may be better discs for that; but the directional effects are wonderful.
Special mention must be made of the music of Tobias Tinker. He happens to be the cousin of Brooke Burgess, but he is also an extremely talented composer. His often haunting music does much to set the mood of Broken Saints, effectively creating what was sought by Burgess and his artists— a mood that is alternately hypnotic, dreamy, urgent, soothing, and disturbing.
Subtitles are available in French, Spanish, Japanese, Portuguese, Dutch, and Swedish. (Obviously, given the comic book type of presentation, English subtitles would have been somewhat redundant.)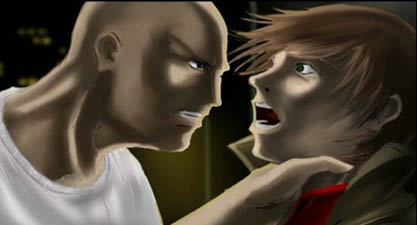 Final Cut:
It takes real talent to combine an epic story with a personal message, and Broken Saints does that and so much more. It succeeds on so many levels, where a success in one area alone would have made it an easy recommendation. Whether you are looking for an intriguing mystery, or want a story that challenges your belief system, or desire to bear witness to a new form of art, you will enjoy Broken Saints. True, you can still watch the original version on their website, but the ability to see it on your TV with full 5.1 sound and an excellent voice track only adds to the experience. Add to that the generous amount of bonus material, and one just has to be impressed.
I was honestly blown away by Broken Saints. The craftsmanship and passion glows from the television screen. The creators seemed to be on a crusade to bring quality to the Internet, and intelligence to the mainstream, which is both admirable and commendable. Congratulations to the Broken Saints team on their awesome achievement.
Note that the version available now is a new one, distributed by 20th Century Fox. It has all-new bonus material and further tweaks have been given to the presentation.
Animated Classic or Back To The Drawing Board?