Ruby-Spears (1980), Warner Archive (September 28, 2010), 4 discs, 462 mins, 1.33:1 original full frame ratio, Dolby Digital 2.0 mono, Not Rated, Retail: $29.95
Storyboard:
An impulsive barbarian, a beautiful sorceress, and a monstrous Mok travel the countryside aiding humans against evil sorcerers in a post-apocalyptic world.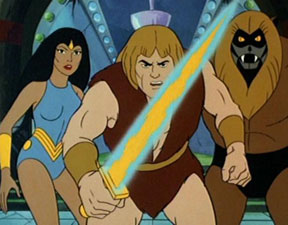 The Sweatbox Review:
Some cartoons you love, even years later, only because they are nostalgic favorites. My list for that type of cartoon is long, and my DVD shelves are littered with these series. Those shows, when viewed with adult eyes, simply do not stand critical scrutiny, due to poor scripts, weak animation, and hackneyed plots. On the other hand, some childhood favorites turn out to still be excellent cartoons. One often suspects this to be the case, but until you get to see it again— such as when it's released on DVD— you're just not sure how well it will hold up. Having just seen Thundarr The Barbarian again for the first time in three decades (!), I was very pleased to find out that my taste as a ten-year old wasn't too shabby.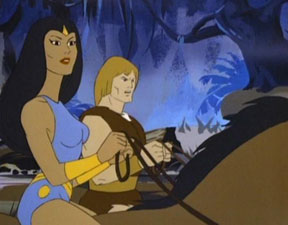 Thundarr was produced by the Ruby-Spears studio, which was helmed by the two men recognized as the creators of Scooby-Doo at Hanna-Barbera, Joe Ruby and Ken Spears. Ruby had decided to develop a barbarian show, based on the fact that Arnold Schwarzenegger would be appearing in Conan The Barbarian in an upcoming film. Thundarr was developed further by writer Steve Gerber, best known as the creator of Marvel's Howard The Duck comic book. Other writers on the show included such contemporary comic book scribes as Marty Pasko, Mark Evanier, and Roy Thomas and Gerry Conway. The main character designs for the show were the handiwork of legend Alex Toth, while many of the backgrounds and secondary characters were designed by another legend, comics creator Jack Kirby. If you know any of these names, then you may be getting an idea of the quality of this program.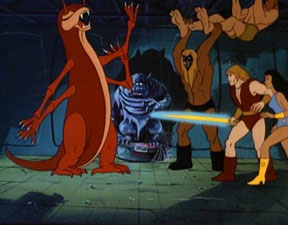 Combining science fiction and sword & sorcery, with more than a little inspiration from Star Wars, Thundarr The Barbarian certainly seemed designed to succeed. The opening of the show describes how a runaway planet came between the Earth and its moon in 1994, causing the moon to split and the Earth to erupt into geological upheaval. Two thousand years later, human beings live as poor wretches subject to the power struggles of sorcerers and various mutant gangs. One man breaks his chains and stands up to this tyranny, and that man is Thundarr, a barbarian with far more strength than patience. His companions include Ookla The Mok, a large creature that speaks in grunts that only Thundarr can understand, not unlike a certain Wookie from Star Wars. The last member of the trio is a sorceress named Princess Ariel, whose alleged royalty obviously echoes Princess Leia, even as her name now reminds one more of a certain Disney aquatic princess. For the day, Ariel was somewhat unique for 1980 cartoon character, in that she was not Caucasian, and despite being female she was presented as being the smartest of the group by far. She was certainly well educated, having learned much of earth's history from reading books in her stepfather's library. In another obvious allusion to Star wars, Thundarr carries a lightsabre, though the show refers to it as a "sunsword…." As if we didn't all know it was really a lightsabre!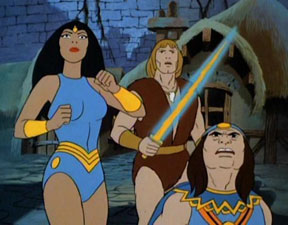 Essentially, during the course of the series the three friends wander the former United States (with an occasional Latin American trip, or one time trip to the UK) on horseback, assisting groups of human beings preyed upon by magical warlords or mutant gangs. The only recurring villain on the show is Gemini, who looks a lot like Kirby's Darkseid character, except that he has two faces that rotate from front to back depending on his mood. Many of the villains, plus Ookla, were voiced by Henry Corden, who voiced Fred Flintstone for many years. It makes it unintentionally hilarious when you hear an evil sorcerer shouting in Fred's voice, calling for the death of our heroes. Try to put that out of your mind, though, as the show is really pretty serious. In tone, think Planet Of The Apes or Jack Kirby's Kamandi, which are each obvious inspirations.
This was a program that did not talk down to its viewers. Kids could appreciate its more mature sensibilities, the palpable danger, and the refreshing lack of "identify-able" kid characters (though the network reportedly would have had kid characters added if the show had been given a third season). Each episode was a wonderful adventure, brimming with imagination. In the backgrounds, one can glimpse the remains of monuments, space research facilities, and large demolished cities. Foes include a floating brain in search of a robot body, a pirate queen (named Captain Kordon, a possible reference to Henry Corden, who for a change did not voice the villain!), werewolves, rat people, aliens, and many more. Among the people that Thundarr and his friends encounter are thawed 20th century scientists, the Moks, and a tribe of humans hanging out at the Alamo.
Literate scripts, gung-ho action, wonderful design work, and… well, adequate animation made this show a ratings success, doomed only by network politics and a knowledge that reruns would perform nearly as well as new episodes. The premature cancellation of Thundarr makes the existing episodes more precious, and its enduring fan base all the more remarkable. After two years on ABC, followed by reruns of the twenty-one episodes on NBC, Thundarr The Barbarian, faded temporarily into obscurity. Its fans remembered, though, and rejoiced when it began to get showings years later on cable. And now these same fans can be happy again, as they can purchase the entire series in a four-disc DVD set from Warner Archive. Hopefully, reviews like this one can convince others to give the show a chance, as it represents one of the shining moments of the golden years of Saturday morning cartoons.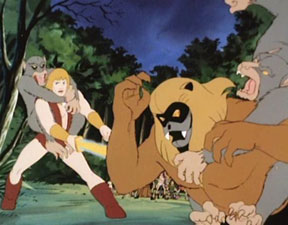 Is This Thing Loaded?
As a Warner Archive release, this DVD set offers no bonus features. I was relieved, however, to find that the generic main menu did lead to an episode menu, showing off the lovely title cards from the show.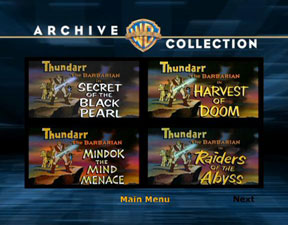 Case Study:
The complete series is contained on four DVD-R discs, in a clear, standard-sized keepcase with two swinging double-sided trays (i.e. no overlapping discs). Each disc is labelled with a listing of the episodes on that disc. Unfortunately, they are not entirely accurate, as disc 3 is labelled as having six episodes, when the six-episode disc is actually Disc 4. The mistake comes in listing Island Of The Body Snatchers on the wrong disc.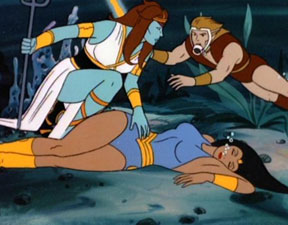 For an on-demand title, the cover art looks reasonably professional, though the back cover largely repeats the image of the front, except in silhouette. At first my heart warmed at once again seeing the "Hanna Barbera Collection" banner at the top of the cover… until, of course I remembered that this was not a Hanna-Barbera series at all! The same error is made on each episode as well, as each has a Hanna-Barbera tag at the end, initially placed there during cable showings. The packaging also gives H-B the copyright on the show. One may note that the H-B branding of the show has been going on for a while, including the cable airings as well as the 2003 Toynami action figures.
Ink And Paint:
The episodes may be un-restored, but they look pretty darn good, all things considered. I'd expected the worst, but found myself rewarded by a very pleasing image. Sure, there is some dust present, but with the DVD resolution available, I doubt these shows ever looked better than they do now. The prints seem to be in surprisingly good shape, with no major damage seen. Some shimmer shows up, but in minor quantities, consistent with what you often see in other vintage cartoon DVDs.
Scratch Tracks:
The two-channel mono sound doesn't offer any surprise, really, but it's more than adequate. I doubt that a restoration effort would have yielded anything better. As with the video, the audio is no better or worse than what we have previously seen on any retail release of a Hanna-Barbera or Ruby-Spears show.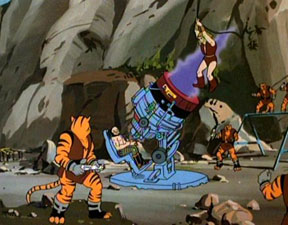 Final Cut:
This is one of those shows that makes you think your collecting days are nearly over, and I mean that in a good way. Thundarr was a holy grail for me, a gem of a show that I feared would never make it to DVD. I wondered if I was the only one who remembered its quality, and for that matter I wondered if my memory was correct! Fortunately, Thundarr has enough of a following to at least qualify it for this Warner Archive release, and I now know that I was right all along. This is a wonderful show that was ahead of its time, predating shows of similar quality like Batman: The Animated Series or Samurai Jack, which also gained teen and adult followings. Warner Archive has lots of classic cartoon series coming, and this is a great one for you to start with.
Animated Classic or Back To The Drawing Board?