Hanna-Barbera (1967), Warner Archive (June 14, 2011), 2 discs, 374 mins, 4:3 ratio, Dolby Digital 1.0, Not Rated, Retail: $29.95
Storyboard:
A simple family man on a distant planet protects his kin from invaders, with the help of an interesting assortment of creatures.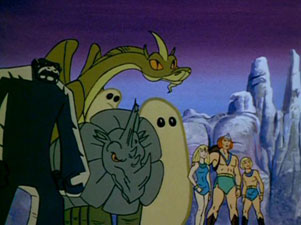 The Sweatbox Review:
The success of Space Ghost in 1966 meant that Hanna-Barbera would be asked for more adventure series to fill network schedules the following season. CBS, the home of Space Ghost, was H-B's main customer, and for them H-B produced three new adventure shows in 1967: Shazzan, Moby Dick And The Mighty Mightor, and what is likely the most fondly remembered one by most, The Herculoids. Characters from all three shows received introductory cameos in a special Space Ghost two-parter that fall (titled The Council Of Doom), which helped to set up a classic block of Hanna-Barbera fantasy/adventure that began at 9am with reruns of Frankenstein Jr. And The Impossibles and did not end until 11:30. For many Hanna-Barbera fans, it may represent the best Saturday morning of all time. Hanna-Barbera was even in stiff competition with itself, as Birdman And The Galaxy Trio and Samson And Goliath each had their debuts that year on NBC (along with Flintstones reruns), and Herculoids shared its 9:30 spot with H-B's Fantastic Four, showing on ABC! Obviously, this was a great year for the studio. And I didn't even mention the Jonny Quest and Atom Ant reruns that aired later in the morning.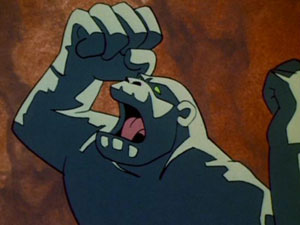 But something about The Herculoids made it stand out, and that something was Alex Toth. Next to Space Ghost, The Herculoids may be his masterpiece. He worked on the other programs, too, but he was particularly inspired for the space shows. His designs for The Herculoids made it extremely watchable, far more than the simplistic scripts would suggest. To this day, it is hard to imagine a series with such well-designed characters. Oh, the humans maybe weren't too special, wearing primitive clothes and having basic body types, but the creatures and various aliens on the show are absolutely sublime.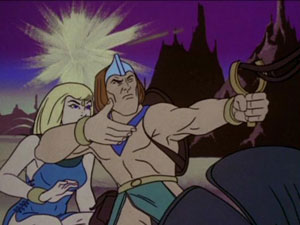 The show has a premise that, like many shows of its era, is left largely unexplained. The opening narration simply says that "somewhere out in space live The Herculoids," then it goes on to introduce the cast. A family of three— patriarch Zandor, his wife Tarra, and their boy Dorno— are seemingly the only normal humans who make their home on the planet Amzot (also referred to a Quasar). Why? No idea. They have five creature friends. The most impressive is the mighty rock ape Igoo, but the dragon Zok also impresses with his ability to fire energy beams from his eyes and tail. And then there's Tundro, a sort of plated rhinoceros who shoots what looks like fiery rocks from a horn. The main cast is literally rounded out by two shape shifting blobs named Gloop and Gleep. The creatures really make the show, so distinct are their designs.
However, any series also needs conflict, and here it is represented by a never-ending assortment of invaders who seem fixated on breaking up Zandor's happy home life. Every story (two in every show) seemingly has the same basic premise: Invaders come and stir up trouble. Tarra gets captured a lot, but any of the characters may fall prey to invaders. The menaces often come from the stars, but there are also more local threats. Usually, the invaders utilize technologies that Zandor and his family shun, in favor of more primitive means of defence, as well as their reliance on the abilities of their creature friends. Zandor seems to prefer the life of a barbarian, and almost recoils at the thought of using technology, though he does show adeptness at using some weapons or piloting a space ship when necessary.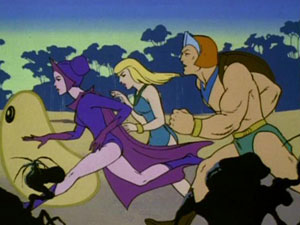 Following several years of popularity in reruns, The Herculoids would return in 1981, when eleven new adventures were created for the Space Stars show. Those episodes are not present on this set. However, it does contain all 18 episodes from the original run, on two discs. With these episodes, the main attraction is not the storytelling. It is also not the animation itself, though there is some nice work, which naturally gets reused throughout the show. No, the real fun of the show is gaping at the creativity of Toth and his fellow artists. During the course of eighteen episodes (thirty-six stories), the viewer is treated to pod creatures, spider men, android people, bubble men, time creatures, electrode men, and many, many more. Just looking at the episode titles is enough to make one smile, but the true treat is actually seeing the designs. It's hard to think of another show in the next twenty years that could best The Herculoids on a visual basis. It's a beautiful program to watch, even if the plots are supremely repetitive and shallow (though all in good fun, of course). On the basis of design alone, this is a hearty recommend.
Is This Thing Loaded?
Warner Archive ports over a featurette from the DVD set Saturday Morning Cartoons – 1960s: Volume 1. The Herculoids: First Family Of Planet Quasar (4:35) features Jerry Beck, Tom Sito, Paul Dini and others discussing the show. Their insights aren't particularly grand, except for Doug TenNapel's Harryhausen reference, but at least we do get glimpses of some wonderful Toth model sheets.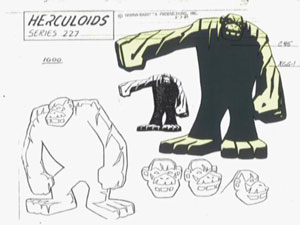 The menus break the episodes down, giving the titles for each story. There are even chapter stops placed conveniently before each story, including allowing you to skip the show's opening if you wish.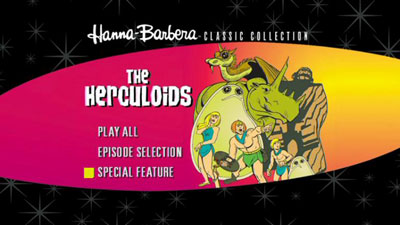 Case Study:
Clear keepcase with tray. Inside cover is blank, rendering the clear keepcase non-useful. There is no episode listing on the package.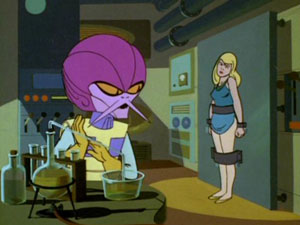 Ink And Paint:
These shows have not been remastered, so there is evident fading, some softness, and minor print damage. However, the picture remains quite acceptable. Warner Archive purchasers know what to expect by now, and this set has a pretty standard presentation for titles in the H-B library. And even a mediocre picture can't dampen my enthusiasm for the show's Tothiness.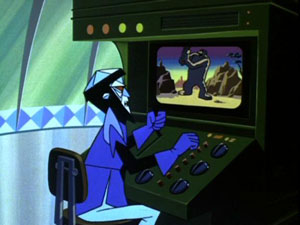 Scratch Tracks:
Again, the audio track meets expectations. Naturally, the track is only in mono, and there are no other audio options, and no subtitles. Though providing tones in a narrow range from a single speaker, the audio quality is basically okay, with no hiss and minimal distortion. The grand theme song, melodramatic voice acting, and the music cues recycled from Jonny Quest all sound fine.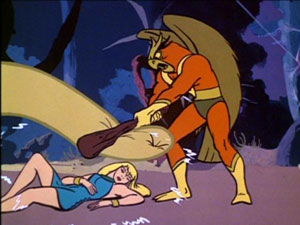 Final Cut:
After a lengthy delay following the debuts of Space Ghost and Birdman on DVD a few years ago, we finally get another collection comprising much of Alex Toth's best work. Without his designs, this show would have been quite forgettable by now, though for its time it did serve up plenty of exotic adventure. The premise makes little sense, the stories are simplistic and repetitive, and there's no thought given to characterization, but— those designs! Love 'em. Acceptable video and audio, and even a little featurette (albeit a recycled one, but nice enough if you haven't seen it), make this a set to own if you're a fan of the era and its renowned designer.
Animated Classic or Back To The Drawing Board?