Hanna-Barbera (1966), Warner Archive (April 26, 2011), 2 discs, 383 mins, 1.33:1 ratio, Dolby Digital 1.0, Not Rated, Retail: $29.95
Storyboard:
Three members of a rock band moonlight as zany superheroes; and a boy and his giant robot also lend a hand in smashing evildoers.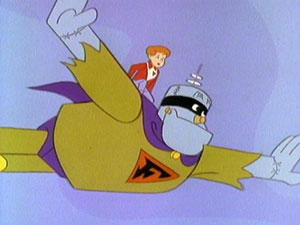 The Sweatbox Review:
Warner Archive seems to be going back to the beginning now in its Hanna-Barbera Classic Collection line, and I couldn't be happier. Many of their best series already came to retail DVD a few years ago, but some of us classic cartoon lovers still wanted to see more of their ample 1960s output show up on DVD one way or another. Sadly, sales did not support ongoing retail releases, with reportedly disappointing sales figures on such shows as Huckleberry Hound and Yogi Bear; but the advent of Warner Archive has allowed us diehards to get our wish and see the H-B line continue, albeit on DVD-Rs. Having Space Kidettes/Young Samson released recently was a great surprise, and now another little-known 1966 show gets its chance to be rediscovered.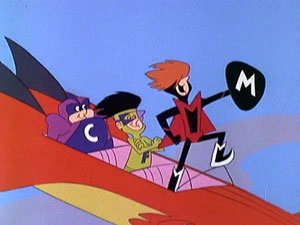 So we're back in 1966— the first, great year of Saturday morning cartoons. The live action Batman was getting lots of buzz prior to its primetime premiere on ABC, and that may explain why so many cartoons coming out in 1966 had superhero themes. Previously, Saturday mornings had had puppets, space heroes, and cowboys, but in 1966 superheroes truly arrived, particularly on CBS. The New Adventures Of Superman became huge for CBS that year, but they also had Underdog, Mighty Heroes, and Space Ghost. Those shows combined had varying levels of seriousness and comedy, but Space Ghost's 10:00 lead-in show Frankenstein Jr. And The Impossibles had both.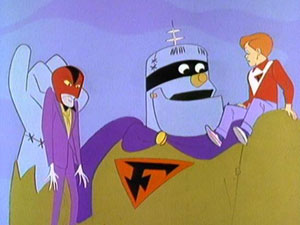 Unlike other H-B shows with more than one segment, Frankenstein Jr. And The Impossibles had only a single segment of the first-named show, book-ended by two segments for the latter. The Impossibles also gained the lion's share of moments in the opening and closing credits. That's a bit of a pity, as I prefer the Frankenstein Jr. bits, which are less comic. Nevertheless, The Impossibles is also good fun, dealing as it does with a Beatles-ish rock trio called into action by their boss "Big D" in order to fight an impressive if unbelievable array of supervillains. The show makes frequent mention of their double life, though there seems to be little attempt at hiding their "secret" identities. In civilian life, they form a rock band called The Impossibles, and then they switch (often in plain view) into a superhero team also called The Impossibles. They even use the same nicknames when they converse with each other. Multi Man ("Multi") performs a variety of tricks by multiplying himself, Coil Man (or "Coily") has spring action and can also do drilling tricks, and Fluid Man ("Fluey" to his friends) becomes liquid when needed.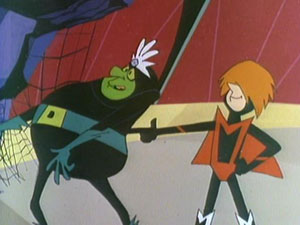 The adventures of The Impossibles typically see them touring or rehearsing, only to come across a big crime, moments before being contacted by Big D and asked to go into action. The villains they face are fun but ludicrous, such as The Bubbler, Fero The Fiendish Fiddler, The Perilous Paper Doll Man, and The Insidious Inflator. Riding in their flying car, with a cry of "Rally Ho!"the three heroes dispatch their foes with style and more than a little humor. Voices of the heroes were by the great Paul Frees, Don Messick, and Hal Smith, guaranteeing flawless delivery.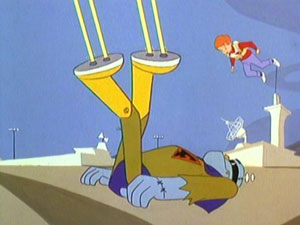 Frankenstein Jr. seemed to have eventually been modelled after the Japanese show Gigantor, which had been airing on American television since early that year. (Early development art for Frankenstein Jr. shows no little boy character, as he was added later.) Frankenstein Junior was a giant robot owned and operated by Buzz Conroy, aided by his father Professor Conroy, largely out of their mountaintop observatory. Their hometown of Civic City seemed to be a lightning rod for all manner of sinister foes, only a little less silly than those faced by The Impossibles. Junior's adventures were designed more for excitement than comedy, bringing to mind such shows as Young Samson or Space Ghost. Episode titles bear out the more serious threats, including Alien Brain From Outer Space, The Spyder Man, Invasion Of The Robot Creatures, and The Mad Monster Maker. Ted Cassidy gave Frankenstein Junior an appropriately deep and friendly voice, while Buzz was played by Dick Beals, known for voicing Davey in Art Clokey's Davey And Goliath show. John Stephenson played the professor for this show, as he had played Jonny's dad on Jonny Quest.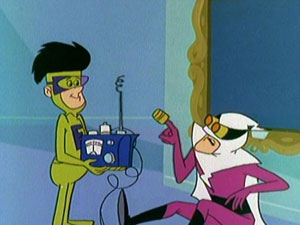 Scheduled against the (in a way) similar King Kong (a series about a boy and his giant ape) and the first year of Flintstones reruns, Frankenstein Jr. And The Impossibles managed to run two seasons before succumbing to the backlash against violent children's programming. True, the show was all about physical conflict, but it seems pretty tame by today's standards, especially considering the lovely silliness inherent in the plots. Its initial success, along with that of Space Ghost, did lead to many more superhero shows, however, prior to the backlash. Reruns of Frankenstein Jr. showed up again as part of the Space Ghost/Frankenstein Jr. show in 1976, before fading away again, to be remembered only with an occasional comic book appearance or toy release. The Impossibles showed up even less often, except for being re-created in a sense as part of The Super Globetrotters, that high concept 1979 cartoon that saw The Harlem Globetrotters transformed into superheroic identities, among them Multi Man, Fluid Man, and the coil-like Spaghetti Man.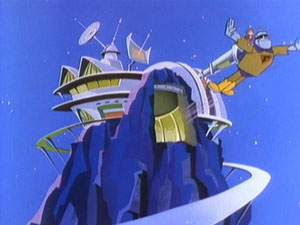 To see the appeal of the original show, however, you need to view this two-disc DVD set, which contains all nineteen episodes. With appealing designs, excellent cartooning, and solid scripts that balance action and humor, this is a show that can appeal to old-time Hanna-Barbera fans as well as their kids.
Is This Thing Loaded?
Specific episode titles are not given anywhere in the packaging, but the main menu does allow you to go directly to any segment, designated with an episode number and a letter (e.g. all Frankenstein Jr. segments get a "b" designation, while the Impossible segments are all "a"s and "c"s.) You may also select to Play All of the disc. (If you select only one segment, you're doomed to keep selecting segments in order to continue further.)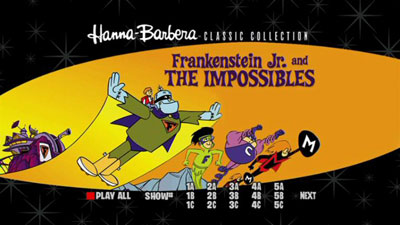 In terms of extras, the good news is that there is actually an extra on this Warner Archive release! The slightly bad news is that is has been recycled from the Saturday Morning Cartoons: The 1960s Collection Volume One. The other good news is that it is a pretty nice featurette, after all, and it certainly belongs on this set.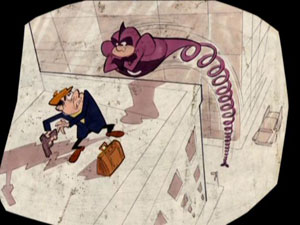 Monster Rock: The Adventures Of Frankenstein Jr. And The Impossibles (5:23) has Scott Geralds, Earl Kress, and others discuss the appeal of the program, correctly pointing to superb design and voice actors. A nice helping of vintage production art is also provided, including storyboards for the Buzz-less original version of Frankenstein Jr., which we find out was to be named Dr. Frankenstein Jr. And Uggle Dubbly!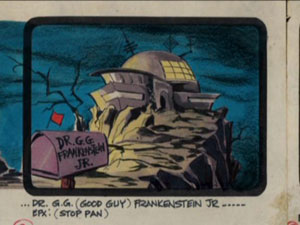 Case Study:
Two DVD-Rs are held in a clear standard case with a tray. This DVD shares the same trade dress as the other Warner Archive Hanna-Barbera releases, allowing it to look pretty smart on your shelf next to others in the line (personally, I arrange them chronologically).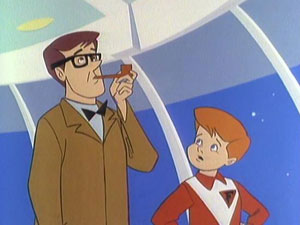 Ink And Paint:
The episodes may not be restored, but they look reasonably good. The picture generally stays reasonably sharp, even if softer than a newer show would appear, and is only mildly faded. Minor shimmer appears, but otherwise compression work is good. Grain and dust are present, but nowhere near as bad as what one might expect, allowing for good enjoyment of the show without being bogged down by any major video complaints. Accepting that this show is 45 years old and unrestored, I had to be pleased with what I saw. Note that it looks better in motion than how these static screenshots make it look.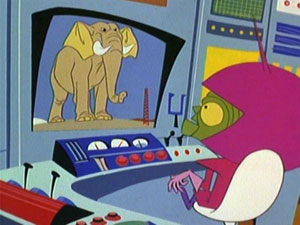 Scratch Tracks:
The mono sound comes through at least as well as it did back in '66, and quite possibly better. No other languages or subtitles are offered.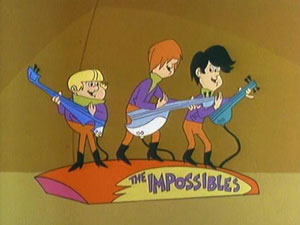 Final Cut:
Space Kidettes/Young Samson is out, Frankenstein Jr. And The Impossibles is now out, and Herculoids is also about to show itself. It seems that Warner Archive plans to bring a steady stream of 1960s Hanna-Barbera shows out now, having already exhausted some of their better-known 1970s releases. The thinking had seemed to be that fans don't support the 1960s series as well, but the irony is that it is the older shows that are generally more vibrant and clever, before the studio got overly watered down with too many series being produced concurrently, not to mention overseas studios contributing rushed work. Like other shows of its era, Frankenstein Jr. And The Impossibles is a very professional show made by people who knew how to make entertaining cartoons. I would recommend this as highly as just about any of the better Hanna-Barbera shows of the era.
Animated Classic or Back To The Drawing Board?