Hanna-Barbera (1972), Warner Archive (May 22, 2012), 2 discs, 280 mins, 4:3 ratio, Dolby Digital 1.0, Not Rated, Retail: $24.95
Storyboard:
A scientific community living under the sea deals with the dangers of their environment, while doing research that will benefit mankind.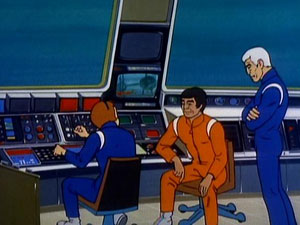 The Sweatbox Review:
While watching Sealab 2020 on this two-disc, thirteen episode set, I came to at least one very certain conclusion: This show has gotten a bum rap. Having read a few histories of Hanna-Barbera, I've seen this series either glossed over, forgotten, or described as "well intentioned but boring." I find that to be unfair. Now having had the chance to actually see the series as a whole, I found it both interesting and exciting. I have to admit that I suspected I wouldn't have enjoyed it so much as a youngster, but my five year old loves it too. So there ya go.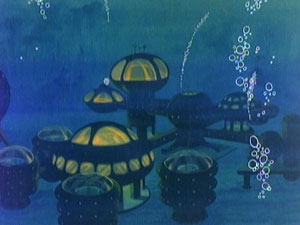 Hanna-Barbera's Sealab 2020 debuted on NBC in the fall of 1972, in the 11am time slot. It was in tough against ABC's Flintstones Comedy Hour, though CBS only threw up reruns of Bewitched. Sealab 2020 was a bold show in a sense, during a season in which Hanna-Barbera came out with such derivative shows as Amazing Chan And The Chan Clan, The New Scooby-Doo Movies, Josie And The Pussycats In Outer Space, and The Roman Holidays. While other series would focus on young mystery solvers or anachronistic families, Sealab 2020's goal was to educate and give the Saturday morning crowd a little adventure. Unfortunately, such an approach did not prove successful, as it ended its run that December with three episodes left unaired.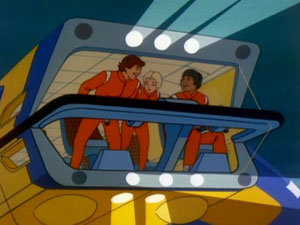 The show takes place almost entirely underwater, with only brief glimpses of what is above the sea. Its main location is the undersea laboratory complex suggested by the series' name, commanded by Captain Michael Murphy. Beneath him are a crew of scientists engaged in the effort to tap the potential of the world's oceans, whether it be for food supplies, medicinal aims, or other scientific knowledge. It's not just a research station, however; there are whole families living there, in an experimental community where the children are given fantastic opportunities to learn about the world's oceans. Included among the children are the captain's two grandkids, Robert and Sally. The stories are carried fairly equally between the Murphy kids and the adult cast, with Doctor Paul Williams predominating, and a lady scientist named Gail providing some femininity.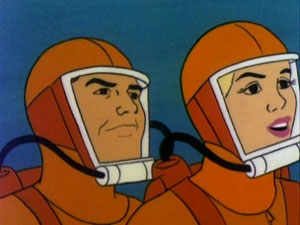 Stories generally focus on the dangers of the deep, ranging from leaking barrels of radioactive waste, red tide, flooding and depressurization in the station, and of course dangerous sea animals. During the course of events, viewers learn along with the characters about various ocean facts or the perils of humans trying to live in a foreign environment. The attempts at educating do come off as a little forced at times, but I have to say that I did learn a lot from watching the show, and found most of it pretty interesting. Humour is present, too, often coming from the Murphy kids or a playful seal or dolphin.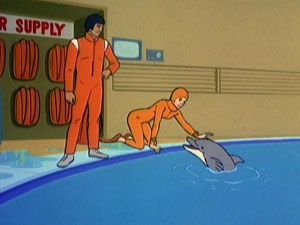 Watching this set turned out to be more of a pleasure than I expected. The drawing and animation are not very good, but the stories make up for it. Hopefully, its appearance on DVD will lead to others discovering that it is really a little gem from the silver age of Hanna-Barbera, not just a "lame" 1970s show that was ridiculed so mercilessly by Cartoon Network's mocking revival Sealab 2021, which ran for four surreal seasons.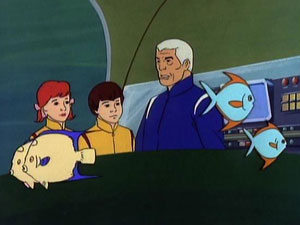 Is This Thing Loaded?
There are no extras on this release. Chapter stops occur at appropriate scene breaks.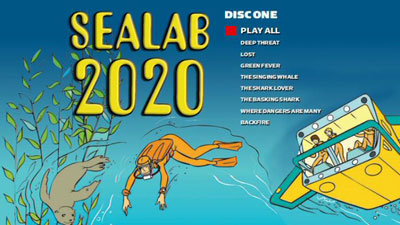 Case Study:
Clear Amaray case with a tray for one of the discs, and no insert or episode listing. These are, of course, DVD-R discs.
Ink And Paint:
The lacklustre animation is done no favors by this transfer, as the elements are not remastered, so that Sealab 2020 is looking very much like a forty year old show. While the picture is clear enough, there is plenty of aliasing, and dust and print damage are not uncommon. Colors are reasonably accurate, but some fading is evident.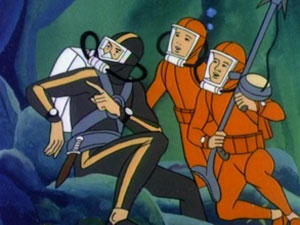 Scratch Tracks:
Only the original English mono track is present, sounding at least as good as one could expect, with no hiss or significant distortion. There are no subtitles.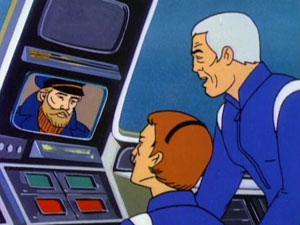 Final Cut:
It will never be recognized as one of Hanna-Barbera's best, but Sealab 2020 is a fine little show, full of adventure and— yes— educational material mixed into the scripts. I would rather watch these shows than an episode of Funky Phantom or any of the other Scooby clones (though they each have their charms, of course). It's also more entertaining than SeaQuest DSV, for that matter. Video and audio are about par for an H-B Warner Archive release, which is about what a show like this deserves, probably. If the premise intrigues you at all, I suspect you will be happy with Sealab 2020.
Animated Classic or Back To The Drawing Board?