Colossal Pictures/MTV Animation (1995), Paramount Home Entertainment/MTV Home Entertainment (November 22, 2005), 3 discs, 221 mins plus supplements, 1.33:1 original full frame ratio, Dolby Digital 5.1/Dolby Surround 2.0, US Not Rated (PG in Canada), Retail: $39.98
Storyboard:
Peter Chung's visionary MTV masterpiece about a female revolutionary in a futuristic society.
The Sweatbox Review:
Thief. Saboteur. Mercenary. Revolutionary. Counterrevolutionary. Anarchist. Which of these is Aeon Flux? After watching this truly complete set of MTV's Aeon Flux series, I realized that it doesn't really matter. Aeon Flux the show is not so much about Aeon Flux the woman as it is about ideas. And that is why the series has not dated, as it might have if it was only about groundbreaking animation or a single central mystery.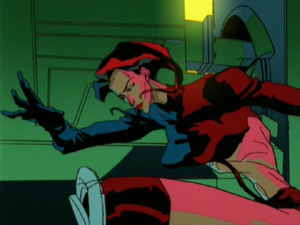 Aeon Flux was the brainchild of animator Peter Chung, a Korean-born animator who was approached to create something that could be shown as a part of MTV's Liquid Television show. At the time, Chung was working on Rugrats and was excited to have the opportunity to work with an animation vehicle that would be much less constrained philosophically, not to mention morphologically. The babies in Rugrats, he felt, did not lend themselves to the kind of character animation he was interested in doing.
Boy, no kidding! Once you have seen Aeon Flux, it is hard to imagine Chung toiling away on a Nickelodeon kids' show. The early Rugrats shows may have been decent programs, but the world of Aeon Flux is a whole other matter altogether. Chung traded in the squat babies crawling in the nursery for elongated figures charging through a dystopian future of moral ambiguity and eroticism. Aeon Fluxdebuted on the Liquid Television program in 1991. Six episodes of two minutes each served essentially as the pilot for the show, leading to a further commission of five shorts. Finally, 1995 saw the debut of a full-length series that continued to challenge viewers in a way rarely seen in American animation.
Aeon Flux is a woman living in a future society, whose role in that society is not entirely clear. She has a definite agenda, but throughout the stories her loyalties seem to shift as she comes into contact with Trevor Goodchild, the egomaniacal leader of Bregna. The two of them have a relationship of shorts, and certainly a lot of history, but their competing agendas generally keep them at odds with one another… until circumstances change and they then may become allies again. Aeon usually resides in Monica, a much freer state that Goodchild's repressive Bregna. Throughout the course of the series, Aeon is portrayed alternately as an anarchist or a rebel with a cause, continually messing with the affairs and plans of Goodchild.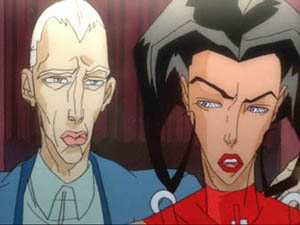 It all sounds straightforward enough, but things are not ever as they seem, and even by the end of a story, the viewer is likely to want to watch it again, as minor clues given in the first few minutes take on vast importance by the story's finale. While much of the narrative is cohesive and linear, it is vastly important to pay close attention to the plot; and just as you think you have a grasp on it, there is an explosion of surrealism to distract you. The surrealism serves a purpose, however, to keep your interest as Chung and his writers explore matters of philosophy, theology, and other such deep thoughts. With Aeon Flux, it is not the surface plot that matters— it is the substance of the thoughts behind the story.
Aeon Flux is at turns brilliant and maddening if one is not able to get into the "vibe" of the show. Once you realize it is a work of art and not just a cartoon, Aeon Flux accesses a different part of your brain altogether. You go from passive viewer to active thinker, and the show's real potential to reach you is realized. Chung's mission was to make you examine what you know of the world, and that which you have seen but not considered. Aeon Flux is an exercise in mentation, with groovy visuals.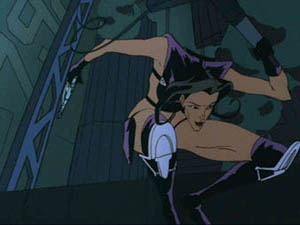 The first two discs of this three-disc set contain all ten episodes of the regular series (with chapter stops included). Each of these discs contains five episodes, with a single set of end credits offered. The opening plays with each episode if selected individually, or just once if "Play All" is selected. Each episode gives an introductory card to set up the premise of that episode's scenario, before diving immediately into the action. Chung is less interested in the telling the specifics of a story than he is in getting to the meat of it and using it to explore a particular theme. These are not truly the original episodes seen first on MTV, as some of the runtimes are a little longer, and the video and audio have been enhanced (keep reading for more info on this). Some dialog was even re-written and re-recorded to correct continuity within the series. It was all for the greater good, however, and all supervised by Peter Chung. Consider this the Aeon Flux: Special Edition.
In the first episode, Utopia Or Deuteranopia?, the cadaverous but sexy Aeon Flux appears to be working against Trevor Goodchild, who has seized power in Bregna. The former leader, Clavius, has vanished. Aeon allies herself with a man close to Trevor, and they discover Clavius in a surprising location. That leads to a cat-and-mouse game between Aeon and Trevor until the fate of Clavius is decided and Aeon's collaborator finds out just how complex the situation is. This episode examines the issue of surveillance while offering a challenging mix of philosophy, betrayal, and eroticism (with near-nudity). The commentary notes that this was not the original planned debut, as this episode was scripted when MTV wanted a more accessible story to start the show.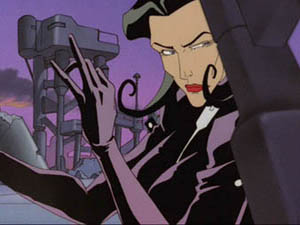 Thanatophobia examines the absurdity of national borders, as two Breen plot to escape Bregna and make it past a wall into Monica. (Chung's childhood in Korea was the inspiration here.) Aeon lives across from the couple, on the other side of the border, and observes the couple's relationship as their planned escape does not go as hoped. The issue of Trevor's meddling with nature is explored as he plays doctor with the Breen woman. A Last Time For Everything uses a plot about Trevor creating duplicates of people, including Aeon, to show how our lives diverge from their course based on what experiences we have.
Ether Drift Theory is less provocative, but is still an involving story about Trevor's creation of an artificial ecosystem the Aeon infiltrates, along with a woman looking for her mate. (There's no commentary on this one, so Chung was likely not as involved with its development.) The Purge gets things back on track with a story reminiscent of A Clockwork Orange, as Trevor uses a device called a Custodian to give criminals artificial consciences.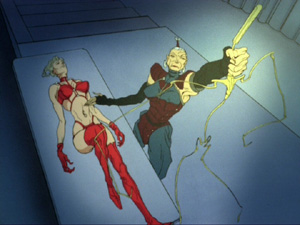 Peter Chung does not direct the five episodes on Disc 2, and there is indeed a different feel to them. The show generally stays on course under new director Howard Baker, but it becomes less "Chung-ified". Characters are more likely to go off-model, and the extreme and odd camera angles become less spectacular. Still, most of these are very good efforts. The Demiurge was envisioned as the first episode, a story of Aeon out to assassinate God; but by the time it was written it had become a story of how people use and perceive religion— it features Trevor and Aeon fighting over the attempted Monican launch of a deity into space. Isthmus Crypticus has a similar theme but is an even stronger episode that deals with Trevor's fascination with a female creature who offers bliss in her presence.
Refraizure is a more conventional story (by Aeon Flux standards) that sees Aeon break into a prison while she uncovers a scheme to harvest a small, rare creature. While on her mission, an innocent is killed, and she spends the rest of the story trying to make up for the incident. Obviously, this story is about the random nature of events in our own lives and how they affect us, but that is just the beginning. Chronophasia tries hard to be weird, but the quality is starting to slip a bit in this mixture of X-Files and Groundhog Day. End Sinister finishes off the series on a typical note of futility, with Trevor trying to force the next stage in evolution and Aeon trying to stop him— but her actions may not turn out for the best.
Even though the final episode is far from the strongest, it makes a strong statement about one of the overall themes of the show. There is an air of futility in the missions of all the characters, including our protagonist. To me, this is not an indication of cynicism or fatalism in Chung, but an acknowledgment that this is an exceptionally complex world in which our lives are the outcome of the sum of our actions, as well as numerous forces beyond our control. Chung also actively asks the viewer to see things in new ways, especially the shades of gray that exist between black and white.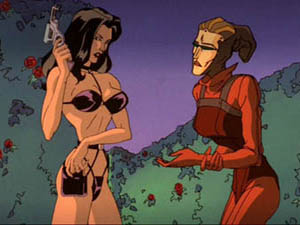 Whatever you take from this show, it is bound to make you think. Even if you are looking for pure escapism, though, you will surely appreciate the unique storylines and almost avant guarde animation that looks like nothing on Saturday mornings. Chung proved himself to be a true artist with this series, with a strong point of view that magically encourages both discussion and introspection.
Is This Thing Loaded?
The first disc opens with the Aeon Flux Videogame Trailer (2:22); this looks quite cool, utilizing Charlize Theron's likeness and ending with the trademark fly-in-the-eyelashes visual. Then naturally we get the Aeon Flux Movie Trailer (2:14); I'm not sold on the lovely Charlize as an action heroine, but I'm still looking forward to seeing the flick. Then, there's the Promo for the Beavis and Butthead: The Mike Judge Collection Volume 1 Set.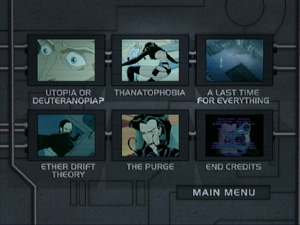 Audio Commentaries with Chung and others appear on seven episodes. I got the impression that Chung was perhaps less involved with the writing of the other three. Each commentary is definitely worth listening to, offering great insight into the writing and casting of the show, as well as the themes of each individual story. Chung, to his credit, does not like to interpret the stories too much, believing that it detracts from the viewer's own experience and defeats the purpose of why he made the shows, but he does guide you to see where he was trying to go. As a reviewer, you are sometimes tempted to gloss over some commentaries since they can be time-consuming when you are working against a deadline; but these were just too good to skip over. Chung also discusses censorship issues with MTV, and some details about some of the remastering done for the DVD release.
Disc 3 includes the other extras. You may choose to watch the first couple even before the series episodes, since Discs 1 and 2 may be considered the "third season" of the show following the pilot and the subsequent shorts. The Aeon Flux Pilot (12:24) is shown with either 5.1 or 2.0 sound, and also can be viewed with a commentary. Even with the pilot, and despite Aeon being voiceless at this point, the vision for the show is quite clear. Next, the five Aeon Flux Shorts (20:18 Total) are similarly presented. (These are titled War, Gravity, Leisure, Mirror, and Tide.)
Investigation: The History Of Aeon Flux (17:37) is a wonderful overview of the show, examining how MTV united Peter Chung and Colossal Pictures, how the show was developed, and how the remastering for the DVD was done (including the ever-popular Before-and-After shots). Interviews are shown with Chung, Neumann, executives, voice artists, writers, and directors.
Deviant Devices Of Aeon Flux (6:06) offers an uncharacteristically verbose narration from Aeon herself describing and commenting on various props seen in the show. Her favorite and mine: the chastity belt. It is her comments more than the descriptions that make this worth watching.
Production Art is divided into: Sketches, Model Sheets, Storyboards (the first section of the pilot), and Color Stills. Pencil Tests are offered for War and Mirror.
Other Works By Peter Chung is an appropriate entry, since Aeon Flux is such a personal work. The MTV Loaded Promo (0:32) is just beautiful, aside from being very cool. The Aeon Flux CD-ROM Commercial (0:20) also offers striking, full animation. A foreign Honda Coupe Mission commercial (0:31) rounds out this section.
Liquid TV Shorts (12:44) brings us a selection of interesting experimental animated shorts. Lastly, there are a few more MTV Previews.
Case Study:
The three discs come in individual single digipacks, each with full wrap-around and interior artwork; and full episode descriptions and commentary information. The slipcover has the striking fly-in-eyelashes image on a stark white background. Frankly, this is a beautiful job.
There is also a slip of paper in the set with advertisements on one side, but on the other side is a Production Note From Peter Chung, where Chung describes all the work that went into making this the ultimate presentation of Aeon Flux. This is a great intro to the set, along the lines of what Matt Groening writes for the Simpsons sets, but more serious.
Ink And Paint:
The whole of the Aeon Flux oeuvre was digitally remastered and in many cases re-done for this DVD release. As described in the production notes included in the packaging, the original camera negatives were used, carefully utilizing the best framing of the 4:3 image. Color correction was done under Chung's supervision, and the video was even enhanced for color and effects using today's technology. As a result, Aeon Flux looks even more like a modern cartoon, with the visuals matching the visionary scripts and direction. Only the very occasional shot looks a tad soft, as this video presentation is mostly marvelous. The appearance of dust elements is rare, and overall the remastering did what was intended— this show looks better than ever.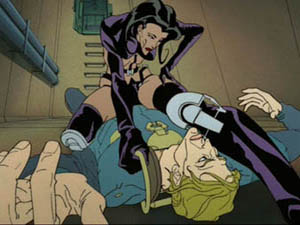 Scratch Tracks:
The audio for all the episodes, including the pilot and shorts, was re-mixed into Dolby Digital 5.1. The exception is the series' opening, which is available in only 2.0. The 5.1 mix offers very good ambience surpassing the best of today's animated TV shows. The low end is not as well represented, so this will not be a demo disc for your sub, but there are many discrete sound effects that make this a fun mix. A Dolby Surround track is also available.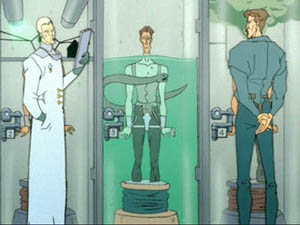 Drew Neumann deserves special recognition for his contribution to Aeon Flux. Neumann created the sound design to the show, creating a singular sonic style using very unique instrumentation.
No other languages, subtitles or captions are offered.
Final Cut:
Now this is how to produce a DVD set for an important animated series. The whole package here is classy, presenting noticeably enhanced picture and sound that surpasses what has ever been seen before for this show on television or home video; and the extras are substantial and important. If that were all to recommend this set it might be enough, but you also get a visionary, thought-provoking program that appeals on both visceral and intellectual levels. At the same time, I can see that less adventurous viewers may not appreciate the esoteric qualities of the show. For the more sophisticated adult viewer, though, this set is highly recommended.
Animated Classic or Back To The Drawing Board?