Walt Disney Family Foundation/Pantheon Productions (September 16 2001), Walt Disney Home Entertainment (March 2 2004), single disc, 119 mins plus supplements, 1.66:1 letterboxed widescreen, Dolby Digital Surround, Rated G, Retail: $29.99
Storyboard:
A surprisingly non-whitewashed version of Walt Disney's life story by those who knew him best, overseen and produced by the Disney Family themselves and featuring interviews and recollections from many who worked with Walt at his Studio.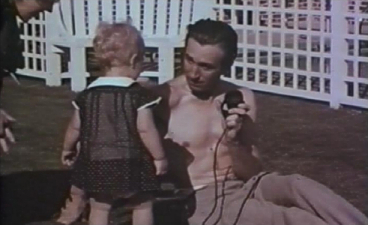 The Sweatbox Review:
Previously released on VHS following its showing on TV's The Wonderful World Of Disney to mark the 100th Anniversary of the Mouse Factory's founder, Walt: The Man Behind The Myth finally makes it to DVD, in an extended edition, and with many interesting and informative extras to boot! The title has actually been on disc for some time, being released, as with the recent Frank And Ollie disc, as a Disney outlet special, only available at The Disney Stores and theme park shops. This re-issue sees the documentary more widely available, and though specs from the previous release remain exactly the same, there really is a world of difference between the DVD and VHS incarnations of the film.
One of the more obvious changes from the tape is the fact that, on DVD, Walt has been presented in 1.66:1 letterboxed widescreen, although on closer inspection, and comparison with the previous tape issue, it seems that the image has been masked top and bottom to achieve this ratio. It's the only thing that marks against this disc, as there are plentiful bonuses that even big fans and admirers will have not seen before, including some very rare home movies shot by Walt himself. Unfortunately these too have been cropped to fit the 1.66:1 ratio as opposed to "windowboxing" these clips to shrink them down inside the wider frame, as another recent animation documentary, Chuck Jones: Extremes And Inbetweens, did with its archive material.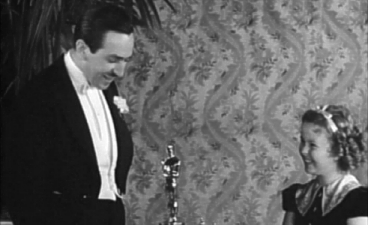 However, this is as close to knowing the real Walt that you're going to get, and even despite the film being part funded by the Disney Family, they do allow his foibles to be seen as well as the many achievements and contributions Walt made to filmmaking and society in general. It's safe to say that animation (and in fact any moviemaking involving visual effects or music) would not be at the stage it is now if it had not been for Walt Disney. When he made his first big splashes in film, with the Alice Comedies and Oswald The Lucky Rabbit, everyone at the time realized that these cartoons featured real stories and relatable characters, rather than the random gags cooked up by other cartoon producers Otto Messmer (with Felix The Cat) and the Fleischer Brothers (Out Of The Inkwell and Betty Boop).
Oswald didn't actually turn out to be too lucky for Walt, who found that his rising costs were not appreciated by distributor Universal. Finding himself fired from his own creation, Walt boarded a train and headed home, swearing that never again would another company own the rights to any future Disney product. He came up with the idea for a new character – a mouse – on this journey home, and decided to name him Mortimer. "I don't like Mortimer," said his wife Lillian, "what about Mickey?" The rest, as they say, is history.
Setting up shop with acclaimed animator Ubbe Iwwekrs (later shortened to Ub Iwerks), Walt brought in his brother Roy to keep an eye on the business side of things. Over the next couple of years, Walt and Ub would produce the first animated short with a synchronized soundtrack, the immortal Steamboat Willie, which made Mickey a huge star, as well as the first color short, Flowers And Trees (winning an Academy Award in 1931), as well as launching the Silly Symphonies series of experimental cartoons, and the "careers" of Pluto, Goofy, Donald Duck, Huey, Dewey and Louie, Chip 'n' Dale, and a host of others. Before long, Walt would make his first foray into animated features, creating the field itself with Snow White And The Seven Dwarfs, in 1937.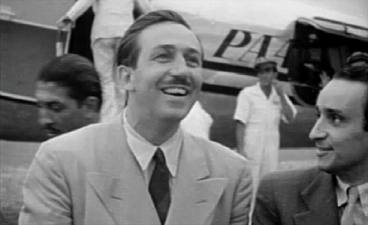 The documentary Walt: The Man Behind The Myth is as in-depth as they come. It's a good 40 minutes before we reach the Snow White milestone, and insights from a great deal of friends, family and employees are most welcome throughout. The early footage is amazing to see in such quality (for film of its age) and stories of Walt's first attempts at filmmaking and business matters are amusing and inspiring. The film continues through the turbulent 1940s, when Disney faced slight competition from rivals at Warners, MGM and the Fleischers at Paramount, as well as low returns on his films such as Pinocchio, Fantasia and Bambi. The often-documented Studio Strike is also covered as well as an explanation of his involvement in the McCarthy "Witch Hunts" of the 1950s. Although this stays fairly safe, it was a brave decision to include this footage at all as opposed to simply glossing it over with a single line of Dick Van Dyke's warm and friendly narration, and though some will still question Walt's activities during this era, one can only lead to the conclusion that this was a good man trying to do what he believed was right for his country.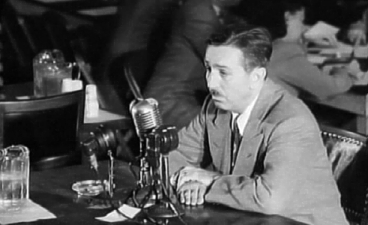 The 50s also reveals his plans for DisneyLand (the park and the anthology television series) as well as his rapidly declining health. By the 60s, it seems that folks around the Studio knew something was up, and the film ends on a high note with the premiere of Walt's crowning achievement, Mary Poppins, in 1964. It does continue to document events both personal and at the Studio after his death, and by this time, I for one was quite choked up – you really do feel like you've gotten to know the man over the two hours or so the program plays. Although Walt lived in a time where things were perhaps a little easier (whereas some other things were tougher), as a young director myself he is most certainly a guiding light, and remains an inspiration to us all, especially at this time when the company he founded with his brother Roy has been the subject of much behind the scenes power playing and only now seems to be finding itself back on track.
Is This Thing Loaded?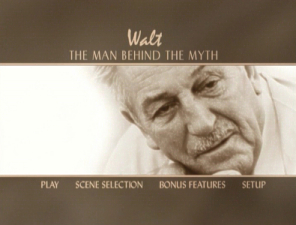 Following the main program is a staggering almost-two hours of additional material, including extended interviews, a making of, and several minutes of rare home movie footage never before released from the Disney family archives.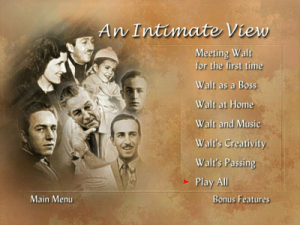 An Intimate View features extra comments from the interviewees on various subjects, such as Meeting Walt For The First Time (4:40minutes), Walt As Boss (5:12m), Walt At Home (3:52m), Walt And Music (3:57m), Walt's Creativity (4:58m), and Walt's Passing (5:22m).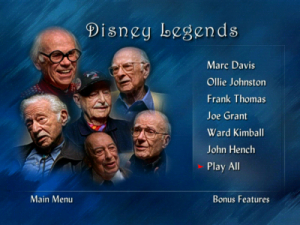 Disney Legends is a further few comments from important faces from Disney history, including four of the Nine Old Men. Joining Marc Davis and Ward Kimball (in their last major interviews) are Ollie Johnston, Frank Thomas, Joe Grant and John Hench – all names familiar to Disney aficionados. They speak about their time at the Studio and their working relationship with Walt, adding up to a further 32 minutes of material.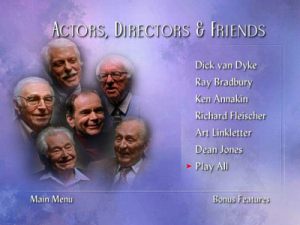 Actors, Directors And Friends features more reminiscences from Walt's colleagues over the years. Lasting a combined 30-plus minutes, Dick Van Dyke, Ray Bradbury, Ken Annakin, Richard Fleischer, Art Linkletter and Dean Jones all reveal what Walt meant to them and how he influenced their lives.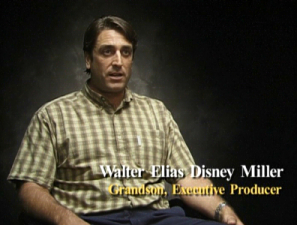 The Making Of Walt is a fine eight-and-a-half minute featurette covering the production and the thought process behind the reason in making the documentary. Extra home movie footage is included (this time in correct full-screen) as well as a couple of further stories and interviews with the Disney family and the creators of the film.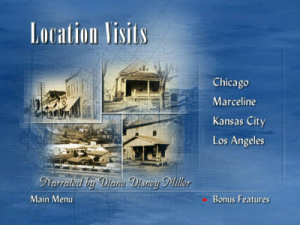 Following the Making is a look at the Location Visits – places shot for the documentary. A brief history of each area is given, along with where they fit into Walt's life, and these clips feature more examples of early art and archive photographs. Narrated by Diane Disney Miller (and divided under the sub-headings of Chicago, Marceline, Kansas City and Los Angeles) these vignettes add up to another 11 minutes of Walt memories.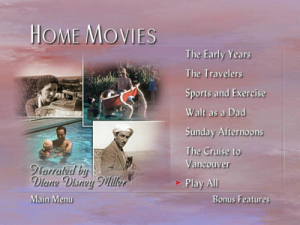 Home Movies has Diane Disney Miller again narrating, this time a five-minute collection of footage shot by the Disney family, much of it by Walt himself. Spliced into individual selections are shots covering The Early Years, Travelers, Sports And Exercise, Walt As A Dad, Sunday Afternoons and a Cruise To Vancouver, and this is great chance to see the uncropped footage full-screen and really take in the Disneys' personal and home life. This is the first time that this footage has been widely seen and makes for fun and interesting viewing.
With the amount of bonus material on offer, on top of the extended main program, there is a good two hours or so to explore here, not including the many hours you could spend visiting the disc's DVD-ROM weblink. Included on the disc is a direct link to the Walt Disney Family Museum, a wonderful resource for all things Walt, both personal and professional. Several clips from the main feature, plus many more hours of rare footage can be seen and downloaded there, including a great deal of further background information. The site is updated frequently, with various new "exhibits", and is well worth a visit.
The only additional section that would have been great on this actual disc might have been a chance to step through some of the photographs, artwork and stills seen throughout the program itself in a separate and timely manner. Most of these are viewable via the weblink however, so one can not complain too heavily. Overall this is a very fine tribute to a very fine man indeed!
Case Study:
Released alongside the major book issue Inside The Dream: The Personal Story Of Walt Disney, the DVD cover for Walt follows along the same lines, using the same dramatic, but candid photograph of Walt toying with an atlas globe on the front of the sleeve. Inside a comprehensive chapter index makes heading straight to Mr Disney's personal milestones an easy task.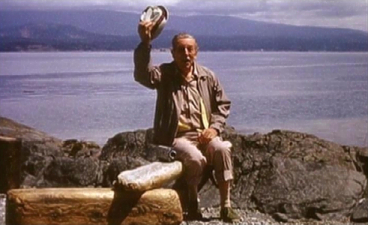 Ink And Paint:
As mentioned above, Walt: The Man Behind The Myth is presented in 1.66:1 widescreen. The letterboxed ratio has not been anamorphically encoded, instead masking the image within a standard full-frame 4:3 screen. Shot on film, the interviews look stunning, with a nice "quiet" sense to the lighting, and deep reverence for the interviewees participating. The archive clips look as good as they will, the cropping issue notwithstanding, but some of the film clips have not been taken from the pristine elements that have been restored for recent home video releases. However, it's the story of one man that counts here, and the choices of clips and photographs is spot on, perfectly illustrating an extraordinary career. The image is strong, the lighting on the new location set-ups deep, with strong and vibrant, but suitably muted colors. Despite the sheer amount of footage packed onto the disc as described in the extras above, there is no sign of artefacting, due most likely to the relatively slow moving video (talking heads and photos are not as compression guzzling as a full-on animation or action movie). As the program has been finished on high-definition video, there is a slight annoyance that captions and name tags fall outside of the 1.78:1 ratio of widescreen displays, so the image can't easily be zoomed in on to fill the screen without losing more head space or lower text info. Overall it is very pleasing visual experience, right from the look of the shots, to the disc's presentation, but the lack of anamorphic enhancement and questions on what seems to be a satisfactory aspect ratio does frustrate.
Scratch Tracks:
As a documentary, this is was never going to be a title to demonstrate your home theater set up on. But the most important thing in a narrated "talking heads" program is whether one can understand the dialogue, and with the audio on this disc, the answer is a resounding "yes"! The soundbites and interviews have been carefully chosen, and with a good speaker set up you sound as if you are sitting in the same room as the interviewees, helping their comments come across even more effectively. The music too (a combination of film scores and library themes performed by the London Symphony Orchestra) sounds well placed, and despite moments when it swells up, it never drowns out the speech. Everything is audible, and even the sometimes endearingly slow talk of the famed master animators has a resonance that holds the attention that the usual "making of" clips do not possess. The added foley (audio effects) to some of the silent footage sometimes makes itself obvious, but this is a warm mix and perfectly suited to the material. Additional subtitles, in English, French and Spanish, have also been included.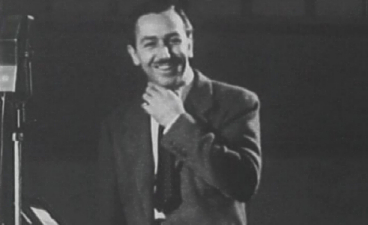 Final Cut:
This is simply a must own if you are an admirer of Walt Disney, the man, or a fan of his many animated creations. The tone is just right; the interviews say what they need to say, and the cinematography looks bright and clear. The only minor bugbear is that cropping of footage, although compared to the VHS the picture is obviously more stable and has more depth. It may well actually be worth picking up the VHS as well, as the program has been completely re-edited, with some minor shots exchanged in this extended version (early film featuring a broken milk bottle comes off better in the tape version) for more interview footage. Even Dick Van Dyke's voice over differs in content, so by no means is the VHS redundant – and for animation students eager to see different formatted versions of footage, it's worth a look.
The DVD covers each stage in Walt's life a little more extensively, allowing for extra comments from friends and family, as well as the occasional extra photograph. Both are different cuts, and the shorter VHS really may be worth die-hard fans' attention. With this new wider release, the DVD can join the similar (and just as highly recommended) Frank And Ollie documentary on your shelves, with just the currently-only-on-VHS Ub Iwerks: The Hand Behind The Mouse documentary missing in action on disc. Hopefully, sales of Walt will show that this particular "Legacy Trilogy" needs its final film issued to DVD as well, so that we may all share in how this much beloved company got its start and pulled through those early years. As for now, and with its amazing wealth of bonus material, Walt: The Man Behind The Myth is as entertaining as documentaries get!
ANIMATED VIEWS EXTRA: In the promotion for the original release of this film, Walt's daughter Diane Disney-Miller shared her thoughts with me in an exclusive interview where she discussed living with Walt, life at the Studio, and the task of putting the Walt film together.
Animated Classic or Back To The Drawing Board?