Metro-Goldwyn-Mayer (1953-1958), CLV box set with extensive booklet liner notes, 3 discs/6 sides, 5hrs 48mins, 1.33:1 original full-frame ratio, 40 cartoons including 22 in 2.35:1 letterboxed widescreen, 6 bonus Hanna Barbera shorts (1938-1943), 2 feature film sequences, Digital Sound, Not Rated/Rated G
---
With the majority of the cat 'n' mouse's oeuvre still to debut on DVD, what better time is there than now to take a look back almost 15 years (!) to when animation historian Jerry Beck co-produced a trilogy of fine LaserDisc box sets starring the bickering duo.
MGM/UA Home Video gained a decent reputation for itself a number of extensive anthologies in the early 1990s, counting among them the collected works of Hugh Harmon and Rudy Ising's Happy Harmonies, five volumes of the pre-1948 Golden Age Of Looney Tunes, an entire set dedicated to the genius of Tex Avery and, of course, the celebrated team of Thomas, the cat, and his nemesis Jerry, the mouse, were given three such fully packed sets to shine in. These collections, under the banner of The Art Of Tom And Jerry, brought together all of their motion picture appearances, including original CinemaScope shorts and sequences from other feature films, save their short lived (and best forgotten) European series and the 1990s update movie.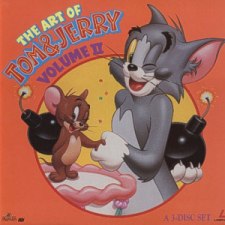 THE ART OF TOM AND JERRY: VOLUME TWO, although only containing three CLV discs as opposed to volume one's five, is probably the best of the bunch as far as collectors are concerned. Featuring a further 40 shorts, the real bonuses in this set are the inclusion of 22 of them in their original CinemaScope ratio of 2.35:1, plus several other animated gems from H-B's tenure at MGM. Topping off even this is the inclusion of two extensive film clips featuring the cat and mouse's appearances in a couple of MGM's big Hollywood musicals!
Beginning where the first set left off, this collection starts with the next cartoon in Tom And Jerry's chronological release history, Two Little Indians from 1953, and we can see that the stylised influences of other studios such as UPA and Warner Brothers had begun to make a difference in the look of the T&J shorts. In fact, in this first cartoon, Tom does not appear too dissimilar to the way he would in the 1960s Chuck Jones cartoons. Lines are cleaner and backgrounds are simpler and more angular, though not as much as they would become with the arrival of CinemaScope. In Two Little Indians, a couple of mice resembling Nibbles arrive to stir up trouble between Tom, Jerry and Spike.
Life With Tom is next, the first of several all-time classics that appear on this set. Jerry writes a best selling book that outlines his ongoing battle against Tom in another "highlights" cartoon, but one that features some truly memorable moments from past adventures such as Cat Fishin' and Kitty Foiled, with a great pay off at the end. The first of 1954's ten cartoons, Puppy Tale, has Jerry befriending another cute animal, this time a little puppy, who takes a shine to the mouse. Posse Cat takes us back out west for some more rowdy hijinks when Tom has to catch Jerry in order to win dinner from the ranch cook. In Hic-Cup Pup, Spike's son Tyke is the focus of the story in a hilarious short, which finds him with an unshakable bout of hiccups!
Another character returns in Little School Mouse, with the mouse previously known as Nibbles this time known as Tuffy for some reason. This is a very funny cartoon and shows that things do not always go to plan for Jerry. In Baby Butch, an alley cat disguises myself as an infant to gain access to the refrigerator, while Tuffy is back again in Mice Follies, which sees the mice turn Tom's kitchen into an ice skating rink. With the addition of new regular characters, the series was able to expand a little, and in the Italian set Neapolitan Mouse the duo meet a surefooted mouse named Topo who recognises them from their films. Apart from a spot of self-patting on the back, the short features some simply gorgeous backgrounds and while it is not as funny as a regular outing, it feels a little more "special" than some of the other cartoons in the set.
The duckling, who by now was known as Little Quacker, comes back to preoccupy Jerry after he reads the story of The Ugly Duckling and gets depressed in a cartoon that is a real throwback to the style that developed in the 1940s. Pet Peeve builds on a previous cartoon's outline in that whichever one out of Tom or Spike that catches Jerry gets to stay in the house, while Touché Pussycat! also harks back to past glories when the Mouseketeers of Paris are brought back for another duel against Le Tom Cat. The rest of the side is completed with the 1955 cartoons Southboard Duckling, Pup On A Picnic (more great backgrounds and high production values), the classic Mouse For Sale in which Jerry becomes a dancing white mouse, and Designs On Jerry, where the drawn mouse on Tom's blueprint for the ultimate mousetrap comes alive to warn Jerry of the cat's plans. Another cartoon that displays some brilliant ideas and plays them out with great wit and invention!
As we get to side three, the screen opens up wide to present the remaining cartoons in letterboxed CinemaScope. Presented on home video in this form for the first (and currently only) time, it's amazing to see the full width of these releases and to be able to take in the extended artwork. Framing remains the same, with tight close ups and gags played out in wider shots. With the first of the Scope cartoons, Tom And Cherie, we're back in Paris for another Mouseketeer cartoon with Tuffy, who takes center stage in an attempt to deliver a love-letter past Tom's watching eye.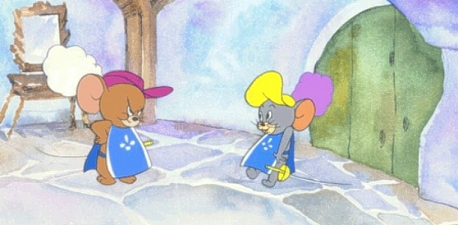 Due to the extended production time needed on the animated shorts of the time, the next two films, Smarty Cat (another "highlights" short, this time based around Tom's pals running a film show of past clips, including Cat Fishin' – again – and Fit To Be Tied) and Pecos Pest (which features a hysterical performance by Jerry's Texas singing Uncle and a great TV gag), are shown as they were created, in the standard 1.33:1 ratio, as these were at the tail end of these kinds of productions. We're back to 'Scope for That's My Mommy, and by this time H-B had adopted the surrealistic and very stylised approach that many studios (including Disney) took to their widescreen films in the mid-1950s. That's My Mommy is another Little Quaker short, following Jerry's attempts at keeping the little duckling safe from Tom. The Flying Sorceress starts off 1957's films, and is the one where Tom thinks he's been adopted as a witch's cat, but can't handle the spooks!
While the widescreen cartoons are a revelation to finally see in their intended ratios, one can not help but wonder how cramped the pan-and-scan framing on some of these would have been, as the frames are kept pretty tight as it is! By way of interesting comparisons, the new ratio allowed Hanna and Barbera the opportunity to revisit several of their previous shorts. It seems that most of the animation is recycled from Hatch Up Your Troubles (1949) in the remake cartoon The Egg And Jerry, and although the backgrounds now have the rough-edged 50s look and the character lines are thicker and smoother, this is basically a shot for shot copy.
Busy Buddies plays out like a Roger Rabbit/Baby Herman cartoon, when Jeannie the babysitter spends more time on the telephone than actually keeping an eye on baby, so it's up to Tom And Jerry to make sure he does not come to any harm. Muscle Beach Tom sets the action back on the beach as Tom battles a rival for the attentions of his sweetheart, and side four continues the fun with Down Beat Bear, Blue Cat Blues (a fairly sombre entry in the series), and Barbecue Brawl. A remake of 1949's Love That Pup is next, this time entitled Tops With Pops, but the same in all other respects. Tom finally gets a long-lost relative of his own in Timid Tabby, when his cousin George (voiced by Bill Thompson, who will be familiar to animation fans as J. Audubon Woodlore, the park ranger in a series of Donald Duck cartoons and, of course, as MGM's own Droopy) turns up and reveals a fear of mice! This side rounds out with Feedin' The Kiddie (another remake, of the 1949 Oscar-winning The Little Orphan), Mucho Mouse (a Spanish set chase which features more great settings and a vocal by Tom) and Tom's Photo Finish, where the cat flights to keep a certain incriminating picture from falling before Spike's eyes.
Another all-time classic that gets much airplay, especially around Easter time, is Happy Go Ducky (1958), in which Little Quaker pops out from one of Tom And Jerry's eggs and goes on to wreck havoc. The final few cartoons on this side, finishing off T&J's career with Hanna-Barbera (in a nice touch, the two switch credits on alternate films so as not to take top billing), offer a satisfying mix of past concepts revisited and new ideas. Royal Cat Nap returns Jerry and Tuffy to Paris, where Tom is warned that he'll be executed if the Mouseketeers disturb the King; The Vanishing Duck recalls The Invisible Mouse as Little Quaker joins Jerry in harassing Tom (though with a very different outcome!); Robin Hoodwinked sees the mice planning to sneak past Tom to save Robin Hood in a rather epic adventure and one of the best shorts in this set; and Tot Watchers is either a remake or sequel to Busy Buddies, whichever way you look at it, being the continuation of Jeannie the babysitter's phone call that leaves Tom And Jerry to watch over the baby in an ever increasing series of near-misses!
During the production of the T&J shorts, several recurring characters became stars in their own right. Two of them, Spike the bulldog and his son Tyke, even appeared in a couple of their own shorts, which feature next in this collection. In Give And Tyke, a homeless dog reads about the new law that prevents dog without collars from being free and goes about stealing Tyke's collar… Scat Cats passes up the opportunity to feature Tom in a cat role, with H-B going for his long time nemesis Butch instead, probably intentional in order to break away from the regular series. With the owners of their house gone, Spike and Tyke spend the entire evening trying to stop the house cat's attempts at inviting his tabby cat friends in for a party, with some wonderful situations played out along the way. These two films, presented in their CinemaScope ratios, feel more like Tex Avery films than those of Hanna-Barbera, though the connection with Scott Bradley's music, and most noticeably the T&J theme, just about keep these cartoons within the Tom And Jerry universe.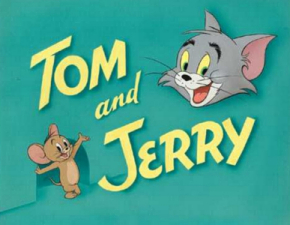 Before the series had seemingly used up every idea and cliché that they could think up, Hanna and Barbera had pursued several other characters as potential stars. Side five wraps up with one last widescreen cartoon, another remake, this time of Hugh Harman's 1939 classic Peace On Earth, renamed Good Will To Men (1955). Taking the original concept, this version presents a chilling updated account of war, and like the original, goes for the message rather than laughs. Shot in CinemaScope, this ambitious cartoon is perhaps artistically the most pleasing of the films in this set. Extravagant backgrounds and a serious theme mark this out for special mention, and it is all handled in a most expert way. In comparison with the original (available in the Happy Harmonies boxed set), one is reminded what an impact the 1939 film must have made when it was first shown, and it has a sense of immediacy and heart which is slightly subdued in the later version.
If anyone could have remade Peace On Earth with the sensitivity of the original, however, then it was Bill Hanna and Joe Barbera, who were originally staffers at the Harman-Ising animation unit itself at MGM, and contributed to a number of shorts before Tom And Jerry hit the big time in late 1940. On side six of this set, several of these films are featured, beginning with the Captain and the Kids cartoon What A Lion! from 1938. First introduced by MGM in a 1937 short, the Captain and the Kids proved popular enough for a few more cartoons in the series, though it was short lived (probably due to their low budgets). This one, the only cartoon in the entire three volumes of The Art Of Tom And Jerry to appear in (its original) black and white, is a typical example of animated cartoons being made at this time. A kooky plot (the kids try to trap a lion), some apparent danger, and exotic locations were all that was required to put together a nine minute short back then, but though the story is bland, the fluid animation and rather well defined characters show why Harman-Ising was the studio Walt Disney chose when he needed to outsource animation for one of the Silly Symphonies.
Swing Time (1940), a bizarre underwater blackface musical starring fish (and which one can pretty much guarantee will not make it to any DVD collections anytime soon) remains a curiosity, despite its good animation and detail. Another 1940 short, Galllopin' Gals, tracks the conversations of a group of female horses (styled on many Hollywood starlets of the time) at the derby, predating the snobbish elephants of Dumbo by over a year. An attempt to introduce a new character did not pan out as successfully as hoped in The Goose Goes South, as a baby goose tries to make it South. There's nothing actually wrong with the goose character, except for the fact that his potential might seem limited, but the possibly controversial stereotypes (including a bunch of very dubious rednecks) will probably put this short on a few hard-to-find lists, too. There's a hint of the later joys to come in the next cartoon, Officer Pooch (1941), following a less-than-average day in the comic life of a police dog as he goes about his duties. Created around the same time Hanna-Barbera were about to debut Tom And Jerry (it seems likely they were trying out a number of characters to see which one "stuck"), the film feels fresh, and is the most enjoyable of H-B's non cat and mouse MGM output.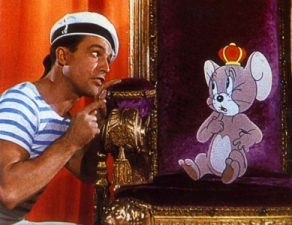 By the time of the humorous "training" film War Dogs, a propaganda short made in 1943 and the final cartoon in this collection, Tom And Jerry were a big success and H-B's talents were put onto the cat and mouse series permanently and exclusively. When Walt Disney refused MGM's use of Mickey Mouse to appear opposite Gene Kelly in the 1945 musical Anchors Aweigh (despite the mouse appearing in MGM's 1934 feature Hollywood Party alongside Jimmy Durante), Hanna-Barbera stepped in and offered Jerry instead. The four-minute sequence, combining live-action with animation of a slightly taller Jerry, who also sings, turned out to be one of MGM's defining moments and a real career highlight for Kelly. It's presented here, complete and uncut, and though the entire film is available on LaserDisc and on DVD, this really is the best part of this fun picture.
Tom And Jerry ventured into live-action musical pictures again almost a decade later when they met up with swimming sensation Esther Williams in the 1953 feature Dangerous When Wet. Though T&J were appearing in CinemaScope by this time, many of the live-action films remained photographed in the standard Academy frame ratio, and this is how this clip is correctly presented. Running the length of a cartoon short itself, the sequence finds Williams dozing off into a dream that sees her T&J comic book come to life. She joins them in their undersea adventure, which sees the duo rescue her from a preying shark as well as an amorous octopus! The whole thing works rather well, though there are no notes that place either of the sequences in context or how this one was achieved. Williams seems to have been filmed submerged in a giant blue-screen tank and is seamlessly integrated into the aquatic animated plates – a great detail is the many hundreds of bubbles that have been hand animated as she twists and turns in the water.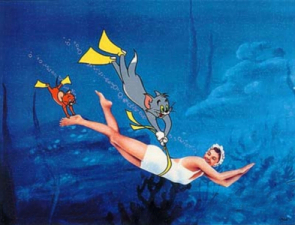 With long-time MGM animation producer Fred Quimby (a man not known for his sense of humor, he once commented during a screening of a Tex Avery short that he "did not understand what was going on") announcing his retirement, Bill and Joe were promoted to his position. They'd actually shared their first producing credit on Good Will To Men with Quimby, but their time as bosses of the animation department was to be short lived. They produced, but not take directing credits for, CinemaScope remakes of two Tex Avery classics: Wags To Riches (1949) as Millionaire Droopy in 1956, with Ventriloquist Cat (1950) becoming Cat's Meow in 1957 (not included here, these shorts are available on the Avery compilation instead), as well as the half-hour animated sequence from the much too rarely seen feature Invitation To The Dance (1956) which places their "old pal" Gene Kelly in their animated Arabian world. The film features some simply stunning artwork and airs occasionally on the TCM network, so keep your eyes peeled!
Soon after Quimby's departure, MGM decided to halt production on the cartoons completely, mainly as the revenues had begun to dry up and any demand for short subjects could be met with back-catalog releases. This left Hanna and Barbera without a home, prompting them to think about where their art form's future was headed, which for them happened to be limited animation television and the rest, as they say, is history. They re-teamed with Gene Kelly for the wonderfully brilliant animated/live-action one-hour special Jack And The Beanstalk in 1966 (sadly hardly ever seen nowadays though I assume Warners own the rights and it would make an exceptional double feature DVD with Invitation To The Dance), and would work again with Avery in later years, creating the television show Kwicky Koala shortly before he died in 1980. H-B themselves often returned to their past and the T&J characters over the years, usually in failed attempts at bringing them to a TV audience. The misguided feature movie is best otherwise left unmentioned.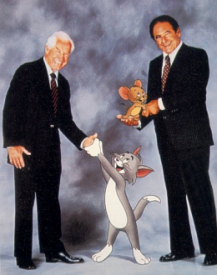 The producing/directing pair would undergo a major renaissance in the 1990s, becoming figureheads for the Cartoon Network channel, finally coming full circle by directing their first short in over 30 years. Naturally, it was an old school-styled Tom And Jerry special! In finishing this particular set, and not having seen the entire Esther Williams film itself, I found that the final clip of Dangerous When Wet sequence worked very well on its own, having its own natural beginning and end, and wrapped up this second collection of Hanna-Barbera MGM material with class and style.
---
LaserDisc Archives: The Art Of Tom And Jerry – Volume One