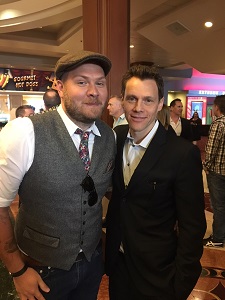 Dominic Lewis (on the left, with Peter Rabbit director Will Gluck) is one of the rising stars of the film music sphere. He's found success in live-action feature films, TV, and animation, and now he's just brilliantly scored Sony Pictures Animation's Peter Rabbit and Disney XD's revitalized DuckTales.
Prior to his career as a composer, Dominic studied at the Royal Academy of Music in London, where he received classical training in cello and music composition. During his time at the Royal Academy, he was mentored by Rupert Gregson-Williams and was given the opportunity to co-compose the score for his first feature film, The Poet, directed by Damien Lee. Dominic also drew on his strong orchestral background to orchestrate and arrange two classical albums, Camilly Kerslake and The Priests, and wrote the album for the Lily May Show.
Following his move from England to the United States, he joined John Powell, composing for the 2011 Oscar-nominated film, How To Train Your Dragon. He has since worked with some of Hollywood's most renowned composers, including Henry Jackman and Hans Zimmer. In their company, he has contributed to numerous feature films, including Rango , Rio, Kung Fu Panda 2, Puss In Boots, Wreck-It Ralph, and Big Hero 6, plus multiple commercials.
We were more than happy to meet the incredibly gifted composer to chat about his latest animated productions.
---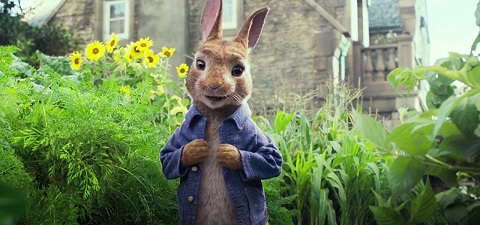 Animated Views: How did you approach Peter Rabbit musically?
Dominic Lewis: Well, Will, the director wanted it to be big and British. So, I felt I was the perfect fit for that! But, more specifically, Will hadn't really used composers in the past – his movies are full of songs. So, my first approach was to start with a song base, with drums, bass, guitar, piano, organs, all the stuff that he would feel familiar with. And then, to make it epic and movie-like, I stuck a massive orchestra on top of it. It allowed me to balance the traditional aspect of Peter Rabbit with the more modern aspect of Peter Rabbit. It felt like that was a really good avenue to go down. I'm really proud of the result.
AV: How did you make your score sound "British?"
DL: When I say "British," I mean in the popular sense of the word, to start with – inspiration being The Beatles, The Who, The Smiths, The Jam, things that, when you hear it, you know it's British. But then I also tried to encapsulate the classical world of the British mentality towards music. I mean Elgar, with that way of capturing the pastoral aspect of the British countryside with the orchestra.
AV: How did you find the right balance between the British and cuddly origins of Peter Rabbit and the more modern tone that the director wanted to bring to him?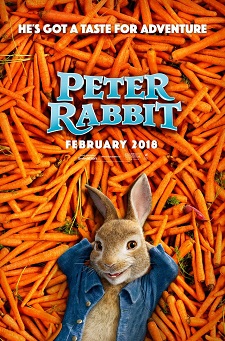 DL: The movie starts out in a more traditional way and then there's little twists and turns that make you realize that it is not the traditional story. What Will did was stay very true to the character. The beginning of the film feels very true to what I feel Beatrix Potter would have wanted. There's a 2D flashback where Will explains the story up to now, and created Beatrix-Potter-like illustrations for it. So, for about 2 minutes at the beginning of the film, it's just music and pictures: Peter and his family, what happened to his dad… to give him some emotional background. So, in that respect, that's very much traditional, classical music for which I was pulling from my classical backgrounds, my Elgars, my Vaughan Williams and my Benjamin Brittens. So, that was lovely to start a process like that.
And then, as we move forward, that's where I start introducing the more "band" elements, the more driving "pop-y" "rock-y" elements, if you will. But all the time, the orchestra is always there. You know, I'm using a harpsichord in this film, and a honky-tonk piano like you can find it in The Beatles, so we got like a fusion of classic rock 'n' roll English pop with classical English music. It's a very nice blend. It was tricky at first: I wanted to go more orchestral and Will wanted to stay more in the song world, and then we kind of met in the middle!
AV: Can you tell me about Peter's theme?
DL: I didn't write any song for the film except one for the main credits which is the main theme of Peter Rabbit. I sing the theme, and there's a big orchestral arrangement behind it. I wanted to capture the same kind of feeling as the Beatles song "The Long And Winding Road". It's pop, but you have a very lush orchestra behind it. So, that was my inspiration for that. For the rest of the score, I just approached themes like songs, nothing too Mickey Mouse. It's just a general approach to what's happening on screen. It was a traditional approach in terms of thematic material: the main characters have themes used as leitmotivs. But in terms of instrumentation and overall sonics, it was more of a kind of modern song approach.
AV: What kind of an orchestra did you use?
DL: The size was the biggest I've worked with yet, which was lovely! It was about fifty strings, double woods, six horns, four trumpets, four trombones, tuba and then a harp, timpani, snare-drum, harpsichord, pianos, guitar, bass, drums, all that as an overdub – not in the room with everyone, to have more control in the mix. It's funny because a lot of the leitmotivs are stylistically baroque-like, even Bach-ian. But obviously, I needed to be more lush with the orchestration. So, with the more emotional stuff, we were trying to make the audience cry with the more Vaughan Williams aspects. And also, my biggest influence in matter of orchestration is Ravel, so I tried to go down that road as well. I know I'll never get to the genius of those guys, but I think if you aim somewhere near them, you'll come up with your own sound at some point.
AV: How did the recording session go?
DL: We started recording on December 10th in Sydney, Australia. We finished on the 19th and I flew back to L.A. on the 23rd. So, we mixed down there. They're great players, and I wanted to take my time to get things done right, with a lot of rehearsals before we started recording to get the right feelings. It was a really lovely experience. We did that because Australia was a partner in the production of the movie, so everything had to be done there. But luckily they were brilliant. I had already worked with them before, on Open Season: Scared Silly, with Rupert Gregson-Williams, and I knew they were good.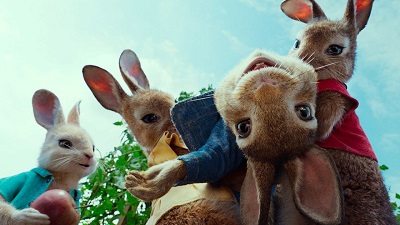 AV: Another successful animated production you're a part of is DuckTales. How did you work on that reboot?
DL: You know, when you do a reboot of something – and it's the same thing for Peter Rabbit – it's very daunting because you have so many fans who loved the original, especially the music by Ron Jones and the amazing theme tune by Mark Mueller. So, it's exciting and very scary at the same time. I started with the theme song, because they wanted a new, cool version that would also evoke feelings of adventure and those kind of Amblin/Lucasfilm-type feelings. So, I basically added strings and orchestral brass behind the songs. That was my first introduction to the series. And then they just wanted to kind of run with that with the music of the series. I watched DuckTales religiously as a kid, but I didn't want to go back and refresh my memories of Ron Jones' amazing score because I didn't want to copy it. I felt like if I had just listened to a little bit of it, then it would have guided me to a more nostalgic way of scoring the season.
So, I just wanted to bring to the table what naturally came to me from watching the picture, which was this kind of big, hybrid orchestral score. It's amazing to see how this 2D animated episode can hold this massive musical soundscape – big orchestra, big adventure. And it's very nice to be able to use everything: we go everywhere! We're in Egypt, we're in the mountains… I mean, there's so many opportunities to use so many different instruments, while the orchestra is all the time that one constant that gives it that action-adventure feel. To give a feel of the place, I'm lucky to have many synthesizers and samples at my studio to pick up some rare instruments, but sometimes I have some live musicians, shakuashi or different kind of ethnic flute players coming here for recording.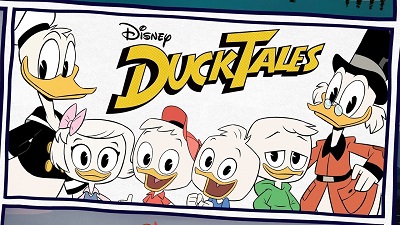 AV: What's interesting in your way of scoring DuckTales is that music is not always there. It appears just when it's really needed, when it's meaningful.
DL: Yes, you hit the nail on the head, here. From the very beginning, on the first meeting with the execs and Matt Youngberg and Francisco Angones, the creators of the series, as a team, we wanted to make sure music would make a difference. I'm happy you noticed that because so many animated shows don't have that approach to music, there's too much of it and it gets boring. As a composer, it's really nice to have those kinds of breaks. Because the episode musically is shorter, you're automatically getting a better product. There's a two-week-turnaround so, I can focus less on filling the episode and more on what's important and on quality.
AV: With such quality, can we hope for a soundtrack CD of the series?
DL: I hope so. I'm really pushing for it. I'm working on episode 23 now, so once the first season's done, I'm gonna talk to the guys at Disney!
---
---
---
With very special thanks to Dominic Lewis and Stephanie Pfingsten at Impact 24 PR.
Photo of Dominic Lewis with Peter Rabbit director Will Gluck (c) Impact 24 PR