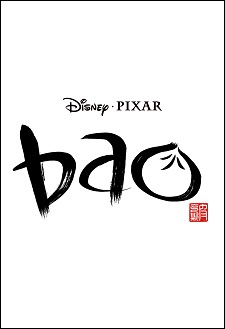 Pixar's latest short Bao is presented as an "appetizer" before The Incredibles 2, but it also stands as a masterpiece on its own.
In this one-of-kind film, an aging Chinese mom suffering from empty nest syndrome gets another chance at motherhood when one of her dumplings springs to life as a lively, giggly dumpling boy. Mom excitedly welcomes this new bundle of joy into her life, but Dumpling starts growing up fast, and Mom must come to the bittersweet revelation that nothing stays cute and small forever. This short film from Pixar Animation Studios and director Domee Shi explores the ups and downs of the parent-child relationship through the colorful, rich, and tasty lens of the Chinese immigrant community in Canada.
To score that incredible short, director Domee Shi appealed to composer Toby Chu, who imagined the most delicate and refined music to accompany that unlikely story.
Toby is a Chinese American film composer, with dual citizenship in the United States and Croatia. Over the last 20 years, he has composed music for over 50 films and television programs including Legends Of Oz: Dorothy's Return, Surf's Up 2: WaveMania for Sony Pictures Animation, Warner Bros' dramatic thriller Unforgettable, and New Line Cinema's period thriller The Wolves At The Door. He is also scoring BRON Studios' animation Henchman, NBC's The Brave, and the Freeform original series Beyond.
After receiving a degree in film scoring from the Berklee College of Music, Toby moved to Los Angeles, where he quickly began working on a number of projects for Golden Globe and Grammy-nominated film composer Harry Gregson-Williams, with whom Toby worked for over a decade.
He also collaborated with Daft Punk, arranging and orchestrating "Adagio for Tron" on the Tron: Legacy soundtrack. His credits also include musical contributions to Man On Fire, Déjà Vu, The Chronicles Of Narnia: The Lion, The Witch And The Wardrobe, Domino, and Team America: World Police.
He's also an artist, very much influenced by painted John Singer Sargeant, and was recognized as a candidate in the U.S. Presidential Scholars Program. His paintings are in a number of private collections and have been displayed at the U.S. Capitol Building.
He was the perfect and most complete artist to participate in such an original project!
---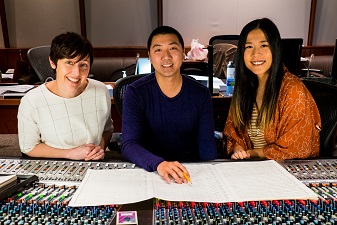 Composer Toby Chu (center), along with Bao Producer Becky Neiman (left) and Director Domee Shi.
AnimatedViews: We first met in the early 2000's, when you were an assistant to Harry Gregson-Williams, and now you're an independent composer working for Pixar. What an incredible journey!
Toby Chu: Yes, it's been an incredibly exciting journey! I started assisting Harry early on in my career soon after moving to Los Angeles. He was a teacher and a mentor. We collaborated on over fifty films, and I learned a great deal during our time together. A little more than five years ago now, I moved into my own studio and have been working independently ever since.
AV: How and when did you come to work on Bao?
TC: Through Tom MacDougall, who is the executive vice president of music for Pixar and Disney Animation. This was in the fall of 2016. He invited me to Pixar for a meeting, where we met the filmmakers, and I was able to see Bao for the first time.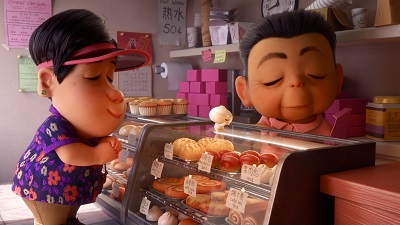 AV: What were your first exchanges with Director Domee Shi like?
TC: I first met Domee at Pixar. She played me an early cut of the film. It was still in storyboard at that point. She had a very good sense of where she wanted to go. We discussed finding the emotion, the overall arc of the film, and incorporating eastern and western instruments together. The mix of east and west was an important metaphor for Domee's upbringing as a Chinese Immigrant in Canada.
As a Chinese-American, I could easily relate. Bao is a modern-day fairy tale set in a Chinese immigrant community. There's a timeless quality and universal appeal to the story that anyone can relate to, but because there's no dialogue in the film, I needed to write a score that could convey the multiple layers of meaning in an authentic way. The music also had to stand on its own to better carry the narrative and to evoke the ups and downs of the parent-child relationship.
AV: How close did you feel to the subject of the film?
TC: The first thing I said after watching Bao was, "That's me. I'm the dumpling!" I had a good laugh with Domee, Becky and Tom about it. The parallels between the short and my life are somewhat uncanny. My mom still calls me her "Xiǎo bǎo bǎo" (small treasure). When I was a child, she would hug me tightly and say that she wanted to eat me. And in a real case of art imitating life, I also ended up happily married to a beautifully blond Caucasian woman.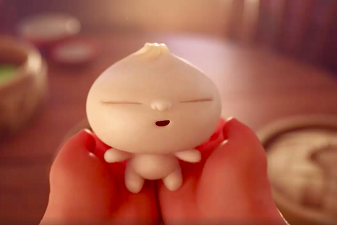 AV: When did you start composing?
TC: I started composing early on in the process. Production was for about a year and a half. The story and music informed and evolved together, which I think is a great thing.
AV: Since you're an artist yourself, can you tell me about your personal connection to the very art for the film?
TC: I grew up loving John Singer Sargent, who was a contemporary to all of the big impressionist painters (e.g., Monet, Degas). A lot of those guys were obsessed with Japanese art and design, and I think you can see a similar east meets west with the influence of Hokusai and others in their work. I've always been very visual. Probably the biggest aspect I draw inspiration from is the visual content of a film.
Bao's visual aesthetic was inspired by traditional Chinese folk art. Rona Liu, Bao's production designer, who also had a personal connection with the story, was a big part in inspiring the music. She did an absolutely brilliant job.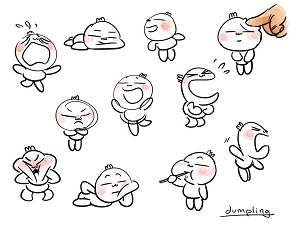 AV: Your score is based on one beautiful theme. How did you create it?
TC: The theme is the heart of the score and the voice of the story. It serves as a thread and develops throughout the film. It was important to me that the theme spoke on many levels. I wanted it to be nostalgic and whimsical like Domee's story.
The theme was the first thing I focused on when I started. I knew I wanted the entire piece to be based on a single theme. There was a lot of trial and error involved before I landed on the right one. It also had to be flexible and work in different arrangements and orchestrations to convey the emotional journey.
It is based on a major pentatonic scale, the scale used in traditional Chinese music. I also set it as a waltz, which is less common. It's built on two phrase groups, symbolizing Mom and Dumpling.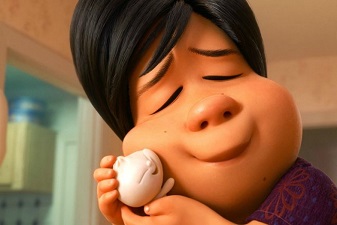 AV: Can you tell me more specifically about that intriguing mix of western and Chinese instruments that you used in your orchestrations?
TC: The music of Bao is a mixture of Chinese traditional instruments (i.e., erhu, guzheng, yangqin, dizi, pipa, liuqin, sanxian) and a 60-piece orchestra. Traditional Chinese music is intimately linked to poetry and to various forms of lyric drama, and is more or less poetry without words. For example, glissandos on the guzheng representing waterfalls or thunder. Each of the instruments have thousands of years of history, so I tried to feature each instrument in a way that honored its tradition and range. One of the most challenging aspects of combining east and west was that many of the traditional Chinese instruments are tuned to play in only certain keys and to play a specific scale. Blending the two wasn't easy. The western side of the music moved to many keys developing and evolving alongside the story. I ended up developing a few custom tunings based on the piece for the guzheng and we used a large assortment of dizi's to cover the changing musical landscape.
AV: and then, toward the end of the score, enter just the piano and the clarinet, which sounds very different from the rest of the score. A very special moment.
TC: There's a beautiful and quiet moment (around 5 minutes in) when mom's real son comes home and they make up for the time apart. The music is sparse. I purposefully didn't use any Chinese instruments here. I felt it was a universal moment and the piano and clarinet felt transparent, an intimate family moment and a mother's love for her child.
AV: How was the recording of that score?
TC: We recorded for two days at Eastwood Scoring Stage at Warner Brothers. A day with the orchestra and a day adding the Chinese instruments.
I did a lot of recording over the year and half I was working on Bao, a lot of which was used in the final piece.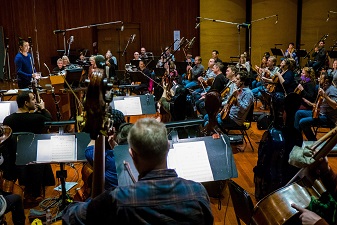 AV: Now that the film is so well-received by audiences and critics, how do you see the overall experience of working on it?
TC: I was honored to work on it. The warm public reception has been both overwhelming and humbling. I grew up watching all of Pixar's movies and shorts. There's a tradition there that you instantly become a part of. Working with Domee, Becky, and Tom was a fantastic experience, and the story is a special one. In one sense, it's a Chinese tale, but in another it's about the broader human themes of love, loss, family, and relationships. Because of this, it transcends all cultural barriers.
AV: Now, what are you up to?
TC: I just returned from recording orchestra for a feature animation called Henchmen. It's fun, action packed, and chock full of superheroes and villains. Keep your eyes out for it!
Listen to Toby Chu's score for Bao here
---
Though this book was published prior to Bao being developed, fans may wish to learn more about Pixar's other mini-masterpieces. The Art Of Pixar Short Films is available to order from Amazon.com!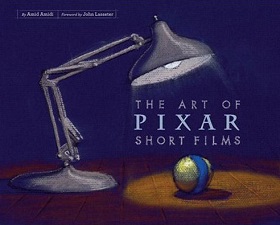 ---
---
With very special thanks to Toby Chu, Chris Wiggum (Pixar), Bryce Buckmaster (Toby Chu Music) and Jordan von Netzer (Impact24). Recording session photos by Deborah Coleman/Pixar