Cartoon Network Studios (2016), Warner Home Video (January 24, 2017), 1 Disc, 88 minutes, 16:9 ratio, Dolby Digital 2.0, Rated TV-PG, Retail: $14.97
Storyboard:
Finn, Jake, and Susan Strong (along with stowaway BMO) take to the high seas in search of other humans.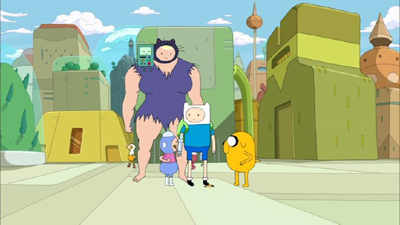 The Sweatbox Review:
As part of the hit show's eighth season, Adventure Time has included a "mini-series" of eight related episodes, entitled Islands. These episodes are airing right now, as I write this. They can also be enjoyed on this DVD, which has been concurrently released. (There is also a graphic novel prequel available. My daughter says that's good, too.) This is the second AT mini-series, following the production of Stakes during Season Seven.
The history of Adventure Time's world has been slowly shown over the course of the show, coming out in fascinating dribs and drabs. By now, fans have a hazy-to-fuzzy view of what happened on Earth and to the land of Ooo, and have witnessed the surprising genesis of such characters of Ice king, Marceline, and Gunther. One mystery that had been teased but barely explored was the question of what other humans might exist, and just where they might be. Finn seemed to be just about the only one around, with the odd tease of Susan Strong thrown into the mix. Islands pulls back the curtain on the human mystery, while shedding light on the origins of Susan, Finn, and the story of his parents. To recognize this momentous event, the episodes for this special series of stories have been given a new title sequence, based on the original one, but specific to the characters and events of Islands.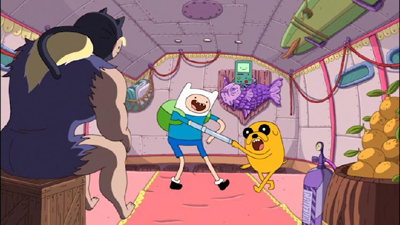 Things start off in exciting fashion with The Invitation, when a mysterious robot ship comes into the land of Ooo, attacking "mutants" and seeking humans. Finn recognizes the important nature of the craft, and is eager to learn from it. Jake, however, smashes it into smithereens. Sigh… Foolish, impulsive Jake. Nevertheless, the pair decide to investigate further, and bring along Finn's fellow human Susan Strong to sail into the unknown. This is uncharted territory for the characters and the show itself, promising major developments in upcoming episodes.
Early on the voyage, they encounter Whipple The Happy Dragon, who is being chased by sailors who… became annoyed with him. Not seeing how that is possible, our heroes befriend Whipple, only to find out… that, yes, he's really annoying. Stowaway BMO tells Whipple off, sending him off in a huff. Still, necessity and compassion trump annoyance, and they all make fiends well enough again to see Whipple help them further along on their journey.
Next, Finn is marooned on a Mysterious Island, where he meets an odd human named Alva, who shows him home movies of other humans. These plant clues for future episodes.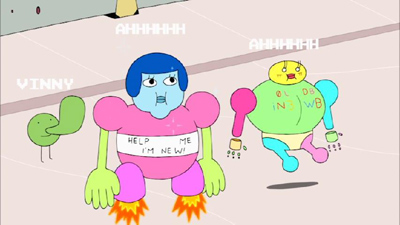 Reunited, Finn and Jake experience Imaginary Resources on another island. Here, they encounter a society that happily spends its existence in a virtual reality. It seems that BMO has gotten quite caught up in this imaginary world, but his friends convince him to re-join them in order to complete the journey.
It's then on to the next island, in Hide And Seek. Susan begins to experience flashbacks to her previous life, in a world that promotes itself as a paradise, yet requires Seekers to find those that try to escape. Susan, whose real name is revealed here, was a Seeker in training. Susan recalls that she was forced to betray a friend trying to flee the island.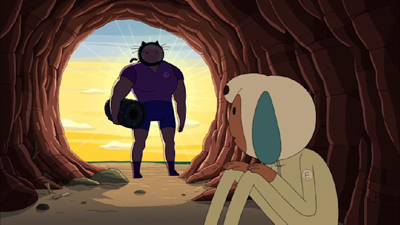 With her memories largely restored, Susan is able to relate to Finn where he can find his mother, on Founders Island. We then see the story of Min & Marty, Finn's parents, who found themselves on opposite sides of the ruling hierarchy, yet found a way to fall in love. The tragic story of Finn's separation from his parents is told here.
Now on Founders Island, the group finds out that humans are living there in peace and enjoying the stability of a controlled and insular existence. Helpers is also the tale of Finn's reunion with his mother, or at least a reasonable facsimile. Yet all is not well…
In The Light Cloud, the situation comes to a boil, as Finn must separate himself again from his mother, while trying to instil the spirit of revolution in a culture that is happy with the status quo. Alternatively, he'll just be happy to go home.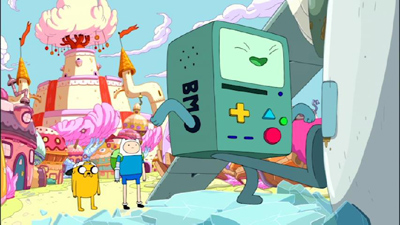 As is usual for Adventure Time, there is a dizzying mix of bizarre characters, sci-fi dystopian allegory, and poignant meetings and partings. It's all pretty strange, yet compelling. The relatively structured nature of this eight-part story makes it more digestible than certain (many) other AT tales, though there is still some material extraneous to the main story. (We could have lost the whole virtual reality story without any major insult to the overall plot.) Still, Islands is bound to appeal to any Adventure Time viewer, especially the viewer who has longed to learn more about Finn, Susan, and the lost humans. In true AT fashion, the details revealed here only make one long for further exploration of the history, but truthfully this is the biggest example yet of the show giving itself over to explaining the world in which it takes place.
Is This Thing Loaded?
Warner tossed in a few extras to help out this budget release. There are two Song Demos, and Animatics for every episode, so that fans can see the storyboards come to life, while playing with the final soundtrack. Galleries provide images in the categories of Backgrounds, Concept Art, and Model Design. Maybe the neatest bonus is a Board Pitch (4:03) for one of the episodes. That's a nice little batch of extras for a disc that can be had for about ten bucks.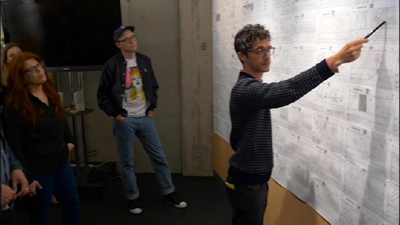 The disc also has previews for the DVDs We Bare Bears: Viral Video and Adventure Time: Stakes.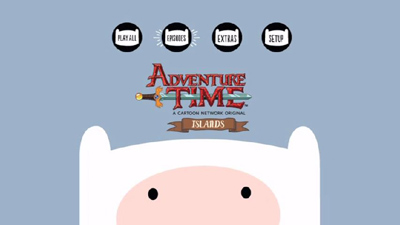 Case Study:
This release has a standard white case. There is an insert advertising other Cartoon Network DVDs and an Adventure Time mobile game.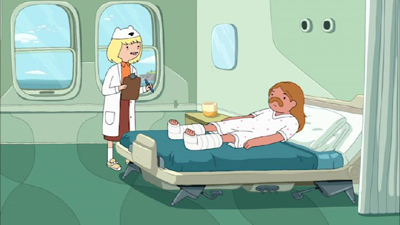 Ink And Paint:
One cannot blame the transfer, but the video here is a let-down after watching the season sets on Blu-ray. Here, in standard definition, the episodes look so much more dull, and outlines are indistinct or even jagged. It's good for DVD, though, just not nearly as great as it would be in high definition.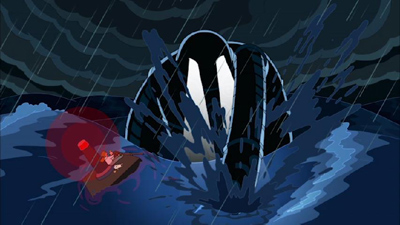 Scratch Tracks:
Here, the audio is about on par with the Blu-rays, since they only ever got Dolby Digital 2.0 mixes anyhow, just as we have here. The sounds are mostly kept in the center, but everything is distinct enough. There are no alternate languages on the disc. The only subtitles are in English, which is actually captioning for the hearing impaired.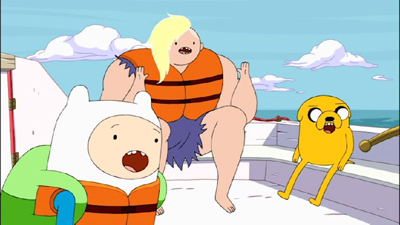 Final Cut:
Whether a casual or obsessed fan of Adventure Time, one is bound to enjoy Islands. Those that have given up on the show for a stretch will be glad to see mysteries revealed, while the true devotee will also be overjoyed at the revelations and the promise for more stories to come. It's too bad that a Blu-ray release wasn't put out, as its video score would have certainly been raised, but for that we can wait for the release of the complete eight season. If you can't wait that long, then this budget-priced DVD, which includes some nice extras, will do nicely.
Animated Classic or Back To The Drawing Board?