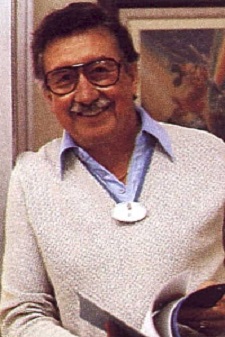 It is with sadness that we recently learned that Disney Legend Francis Xavier Atencio, aka. X. Atencio passed away last Sunday, September 10th.
As told on the D23 website, he was born in Walsenburg, Colorado, on September 4, 1919, then moved to Los Angeles in 1937 to attend Chouinard Art Institute. Instructors gently prodded the shy young artist to submit his portfolio to The Walt Disney Studios. He startled neighbors the next year when, running from the company's Hyperion Studio to his aunt's house, he bolted past their homes shouting "I got a job at Disney!"
Within three years, X had been promoted to assistant animator on Fantasia. World War II sent him to England with the United States Army Air Forces, but he returned to the Studio in 1945 to work on animated short subjects. In 1953, he received his first screen credit for Toot, Whistle, Plunk And Boom, which won an Academy Award®. Other films he contributed to included Jack And Old Mac, as well as Oscar® nominees Noah's Ark and A Symposium On Popular Songs. X helped animate titles and sequences for such Disney live-action films as The Parent Trap, Babes In Toyland, and Mary Poppins, and he contributed his artistic skill to the "I'm No Fool" series for the original Mickey Mouse Club television show.
In 1965, Walt asked X to stretch his talents by relocating to Walt Disney Imagineering, which was then called WED Enterprises, to assist in the creation of the Primeval World diorama for Disneyland. He went on to help develop dialogue and music for such attractions as Adventure Thru Inner Space, Haunted Mansion (for which he co-wrote the song "Grim Grinning Ghosts"), and Pirates Of The Caribbean (for which he wrote "Yo Ho, Yo Ho, A Pirate's Life For Me").
Later, X contributed to the If You Had Wings and Space Mountain attractions in the Magic Kingdom at Walt Disney World, as well as the Spaceship Earth, World Of Motion, and Mexico pavilions for Epcot Center. In 1983, he made several trips to Tokyo Disneyland to supervise recordings for Haunted Mansion.
X Atencio retired in 1984, after 47 years with The Walt Disney Company and was inducted as a "Disney Legend" in 1996.
I was fortunate to make his acquaintance in 2004 and did several interviews with him. I'll remember him as an inspiration and the kindest person. Here are our interviews as published in 2008 in Walt's People – Volume 7, as both an homage and a testimony of his incredible career.
---
AnimatedViews:
You began at Disney as an assistant animator in 1938.
X. Atencio: That's right, I was trained to be an animator but I never was an animator. Everybody starts at the bottom, you know, so I was an apprentice animator but then I worked more into story and designing.
AV: Your first assignment was with Woolie Reitherman. What was working with him like?
XA : He was one of the original animators that Walt called the 'Nine Old Men'. From him I learned the timing, etc. I began as an 'inbetweener'. You know, in a scene, the animator does the extreme drawings and I had to fill the inbetweens. It's sort of a mechanical job, with no creativity to it. After that, I did the cleaning-up. Animators draw very rough and then we have to go through and clean up the lines so that the girls can ink those on the cel. This evolution was a natural process of advancing until you do some animation yourself.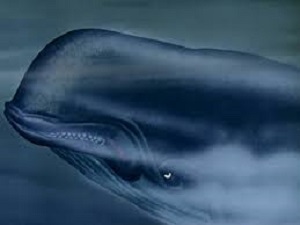 AV : On what specific subject did you work at that time?
XA : With Woolie, I did Pinocchio, and then we went from that to Dumbo. On Pinocchio, I worked on Monstro the whale. I remember that we were very particular about the drawing of the whale, but then, when it was all finished, it was covered with water effects. It was the same as for the Magic Mirror in Snow White. He drew it very carefully, and then it was covered with smoke! He told me: "That's going on!" But he was real insistent that his work was done properly. Then, on Dumbo, we worked on Timothy Mouse.
AV: How was he as a person?
XA: Woolie was a very good boss and a very good friend. We became very close. And then there was a dumb thing called the war. I had to go to the army for four years. Woolie went to war, too, as a pilot. I was in England most of the time, so our paths were separated. And then, after the war, I came back and I had to start all over again at the studio. But we still had a close relationship, and with his wife Jenny. We got together socially, not very often but on occasions.
AV: Before going to the war, there was the famous 1941 strike at the Studio. Do you have any special memories of that time?
XA: I went out on strike because all my friends were involved. I wasn't well aware politically of what was going on. And just when it was over, the war started and I received a letter from Uncle Sam saying: "You're being drafted". So, I said to Woolie: "I can't go back to work because I have to go to war." That was supposed to be just for one year, but I came back four years later…
AV: Did your participation in the strike affect your relation with Walt Disney?
XA: At that time, no, because I was just an inbetweener. I had no association with him. I was like in the basement, you know.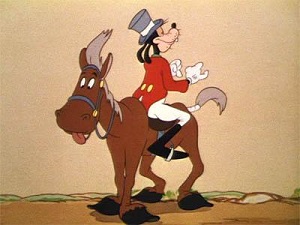 AV: What was your work like when you came back to the Studio in 1945?
XA: I had done some short subjects with Woolie before the war, cartoons like How To Ride A Horse with Goofy, so I was then involved again in animation.
AV: Who were you working with?
XA: I worked with Ward Kimball on Toot, Whistle, Plunk And Boom, which won an Academy Award. It had a stylized design. Ward liked what I did and he asked me to work in his unit, which I did. That was the first screen credit I've got. In those days, they were very scarce. Now, they give screen credits to anybody, even the janitor!
AV: What memories do you have from Ward Kimball?
XA: Ward was a very creative man, and very clever. He was completely different from Woolie. Woolie was quiet and introverted and Ward was the opposite, very extraverted. But both of them were very talented men, in their own way.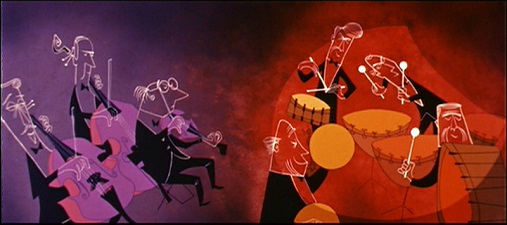 AV: How did you meet Walt for the first time?
XA: The first time I met Walt is a funny story. I was waiting for the elevator to go up to the second floor and Walt came by. He was going to get on the elevator, too. I said "Hello, Walt", and he said "Hello, X!" I thought: "He knows my name!" I didn't think he knew who I was. So, I almost dropped on my knees and kissed his boots. I was so thrilled. Then, after that, I just worked with him on many projects, in animation and in designing for the park. And I've always admired him very much because I thought he was a brilliant man and a great storyteller.
AV: Then you became involved with Bill Justice. How did you come to work with him?
XA: Bill asked me to work with him. He was an established animator at that time. He did not go into the army. I'd known him socially before, so when I came back he told me he wanted to work with me. I said: "Sure, let's do it". So, we teamed up and we did many short subjects – a couple of them were nominated for Academy Awards. Walt Disney was very interested in stop-motion at that time and so we did films like Jack And Old Mac, Noah's Ark and Symposium On Popular Songs. Bill had done a lot of films and was a very good animator. That's why he asked him to do that. Stop-motion is really difficult. It's not like a drawing that you can change. You've got to concentrate very hard. You move the character and that's it. If you make a mistake, you have start all over again. Bill was very good at this and had the patience to do it. He became a master in that, working for films and for Imagineering, since he did the Tiki birds. I didn't have the patience that Bill had!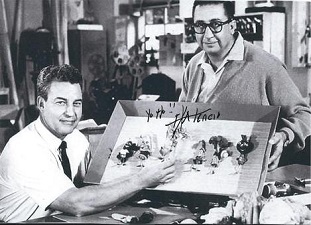 AV: Can you tell me about the films you did with him?
XA: The first one was Jack And Old Mac. It was a very simple story. I worked mostly on the design of the characters, Bill did the animation, since I didn't have the patience! On Noah's Ark, I remember it was fun making characters out of drinking straws or erasers. We worked with T. Hee. He was an established story man and designer; he was already working at the Studio when I started. One day, he had left Disney to work for another studio. But then he came back and worked with us on the stop-motion things. Since he was very good at caricature, he helped me design all the characters and animals of the film. And on Symposium On Popular Songs, we worked with the Sherman brothers. They did the songs, but they also worked on the story development with us. My association at that time with Bob and Dick helped me very much in my songwriting at Imagineering.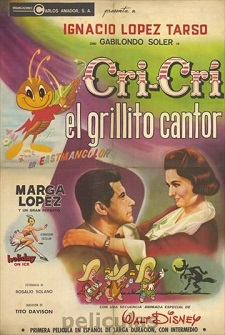 AV: During that period with Bill Justice, you seem to have been working on a special sequence produced by the Disney Studios for the Mexican movie Cri Cri, The Singing Cricket directed by Carlos Amador. Do you remember that project?
XA: Carlos Amador and his wife of the time, a movie actress from Mexico, came up to Burbank and had a meeting with Walt Disney to ask him to supply a short subject based on The Three Little Pigs. And to our surprise, Walt said: "Sure, go ahead" and he called Bill Justice and me to his office and said: "I want you to meet these people and do what they would like." So, we did some storyboard and then the film. And when we had finished the film, we were invited to Mexico to present it to the First Lady there.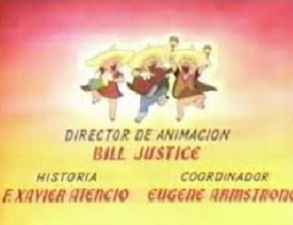 AV: You were also involved in the Winnie The Pooh feature.
XA: Only in the first featurette, in fact, Winnie The Pooh And The Honey Tree; because just after that, I went to Imagineering. It was kind of fun to work on this. During the war, when I was in England, I heard stories about Pooh and how famous he was there, but we didn't know a thing about him in the States. So, it was interesting to work on it, to develop it. We added things to it, like introducing the Gopher character, who wasn't in the original story. We had to take a few little liberties to Americanize it, to adapt this British story to the American taste.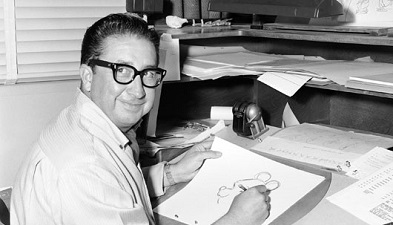 AV: Stop-motion was used not only in short subjects, but also in feature film like Babes In Toyland and Mary Poppins.
XA: For Mary Poppins, Bill and I worked on the "tidy-up-the-nursery" scene. There again, I did the storyline and Bill did the animation. It was a very simple little project using reversed animation -filming things backwards-, so that you believe things are flying from out of the bed to into the bed! There was also the animation of the little soldiers climbing up into the toy box. On Babes In Toyland, we did the toys. There again, we worked with T. Hee designing the toys. And then these toys were made full size and were made part of the parade at Disneyland.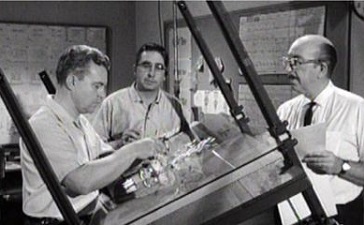 AV: Did you help designing other things for Disneyland?
XA: Yes, Bill and I worked on several characters for the parade. My favorite ones were the reindeers in the Christmas scene, that worked with the Santa Claus float. So, Bill Justice and I were partners during several years on all these projects, until Walt decided to send me to Imagineering to work on the parks. That's a funny story, too.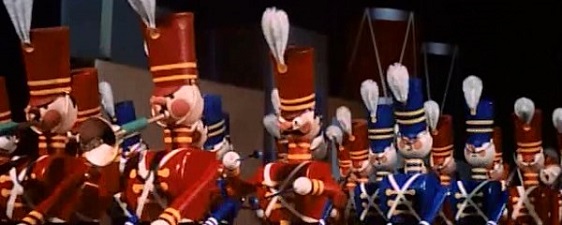 AV : Please, would you share it with us?
XA : Sure. Walt got Bill and me to do a short subject on doodles, because he was a great doodler. Every time we had a meeting with Walt, he was always making little drawings on paper, so Walt suggested we do a film on that. Bill and I got to work, and we also had Larry Clemmons, another top story man, working with us. We had about three meetings but we just couldn't come up with anything. So, after the third meeting, I said to Walt: "You know, I don't think we have any idea of what you want on this." The next day, he called me off to his office. He looked at me, and he stared at me for a moment. I thought he was going to fire me! But he said: "I think you're right, X. Now is the time. I've been wanting to get you over to Imagineering for a long time. Now is the time to go." So, I packed up my things and went to Imagineering. I got over there where nobody knew what I was supposed to do. It was three miles from the studio. I went back there every day for lunch, and on the way home I passed the studio, too. I felt terribly because I had been there for 27 years. I had a nice office there whereas at Imagineering I had no place even to hang my hat! After about a month, Walt called me one day and he said: "I want you to do the script for Pirates Of The Caribbean". I had never done any scripting before. I had done storyboarding. But I said: "Alright. Let's give it a try!" Walt Disney had an ability of finding in his people talents that we didn't even know we had ourselves. So, I started researches and I got the Treasure Island film out and things like that to get the feeling of pirate jargon. I showed my first scene, that was the auction scene, over to Walt. I said, "How's this?" and he said, "That's fine. Keep going." I kept going, then. Marc Davis and Claude Coats worked out the ride by that time, and they had a model that I could walk through to see what the different scenes were. So, I got each scene and said what the pirates would be doing or saying in this particular scene. And at the last story meeting we had, I suggested to Walt that maybe a song would be good in here. I had an idea for the lyrics and I delivered kind of a melody I had in mind. I sang the "Yo Ho" song and he said: "Fine. Get George to do the music for it." George Bruns was our musical director at that time. So, he did the music and I became a songwriter! My career changed very much around that short period: I moved from animation to writing and even songwriting, which I think I enjoyed more than anything else. That change in my career was very challenging, and I liked that! After that, for every show I did for the parks, I would add a song. My association with Buddy (Baker) began at that time, just after Pirates, with "Grim Grinning Ghosts." We had a great partnership. We were very good friends, both professionally and socially.
AV: What memories do you have of George Bruns?
XA: George was a very interesting fellow. He did the music for a lot of films and on the outside, he got together with musicians, including Ward Kimball and Frank Thomas, for jam sessions. They were called the Firehouse Five Plus Two! I worked with him again on the "Bear Band Serenade" for the Country Bear Jamboree.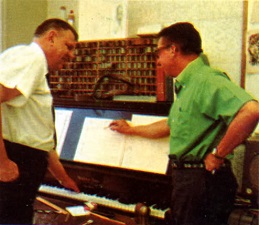 AV: When Walt asked you to do the script of Pirates of the Caribbean, did he give you some ideas or suggestions?
XA: No, he didn't. He just left it up to me. Somebody had started a script before I got there. It was a very straight narration. So, I added my own pirate act, like: "Avast there! Ye come seekin' adventure and salty old pirates, aye?"
AV: As you mention it, there is a lot of dialogue in this attraction.
XA: We had mocked-up one scene of the Pirates ride in the back of the building there. It was the Auction scene. We built up a little cart and pushed Walt through it at about the same speed that the boats would be going. We had noise from one side with the Auctioneer and pirates on the other side of the river and I told him: "I'm sorry, I don't think you're hearing what these guys are saying" and he said: "Hey, X, when you go to a cocktail party, you pick up a little conversation here, another conversation there. Each time people will go through, they'll find something new."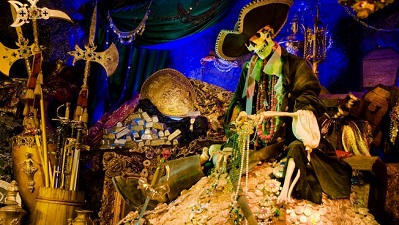 AV: Both the first Pirates Of The Caribbean film and the attraction mention the fact that the treasure is cursed. How did you come to this idea?
XA: It was just an idea. We hadn't planned it that way. We had all these treasures and we thought: "Why don't the pirates take it with them?" – That's because it was cursed! And the writers of the film played on that, too. These guys know where the treasure is but they're doomed. It was really well done.
AV: Don't you think this curse is in a way the moral of the attraction?
XA: Yes, I think so. How can you explain the fact that you got down to the bottom of the ride and you find the skeleton pirates? How did they get there? And why? They went down there to find this treasure but they can't take it away. And at the end of the ride at Disneyland, we go back up the ramp. The pirates are now alive. They try to get back up to the top, but they have trouble getting there. So, they won't ever get to the world of the living!
AV: How did you work with Marc Davis?
XA: Marc was a brilliant story man and designer. He and I worked very well together. He worked also with Claude Coats. Claude designed the ride and how it would work; and Marc, on the other hand, worked on the pirates: what pirate to be used, how they would be dressed, etc. They had already done that when I arrived on the scene, but they were very good to let me do what I wanted to do story-wise, telling this story. So, we worked very well together.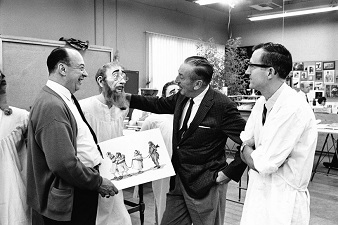 AV: In addition to the lyrics, you said you imagined the melody of "Yo Ho." Do you have any musical training?
XA: None at all. I just hummed a few ideas and George took it from there. With Buddy, I always did the lyrics first and then I gave it to him, like for "Grim Grinning Ghosts". He had to make little changes to fit the music, but in most cases it was pretty intact. I've always been amazed by him. The music came out so nice with him!
AV: What is the role of the song within the attraction?
XA: One thing to do is to lighten up the ride and make it fun. I always thought it would be kind of nice to have a song in there that people would be singing or humming when they left the ride. And they actually do that, you know! I remember one time I was down at the beach. There were some kids on a little dingy and they sang the song. That was so nice!
AV: Small World is certainly one of the most remarkable examples of the use of a song within an attraction.
XA: I actually thought about Small World when I suggested a song in the ride. I thought Walt was going to get the Sherman brothers to do it. But to my surprise, he said: "Will you do it?" That was a very happy day in my life! The difference is that in Pirates, they don't sing the song continuously throughout the ride. You don't hear the song until you get to the burning city, beginning with the three fellows singing. Otherwise, there is dialogue only, or dialogue with the theme of the song that goes through there, but no attempt was made to synchronize dialogue with the music.
AV: From what did you draw your inspiration for the lyrics?
XA: I made some research and got all the words that go with pirating: "We kidnap and ravage and don't give a hoot, we plunder, we rifle, we loot". It's difficult when you're writing a song for a ride like this because there is no beginning and no end, really, and each verse has to stand on its own. Because you don't know just exactly when the guest will be coming into the scene. So, you can't talk specifically about the bombardment scene or the well scene or things like that because they may be at a different part of the ride. "We extort and pilfer, we filch and sack. Drink up me 'earties, yo ho. Maraud and embezzle and even highjack. Drink up me 'earties, yo ho." That just makes a general statement about what these guys are doing in there.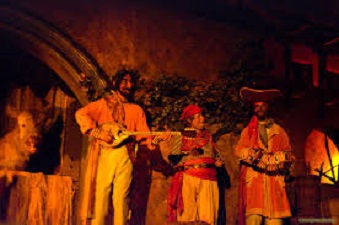 AV: Through these lyrics, pirates don't look like bandits, but rather like children doing silly things.
XA: They're not really bad guys. They're pirates, and they're fun-loving, really. We had a problem at Disneyland: somebody complained about the pirate chasing the women, finding it politically incorrect. But we considered that they're pirates, that's what they did.
AV: And the music makes them really likeable guys!
XA: Yes. You know, my wife was a school nurse, and some day, one of the teachers told her: "I don't want my children to listen to that song because it talks about bad things like rape and things like that." So, I got my lyrics and asked: "Where do you see that in the lyrics?"… I guess she had just thought that. She associated pirates to these bad things, but our pirates are not like that!
AV: You also did some voices, didn't you?
XA: Yes. In the Auction scene, I did the pirate up on the bridge. The Captain says: "What be I offered for this winsome wench?", and my character says: " Six bottles o' rum!" Then the Captain answers: "I'm not spongin' for rum! It be gold I'm after!" I also did the warning in California, which says: "Ye come seekin' adventure and salty old pirates, aye? Sure, ye've come to the proper place!" That was just an addition to warn people that they should keep their hands inside the boat, done by the skeleton face. I recorded the main voices, especially with Paul Frees. But then, after we put the ride in, we found things that had to be done. So I said: "I'll try doing the voice" and it sort of worked out. After that, I used to get people from the company at Imagineering and said: "Would you like to try a voice?" Sometimes it would work, but sometimes it wouldn't, because some got stage-fright. But most of them were very anxious to do that so they could tell their family: "That's my voice!" It often worked very nice.
AV: In 1973, you made a new version of the song for Walt Disney World: "Yo Ho" became "A Parrot's Life For Me!"
XA: The parrot is on the bridge in the Burning Town scene. He's got a pirate with him and he's singing. But nobody really hears that lyric: "Yo ho, yo ho, a parrot's life for me", instead of "pirate's". It's just a little gag!
AV: Did you see the new version of the attraction they did recently at Disneyland?
XA: Yes. I think that's very good. Johnny Depp appears here and there in the scene. For instance, in the well scene, he's in the background, sneaking around. Then, he's in a barrel, and at the end, he's with all the treasure. I think it was a cute little touch, and a good idea to connect the film with the ride that way. The imagineers did a good job!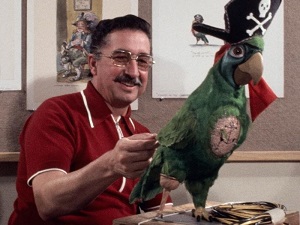 AV: What do you think about the films they made after the attraction?
XA: I've seen the first one several times. I thought it was very good, yet a little long. I think that could have cut half an hour. But it's very interesting. Johnny Depp did a really good job as a pirate. I was very glad that my song was being used in it. I had credit for that, but I had to wait through all those credits to see it, which takes almost forever! Then they didn't use my song in the second one, so I hope it'll be back in the third one!
AV: What are your memories of WED?
XA: It was very small when I began, but it grew up as we did things for Florida and for sponsors. For example, I did a show for Eastern Airlines with Claude Coats for that, called "If We Had Wings." It was another challenge and another fun thing. For Walt Disney World, I also did a song for a pavilion.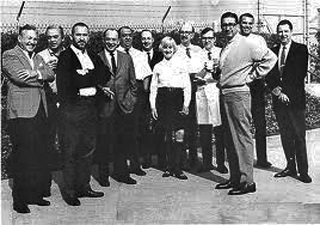 AV: If you could compare your two careers at Disney, at the Studio and at Imagineering?
XA: They were closely related in a way, since we did storyboards for the show writing, as we did in film. But the main thing is that at Imagineering I worked directly with Walt. I was not interfered with by anybody else. I had direct orders from Walt himself. That was kind of nice!
AV: When did the creation of the Haunted Mansion happen?
XA: Just after Pirates of the Caribbean. I wrote the script and then again, I said: "We need a song here!" It was "Grim Grinning Ghosts."
AV: What material did you have to inspire you in your work?
XA: We had input from different places, even from Japan. But there, ghosts were all gruesome and Walt didn't want them to be that bad. He wanted them to be comical. So, there were two schools of thought: some of us wanted them scary, others not too scary. And when I wrote the script, I thought that these grim grinning ghosts may come out to socialize. They want to be friendly. So, that was the theme of the ride, and of the song.
AV: Just like for Pirates of the Caribbean, Marc Davis and Claude Coats were part of the project.
XA: When I arrived on the scene, they had worked out the ride a little and Yale Gracey had added his illusions pretty well, too. So, I just had to take what they had and make a continuity of it and write a script accordingly. I did more things on Haunted Mansion than on Pirates. When I arrived on Pirates, Marc and Claude had already developed the storyline and all I had to do was to give voice to the pirates. On Haunted Mansion, which came later, I was more involved in the show design and the script.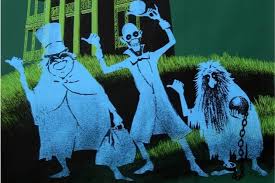 AV: There is a script, but is it really a story?
XA: It really isn't a storyline per se. I had originally thought that I would have the raven as the ghost host, who would follow you through the ride and be in different scenes. But it didn't work out. So, we just had to give up on it. At the end of the actual ride, before you get the exit, you hear the voice of the raven saying, "Ah, there you are!". People don't really relate to what I had in mind there, but that raven was my first idea. And then, we added the scene of the Hitchhiking Ghosts. That came later and that worked out very well, because you see yourself with them in the mirror!
AV: Basically, the Haunted Mansion is a "retirement home" for ghosts.
XA : The building was there for many years before the ride was opened. Walt didn't want a decrepit building. He wanted a nice-looking building. There was an add saying that we were gathering ghosts from all over the world to come and retire there. So, we said: "we have 999 ghosts but we have room for one more. Would you like to join us?" When we finally opened it up, we all had our supply of ghost. But even in the ride, Madame Leota says, "Come back and visit us, because we'd love to have you!"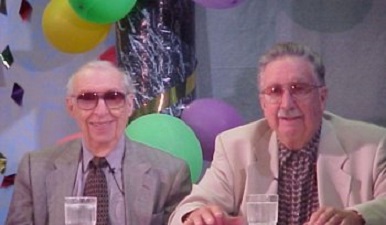 AV: Can you tell me about your association with Buddy Baker?
XA: Buddy was a very wonderful man. I miss him very much. The Haunted Mansion was our first collaboration. After this, we collaborated on several shows, especially for Walt Disney World. Buddy was very nice to work with.
AV: How does the song work in the ride, regarding the one for Pirates?
XA: Pretty much the same way, because you never know when the guests would arrive at a particular place in the ride. So, it had to be generic. You could want to say, "See this ghost," trying to match it, but you might be somewhere else when you hear it. The same way as in Pirates, we put the whole song into the graveyard. Originally, each vignette had a lyric, but there was so much noise that you couldn't understand any of it. So, Buddy and I went through there, and we started taking out soundtracks here and there. Then, one track would carry the whole area with all the ghosts singing the "Grim Grinning Ghosts" song as you go through. The only place when you're close enough to identify who's singing is before the heads, the singing busts.
AV: How would you describe the actual lyrics of your song?
XA: We kind of kept it a light thing. Haunted Mansion is a fun place, with different arrangements, but always the same feeling. When you come into the ballroom, Buddy had to write a happy thing. The guy that plays the organ may hit heavy chords, giving a kind of a spooky feeling, but that doesn't change the feeling of the party. For the graveyard, Buddy gave a different feeling than it was in the ballroom, very jazzy. The ghosts are having a good time there, like they're having a picnic in the graveyard!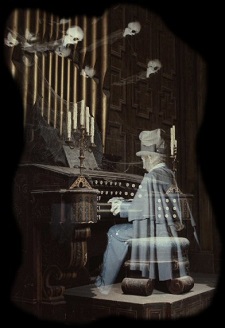 AV: How did you work with Buddy Baker?
XA: Buddy worked over at the studio, so he would come over to Imagineering and we worked together. He would write his music over there. When the time came to record it, we did that at the studio. I loved to sit during the recording sessions because, not being a musician, I was always impressed by how Buddy would get 25, 30 or 50 musicians who had never played together before, and they would all come out even. That's a wonderful thing about music. They just get the music sheet, Buddy would just conduct the orchestra several times and always something started wrapping out under his baton. He'd say: "oboe, bar 26, do this or do that". That sounded beautiful to me but he could pick up tiny details that were wrong with one particular section. He had a great ear.
AV: How were your recording sessions with Paul Frees, the narrator?
XA: Paul Frees was a very remarkable man. He was a genius because he would come in in the morning and we would just talk. And right then, I had the impression of how great he was, before we got to work! Then, he would get the script and so he got the feeling of the narration that he was going to do. I never corrected him. I just said, "keep going." He always added things, like he did for Pirates or for films. He did the voice of Ludwig von Drake. He found things you couldn't think of writing yourself. I would just give him a general idea of what you wanted him to say and he became von Drake or any character.
AV: Did you do any voices?
XA: Yes, I did the voice of the corpse in the coffin in the conservatory, and the warning: "Please, remain seated." Otherwise, just like for Pirates, if I couldn't bring the high-price talents again just to record a line or two, I got the people there at Imagineering.
AV: Can you tell me about the different versions of The Haunted Mansion?
XA: Generally speaking, it's the same ride, same show at Walt Disney World and Tokyo Disneyland, even in France, but they did some changes because of the building and the location. For example, we recorded different things for each version. Like we did in Japan. I went down there to record voices and the song, too, particularly because the translations were very difficult to make. Some changes were also made because of the difference of timing between the attractions. In Paris, they changed the name to Phantom Manor because it's a slightly different concept.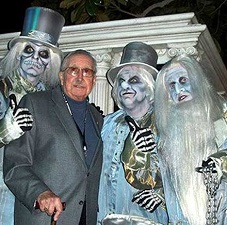 AV: Did you see the movie Disney made out of the attraction?
XA: Yes. I didn't think it was great, but I think it was good! Put it that way. It wasn't as good as the Pirates Of The Caribbean one, nonetheless it was entertaining.
AV: What do you think about the new version of the Haunted Mansion at Disneyland?
XA: It's just a light change. That doesn't affect the ride so much. They told me, "We're gonna change it, but not very much. We'll still keep the song in it!" And I'm very pleased of what they did with it.
AV: You did other shows with Buddy Baker.
XA: I remember, at Epcot, we did a song for the Mexico pavilion.
AV: And, still for Epcot, you worked on Spaceship Earth with Ray Bradbury, I guess.
XA: Yes. Not very much, but I did work with him on that. I was very little involved in that, actually, mostly on designing and on the concept of history that is present in it. Ray Bradbury was a very fascinating man, an intellectual fellow, very interesting to work with.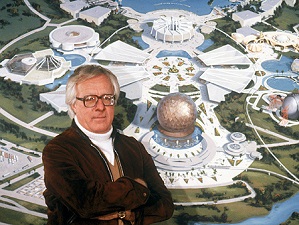 AV: What was your involvement in World of Motion?
XA: Ward Kimball, who was in charge of it, just asked me my opinion on things. I gave it and that was it. I didn't interfere with what they were doing.
AV: While at WED, did you ever work on projects that were abandoned?
XA: Marc Davis had quite a few ideas. One time, there was a display of all his ideas for shows. Half of them were not accepted –why, I don't know- but most of that was before I really got into Imagineering, while I was still at the Studio.
AV: Do you have any special memories from your trip to Japan to work on Tokyo Disneyland?
XA: That was just recording sessions. I went over there because they wanted Japanese artists to record dialogue for the park since Japanese idioms change quite a bit. A native Japanese living in the United States might not be up on the latest things. That's why they asked me to go to Japan to do that. One of the things I remember, while recording the famous "dead men tell no tales," is that the Japanese translation could be: "there is no mouth on a dead person," because they couldn't translate the original phrase as it is. I also did the script for the Jungle Cruise ride over there. We recorded that, but I had no idea of what they were saying. So, we rode the boat with an audience and they were all laughing at the right places, so I said, "Well, I guess it's okay!"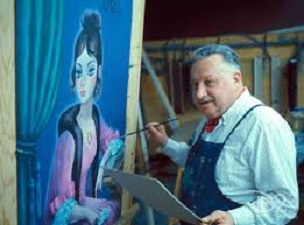 AV: Why did you decide to leave Disney?
XA: I had just lost my wife. But I had decided to retire anyway. And John Hench said to me, "Why are you going to retire?" But I would have preferred, "Why don't you retire?" I felt I had contributed an awful lot to the Studio; I thought it was time to go. There were some very good talents coming up. The young kids came along very well, I think. I was glad that I had contributed what I did contribute, and now, in my late years, people still say thank you for what I have done, like the Pirates ride. I think it will go on for many years. It's a good show and still very popular. After thirty-six years, it's still going strong and I'm sure it will last longer than I will. It's very rewarding and I got it all in my heart!
---
---
---
---