Talking about a Disney Legend with an expert is great. Talking about a Disney Legend with his wife is really great. But when the Legend's wife herself is a Disney Legend, that makes for something extraordinary!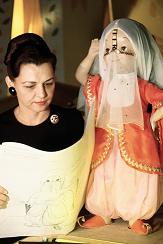 Born in Escalon, California, in 1929, Alice Davis received a scholarship to attend Chouinard Art Institute in 1947, the renowned training ground for Disney artists, from the Long Beach Art Association. There, she met future husband, Marc, who served as an instructor at Chouinard for more than 17 years. One day, she received a call from her former art instructor and future husband, Marc. He needed a costume designed and created for Helene Stanley to wear for some live-action reference footage being filmed to inspire his animation of the lead character Briar Rose in Sleeping Beauty. Married in June 1956, Alice and Marc enjoyed a Disney fairy-tale-romance-come-true for 44 years until Marc's death in 2000.
They both led impressive careers at Disney. At Walt Disney Imagineering, Alice Estes Davis was the original "designing woman", designing and dressing animated figures for such beloved Disneyland attractions as It's a Small World and Pirates of the Caribbean, while Marc is probably best known as the father of some of Disney's most memorable animated women, including Cruella de Vil in One Hundred and One Dalmatians, Maleficent in Sleeping Beauty and Tinker Bell in Peter Pan. He later transferred to Disney's design and development organization as one of Disney's original Imagineers, contributing whimsical story and character concepts for such Disneyland attractions as The Enchanted Tiki Room, It's a Small World, Pirates of the Caribbean, The Haunted Mansion and The Jungle Cruise.
Now, you can imagine the emotion that was mine when chatting with this wonderful lady and evoking with her memories of her husband Marc's genius – notably, of course, around the time of One Hundred and One Dalmatians' production!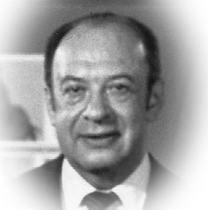 ---
Animated Views: Mrs. Davis, you're well-know as a costume designer for Walt Disney Imagineering, but you also have a background in animation…
Alice Davis: I knew him [Marc] when I started Chouinard Art Institute. Actually, he started teaching there the same day I started the scholarship that I went to. That was in 1947. I was a student and he was a professor. I wanted to be an animator but women weren't allowed to be. So, I was allowed to take the animation drawing class at night that Marc taught and that's how I met him. He was the instructor and I took the class for two and a half years.
AV: So, when you had conversations like on One Hundred and One Dalmatians, it was sort of from one animator to another.
AD: He was at the Studio then and we were married at the time. We would talk about it quite often. He enjoyed worked on Cruella very much because there was finally a female character that he had the possibility to give humor and laughter to.
AV: How's that?
AD: Well, if you look at his history, you know, he started with Snow White. The first animation he ever did was Snow White dancing with the two dwarves, one on top of the other one. Every film that he did was a different kind of woman, all the way through. There was Tinker Bell, there was Cinderella, there was Sleeping Beauty, Maleficent, Cruella de Vil.
He was more or less what the directors said the "ladies man", he was always doing all the ladies. Also, he and Milt Kahl were the best draftsmen at the Studio. If you're doing a realistic figure of a human being, human beings can tell whether the human being is a good drawing or a bad one, because they know themselves. So, the best draftsmen were always put on doing the princess and the prince. And they didn't get to do all the fun things. He was also doing the things, because he and Milt were the best draftsmen at the Studio. So, Marc was delighted when he finally got Cruella because he enjoyed it immensely. And I think that's why the animation is so marvelous on her because he was so glad to do something that was fun.
AV: It's funny to see how such a villain could get so popular!
AD: Well, when One Hundred and One Dalmatians first came out, there was an article where this person interviewed 30 women in the movie industry and asked what villain did frighten them the most or they enjoyed seeing the most. Then they said Bette Davis and Tallulah Bankhead. But Cruella de Vil's name was in with them. She was the meanest, nasty, evil person and she also was the first Disney villain who had no magic. To have Bette Davis and Tallulah was natural, but they would also pick Cruella de Vil! So, Marc was very pleased with that!
AV: How do you explain that such a kind man was so good at animating such a terrifying persona?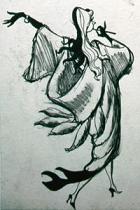 AD: He was an extremely generous soul, very kind, very gentle. People would ask him how could he do funny things when he was such a gentleman and he said: "it takes a serious person to be funny!" He would study everything, he would study movements. In his class, he would explain things like "how could you tell the age of a man on how he takes his hat off?" Everybody was kind of stunned. He said: "when a young man takes his hat off, he takes it off from the front and lifts it up in the air like 'whoopee!'. When an old man holds on the back of it." He would watch people going down the street and when he got home he would do some drawings in his sketchbook. These are all things that all animators should know so when they go to animate something, they know exactly how these people would react to the situation or in the conversation with someone else. Like the sisters tearing off Cinderella' clothes that the mice had made for her, and breaking the beads and so on. Marc had to do all the characters together to do that scene because they were also close together, there was no way anybody else could do the drawings. So, he would get those kinds of things to do, too, because he knew exactly how to make them work together.
He would do a great deal of research and study, and then he would sit down and draw. He always did research on things first. He was constantly drawing. He designed a lot of costumes for different things at Disney. He designed all the costumes for 20,000 Leagues Under the Sea except for the dining suit but he didn't get screen credit for it. The art director took it! He didn't mind because he knew who did it. He knew that they were his. He always wanted to do a live-action film but never got the chance. He was constantly drawing. He had a sketchbook with him most of the time. Anything he saw that was interesting or different he would draw. He would come home from work at night and sit down in front of the television and go through the television log and found out that there was a ballet or a football game or a fashion show, anything like that. He would sit and draw that all night. And he also did fine art on weekends or in the evenings when had chance to get home early enough to be able to paint for a while.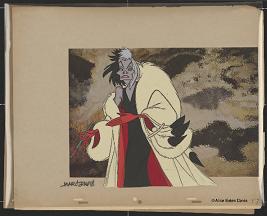 AV: The character of Cruella had many influences, but there were mainly two actresses that Marc Davis used as references: Mary Wickes as physical reference [below] and Betty Lou Gerson for the voice. And each of them gave a very different interpretation of Cruella. Can you tell me about that?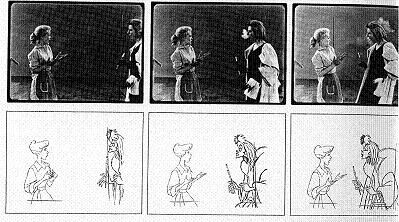 AD: He had worked with Mary Wickes before. They were very well acquainted and he loved the comedy that she did. She was a wonderful comic. She did a great job. Ms. Gerson was a star in Chicago on radio. Then, she came to California to do voices and such. Marc heard her voice and thought it was excellent for the character that he was doing. And she also loved furs. So, she was good for the part! And she enjoyed doing the part. She lived not too far from us and shopped at the same drugstore. She used to come into the drugstore wearing a wig with a big fur coat and she insisted that they call her Cruella when she came in in her costume! They recorded the voice first and then he drew the character.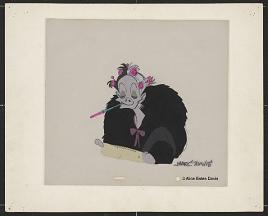 AV: Can you tell me about his way of working on Cruella?
AD: He drew her all the way through. No other animator worked on her. It was the first time when an animator did one character all the way through in a feature animated film. It was also the first time that they were printing the artists' work right on the cells through Xerox. And the animators were pleased with it because for the first time they were able to see their actual drawings, not a tracing of their drawings, on the film. At some point, Marc wanted to see how the coat would look in different stages and how the hat he designed would work in the car and then her in bed with the curlers in her hair and so on. So, he had these drawings that he did, put on the cell and the girls at the Ink and Paint department put the colors he wanted. Those were what he called his model sheets [center]. And I'm giving those to the Disney museum. It was very exciting for all of them to see how the drawings that were on the cell and that were painted work so well! Walt wasn't too thrilled with it at first because he thought it needed to be cleaner, with very clean lines. But he got used to it by the time it was finished and found it was a nice touch!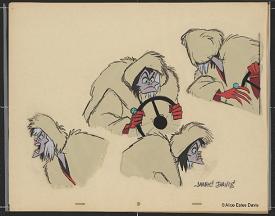 AV: You're evoking Cruella's fur coat. As a costume designer, how do you see Cruella's costume?
AD: I thought it was very well done and designed perfectly for what was wanted. Because she was very tall and skinny, like a fashion model. And then, there's this big fur coat. When she swings the coat, her skinny body with this big fur flying around more or less helps tell the story as well as knowing that she loves fur. And the cigarette holder was very important in that. Marc was able to do that very well because he smoked with a cigarette holder.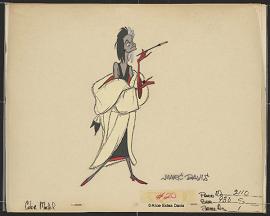 AV: How did he get such a dramatic animation for Cruella?
AD: Well, I would say the best way to answer that is: Marc always said that an animator is an actor with a pencil. When he would draw her and her coat, he would feel this. He would act this out with his pencil on the paper. He would be the actor and he would feel the movement as such. He was pleased with the fact that he could be an actor and nobody would know who he was! He could go to the restaurant and not be bothered. Nobody would recognize him.
AV: Thank you so much for this interview, Mrs. Davis. It was such an immense pleasure and a privilege talking with you.
AD: It was a pleasure talking with, too and thank you for the kind remarks. I appreciate very much! Toodeloo!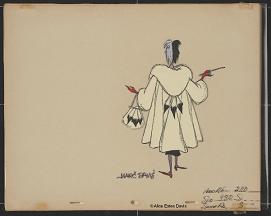 ---
---
Our special appreciation to Mrs. Alice Davis and to Mac McLean for this interview. All artwork by Marc Davis ©Disney.