Walt Disney Productions (December 21 1937), Walt Disney Home Entertainment (February 2 2016), BD plus DVD and Digital HD download, 84 mins plus supplements, 1080p high definition 1.37:1 original Academy frame ratio, DTS 7.1 Master Audio and Restored Original Mono Soundtrack, Rated G, Retail: $36.99
Storyboard:
Walt Disney's first animated full-length feature, a retelling of the classic Grimms' story about a sweet princess preyed upon by a wicked stepmother and rescued by seven odd little men, pulled cartoons out of the supporting program and changed the future of filmmaking. Now it's back on Blu-ray without much fanfare, significance or, indeed, a reason for being, launching yet another Studio-branded line, the none-too excitingly packaged Signature Collection.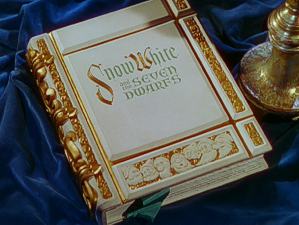 The Sweatbox Review:
Making a return to the hi-def format for the first time since its 2009 Diamond Edition debut, Snow White And The Seven Dwarfs here, for the third time after the Platinum and Diamond series, launches a new line from Disney Home Video: the Walt Disney Signature Collection (of which much more below). It is, of course, a perfect choice of film, often referred to as "the one that started it all", or "the first and fairest one of all", even though Walt's phenomenal rise to the higher echelons of Hollywood famously "all started with a Mouse". If you prefer to go back before that, then it's a cartoon rabbit. Or a little live-action girl. Or a dentist. But what about going way, way back? Well, then, we're on to something, for one of Walt's very earliest memories was sitting in the audience of a silent feature production of…Snow White And The Seven Dwarfs, released by the Paramount Famous Lasky Corporation in 1914.
Walt was just thirteen years old, but the hand color-tinted images that flashed up on the screen (actually four of them since this was an early four-screen presentation) enthralled him to the extent that, twenty years later when his Mickey Mouse and Silly Symphonies shorts had put him on top of the Hollywood cartoon pile, it was this memory that would inspire him to make the world's first animated feature film in sound and color. The enormous, unprecedented success of that result, Snow White And The Seven Dwarfs, naturally changed not only the face of animation, but of filmmaking in general. Without it, we wouldn't have had MGM's The Wizard Of Oz that followed soon after in 1939, or perhaps many of Disney's subsequent animated features.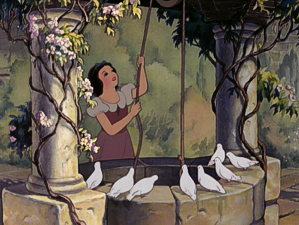 There is no question that Walt Disney would have eventually produced a full-length animated film. It was his dream – the ambition that drove him and his company, the Walt Disney Studios. Created with his brother Roy O. Disney in the early 1920s after a string of other animated endeavours including the Alice Comedies, the Disney Bros Studio, as it was originally known, first tasted real success with the launch of the Oswald The Lucky Rabbit character based shorts, for distributor Universal. As the well-known legend goes, Universal balked at the rising costs of Disney's shorts and stole production away from Walt. He returned to Los Angeles bitter at Universal and determined never to work for anyone else ever again. He had an idea for his next character, a mouse…
Mickey's public debut, Steamboat Willie, was an instant hit on its release on November 18 1928, and Disney's reputation was assured. But cartoon shorts were one thing, and Walt knew that in order to lift animation up into the art form he saw it as, he would need to compete with his Hollywood contemporaries commercially, and there was little money in shorts. A new series, the Silly Symphonies, began with The Skeleton Dance in 1929 and soon after, the inaugural Academy Award for an animated cartoon, the first Technicolor cartoon Flowers And Trees, had won Walt a first step towards his goals. But after years of supervising the refining of his artists' work, Walt finally gathered his top men in one of Hyperion Studio storyboard room in 1934, around the same time that the Studio had switched to fully color cartoons in its Mickey Mouse and Symphony series, to tell them a story…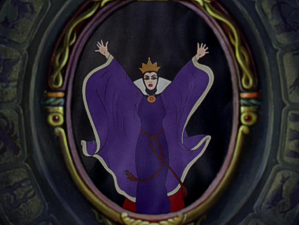 It was his most audacious gamble yet: they would embark on a journey to create and release the world's first full-length Technicolor animated musical feature film, to be based on the Grimm Brothers' Snow White And The Seven Dwarfs. Acting out the whole tale, performing voices and hunching his back in order to portray the evil Queen, Disney inspired those in the room so much that animators Ken Anderson and Ollie Johnston later commented that the film, although lauded in Hollywood as a masterpiece, never did turn out quite as good as Walt told it! Most of the staff continued to work on the Symphony and Mickey cartoons (Mr Mouse having turned to color in 1935's The Band Concert), but a select few were busy, hard at work designing and coming up with concepts that would shape Snow White.
Around this time, differences in some of the Symphonies cartoons began to show up. Techniques that would be used in the feature were developed and adapted, with the most celebrated and famous of these being the Multiplane Camera – a new kind of animation apparatus that gave the illusion of depth to the artwork in a much more believable way. It was first used and extensively tested in the 1937 short The Old Mill, while another cartoon, The Goddess Of Spring, was basically an experiment to see if a human figure could be drawn convincingly. The answer was: "more training"! Soon, there were nightly animation courses on offer for the Studio staff. The story goes that when Walt heard that some of his top animators were gathering each evening to study the female anatomy, he ordered the classes to be moved to the Studio on official grounds. After all, as Disney stated, he could not have his animators known to be looking at naked ladies after hours!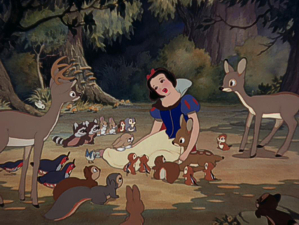 Known for the four years it was in production as "Disney's Folly", Hollywood was sure that the film would fail and bankrupt the still young Disney Studio. Not for the first time (and most definitely not for the last!) Walt threw caution to the wind and continued to push ahead with his dream film, drawing on the experience of his animators – who had become known as the best in the business – and his own incredible knack for storytelling. Knowing that the original Grimm Brothers story had all the pathos and romance that he felt was needed to create a memorable film experience, Walt decided to up the humor quota by giving each of the story's Dwarfs their own individual personalities.
Originally there were over 40 names and characteristics suggested, which were of course finally whittled down to the magnificent seven: Dopey, Sneezy, Bashful, Happy, Sleepy, Grumpy and Doc. Other names that came and went included Scrappy, Hoppy, Weepy, Snoopy (long before Schultz), Gabby, Silly, Flabby, Daffy, Dizzy, Puffy, Biggy-Wiggy, Jumpy and Awful! In previous versions of the story, the Dwarfs all acted as one (as they had in an early Symphony version of the Hansel And Gretel story, Babes In The Wood), but the decision to create separate characters, like Walt had learned from the 1933 Silly Symphony success of The Three Little Pigs proved to be the film's masterstroke and took the story in new directions. Under animator Fred Moore, who had designed the Three Pigs, these characters are not just supporting players…they do, in fact, save the day!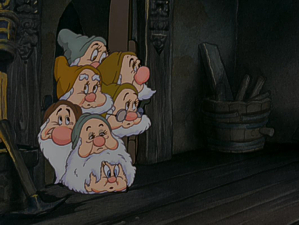 Providing the flip side to the Dwarfs' comical performances is the Wicked Queen herself, a wonderful creation who hides her twisted and bitter hatred of Snow White under her calm and beautiful smile. Her transformation into the evil Witch is one of the film's highlights – a brilliant montage that, in full color and blasting sound, would have shocked audiences back in 1937! Bringing the vocal chill to the Witch was Lucille La Verne and, when no better casting could be found, she provided the dulcet but cold tones of the Queen as well. Finding a voice for Snow White herself was a much tougher task. The call had gone out all over Hollywood for a voice that would reflect that of a young girl. After auditioning hundreds of girls, casting director Roy Scott telephoned Los Angeles singing coach Guido Caselotti. Eavesdropping on an extension line was Caselotti's 19-year-old daughter Adriana. She piped up during the conversation and Scott immediately asked her in for a reading. When Walt heard the voice, he jumped up in enthusiasm, and had found his Snow White!
The other voices in the film were somewhat easier to find. The Dwarfs' roles had been given to popular radio names, with Pinto Colvig in the running due to his performances in many of the Disney shorts, not least as his regular guise in the character of Goofy, and Harry Stockwell (father to Quantum Leap's Dean) became the handsome Prince Charming. Since perfecting Snow White's delicate and authentic animation proved to be challenging, later dancing star Marge Champion was drafted to portray the princess in live-action reference, while the majority of the animation was handled by Grim Natwick, who had given the Fleischer's Betty Boop much of her boop-oop-de-doop!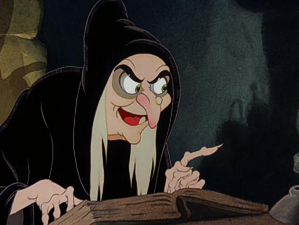 Eventually, due to overruns and budget constraints, Walt ran out of money. The Bank of America was offered a viewing of the incomplete film by Roy O. Disney, something Walt was adamantly against. All through the screening, the banker sat silent until the end when the lights came up. Walt walked him back to his car, the banker talking about everything but the film. Getting in and driving off, he finally nodded to Walt and said: "You know, that thing's going to make you a hatful of money". The film was finally completed, coming in on time, but at six times over the original budget – and $1.5 million was a lot of money back then!
Opening night came on December 21 1937 at the Carthay Circle Theater in Los Angeles. The top stars of the day – Shirley Temple, Marlene Dietrich, Judy Garland, Mickey Rooney, Charles Laughton et al – gathered at what was one of the biggest nights of the year. Ward Kimball, who had animated the later famous Music In Your Soup sequence that had been cut from the final film, was astounded that these people – his idols – were sobbing their hearts out at the apparent death of Snow White, only to stand and cheer at the film's happily-ever-after ending a moment later. "These were cartoons, just drawings" he said later, "but they gave definite emotion and were real for the audience".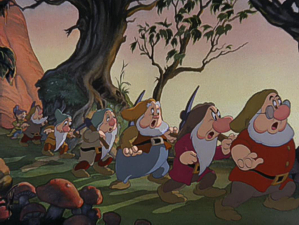 The applause was echoed just over one year later, when Walt was called to the stage of the 1939 annual Academy Awards. Presented with an honorary award for "a significant screen innovation which has charmed millions and pioneered a great new entertainment field for the motion picture cartoon", the special trophy was larger than usual, made up of a regular Oscar on a podium, followed by seven smaller statuettes! Walt's dream movie was a success, also taking home awards for its songs and score. In fact Snow White also became the first film to have its complete soundtrack released on phonograph record in a multi-disc set, as part of a huge merchandising and promotional campaign.
Snow White And The Seven Dwarfs was the unprecedented blockbuster of the time, bringing in over $8.5 million – a feat even more unbelievable when considering that the average admission price at that time was 25 cents, and children, who made up the bulk of the audience, paid only a dime! Over time, the film has brought in close to $200 million – and that's before adjustment for inflation. In 1993, in the last theatrical reissue for Snow White, it was reported that if adjusted for increasing ticket prices the film would have made close to $6 billion! Part of the reason Snow White was a success worldwide was Walt's attention to detail for each foreign territory that the film was released in. For instance, in France the Princess became Blanche Neige, and all the writings in the Queen's book of spells, and the names on the Dwarfs' beds were translated in the artwork.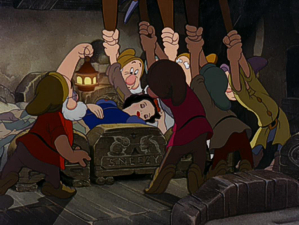 There are other reasons for the film's enduring success and popularity too, of course. While Pinocchio is often referenced as being Walt Disney's Citizen Kane of animation, perhaps due to its often foreboding tone and intricately elaborate style, returning to Snow White again makes it clear that its this film that surely warrants that title more. Kane was the first film of that brilliant director Orson Welles, a man who had enjoyed enormous success in one medium – radio – and had been hand picked by RKO to produce whatever story he wanted as a feature film. Not knowing the mechanics of filmmaking drove Welles to discover his own ideas and push his experienced crew to find new ones. The parallels are not so different: having built a reputation as a purveyor of excellent quality cartoons, Walt Disney had signed with RKO and was able to produce his films independently.
He was head of a team that, while highly experienced in the art of making animated films, had never taken on anything as large-scale as Snow White before. Their ambitions forced them to discover new ways of storytelling and pushing the boundaries of cinema as an art. The editing in Snow White is absolutely as modern and contemporary as anything the Disney Studio releases nowadays; the intricate dovetailing of music into the story shows just what a good judge Walt was and how well he trusted his collaborators. The staging in the film is just as fashionable as today's animated films and, since they were all essentially making it up as they went along, only fuelled by Walt's singular vision, the crew were coming up with new ways to do things, sometimes coming up with amazing answers because they didn't know any better. And, just like the 26 year old Welles of Kane, Walt Disney (and the rest of his team) was ridiculously young – at 32 – to have the mastery of their form that Snow White shows off so compellingly.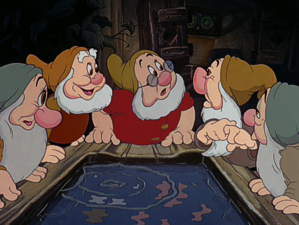 It's simply a very confident movie, and this returning digital presentation manages to scrape away any traces of age to reveal a truly new appreciation of the film. Incredibly, and as with all the best HD restorations, it really is like watching the film again for the first time. Snow White, more so than any other of Disney's films, has always felt just a little bit "quaint". It was a stunning achievement, obviously, but compared to what the artists began to turn out just two years later with Pinocchio, Fantasia and Bambi, it could be seen as often being naïve, showing off the slight inexperience of its crew. But as with the Diamond edition from six years ago, all of that is gone again now, and I would even go so far as to say that this presentation really does remain the first important reissue of the movie since 1937 to truly matter.
Undoubtedly able to see the film in an astounding quality only Walt himself could have dreamed of, it is perhaps true that these digital wipes clear the frame of anything resembling "film", leaving these transfers to come across as what the films would look like if Walt had access to high-definition video, but the paint marks in the colors are still visible here, retaining the look and feel of a handmade creation. And, despite the last minute rush by Walt and any inadequacies in the animation, the restoration artists have not seen fit to toy with history: a number of effects shots (most notably the Dwarfs leaving their mine, non-existent one frame, fully visible in the next as opposed to fading in from the darkness into the light) have been left intact with the slight "unfinished" feel that some of them have (Walt was famously never quite satisfied with the final "kiss of true love" shot at the end of the movie either).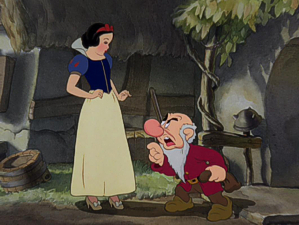 It really is like seeing a new film, and a new luxuriously hand-drawn animated film at that. I haven't seen Snow White since that Diamonddisc, but the minute the film began it all came flooding back: the music, the dialogue, the voices (I'll admit that a party trick of mine is bizarrely being able to pull off a perfect Snow White…wait, did I just admit to that!?). And it's clear how the film has stood up to become one of the most successfully reissued titles of all time: it's not only a blockbuster in 1937, but has remained one ever since. More than anything, Snow White And The Seven Dwarfs puts over a feeling of effortlessness. One can totally engross themselves in the story and lose themselves with the characters. The personalities are so well defined, even the princess herself, often wrongly cited as being too bland when she actually has a head on her shoulders.
This effortlessness extends to all areas of the production: the voices are perfect, and the music score does things that I really can only appreciate now as an adult who has tried turning a hand to writing something along similar lines. I could go on and on, but the important thing is that Snow White is back again for a new generation, even if all that artistry and work will likely be watched on a phone screen on a crowded subway, as per this release's digital file debut. Nevertheless, which other near 80-year-old films can still stand up as a template that the likes of Enchanted, Tangled and Frozen still follow today? Still casting a long shadow, Snow White And The Seven Dwarfs is the original and still the best!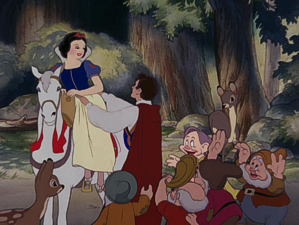 Is This Thing Loaded?
As with the Platinum and Diamond editions of old, Snow White again arrives on disc without an anniversary year to celebrate and a general lack of magic on Disney's part to make the package feel special. With the launch of the Diamond series, one may have hoped Disney was going all meta and tying the title's nickname into the Dwarfs' profession of choice, suggesting that Pinocchio could have been the Wood Edition and so on, but it wasn't to be and any connection was missed by the powers that be. The first in this unspecified new Signature Collection series – it's unclear at this point if this will just rehash those old lines, making the name redundant before it truly begins, or if it will be a much more exclusive – one could be uncharitable and suggest this is a last-ditch attempt by the Studio to squeeze some cash from collectors for a physical media release before everything becomes a big streaming pile of buffering video, corrupted files and failing hard drive storage, but I'm hoping that it will be more than just that, offering up a chronological line of Walt-produced milestones including, perhaps, live-action titles or, at the very least, the remaining animated package features from the 1940s yet to make their Blu-ray debuts.
But whatever the Signature Collection turns out to be, this does feel like an underwhelming, inauspicious start, coming well after all the holiday hoopla. I mean, who dumps a major catalog title, especially one as significant as this, out at the beginning of the year? Sure, there may be those out there ready to spend their Christmas gift cards, and doubtless there are many that wish to pick up the Blu-ray in the time since the original release and the wider adoption of players, but for all the announcing of this new line (itself rather subdued and buried just before the onslaught of Star Wars), it all feels a little basic and ordinary, unlike the hoopla that surrounded the 2001 release of the title as the first Platinum Edition. In the event, the final result doesn't feel too special either, with a regular case and slipcover that strives for a classy feel but could have been so much more. Hey, Disney! Where is a deluxe line of Criterion-level definitive physical editions of your animated films with nice digibook-style packaging? The folks at the home video department could sure learn a lot from what Randy Thornton has been doing with the audio Legacy Collection CDs from last year.
Naturally, the big question for collectors is just what is this Signature Collection release and do I need it? Will this be the definitive edition, packing in all-new and previous content, or is it the usual case of all previous important editions of the film (the 1993 LaserDisc box set, the 2001 DVD and 2009 Blu-ray) remaining to contain their own plusses? Well, yes, there is a large element of that, especially since this edition comes stripped down with a bunch of newly produced and never-before-seen archival extras, but jettisons some of the more well worn material and practically all of the Hyperion Studio tour, history and cartoon shorts that packed the second disc of the Diamond release. The Main Menu is nice enough, being a device we've seen before where a paint brush teases several moments from the film within its colorful strokes, but the fake-sounding music (not even resembling anything from the film) is hideous (AND LOUD!) and there's nothing to designate the Signature Collection or even the Snow White And The Seven Dwarfs title, so it's not the greatest start…
Even back in 2009 I wasn't a fan of the DisneyView option of filling in the black vertical bars on the sides of the Academy image in hi-def's widescreen frame, and I can't say my opinion has changed, although it remains a better option than destroying the Studio's heritage and cropping the image. As before, Disney Art Editions artist Toby Bluth (who also again pops up – now posthumously – to express his enthusiasm for the film) fills the sides of the frame with themed panels that complement the color and tone of various scenes in the film. This wasn't a new idea in 2009 (I remember several films with similar art created to fill in the letterboxed bars on 2.35:1 films on television years ago), and again I feel these panels can detract from the beauty of the original art, although I suppose Bluth's paintings are in keeping with the design. But they call attention to themselves with their contrasting coloring, and that they remain inactive throughout, merely fading in and out in a cycle of around 20 images (usually changing from scene to scene), somewhat takes away the point, and having static frames on either side of a pan or camera movement is a bit disconcerting.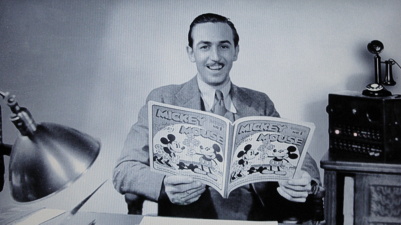 Of the new material fresh to this edition, In Walt's Words is one of the publicised draws in attempting to link the name of the collection to the signature on the front, and those hoping for a montage of insightful comments from the old Mousetro will be excited initially by the material that is about to be used to tell Walt's side of the story from his memories of the 1916 silent feature version he saw as a lad to his own film's premiere. Utilising audio and visual archive, this is almost a potted commentary, using much that we will later hear in an assembled track, and it's nicely put together, but ultimately disappointing as an almost token feature that runs a scant four minutes so as to be almost not worth the bother, even if it is always great to hear Walt's take on things. Lasting longer, but feeling emptier and possibly more than a little glib, Iconography looks at the lasting impressions and visual influences of Snow White on today's artists, and although there are a number of decent comments made, I'm not sure the actual intention of the piece is really very well realised.
The latest in what I guess is a bit of a thing, @DisneyAnimation: Designing Disney's First Princess continues a supplement series began on the discs for Big Hero 6 and the Disney Shorts Collection, hearing from the current crop of the Studio's animators as they peruse concept artwork from the archives and discuss the evolution of Snow White herself for just over five minutes. It's always cool to get new and intelligent perspectives on such material, and a pleasure to listen to artists such as Mark Henn and the Legacy Collection's Lorelay Bové making their comments, but then there's always the feeling of supposition, or a second-hand nature to those that were there, in these things that make one wish the space was perhaps better used to present more authentic, vintage material (the documentary short How Walt Disney Cartoons Are Made is glimpsed at in another bonus and would have been a great inclusion, for instance).
Next up, Sofia Carson of Disney's Descendants television movie does one of those supposedly hip and kid-friendly 7 Of The Fairest Facts Of Them All About Snow White And The Seven Dwarfs things, which lasts just a little longer than it does to roll off that title! Okay, so it's an attempt to make the film relevant for today's tweenage audiences, just as another of the Descendants did for One Hundred And One Dalmatians in its Diamond Edition release, and it'll again split fans either way by being a little unnecessarily too cool and desperate to get "da kidz" interested in the film. But as before there is some good sound-bite info in here, while the editing is energetic and Carson is appealing without being obnoxious, even if some of the "facts" may come over a little suspect to some longtime and well-versed aficionados. As with the Dalmatians piece, and against better judgement, I again found this approach to be a flippant but fun five minutes. I have no idea what or why Snow White In Seventy Seconds exists or who the kid is who raps the story out in, yes, seventy seconds (why seventy seconds?)…only that it left a "what the…?" look on my face as I wondered why this was taking up disc space that could have served up the digital-only Oswald The Lucky Rabbit cartoon extra instead.
The ghosts of the excellent Bambi Story Meetings extras from that film's Platinum and Diamond edition discs return for an Alternate Sequence: The Prince Meets Snow White, which highlights story notes from the archives and recreates audio to concept art to illustrate the development of an opening scene. A little confusing to some may be the designation "Voice of Walt Disney", when soundalikes have been used to bring the transcriptions to life, but this is easily the best of the "new" material precisely because it pertains directly to the feature itself by those that made the thing! If only it could have been stretched to cover more sequences in the film and acted as a visual commentary…now that would have really been something! As such, it's really down to the semi-new Disney's First Feature: The Making Of Snow White And The Seven Dwarfs documentary to flesh out some of the other production stories.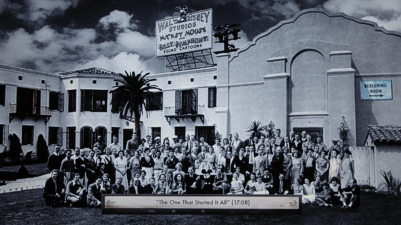 I say this is "semi-new" because it's actually a rehash of The One That Started It All piece from the Diamond edition, itself a replacement for a one-hour documentary that featured on previous releases. Here expanded from its initial 17 minutes to just over a half hour, it's still a whirlwind journey through the production even given the extra time, though anyone with any knowledge of the Snow White anecdotes and legends will not find anything new here. But the collection of contemporary talking heads (most notably the great Brian Sibley) imparting information for those with little understanding of the making of the film combined with some extra archival footage from Walt's original artists (Ward Kimball and Marc Davis among others) gives a little more depth in its increased length. This still doesn't feel quite as comprehensive as the old-school documentaries we used to see, but it is more informative than before and provides the kind of collector's supplement that edition really needed and thankfully gets here.
The rest of the supplements are also recycled from the previous Diamond Edition set, most notably gathering several of the longer clips from the excellent Hyperion Studios feature from that release's second disc and breaking them up into their own featurette menu options, starting with the almost 12 minute Bringing Snow White To Life, profiling Walt's then-leading animators, pre-dating the later Nine Old Men, at the Studio and leading up to the genesis of Snow White. This sampling of material opens things up to a Hyperion Studios Tour proper, although don't get excited that this will replicate the intricate interactive experience from the Diamond disc. Here, a half hour cutdown presents the highlights of that hugely expansive supplement in one sitting, retaining many of the smaller clips while losing some of the longer ones and, most especially, the generous number of restored animated shorts that provided the visual stepping stones to the crew being able to handle a full-length feature.
Now, as fantastic and immersive as promoted as the original Hyperion feature was in the Diamond set, it could be said that the sheer amount of material to get through also made the trip back in time something of a fairly fractured experience, often relying more on newly filmed interviews and retrospectives rather than allowing us to view original archival or promotional footage, and so this alternate version – while not providing the full bells and whistles – does give us something closer to a linear narrative in its chronological approach. Certainly, one won't lose a whole joyous day going through the hours of footage as before, but those who missed out or coming to this anew should find themselves pleased enough with what's been retained in an informational sense, again beginning with the December 1937 premiere of the film via an interestingly sourced but too hyperactive faux newsreel and an introduction by Pixar's Andrew Stanton, dressed as a typical photographer of the time, before the "tour" moves on through its assembled clips.
Family Business describes the friendly work atmosphere at Hyperion, while their are trips to the story, music and art department rooms for an assemblage of clips originally found amongst the various objects and elements within each photo of the artists at work that made up the interactive Diamond version of the tour. There's another look at the master animatiors who made the picture, as well as a look at the live-action reference footage, revising the film in the sweatbox, plus stories from the ink and paint girls, camera and sound departments, but in as much as the original tour cold feel splintered at times, this collection of clips and moments from longer featurettes can feel rushed and disjointed without some of the linking material, explanations and additional context.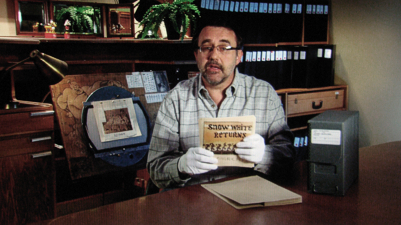 The original Hyperion Studios Tour was a completely different kind of approach to the linear and comprehensive documentaries of before, mixing in galleries, video clips (including audio re-enactments of Walt's story meetings), photos and some wonderful snippets of archival audio, which led to more chances for exploration. Very little of all that is here (see below) but what is left serves up at least a flavor of what came before, with non-optional subtitles helping to fill in any gaps in some of the lesser defined archive audio. It's not a perfect representation of what was so elaborately presented before, but more than anything paints a fair picture of what life was like at Hyperion during one of the most insanely creative and collaborative times not only in Disney history but in all of animation filmmaking.
Keeping on the collector's end of the supplemental offerings, Decoding The Exposure Sheet has current Disney producer Don Hahn explaining the machinations of the infamous animation exposure sheet in a clear and concise way that should make things understandable to anyone who has never come across one of these most intriguing and head-scratching of documents. The level of detail on these things is awesome, and to think that every shot in animated film had this amount of information attached to it just raises the appreciation for what went into these kinds of films and Snow White especially in its progression from leaping from cartoon shorts to the kind of innovative and integrated feature filmmaking it pioneered.
Hahn is back again to discuss the possibility that Walt was considering a sequel to the film, in the Snow White Returns featurette cribbed from the Diamond Edition, which he references. I still buy this attempt to convince us that Walt was seriously thinking of a sequel about as much as the fake story that this very website ran about "Snow White And The Eighth Dwarf" one April Fools, and having someone of Hahn's stature front of camera to explore the concept seems a heavy-handed way to sell this idea to Disney enthusiasts. The whole thing somewhat falls apart when he explains the ideas were probably only ever intended to be a short and not a feature (the Dwarfs did, of course, turn up in several later cartoons), based around using the deleted Snow White animation, suggesting that ahead-of-the-curve Walt's resulting cartoon would have foreseen the DVD bonus shorts made popular by Pixar. While fascinating, it's also clear that if Walt ever did consider a follow up, it was probably only for five minutes before another project consumed him and he stuck to his "you can't top pigs with pigs" philosophy, even if this would have seen the completion of the famed Soup Song footage, a unique prospect in itself.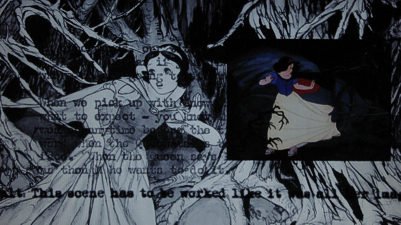 There's more from the original Hyperion Tour in a couple of Story Meetings clips, for The Dwarfs and The Huntsman sequences respectively. Taking the cue again from the Bambi Story Meetings, here's a mix of recreated audio transcripts from the filmmakers, concept art and the final production, again really begging this concept to be used across the entire picture, perhaps coupled with a fresh audio commentary track? Ah, but we can wish… Presenting the animation that was to have been finalised for Snow White Returns, a couple of Deleted Scenes feature for Ward Kimball's legendary Soup Song sequence and a moment where the Dwarfs decide to build Snow White a more suitable bed for her to sleep in.
The Soup Song is a well-known piece to Disney fans, but the other scene will have only been more known recently, after its inclusion in the LaserDisc and Platinum releases. Fans with those sets will also know of several more deleted moments that were partly animated, or reconstructed in storyboards for the previous LD release – all missing in action on the Diamond Edition and again missing in action here. Lacking any kind of context other than that they might have been destined for the short film follow-up, their inclusion points out all that is good and bad about this Signature release in that collectors are well taken care of – and not at the expense of the inclusion of fluff – but are left hanging for a good amount of other material and contextual information that has been left out in the need to strip things down to a single disc issue.
Making a final couple of pickings from the Platinum Edition DVD, the standard definition (really?) Animation Voice Talent clip does little but run through the characters' vocalists, while the repeated Audio Commentary with John Canemaker and Walt Disney is at least a good one. Archive heavy, many of the comments come straight from Walt himself, drawing on thirty years of interviews, and although the quality of this material varies significantly, it's obvious that Canemaker – no slouch himself, of course, when offering his own information or point of view – is excited at the prospect of enthusing over a film he clearly enjoys, and Walt's comments have been carefully picked to make them as scene specific as possible. With the Story Meetings clips teasing the kind of concept art overlays that made Bambi's visual commentary so involving, it's too bad that this edition hasn't embellished the track to provide a fresh Cine-Explore kind of experience, but at least the final word is handed over to Walt himself.
Being a Disney disc, there's still the usual plethora of trailers and tie-ins promoted on the front of the disc and in the Sneak Peeks section. Disney Movies Anywhere-as-long-as-Anywhere-is-within-the-US (the service is bewilderingly still unavailable anywhere and everywhere) is touted again, while Zootopia gets its teaser repeated and The Good Dinosaur is trailed for its home video debut in a couple of weeks, with the Studio's Movie Rewards, Stores and Parks also pushed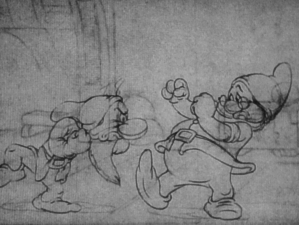 WHAT'S MISSING?
So go ahead and call me Grumpy, but as the first in a new line celebrating Walt's personal touch, and as such a significant a title in movie history, there's a whole big heap of stuff missing from this Signature edition, which I personally feel itself should be a much more elaborately presented title so as to mark out the collection as something worth purchasing (again, for many collectors). Definitive, or anywhere close, this isn't, and going right back to the deluxe LaserDisc set saw the film featured with an additional isolated music and effects track, great for hearing the intricate sound work, as well as an extensive gallery of posters, press kits and merchandising. A 50-minute documentary The Making Of A Masterpiece outlined the production (an alternate 25-minute piece could also be found on VHS copies), but for the most part most of these video based extras were ported over for the 2001 Platinum Edition DVD.
Exclusive to the LD box, however, was the inclusion of a limited run of ten lithographed prints of theatrical posters for Snow White's reissues, as well as the informative hardcover book Snow White And The Seven Dwarfs And The Making Of The Classic Film by Brian Sibley and Richard Hollis. The 2001 DVD naturally lost those physical extras, but retained much of the content, including a number of additional deleted scenes (including a fully animated scene of the Witch planning the sleeping death at her cauldron that Walt cut late into production as it was deemed too gruesome) that were dropped from the Diamond disc and remain missing here. Back in 2001, it was even suggested that the Soup Song sequence be cleaned up and colored for the release, and perhaps included in a branched "special edition", a nice idea that would be easier to accomplish with today's digital technology but fails to materialize here too.
Most noticeable to me is a complete lack of comments from Walt Disney himself, other than the audio commentary – itself carried over from the Platinum DVD. There's just not that much original archival material shown in its entirety, such as the premiere newsreel, the RKO press film A Trip Through Walt Disney Studios or the general release of this short How Walt Disney Cartoons Are Made. The DVD and LaserDisc also contained literally hours of additional audio content, including radio play versions of the script and promotional shows, as well as storyboard to film comparisons and those additional deleted scenes and abandoned concepts. On the DVD, several scenes were also optional in storyboard versions, and an extensive exploration of the film's visual development was placed in better context, with additional stills.
A Disney Through The Decades piece was also one of the most interesting segments on the original Platinum disc, using Snow White's reissues throughout each successive decade to highlight the films and achievements made at the Studio during the film's "lifetime", with each part ending with the corresponding theatrical trailer for Snow White from that particular era. The Diamond Blu-ray even brought things up to date with an added segment, while the DVD also featured an account of Snow White's restoration over the years, including the 1987 film-based clean up for its 50th anniversary and the 1993 video paintbox edition, and it would have been insightful to have a feature on the extensive work done for this new high-definition version.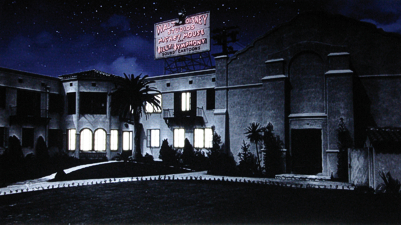 Most obviously is the slimming down of the Diamond discs' Hyperion Tour, and the omission of a huge amount of mostly Silly Symphonies shorts that illustrated the filmmakers growing abilities in being ready to take on a full feature. Not directly tied to the film but providing a terrifically entertaining look at a great deal of artistic development were restored versions for the earlier Hansel And Gretel fairtytale Babes In The Wood (featuring early versions of a group of singing dwarfs and a wicked witch), the debut 1929 Symphony, The Skeleton Dance, Music Land, the often referenced The Goddess Of Spring, Playful Pluto, the fully restored Steamboat Willie, Walt's first Oscar winner and first Symphony in color Flowers And Trees and The Old Mill, along with a huge bunch of concept art, character designs, model sheets, production and publicity stills galleries, plus copious additional audio and visual archive footage.
As far as previously made programs go, a terrific one-hour TV special hosted by Dick Van Dyke was produced for the 1987 anniversary and would have been a real treat to see again, closing as it did with Linda Ronstadt's rendition of Some Day My Prince Will Come. For the 2001 Platinum, a high-profile feature was singing star Barbra Streisand's then-new performance of the same song, not too essential to feature again here, but if we're being completist about things then it should be mentioned, though yet another re-do by Disney Channel moppet Tiffany Thornton for the 2009 Diamond release is less of a casualty, as are some now redundant set-top and defunct BD-Live games. It might have been fun to see a montage of footage from when the characters popped up in other Disney productions, not least the Dwarfs' appearance in a wartime propaganda short.
Lastly, why not include Paramount's 1914 version of the story: the very film that so inspired the young Walt? Now in the public domain, a very nice archival copy, with original intertitles and color tints restored, was made available by the George Eastman House for inclusion on the souvenir DVD of the Once Upon A Time…Walt Disney art exhibition, so it wouldn't have been out of the question. From that disc, I was personally mesmerised and completely drawn in to this version of the story, which as well as highlighting several fascinating similarities, takes several completely different directions to Walt's eventual adaptation, not least the sizeable cast. Unfortunately, the Signature Collection looks like it's just going to be another line of cutdown presentations of previously released material rather than a final physical series of deluxe definitive editions.
That the Diamond discs were more intent on showcasing the ability to deliver a quality Blu-ray experience over a definitive collection of old and archive materials means this Signature version contains even less, since it largely draws its contents from the Diamond release. Certainly the new bonus features are nothing for fans to feel they need to splurge on the title again, and although those that missed the Diamond set will themselves brought somewhat up to date, it's still a far cry from the wealth of pre-Snow White material assembled for the Diamond set, and especially the impressively "immersive" Platinum DVD or even the archive-packed LaserDisc box set.
Case Study:
Originally rumored to be some kind of ultimate mega edition, this Signature debut title presents Snow White in about as basic as it gets way and forgoes any of the luxury gift set, book or combo pack bolt-ons that the Diamond release got caught up with or, indeed, any kind of digibook packaging that made the audio Legacy Collection worthwhile and would set the Signature line up as being something new, exclusive and worth sticking with. Here it's just a regular Blu-ray case, slipcovered in a nice and fairly neutral design, that suggests the Signature series is just going to be another Gold/Platinum/Diamond rehash with less bells and whistles, unfortunately. The pack also bundles in a DVD and code for the film's debut as a Digital HD download. My only complaint on the design – any notions of deluxe packaging aside – is the side-column title treatment, a holdover from the Diamond designs, when this new Signature line should have innovated something new, and the lack of an authentic Snow White logo means the result actually looks like the movie is called Snow And White: The Seven Dwarfs.
Inside, there's only a Movie Reward code insert, good also for the digital download (that annoyingly includes an online-exclusive of a recently discovered Oswald The Lucky Rabbit cartoon playable through Disney Movies Not-Anywhere), but no suggestion of which Signature title will come next. Rumors persist that it could be Beauty And The Beast to fall in with the upcoming remake (and thus rendering Walt's signature element totally redundant), but my hope is that the Signature Collection sticks to what it purports to be, and that is a series of films that have Walt's personal touch. Chronologically, I'd love to see Pinocchio next, followed by the now sadly rarely seen 1940s Package films still to even see an HD debut, but we all know the likelihood of that happening when there are synerginistic tie-ins to be capitalised upon! Heigh-ho-hum…
Ink And Paint: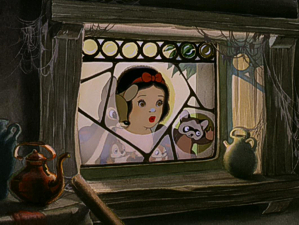 Walt's triumphant feature debut has certainly been a film that's been returned to several times over the years. In 1987, the Disney Company celebrated the 50th anniversary of Snow White by giving her a total visual makeover. The restoration team at YCM Labs, who had carried out similar restorations on classics such as Gone With The Wind and Hitchcock's Vertigo, painstakingly toiled to remove scratches and dirt from the original negative, in order to strike a new theatrical print. A few years later, for the 1993 video release, Snow White became the first film to be totally digitally restored. This meant taking each frame of the film into the digital realm, and using a paintbox device to literally touch up every remaining blemish and pop that the 1987 restoration could not have even attempted to achieve. The audio underwent a similar process. Using the original mono track elements, the mixers at Buena Vista Sound were able to give more dynamic range, punch and the effect of surround effects to Snow White.
All that work was undertaken again for the 2001 Platinum Edition, where new technology was available to return to the original negative and pick out details and colors that had not been seen since Walt's 1937 release. Perhaps closest in form to how Disney might have actually seen the film, the 2001 edition built on what had come before but was still not able to remove certain marks and debris inherent in the original cel layers. For the 2009 release, the Studio returned to the well one more time in order to bring Snow White into our new high-definition world with another complete re-do, and the results remain staggering, a "digital print" (well she did always hope Some Day My Prints Will Come!) of the film that is more direct to the eye, with an immediacy that gives one the chance to feel as if we're able to touch the artwork, and no-where near as scrubbed of any handmade feeling as later transfers began to squeeze out.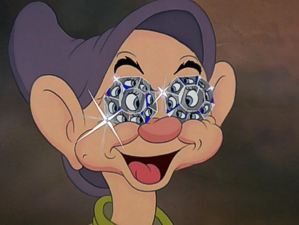 The question remains, however, if a total wipe clean of any debris is also washing away history: while Snow White now looks like it was a hand-painted feature photographed digitally, in removing unwanted elements in the negative, the restorers have also taken out original cel scuffs and dust caught between the layers. Although the result is pristine, probably preferable and certainly what Walt would have perhaps approved of, this does raise serious concerns about technology being used to make films look better than their original creators could have ever hoped for. It's known that Walt lamented the dust and scratch marks inherent in cel animation and undeniably given the chance he would have preferred the perfection realized here, but the truth of the fact is: when Snow White was committed to film in 1937, those artefacts were part of the technology. Who are we to come along many years later and possibly alter color, brightness or any original intent?
Those thoughts aside, it's clear that a lot of care and attention has gone into how Snow White should look in the 21st Century, and wiping all that debris out of the frame does reveal many "new" intricate details. Sure, some of the wider shots of the Dwarfs belie the more cartoony approach the animators sometimes had to go with, but washing away the dirt also washes away the years: Snow White truly feels brand new again, and visually speaking at least, for young eyes or anyone who unbelievably has never seen the film, I should think they would be hard pushed to guess at its 1937 release date. There may be other questions about the film's vibrant colors, or the brightness of the exposure (some of the backgrounds look like they were intended to drop off into crushed blacks when the paper pigmentation is very clear), but these are perhaps personal choices which could be approximated in the home via color and contrast settings.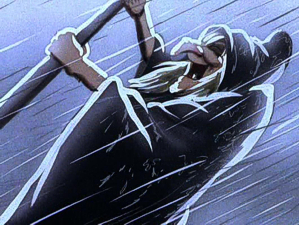 What's neat is that this new Signature edition of Snow White retains this transfer – or something pretty indistinguishable from it – rather than wiping even further detail from the image, never going as far as some of the subsequent "restorations" can do (ahem, we're looking at you, The Sword In The Stone). Though certainly not the way Walt and his artists would have seen it even in a pristine premiere print, this Snow White And The Seven Dwarfs is perfectly fit for purpose in this new age of super clarity, at least retaining a hint of the handcrafted nature of its production. If there is a caveat, however, it's that this 4K transfer hasn't been made available in the new Blu-ray UHD format. Although the hardware is barely in stores, it might have been a very cool way for a new physical edition of this Disney classic to make more of a splash and mark out a real reason for the Signature series to be a worthy line to collect (again, for many).
Scratch Tracks:
As with the video, the sound wizards at the Disney Studio were able to go into the original audio and recreate Snow White's soundtrack for the current generation of home theater set-ups with their 2009 re-do that sounds like the same track here. If anything has ever "dated" Snow White, it's the 1930s/40s dance band arrangements on the peppier songs, and perhaps Adriana Caselotti's sweet and innocent voice: Snow White herself is no Californian valley girl. But these are merely slight concerns now, the sound having been magically (and it is magical) transformed into a 7.1 surround mix. Naturally it's not the most enveloping of mixes – taking a mono original and spreading sound around the channels has produced some notoriously suspect results over the years – but it's the purity of the sound that impresses.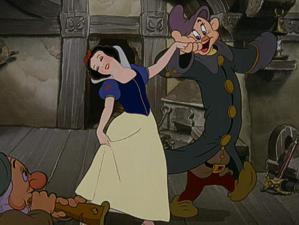 Just as the picture restorers have managed to give us the digitally photographed version of Snow White while leaving the paint strokes intact, those working on the sound give us the exact intention of the original soundtrack while bringing it firmly into our surround environments. No new sound effects have been added, and happily there's none of the "fake stereo" effect that plagued such tweaks in the past, but each track (dialogue, effects, music, etc) is startling in its clarity and warmth. There's none of the background hiss that's usually inherent in the background of the vocals (rising and fading with each word) – it's been scrubbed away, but without losing any of the fidelity to the original recordings.
Likewise the musical score, always so intricately tied to both the visual action and, uniquely, the dialogue, now sounds just as beautifully warm, layered and, again like the visuals, more direct. Bass is naturally reliant on such boosts from the original mix, but there's a lovely rumble that can be picked out in appropriate spots, and even the sound effects feel more nestled into the mix than before. French and Spanish 5.1 tracks (and subtitles), and the Restored Original Mono Soundtrack are also bundled in, the Restored Mono perhaps sounding like it's had another makeover since the 2001 Platinum, but otherwise there's not much in it. For once, the 7.1 enhanced track is the one to go for, matching the image perfectly for a brand new way to experience an old favorite.
Final Cut:
The 2009 Diamond Edition of Snow White felt something of a mish-mash, with the supplements less about the making of the movie and more about the Disney Studio's achievements before the film was released, and in the closing comments of my review I hoped "that Snow White And The Seven Dwarfs will get a more comprehensive treatment on the next go-around, probably for the film's 80th anniversary in 2017, since Walt's feature debut deserves more". Well, dropping a year early and in an inauspicious release slot, the new Signature Collection doesn't exactly restore any faith. This time the onus is supposedly on Walt himself for the first in the series, which provides something of a "new" angle even if, as before, much is missing from previous editions and the lack of any fresh Cine-Explore elements to the existing audio commentary feels like a cheap way of including expected content without bringing anything new to the table, and even casual fans will not want to jettison the much more extensive and authentically archival supplements assembled for the original 1993 LaserDisc or Platinum Edition DVD in 2001.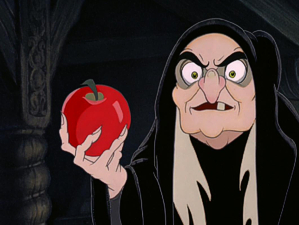 So what we have is something that is neither an improvement or a step backward from the Diamond Blu-ray. For those without any previous version, this could be called a decent or even solid stab at providing the film with a bit of production context thrown in, but definitive and spectacular an achievement it is most certainly not, being more of an "overview" of the better releases we have had in the past. The new extras may entice, but they're not substantial enough to really warrant a purchase…something Disney seems to know but won't acknowledge in their post-Star-Wars-Marvel-nothing-else-really-matters-anymore mindset. Those that missed the first BD will find enough here even if there's a sense of so much more out there to see, while if you're the kind of fan that already has a film-print, vinyl and compact disc soundtracks (multiple times), the VHS, LD, DVD and original BD as well as several hefty books on the subject (ahem!) then you're likely to bite one more time anyway. But collectors – and surely this is the audience that the Studio should be targeting? – won't find anything worth their time or bucks here. As the one that started it all resorts to being a token launch title in a rather underpowered new collection, one has to wonder where a much more deserved final deluxe physical edition is, just who exactly is making the random, ham-fisted decisions at Disney Video, and, truly, if Walt really would have approved of it all…?
Animated Classic or Back To The Drawing Board?