Walt Disney Animation Studios (2000-2015), Walt Disney Home Entertainment (August 18 2015), Blu-ray and DVD combo, 79 mins plus supplements, 1080p high-definition widescreen, DTS-HD High-Res Audio, Not Rated, Retail: $39.99
Storyboard:
Disney Animation shorts from the turn of the century onwards are collected for the first time, ostensibly to provide an outlet for their latest effort, a Frozen cartoon spin-off.
The Sweatbox Review:
Woe-betide the makers of the upcoming sequel to Disney's phenomenally successful Frozen if their efforts end up being anything like the frankly awful follow-up Frozen Fever, a (thankfully) short cartoon that recaptures not a jot of the magic that its preceding feature contained. Seemingly a knee-jerk reaction to the huge box-office bounty that film enjoyed, as well as its zeitgeist-whacking cultural impact, Frozen Fever feels thrown together as if a need for speed to get the characters back out there on the silver screen was the primary goal rather than providing a decent and logical continuation.
It is, of course, understandable that Disney would want to build upon their biggest success in years, and that a sequel from the usual such avoiding company has been announced even if the actual story (and therefore surely the very reason any project should actually get made?) seems to be very much in flux and open to various changes, there not being a basis for an even very loosely adapted original fairytale to be drawn from. The power of Frozen sisters Anna and Elsa is apparent: unlike other recent shorts from Disney and its owned Pixar unit, it's not the sidekicks from the original film that steal the show here, even if the half-baked concept only gives the newly-reunited girls a sidekick-worthy plot and a rambling, wandering, non-descriptive song to try and wade through.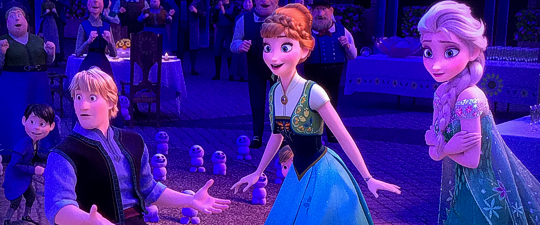 As Anna's birthday arrives, Elsa wants to make amends by celebrating with the best party ever, except the ice and snow queen – yes, the same one who famously proclaimed that the "cold never bothered me anyway" – has caught a, er, cold. With logic thrown out the open door, Elsa is soon sneezing up mini-snowmen, but unlike Olaf at the end of the feature, these little guys don't seem to need their own personal flurries, happily existing in the hot Arendelle climate without melting. Huh. Not helping matters is a much-ballyhooed but awful new song, which attempts to carry the whole plot but just sounds as if everyone was making it up as they went along because the words are trite and don't scan at all, with Elsa especially ending up coming over as a completely different kind of personality…and an irritating and not very likeable one at that! Honestly, it's quite painful at times.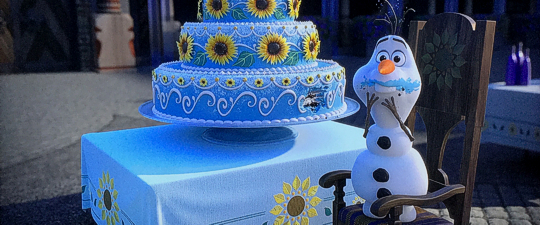 Arbitrarily attached to prints of Kenneth Branagh's not-so revisionist take on Cinderella from earlier this year, either because it shared a fairytale connection (as did Tangled's follow-up short, which debuted with Beauty And The Beast theatrically but with Walt's original Cinderella animated feature on home video), Frozen Fever doesn't even arrive with any appropriate fanfare…the short just begins with a title card like a half-baked direct-to-video cartoon supplement might have done. Certainly it's not the pick of the bunch in this collection of post-2000 animated curios from the revitalized Disney Studio, even if the huge success of the original film means the short takes center stage on the packaging and promotional materials.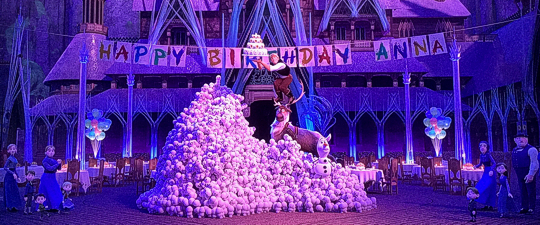 So, Frozen Fever's featured inclusion aside, it falls to the rest of the modern-era Disney shorts to carry the load…and despite a lot of reprises for titles already recently seen on various DVDs and Blu-rays, fortunately the rest stacks up to be a pretty neat bunch, albeit with some extraneous inclusions and odd omissions… Going the chronological route, we begin on the complete opposite end of the scale: in comparison to Fever's high-tech CGI blandness, John Henry, with its throwback 1960s Xerox hand-drawn approach, is easily one of the best here.
Completed in 2000, but left on the shelf until it was attached to a few select prints of Return To Never-Land in its 2002 theatrical release, John Henry tells the tale of the newly freed black slave who forged a railroad and won land for his people, proving his human ability against a technologically advanced steam-powered construction engine. It's a masterpiece of tightly paced animation and story, over in under ten minutes and leaving you wanting much more. Created at Disney's long-closed Florida animation studio, it was originally handed to them as a filler project between movies, while the suits at Burbank decided how to play the increasingly crowded animation business. Directed by Mark Henn over a five-year period, John Henry was purposely produced in the style of the classic Disney shorts from the 50s and 60s.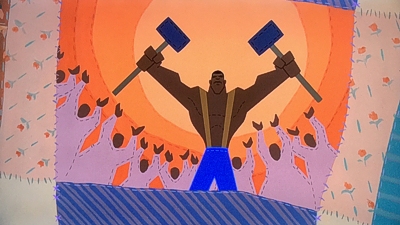 Animators were told to be bold with their drawings, and clean up artists had to be reminded not to make the lines too smooth! The original, complete film opens with a highly stylised traditional Sleeping Beauty castle Disney logo which dissolves into the main titles and patchwork quilt that Henry's wife Polly is seen sewing as the story begins. Henn had to fight to get the film completed, as featurettes and shorts, before Disney recently jumped back on that wagon, were seen as money losers, with no real avenue for recouping their investment. When the film was finished, there was then the issue of actually releasing it, with the main reason given for its long no-show as it being a film about black characters, animated and created by mostly white artists and was therefore deemed a proverbial hot potato, needing to be handled "sensitively".
Of course this is a ridiculous argument, but the political correctness of modern day Disney coupled with a not-so-happy ending meant the Studio didn't think they could do anything with the film. It played for three days at Disney's own El Capitan Theater in L.A. before heading for the archives. On the basis of the brief theatrical run, John Henry wound up being tipped for an Academy Award nomination for Best Animated Short, although the way it was dumped meant it did not qualify. Eventually, it made its long-delayed home video debut a couple of years later within a collection of shorts that dealt with US figures of folklore, American Legends, in a slightly truncated edition.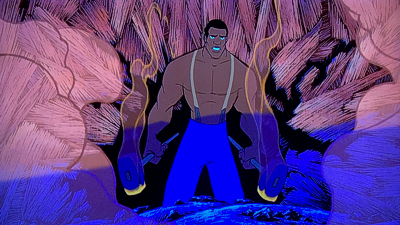 Given the harking back to animation techniques of the past, John Henry fit very well into the mix of other classic Disney shorts in that release; it bares most similarities visual with Paul Bunyan, while its soundtrack is very much in the Gospel Hercules style. In these sequences, there is some amazing light and shadow work, and the animation overall achieves the very classic look, although it may try a little too hard to capture the pencil line look of the 60s and 70s, with many of the shots exposing this technique, such as the animators' "construction lines", a little too obviously. As for the supposed potential "controversy" in having a white director direct a story about predominantly black characters, well frankly I wouldn't know what all the fuss was about! John Henry is a fantastic short which does nothing but celebrate this unique character with dignity. The supposedly downbeat ending doesn't detract at all – in fact you could argue that Pocahontas is more unresolved.
It's true that the film remains close to the legend: therefore Henry's fate is sealed and it would be remiss to move away from that, but the atmosphere soon builds itself up again to reveal the legacy he left behind, both in the form of a son and the justice he achieved. As the first title in this Shorts Collection (or as the last going by Disney's listing on the packaging), this is a goodun of which the filmmakers and the Studio itself should feel proud; it is daring, bold and triumphant in every detail and on every level, and such a joy that it hasn't been easily overlooked and been included here. In a predominantly CGI collection, it's a reminder of how powerful the hand-drawn medium can be, especially in skilled hands such as these.
Even with good critical reaction to Henn's film, the Disney brass were slow to move forward with any kinds of shorts program, often a fertile breeding ground for developing animators or techniques as Pixar was quick to establish. However, with computer animated films becoming the norm and the future of traditional animation in doubt at Disney's, further such films were not immediately forthcoming and the next selections are actually two of four completed segments originally intended for a third Fantasia feature, now a non-starter following the death of Roy Disney, who championed the project. Eventually released as short with a Kate Hudson comedy, the 2004 Lorenzo follows the very abstract and Fantasia-esque escapades of a pampered feline whose tail develops a personality of its own!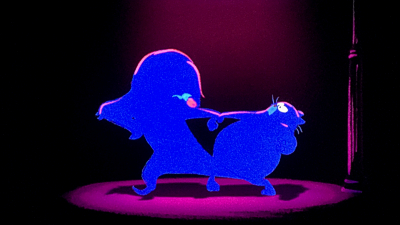 As with another intended Fantasia short, Destino, the Disney Paris-produced Lorenzo is the realisation of a long-abandoned cartoon from the golden era, in this case a 1947 story treatment by legendary Studio veteran Joe Grant. Along with John Henry (its American Legends DVD issue aside), director Mike Gabriel's completion of Grant's idea – visualised by way of an insanely mind boggling three dimensional brush stroke technique – has perhaps been the toughest of the shorts included here to try and catch, with only a glimpse at a few seconds making it online, perhaps hence the "featured" appearance on the packaging.
Coupled with a lively and seductive tango score, Lorenzo is highly comical but deliciously dark, the once-again non-conformist denouement maybe providing something of a shock twist for some, and another reason for the Studio to keep a bit of distance from the film. Although it may share a little of the pace and tone of Eric Goldberg's dance of the flamingos from Fantasia 2000, the resolve isn't as upbeat, so again its inclusion here is very welcome both as a way to finally see the whole thing and to be able to enjoy the fruits of another completed concept from the archives. My guess is that Lorenzo would have been a highlight of a third Fantasia feature: it certainly plays that part well enough in this collection.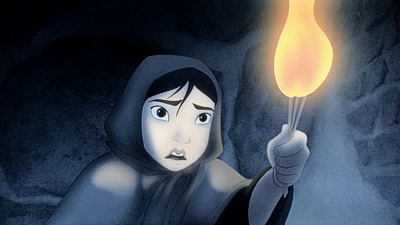 Providing the dramatic counterpart to Lorenzo's darkly comic exuberance, Roger Allers' The Little Matchgirl continues Disney's adaptations from the works of Hans Christian Andersen, switching the story from his native Denmark to what we can assume to be a roughly early 18th century Russian location, actually very fittingly as the plot unfolds. Dialing back some of the more unpleasant elements from Andersen's original, Matchgirl can still be a hard watch, following a young girl as she attempts to survive the harsh conditions of her existence until the inevitable outcome takes its toll, a rare instance of an animated translation of the storyteller's work to retain one of his less than traditionally happy endings.
Interestingly, despite the apparent downbeat nature of each of the films so far, there actually is a lot of fun to be had with this collection, but when one looks at the time of their production, it's clear the Disney Studio was in a state of flux itself and perhaps the outlook – where the end of traditional hand animation was on the brink of extinction in favor of the CG style – didn't seem too bright in the early 2000s, with the films subconsciously (or not) taking a darker turn as a result. None so is this more apparent with Matchgirl, also unwittingly the final time the Studio's proprietary CAPS software would be used in the production of a hand-drawn film. (Allers talked about the production of the film in our exclusive interview here.)
However, it's still a very beautiful film to experience, and miles away from what Allers ended up doing next when he went over to Sony for the much more raucous (and infantile) Open Season. Given the very late 2006 release date, it's possible that The Little Matchgirl may have been another film to stay sat on the shelf indefinitely, had it not been for its somewhat bundled-in inclusion on the Andersen-related The Little Mermaid's disc releases (Allers having already long left the Disney Studio after his disastrous experiences on the abandoned Kingdom Of The Sun project that became Mark Dindal's The Emperor's New Groove). As such, it's yet another welcome title, and another hint at what a variety the third Fantasia would have had.
Along with Lorenzo, another character to be resurrected from the past for the Disney shorts of the 2000s was the inimitable Goofy who, following the Studio's merger with Pixar, was pressed into action again when incoming new chief John Lasseter wanted a return to the hand-drawn animation style only to find the previous regime had sold off animation desks and mothballed CAPS – this at the very Studio that had pioneered many of these technologies in the first place!
With CAPS never really having been developed past the Deep Canvas innovations of Disney's Tarzan feature in 1999, the commercially available Toon Boom animation software was brought in and tweaked to convey the "Disney look", with Goofy's How To Hook Up Your Home Theater (2007) a purposeful throwback to the Studio's shorts of old. Intended to resemble a "lost" cartoon from Goofy's heyday that could have come straight out of the vaults, the unique twist here was to provide The Goof with a resolutely contemporary dilemma: how to shop for a modern TV set, which of the jumbo screens to pick from, and how the heck to work through the spaghetti junctions of cables, switches and plugs in order to fix the whole set-up together!
With Michael Giacchino effortlessly filling in for classic cartoon composer Oliver Wallace and using the second theatrical Goofy theme to great effect, How To Hook Up Your Home Theater was a fantastic move: appealing to the core Disney fans in bringing back a beloved character with such a spot-on pastiche, as well as comically addressing a modern day situation in watching Goofy trying to set up his multi-cabled high-tech home theater that will strike a chord for anyone who has attempted to do the same thing! The result is perfect, right down to Corey Burton's dry and wry commentary in the classic How To… vein, and the artists' (a superstar team of Andreas Deja, Eric Goldberg, Mark Henn and Dale Baer) depiction of the vintage character design.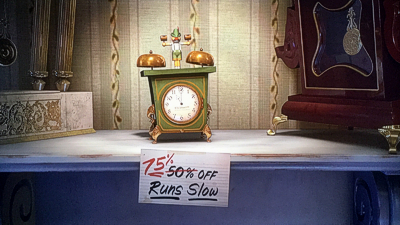 With the omission of a handful of films in this collection perhaps being explained away for various reasons, it's then something of a surprise to find the previously announced but never-officially released Tick Tock Tale, from 2010, next in the line-up. Directed by Dean Wellins, the film was at one point scheduled to appear on the front of the return to hand-drawn features The Princess And The Frog, until the mesh of a CG short in front of the much publicised traditionally animated movie was perhaps felt to be out of place. Never given a release slot since then, Tick Tock Tale recalls a blend of a variety of projects (John Lasseter's own CalArts student film The Lady And The Lamp, the enchanted objects of Beauty And The Beast, the still unavailable short Oilspot And Lipstick and even Pixar's Red's Dream) in its tale of a shelved slow clock who rises above the taunting of the other timepieces in his store to thwart a burglary.
Perhaps the most Pixar-infused cartoon in this pack, and showing Lasseter's influence on a Disney-branded project more so than any other since, the actual designs and animation are still purely Disney, rendered with a fantastic eye for detail and a "realness" that we've rarely seen from the Studio again until the more recent Big Hero 6. The wood-carved figure atop the Tick Tock clock itself is sublime in the little nicks and splits under the paint, and the rest of the short is filled with these similarly gorgeous touches, from the scuffed surfaces to a London bobby whistling My Grandfather's Clock as he wanders by. There's a tight plot, too, making complete use of its six minutes to include comedy, suspense and emotional drama, making Tick Tock Tale an absolute delight and not only another very bright highlight in this selection, but a film that would have easily outshone the feature it was initially set to accompany.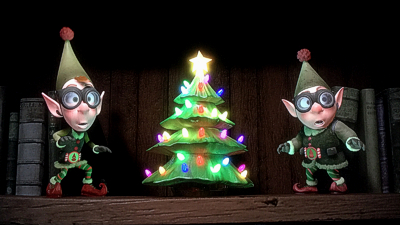 Another "surprise" entry is a reprise for what is honestly a sequel to a television special, albeit one produced by Disney Animation's theatrical unit and originally intended as one of the titles in Lasseter's new shorts program. On its debut in 2009, the original Prep & Landing special was among the first fruits of this new initiative, suggesting how Santa is able to fulfill all those gift requests each year in just one night by way of utilizing the latest stealth technology to send forward-planning elf agents to clear, secure and prepare each destination for a safe reindeer landing. Going from theatrical featurette to potentially perennial TV special, it picked up four Emmys and got noticed by the Annies and others, suggesting there was more fun to be had with its central characters, elves Lanny and Wayne.
A typically classic pairing in personality and predictable elf design, the nominal star name is A Bug's Life's Dave Foley as Wayne, and he's good casting, as is Derek Richardson's over-enthusiastic Lanny, with this 2010 "Stocking Stuffer", Operation: Secret Santa (another Emmy winner), giving the duo a super-covert mission by Mrs Claus (voiced by one time Golden Girl Betty White) to retrieve a unique item from Santa's office. There's some customary Disney inventiveness in the way the elves manage to achieve their task, and although the set-up does suggest the kind of Tex Avery treatment that's ultimately missing in favor of a more sweet, old-fashioned storytelling that's reassuring in itself, composer Michael Giacchino has fun melding the sound of Christmas with an undercover Mission: Impossible touch.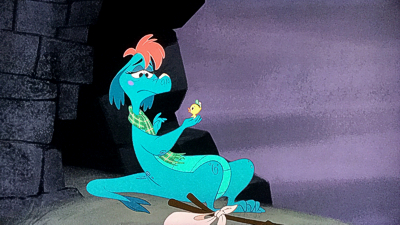 In 2011, the theatrical Winnie The Pooh feature was accompanied by another of Disney's new shorts, The Ballad Of Nessie, narrated in rhyme by Billy Connolly and telling how the Loch Ness Monster found her home in the highlands of Scotland after being turfed out of her original dwelling by the golf-mad MacFroogal. Although it feels more akin in tone to the kinds of featurettes the Studio released during the 1970s, it's a classic Disney short designed with the aesthetics of the 1950s cartoons in mind, and some of the supporting characters might have been picked right out of those films.
In fact, Lasseter's early exposure to Walt's films of the time is again evident here: Nessie is produced with such a reverent eye to the Studio's films of that era that it could quite easily pass itself off as one of them, much as Goofy's Home Theater outing. The Truth About Mother Goose comes to mind especially, but this doesn't have that short's acerbic wit, with a final sentiment (that it's okay to cry) being a bit of a peculiar payoff. But there is much humor in the narration and its performances, with some amusing couplets for good measure – although he would shortly leave the Studio not too long after, fans will get the biggest in-joke kick from a very wry tribute to veteran Disney animator Glen Keane!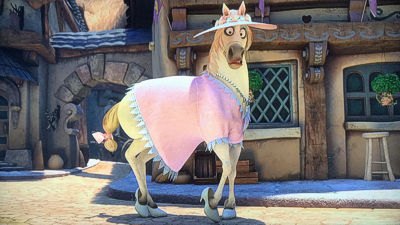 Bringing things more up to date is the first of Disney's theatrically released "mini-sequels" that would pave the way for the eventual Frozen Fever. A coda to the Studio's Rapunzel feature Tangled premiered with the 3D reissue of Beauty And The Beast in early 2012, previously making its way to disc via Cinderella's Diamond Edition release. Taking the more obvious sidekick route, Tangled Ever After features horse Maximus and chameleon Pascal's adventures in trying to locate Rapunzel and Flynn's wedding rings while the ceremony has already begun, leading to a rip-roaring chase against time before the soon to be blessed couple say "I do". Somehow, Tangled Ever After works as efficiently as Frozen Fever fails, with a simple, classic "plot" that not only fills and sustains its length but also plays well enough to those who haven't seen the originating feature or particularly knows who the characters are.
Disney has done well to avoid the temptation of a true Tangled follow-up, despite it being the better film, although an animated TV series will further Rapunzel's adventures. Here, the emphasis is squarely on the supporting characters and a whole dollop of comedy, going completely over the top in terms of the devastation to the kingdom's surroundings and simply being a lot of very well crafted fun, Tangled's original directors returning for what could basically have been a final rousing sequence for the movie itself. Although he's not credited as being involved, it's clear Keane's traditional animation touches have been felt by the current Disney artists: the animation here is sublime, timed to perfection, and laugh out loud funny!
Switching gears again, the Academy Award winning Paperman, from the same year, builds even more on the hand-drawn feel Keane brought to Tangled and meshes CG techniques with traditional sensibilities like never before. The result is easily the most charming of this collection's shorts; a totally delightful film that plays "silently" as so many of these recent Disney and Pixar shorts have done. Although Paperman features a contemporary-sounding score, giving it an old-school feel is a production design that finds room for older vehicles and architecture, managing to evoke a classic, classy and perhaps ever so slightly Mad Men-esque depiction of New York city.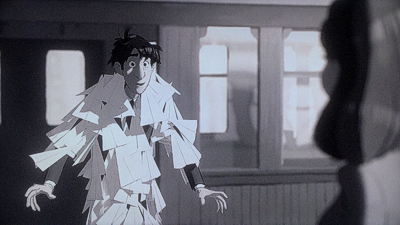 The image introduces an intended level of grain, presumably to create the illusion of additional vintage, but it doesn't work: if Paperman has a fault it is that this visual touch, far from feeling inherent and in the "print", as true black-and-white grain structure would, very much looks like a video-generated overlay, and more like crosstalk noise than actual grain. I was disappointed again here having been distracted by this on previous viewings, hoping that a new transfer may have reduced this aspect, but it seemingly remains something of a strange artistic choice, the amount of grain subjected on the image actually detracting from the film rather than serving it with any suitable nuance, even if the film's aims, performances and technique remain engrossing.
Following Goofy's return to the big screen it was the turn of Walt's original hero, one Mickey Mouse esquire, to make a comeback. Once again the ruse was to tempt the audience into thinking that a lost cartoon, Get A Horse!, had been discovered or at least partly completed, with the Studio remaining tight-lipped on these details until its unveiling at the Annecy animation Festival in 2013 and it became clear that it was a newly produced short after all, albeit one so faithfully true to the vintage cartoons of the era that it would even use soundtrack snippets of Walt (as Mickey) and Billy Bletcher (as Peg Leg Pete) from previous films so as to have "them" provide the voices!
Perfectly capturing the surreal style of the late 1920s and early 30s animation (by Eric Goldberg among others), the unique twist here is that the action onscreen leads the characters to literally break the fourth wall and split through the screen and into the movie theater, where they become fully rounded three-dimensional characters through the clever use of non-too elaborate looking CGI (although the technique is, in fact, highly detailed and intricate), still true to their 1920s aesthetics (even if Horace Horsecollar's tee-shirt is the first example of Disney's ownership of Marvel in one of the Studio's cartoons). As such, the short works best when watched in the more appropriate surrounds of a movie house, the characters appearing to burst through even more convincingly than when being watched at home, although here still there's very much something of a theme park novelty film about it, where it might have made for a fantastic interactive attraction at a Disney park.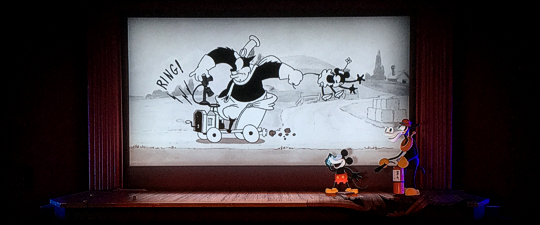 Nevertheless, Get A Horse! is most enjoyable, the mind-bogglingly awesome combination of hand-drawn "vintage" animation and CG rendered characters created with perfection to their movement despite an increasingly dizzying pace and running through of gags. It's not perfect-perfect: very long-time fans will pick up where the dialogue has been poached from (mostly from Mr Mouse Takes A Trip) and may be a pinch distracted by this and some of the more obvious edits in the dialogue and new, too-clean sound effects, but at least the scratchy archive look of the early black and white moments haven't been too over affected so as to ruin the joke or surprise. Concurrently pitched with ideas that became the fun Disney's Mickey Mouse retro-cartoon show now airing, Get A Horse! wound up being another Academy Award nominated short for the company.
Just a year later, the Studio would capture the same nomination for its 2014 short Feast, winning the award along with taking the prize for its feature Big Hero 6 too, historically giving Disney the unique distinction of being the first time the same studio has taken away both the Best Animated Feature and Best Animated Short Oscars on the same night since the inception of the Feature award in 2001. I'm still not personally sure that Feast won on its own merits and wonder if it was not a case of voters seeing the name "Disney" on their ballots and going for the easy option rather than sitting and viewing the other nominees, since The Bigger Picture and, especially, The Dam Keeper had more to them in their year, although I conversely remain pleased for the Studio; this double-validation confirming that they're doing the right things and cementing their returned to form status.
To be fair to the film itself, though, Feast is thankfully a perfectly fine little film in its own right, bringing color to the quasi-hand-drawn-CG look of Paperman (here dubbed Hyperion Rendering in a nod to Walt's first studio), although the balance is easily on the CG side of things while any hint of pencil animation is restricted to some of the characters outlines at best. Indeed, it's not a style that works here as well as it did for Paperman, and little pup Winston comes over more like one of those computer-generated animals from a spate of puppy profiler type games that were a Nintendo DS fad a few years back and popped up on such Platinum Edition DVD titles as Lady And The Tramp and One Hundred And One Dalmatians.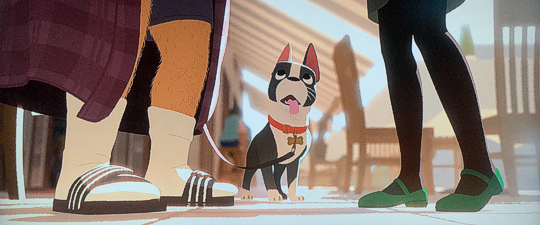 The story, such as it is, follows the young dog's journey over time via the food he eats – although Feast is better than that sounds – as his owner deals with an on/off relationship all while his and Winston's diet change as a result. Told through the eyes of Winston himself, Feast joins Disney's long line of pooch stories, although its simple nature seems more about trying out the visual technique than really trying to engage us in the story. Winston is cute enough, but the overall look feels cold to me, and the somewhat 1950s block-style art approach doesn't have the warmth or hand-crafted feel usually associated with it, despite how clever it is for the camera to be able to whizz through all the shots and such.
Rounding things up is the aforementioned Frozen Fever, a perfect name when one comes to think about it, for the short itself and the insane phenomena it is a part of. While the original Frozen's ubiquitous anthem Let It Go is undoubtedly the hugest breakout song featured in a Disney film since perhaps the pop singles of the 1990s, I do believe Tangled is the better structured, humorous and overall enjoyable and entertaining film. Frozen is terrific for its first half hour, but then the songs dry up, the trolls don't make any sense and the film loses its way until its ending, whereas Tangled is consistent all the way through.
That Fever's interim attempt to keep the characters alive on screens is so poorly conceived (the filmmakers seemingly interested more in giving the girls new merchandise-able dresses than giving the apparently ill Elsa an appropriate look; she's not even the slightest bit tired let alone sick!) does have me worried that the original movie's initial half hour was a fluke, but like all good fairytales, at least we can dream. For those that did like Anna and Elsa's return, Frozen Fever will also be available with the upcoming release of the live-action Cinderella on disc, although here's the best place to see it, where a variety of other – and much better – examples of Disney's recent animated short history can be sampled alongside a handful of welcome rarities.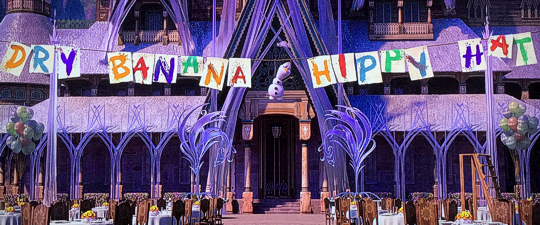 WHAT'S MISSING?
With the year 2000 a reasonable enough cut-off date in selecting how far back this collection should reach, it does mean that a good chunk of Disney shorts and special material from the 1960s to the 1990s has yet to see the light of day on any disc format. In terms of the time-frame being dealt with here, there are still some notable instances of missing titles that really should be here, not least the additional two intended Fantasia shorts, Destino (2003) and One By One (2004), both of which have been made available previously. Famously, Destino was the unfinished collaboration between Walt and Salvador Dalí, completed by Roy Disney as part of a proposed third music feature, while the delightful African-set One By One is as joyous and bright as anything in the Disney canon.
I can only assume that Destino wasn't deemed "suitable" for inclusion, though I have no idea why, while it could be argued that One By One made its debut on a direct-to-video release, although why it would be overlooked when the equally non-theatrical Operation: Secret Santa TV special sequel has made the cut is another mystery. Likewise there's room for the never theatrically released The Little Matchgirl and Tick Tock Tale but not for Chris Williams' Glago's Guest from 2008, admittedly a rather bleak film (originally attached to Bolt but replaced by a Cars Toon) that audiences didn't respond enthusiastically to but that should have found an outlet here. This collection might have stretched itself a little, too, to include (perhaps as extras?) the 1986 Oilspot And Lipstick, an out-of-hours early CG Disney short project, and the 1992 Off His Rockers, a traditional/CG blend that anticipates Toy Story by over three years; both films feel close cousins to those otherwise included here.
On the somewhat similar Pixar Short Films Collections, a number of direct-to-video shorts have also been included, which would open up spaces here for such home-exclusive cartoons as those made to accompany DVD releases for Lilo And Stitch, Home On The Range, Bolt and others. Most importantly and above all others of this ilk, Dave Bossert's Mary Poppins anniversary short The Cat That Looked At A King from 2004 really should have been in the mix, since it's a fully rounded short film that equally recalls the classic shorts as any in what has been included here. The argument could be made that these films don't somehow "qualify", but this hasn't stopped Pixar from including them in their collections and does prevent this set from feeling as quite as "complete" as it should.
Is This Thing Loaded?
In a move that's sure to peeve some, Disney has made one extra cartoon, 1995's Mickey-starrer Runaway Brain, available only as a Disney Movies Anywhere bonus…something that seems to be a growing trend given exclusive deleted scenes and other content being reserved for the digital platform on upcoming releases, which wouldn't be so bad if "Anywhere" actually meant ANYwhere when an international rollout has yet to come into effect. As such the title is perhaps better suited to a 1990s collection (not that we're likely to see anything like that!), although I do feel, with Blu-ray being the accepted best carrier for HD content, that the disc should be the ultimate "archive" format of choice. Disney on the other hand, does have form in not supporting the same point of view, even though they were an early champion of the format…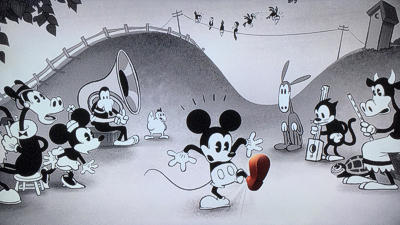 The disc itself isn't a total loss, however, and the main supplement, @DisneyAnimation: The Short Story About Shorts, provides a decent (but short, at just seven minutes) look at the Studio's shorts program and the specific cartoons in this collection, providing a nice context on their productions, easily imparting more info than elsewhere on the disc. There's also a very brief primer on the history of the technical innovations that made their debuts in Disney short films in the early days, and the single-shot glimpses at Flowers And Trees and The Old Mill make one's mouth water for how good those films could look in future HD presentations. Host TJ Miller (Big Hero 6) keeps things light and moving between the gathered group of artists and directors, with good humor and plenty of fun anecdotes, as well as a quick, sly dig at the 3D format.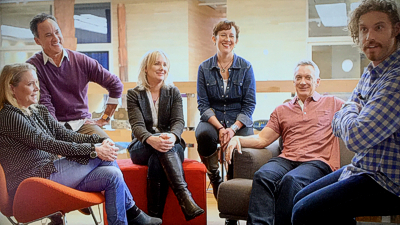 In lieu of any Pixar-style commentaries, a nice touch is at least having each film play optionally with a series of Filmmaker Introductions, filmed on the Disney lot. Encompassing a little concept art, these comments from each of the films' directors, producers or artists allows them to convey brief thoughts on their work, and even if they only last a scant 45 seconds and are mostly nondescript words of praise each time, they're still most welcome, especially Gabriel's clear enthusiasm at having Lorenzo finally meet his public! The disc's menu itself also makes use of some choice concept artwork, in a classy presentation that sets up the disc simply but nicely to a snippet of Paperman's score. I couldn't find any additional Easter Eggs, but the usual Sneak Peeks include a slim selection (no Frozen Fever-related Cinderella!?) of Disney Movies Anywhere and Movie Rewards spots, Aladdin: Diamond Edition and Disneynature's next, Born In China.
Case Study:
As mentioned already, Anna and Elsa take centre stage here, in order to promote their short above all others. If that's what it takes to get some of this most rare of material out in pristine HD quality, then so be it, and in fact it merely hardens back to the VHS and LaserDisc days when Disney would market a bunch of cartoons on the back of a single classic title. The design echoes the feel of the previous Pixar Shorts collections, the embossed shine giving it a classy feel, while it seems one-time critic of all things Disney Jim Hill has been forgiven: he gets a quote on the back of the sleeve. Inside you'll find an included DVD and dual-use code for a Digital HD copy and Movie Rewards points.
Ink And Paint:
Since aspect ratios and film formats vary from standard widescreen and 'Scope, and from film prints and digital files between titles, one can't grade each and every short, suffice to say that I believe each looks as close to the original presentation as intended. Flipping between mostly 1.66:1, 1.78:1 and the 2.39:1 ratios of the later films, the disc handles them all equally well, the early prints (especially John Henry) looking absolutely rock solid.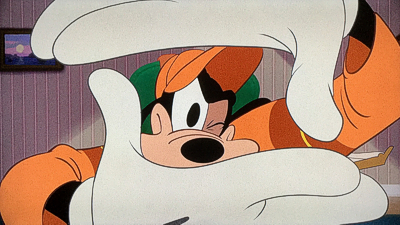 Only How To Hook Up Your Home Theater is a slight disappointment for still seemingly coming from a print source (as in a previous release) that carries too much gateweave over the stability of a digital file, although I did have the thought that this could be a subtle attempt to keep up the gag that this was a long-lost toon; if so then the effect is so neither here or there as to make one wonder if was intended or not.
Scratch Tracks:
Again, each short has its own distinct soundtrack characteristic, but the audio is uniformly even throughout. Dialogue is often sparse in these films, but when it comes it's clear and as defined as the individual instruments in the musical scores (often, in the later films and source music aside, composed by Giacchino and again proving just how versatile the man is). Although mixed with high-end feature qualities, not all the films are waiting to give your system a good workout, although a couple shine at alternate ends of the dynamic scale, from the sly tango of Lorenzo to the aplomb of Tangled Ever After, with delicate usage of sound effects often as intricate as the animation itself.
Final Cut:
Rumors of the Studio's shorts coming to disc have abounded for a good few years – indeed, Disney is one of the few studios not to have made a compilation of cartoons available on the Blu-ray format until now. The release of Frozen Fever and the sales that the original film's phenomenon may power is the obvious catalyst, although quite what some sections of the audience will then think about some of the other films included here will be a surprise even to them!
While this isn't quite the cream of Disney's short films crop, collectors will be well pleased with the offerings of rarities here, and that's as recommendation as any. I would have preferred a full roster of 2000-2015 shorts and don't see why there are a handful that haven't been included when their totals would add up to less than an extra half hour of time, as this is hardly a disc space issue. Nonetheless hopefully this will see the beginning of more such volumes, perhaps arriving annually to stretch back into the archives…? Certainly, I'd like to see many more such shorts coming to disc!
Animated Classic or Back To The Drawing Board?