Disney/Pixar (2007-2012), Walt Disney Home Entertainment (November 13 2012), Blu-ray plus DVD disc, 75 mins plus supplements, 1080p high-definition multi-ratio widescreen, DTS-HD Master Audio and Dolby True-HD 5.1 and 7.1, Not Rated (Canadian Home Video rated G), Retail: $39.99
Storyboard:
Following the initial volume some years back, this update has twelve Pixar shorts, of a more recent vintage, breaking out from the archives and collated in one entertaining and bonus-enhanced package.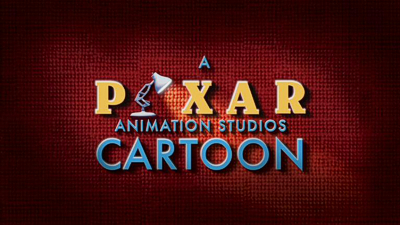 The Sweatbox Review:
With 2007's Lifted having closed the first Pixar Shorts Collection, this second compendium has been some time in the making, with an average of two shorts per year making up its contents. That initial grouping of computer animated cartoons was perhaps a much more intriguing prospect for fans of the Studio: unless one was collecting LaserDiscs way back in the day it was the first time many would have been able to see pristine editions of the earliest films to emerge from what would come to be nicknamed The Lamp (Paramount has a mountain, Disney has a fairy castle, Pixar has a lamp, right?), after their first Oscar-nominated success with John Lasseter's Luxo Jr.
Lasseter had actually started at the company before it was even called Pixar (an amalgamation of pixel and art), back when it was a division of George Lucas' Industrial Light & Magic visual effects unit named The LucasFilm Computer Animation Project. Lasseter had been brought in as an animator to help the very precise technicians bring a little Chuck Jones attitude to their animations, but when Lucas needed cash in the early 1980s, he sold the fledgling outfit to Apple's Steve Jobs, who had the vision to keep funding the unit, primarily as a way for them to make films that would promote the graphics capabilities of his own machines.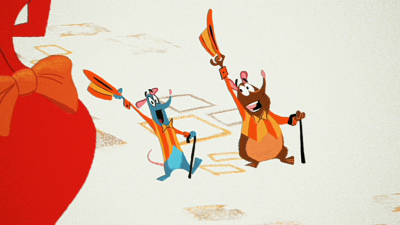 The next few years – the first 20 of Pixar's extraordinary existence and success, actually – are well covered in that first Shorts Collection, highlighting the breakthrough of Luxo Jr and development of the animators as filmmakers. This time around, Pixar has become a commercial Hollywood player itself, and specifically now a division of the Walt Disney Studios, and so it's really down to the supplements in this new package of shorts to really impress and draw in the interested, since the majority of the "main feature" cartoons have been readily available on Disney's recent issues of Pixar's animated features, all of which have come accompanied on theatrical release with a new short of their own, plus an eventual made-for-video bonus short.
As such this second collection is a bit of a mixed bag, gathering all the shorts from Lifted onwards. Making its debut with Ratatouille in theaters, Lifted is quite rightly not repeated here, and so the film that opens this set is something of a Pixar anomaly in that it isn't a computer animated short at all, being the hand-drawn Your Friend The Rat (11:15, 1.78:1, 2007) from the Ratatouille DVD's bonus features. Perhaps precisely because the short was hand-drawn, at a time when it looked like Disney was abandoning the artform altogether, Remy And Emile Present: Your Friend The Rat, A History, to give it the full moniker, received a lot of enthusiasm for it online, but I have to admit to not being overly impressed with the final result.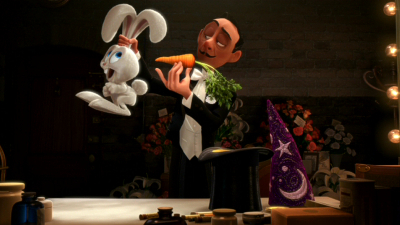 Ratatouille's director Brad Bird obviously comes from a traditional animation background, and he's even been able to pepper his two CG films with a little of the classic look in their credit sequences. Ratatouille took things to extremes, creating new animation for its end titles, the style of which was carried over into that film's videodisc menus and this short. However, while it is fantastic to see the 1960s Xerox Disney approach back on screens, Your Friend The Rat is overlong at eleven minutes plus, when a tight six-to-eight would have left 'em wanting more.
Although the short contains a few shots created in CG (and even some in stop-motion!), it's predominantly been hand animated and as such recalls Disney's 1950s and 60s films like The Truth About Mother Goose and Toot, Whistle, Plunk And Boom, which look to be obvious inspirations and mix entertainment with educational elements in the same manner. The first half is great, very much in those classics' vein, but a capping song is markedly devoid of life or zip and the film loses momentum long before a final half fun/half serious disclaimer joke.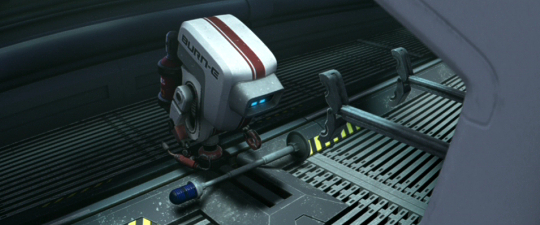 Writer/director (and Ratatouille story man) Jim Capobianco's short is enjoyable enough, but the fact it marked Pixar's first hand drawn cartoon makes much more of a big deal out of it than should be. Much much better is the true Pixar modern classic Presto (5:15, 1.78:1, 2008), which accompanied WALL•E in theaters. It's one of Pixar's fastest and wittiest cartoons – that being the optimum word – and an unusual one that returns the Studio to the antics of Knick Knack while combining such comic encounters with the hyper realism more recent shorts have brought to produce a delightful, wordless slice of warm up entertainment; Presto's frantically funny gags and speedy inventiveness is ingenious.
Concerning the aggressive dynamics of a stage magician and his unwilling bunny stooge, this is as fast as cartoons get: a wonderful homage to the likes of Jones and Avery that, like Who Framed Roger Rabbit's Something's Cookin', even appropriately opens with the kind of title cards that adorned Walt's cartoons of the 30s and 40s, albeit with a typeface more reminiscent of MGM's shorts. Presto Digiotagione's resemblance to Walt Disney is open to debate, but the caricatured likeness can't be denied and, if intentional, would of course be a more than suitable alternate trade for the great producer, a movie magician himself, of course.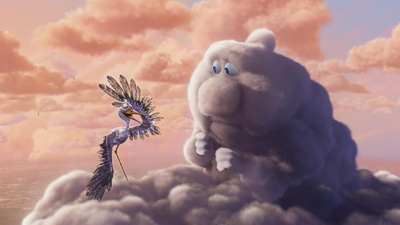 By the time of WALL•E's release for home viewing, the now routine trend in animated releases – particularly CG movies – of the inclusion of an added treat featuring the main feature's characters had been established, and the big promotional push in that movie's case was the bonus animated short BURN•E (7:35, 2:39:1, 2008). Although the short is very funny, it follows The Incredibles' Jack-Jack Attack and Cars' Mater And The Ghost Light in that it plays as an "unseen" group of scenes from the main feature, clearly referencing points as we've experienced them in the movie but adding a new angle to proceedings.
This isn't necessarily a negative comment aimed at this short in particular – indeed it is everything I believe a home video bonus short should be – but unlike previous Pixar cartoons to this one, like Presto for instance, BURN•E requires a previous viewing of the movie that has inspired it, if only to gain maximum enjoyment (indeed, that feature's director and composer should receive co-credits for the amount of work borrowed from the film). While trying to integrate BURN•E's moments into the film would be a fruitless exercise (it's not a grouping of deleted scenes) it's unlikely to make a whole lot of sense to anyone who hasn't seen (or remembers) the main feature – this is a great short made by WALL•E geeks for WALL•E geeks (and taking the Axiom's jump to lightspeed to its logical 2001 conclusion!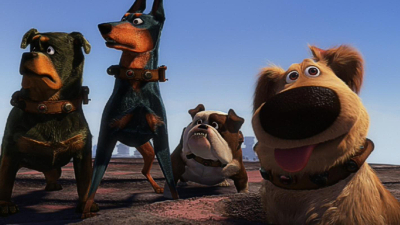 As such, production value is theatrical quality, from the widescreen 'Scope framing to WALL•E's orchestrator J.A.C. Redford's score and director Angus MacLane's well observed character nuances and pokes at bureaucratic corporate types – the SUPPLY•R holding back a light rod just that teeny extra second than is helpful after BURN•E has lost a previous one is all the stuff that makes Pixar tick! Playing with the Studio's next picture, Up, in theaters is our next selection, Partly Cloudy (5:47, 1.78:1, 2009). Primarily a test film for developing the look of the many clouds seen in Up itself, this bright and breezy little short is not as hysterical as a Presto, for instance, but quietly amusing nonetheless.
A clear influence from Pixar crew favorite Dumbo is the character of a baby-delivering Stork who always seems to land the tough jobs, having to fly down not so much with bundles of joy but instead with an ongoing series of sharp-toothed or clawed animals! The animation is as good as always, and now-resident Studio composer Michael Giacchino again knits everything together, expertly assisting the trademark pantomime action with his score, even if the music here continued to remind me of other cues, particularly The Beatles song Across The Universe which, intentional or not, is somehow fitting. Next up, from the Up disc release, Dug's Special Mission (4:43, 1.78:1, 2009) this time may as well be an extended and completed deleted scene.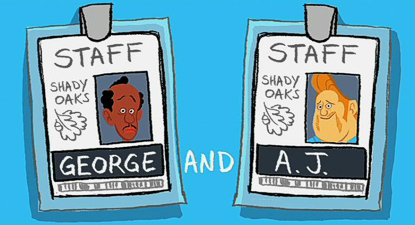 Not particularly satisfying as a stand-along cartoon, Mission expands on the chase Dug and the dogs from Up were involved in as we met them in the movie. Introducing us to Dug in this way in the film wouldn't have given us the surprise Carl and Russell get when they discover the talking dog, but since this short ends with that very scene, it would be hard to show this off to anyone who had not seen the original film, again as with Jack-Jack Attack or BURN•E. As always with these feature spin-offs, however, the technical standards are of the same high quality, and even if it does feel like a fleshed out deleted scene it was more than adequate as a disc bonus and, in the interests of being a definitive collection, has a place here.
Also connected to Up, but created after the feature and its disc release (but not the recent 3D reissue where it might have rewarded those double-dipping!) is George & A.J. (3:56, 1.85:1, 2009), giving this volume one of two or three exclusives. Set just as Carl Fredricksen launches his balloon-lifted home upwards in the spirit of adventure (and kind of explaining how boy scout Russell tags along), the short plays out on some of that aftermath, as care home nurses George and A.J. deal with the city's senior citizens being inspired by Carl's antics and plan to escape from being shipped off to a home themselves. As flippant with the film's core idea as it is funny, this was an online "extra" for a long while, animated with a budgetary concern (perhaps it was a proposal for the disc's extra short before Dug's Mission was chosen instead?) in a limited color storyboard animatic style.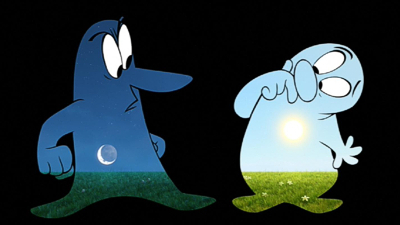 Featured with Toy Story 3 in its theatrical run, Teddy Newton's absolutely wonderful Day & Night (5:59, 1.78:1, 2010) depicts what happens when two opposing characters clash and discover they have more in common than they may first think. With some terrifically whimsical and witty gags (the waterfall makes me laugh out loud every time), the short is another gem in Pixar's collection of such films, proving that when they come to experimenting with character, technique or story form, they'll always come up with something special. Being one of the true classics in this set, I wouldn't want to spoil things further for those who might not have seen it, suffice to say that it's another "silent" cartoon that the Pixar shorts unit seem to excel at so well in creating.
With Toy Story 3 putting such a cap on the series, it was perhaps wise not to include a further short featuring Woody, Buzz and the gang on that film's home video release, but perhaps the notion of just such a bonus cartoon gave rise to the semi-sequel series of Toy Story Toons that we have seen since. Playing theatrically with Cars 2, the first of these is Hawaiian Vacation (5:53, 1.78:1, 2011), which for many was the highlight of the Cars 2 experience in theaters and on home video! When their new owner is off on holiday, Ken and Barbie plan the ultimate getaway, though when their plans don't take off as expected, Woody, Buzz and the gang pitch in to make it a vacation to remember.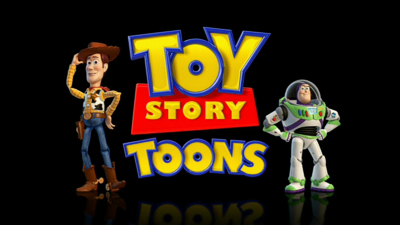 Directed by Gary Rydstrom, it's an instantly likeable short that returns to the basic elements of fun that were largely suppressed by the third feature film, with the kind of mood that I really hope is retained if a rumored Toy Story 4 does happen. Here the characters have lost their mortality-dwelling funk and are clearly enjoying their new home, a fundamental foundation on which to build another film. Not only this, but there are some great gags, both in the animation and from the vocal performances by a returning cast that includes Tom Hanks, Tim Allen et al, though I do hope that Spanish Buzz isn't now going to become a mainstay gag in further outings…it was a desperate laugh in the third film and just won't get any funnier.
Of course when Cars 2 came to disc, it would be accompanied by a new bonus from one of the Studio's other shorts series staples, the Cars Toons. Like the Toy Story shorts, these films provide a way to keep another franchise motoring along, even if most agree it ran out of gas way back. Breakout character Mater the tow truck has seen a separate release of the previous Cars Toons already (with the theatrically released-with-Bolt short Tokyo Mater being better made and more exciting than anything in Cars 2), and the movies are about to be spun-off into an offshoot Planes franchise…and herein lies the rub with the next film here, Air Mater (5:10, 1.78, 2011) – it feels exactly like the basic promo for Planes that it is.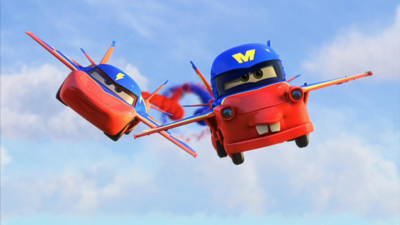 I have stated that I'm not the biggest fan of that universe as it is, but I do wonder how really cool it might have been if the Cars concept had just been reserved for an ongoing shorts series outside any feature connections. I much prefer this Toons format for the Cars characters, where the regular format can be recycled in a number of ways: here Mater tells one of his tall tales about how he once learned to fly, with Lightning doubting everything until he finds himself inserted into the story. However, and despite some really nice aerial animated action, this turns out to be just another excuse to plug Planes – on the original release Mater even closed the short by suggesting something along the lines of "someone should make a movie about planes, you know…Planes?", which is about as openly blatant remark as could be made.
We're back to the Toy Story Toons for the excellent Small Fry (7:02, 1.78:1, 2011), which continues to show the strength of the characters and this spin-off series even they don't quite qualify to rank among the best of the Pixar shorts. Premiering with the Pixar-endorsed return to screens for The Muppets, this short was unfortunately not included on that film's eventual disc release…much to the chagrin of those who weren't expecting it theatrically but then found it to be a delightful joy. Written and directed by BURN•E's MacLane, Small Fry is exactly the direction the Toy Story series needs to go in, and the sense of fun is palpable.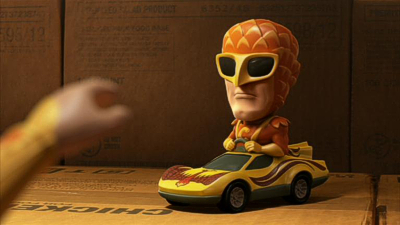 Without the constraints of a feature film's story arc, there's the chance to have great fun with the characters and specific comic story ideas that might otherwise go off in too much of a tangent in a full-length movie. Here there are pre-shadows of Lasseter's involvement in Disney's Wreck-It Ralph in the self-help support group meetings of rejected fast-food restaurant toys, in which Buzz has found himself trapped, replaced by a comically annoying miniature model. A true highlight that had me laughing out loud is a toy nod to the otherwise forgotten 1980s Disney fantasy adventure CondorMan (its score coincidentally released on the Intrada label the same day as this BD, film fans). I want one…I have to have one!
The final Cars Toon not to have appeared on the previous Mater's Tall Tales stand-alone release of those shorts, Time Travel Mater (6:20, 1.78:1, 2012) brings us up to date in terms of this collection, although there's still one more film to come and, since this compilation, we've also seen the Brave bonus short The Legend Of Mor'Du and another Toy Story Toon, Partysaurus Rex, playing with Finding Nemo's recent theatrical 3D reissue. Call me a non-fan if you will, but as you'll have guessed, Time Travel Mater features Larry the Cable Guy's animated tow truck again, this time going back to Radiator Springs' beginnings.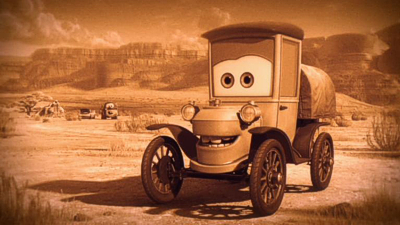 That's about as much as I'll say about this one, except for one bright spark being a guest vocal from John Michael Higgins of Christopher Guest's stock repertory company, and in the true Pixar tradition of occasionally nodding back to Disney's past the period-set cartoon is sweetly labelled a "Pixar Laugh-O-Gram", while the color tone cleverly changes depending on which era Mater and McQueen pop up in. Closing things up is the final selection here, and the only reason I can find to explain why last year's Best Animated Short nominee La Luna (6:56m, 2.39:1, 2011) has been saved for last is that it mirrors its concurrent release as Brave's theatrical companion on Blu-ray at the end of 2012.
Beautifully whimsical, La Luna is the best Pixar short since Day & Night, following a young boy as he helps his father and grandfather tend to their responsibilities on the moon. Don't worry, it's not as nutty as that sounds, being a truly poetic and sweet little film, full of flights of fancy and, like the best Pixar shorts, told completely in pantomime. I wouldn't want to spoil things further than that, but La Luna's placing at the end of this second volume of the Pixar Shorts Collection is actually perfect: with a slight unbalancing of art versus commerce veering towards the extensions of franchises and home video bonus shorts, closing the collection on the kind of innovative film with which the Studio made its name makes for a fitting conclusion.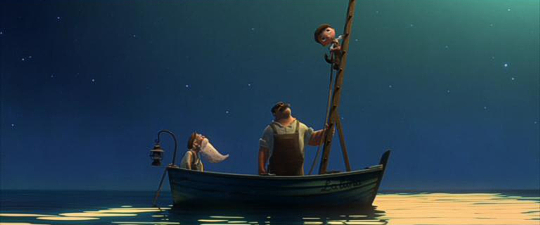 It does seem Brave's The Legend Of Mor'Du remains exclusive to that release (for now, although I wouldn't snark if it was somehow, understandably "lost" between this volume and an eventual third!), and we've yet to see Partysaurus Rex at home (it doesn't turn up on Nemo's 3D set), so they're pretty safe bets to open the next Collection, on whatever format we're watching our Pixar movies via in another five years or so!
Is This Thing Loaded?
There used to be a time when Pixar's shorts were accompanied by optional audio commentaries from their creators on the feature film discs they were released with but, not so coincidentally since the release of the first Pixar Shorts Collection, these tracks have mostly been missing from those individual releases. Could the reason be so as to retain some exclusive content, and therefore an enticement to buy, to these continuing Shorts collections?
Why yes, of course, is the not so unexpected answer, the upside being that each and every cartoon in this new collection benefits from Filmmaker Commentaries with the shorts' directors and occasional other participants such as production designers, technical directors, layout artists, story and animation supervisors, producers and, in one case, an editor. Some of the tracks seem to be retrospective in nature, while others appear to have been recorded nearer to their original productions, but they're all great to listen to once the cartoons have been run through once first.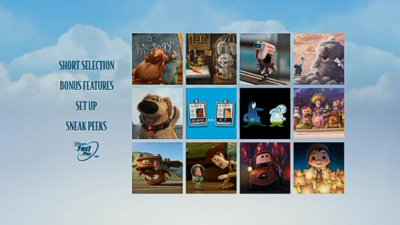 Without the need to stretch remarks out to feature-length, and indeed with only a relatively short time to impart their information, those commenting make the most of their limited screentime, and what's really prevalent is that each of these films are very personal to them, especially in close family connections. With most dealing with how video bonus or franchise extension story teams managed to expand moments from features and re-use characters, more interesting are the talks for the stand-alone experimental shorts, although George And A.J. is frustrating in that it's a joke track that gets so ridiculous as to be unfunny and not reveal anything significant on this otherwise visually distinctive short in the collection.
These audio gems are the closest we get to any substantial behind-the-scenes material (as with a brief making of for Boundin' on the first volume, a promotional piece for Day & Night has not been repeated here) and with an otherwise lack of additional context in those regards the real reason for fans to get excited about this release is in the inclusion of The Short Student Films Of Pixar Directors John Lasseter, Andrew Stanton And Pete Docter (or maybe the "student short films"?).
Remastered in HD, this is the first time, as far as I am aware of, that seven of the directors' earliest Cal-Arts films have been made widely available and, after being teased in documentary after documentary, I never really thought we'd be able to see them at all, let alone as decent quality prints as these. Naturally each short doesn't have the pristine CG quality of a modern Pixar film, but then they're all hand-drawn, mostly by their directors themselves, and in a variety of styles, from line-art pencil tests, to partial and full color and one that even approximates rudimentary computer animation.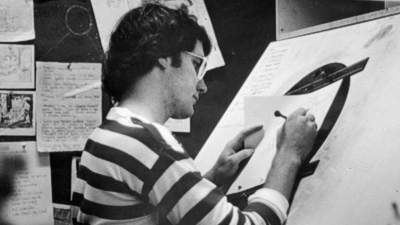 Coming first is Lasseter's Nitemare (5:17), but topping the list of must-sees is his The Lady And The Lamp (4:24), both from 1979 and predating several aspects of his later Pixar work. Evident is the level of quality that Lasseter would insist on bringing to, and stamping upon, Pixar's output, while Nitemare's black and white photography and wacky monsters of the night also recall some of Ub Iwerks' early Disney work. On hand to present the film is each director, providing some background and context where a commentary might have done the same job in bite-sized intros running around a couple of minutes each.
The near-legendary Lady And The Lamp's anthropomorphism of inanimate objects naturally hints at Pixar's later shorts and Toy Story to come and may remind some of a project Lasseter attempted to get off the ground at Disney's, The Brave Little Toaster, later picked-up and completed by the independent Hyperion Studio. Andrew "Boog" Stanton offers two films, too: the very abstractly funny Somewhere In The Arctic… (1986, 3:50), which plays like something Chuck Jones might have come up with, and the simply titled A Story (1987, 4:33), again channelling Chuck, this time by way of a classic Disney framing device.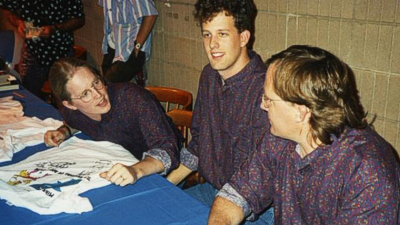 Both films are different to Lasseter's and great in their own way, uniquely not actually hinting at the kind of more reserved films that Stanton would later make at Pixar – in fact, if anything, I wouldn't have expected him to be behind the National Film Board of Canada-styled Arctic, which has fun with perspective and cinematic conventions but is otherwise way too loud and frantic to feel like a Stanton picture, or the super-dryly acerbic A Story (watch out for one instance of language), very funny that it is in a Spumco kind of way, until of course one remembers that his professional career began writing for Ralph Bakshi's New Adventures Of Mighty Mouse show in the 1980s.
Pete Docter's films are shorter but we get an extra one which just about levels things out between the trio. Winter (1988, 1:38) displays his whimsical sense of the absurd sweet and shortly, and the prehistoric comedy Palm Springs (1989, 1:56) also hints at the kinds of ideas he would bring to Pixar. Next Door (1990, 3:21) went through all kinds of production hassles before it could be shown in the famed Spike & Mike animation festival, but is the most accomplished of the seven films, with Docter even composing the short's score! Completed even after some of his drawings had been lost and Docter had already landed a place at the fledgling Pixar, this feels like it could have almost been one of the Studio's films itself.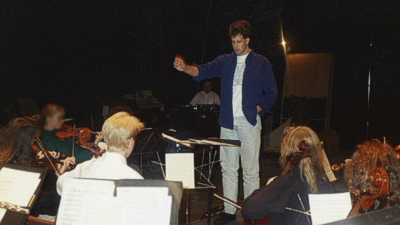 As with his colleagues, Docter introduces the films in brief intros lasting around two minutes each, providing some neat background on the shorts and their reasons for being. Stanton's films are perhaps closest to being what one might call fully-formed or completed, while Docter's lean more on ideas, but it's Lasseter's juggling of attention on story and character that perhaps make his films most accessible even given the rough pencil test nature of their assemblage. All the shorts are said to be "restored", but don't expect pristine digital remasterings: they're shown from what look to be perfectly adequate show prints, largely in original 1.37:1 ratio, and artefacts inherent in their production pleasingly remain intact.
On the enclosed DVD, the playback of the shorts themselves is much more simple, since it's a FastPlay disc that will automatically run through all the shorts in chronological order as opposed to having to keep flipping back to the cumbersome main menu on the Blu-ray. Also, since the entire contents runs to under two hours, Disney has done the right thing and, as with their Prep & Landing collection, replicates the Blu-ray's contents exactly on the DVD, including all the shorts, the commentaries and student films. On both discs, there are Sneak Peeks for Monsters University, Finding Nemo's 3D release, Planes (now not "coming to Blu-ray" but flying into theaters as a Cars franchise extension) and the Peter Pan: Diamond Edition, among others.
Case Study:
If you only picked up the first Pixar Shorts on DVD (so long ago that it was!) or on Blu-ray in its initial "elite" slipcover packaging, you'll be slightly out of luck in this new volume matching each other's cover art as it more closely resembles a quietly released BD and DVD combo pack for that first offering of shorts. Given a blue border around a predominantly red sleeve, the color of choice for this second collection is green, with a similar layout as before and cute junior Luxos embossed onto the glossy slipcover's blue border. Inside, the BD and DVDs feature almost identikit disc art, and there's a Disney Movie Rewards code insert.
Ink And Paint:
Each of the shorts looks as clean and pristine as one would expect, sporting the same kinds of transfers as the majority did on previous releases. There isn't a pixel out of place here, and although a very few might have also been seen in 3D theatrically there's really not that much lost in the amazing depth of the Blu-ray images here, presented in their various and correct aspect ratios. The directors' student films aren't all as Pixar perfect, but the crispness of the HD means they look as good as they ever would have, and retain a natural film feel.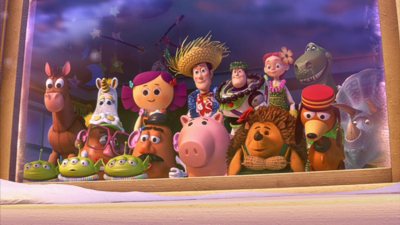 Scratch Tracks:
Pixar's shorts usually get the same high-level soundtrack attention that their bigger feature-length cousins do, especially this more recent selection of films that include many movie and franchise spin-offs. If anything, the more impressive are the softer, quieter films such as Partly Cloudy, Day & Night or La Luna, which create their soundscapes with subtle effects and music that, actually feel more assured and rounded than the louder blaring of the Cars and Toy Story toons.
Final Cut:
While the first Collection provided a treasure trove look at Pixar's early days and initial line up of stunning, stand-alone computer animated shorts (many of them Oscar winners), Pixar Shorts 2 comes with a much slenderer choice of real classics and, three nominated films apart, not one actual Oscar winner in the pack. Presto, Partly Cloudy, Day & Night and La Luna deserve their places in the Pixar shorts line-up, but over half this second volume are feature spin-offs from either Toy Story and Cars or bonus feature cartoons. The exclusivity of commentary tracks for each film make up for the probable double-dipping, but the real bonus here are Lasseter, Stanton and Docter's seven earlier short films, well worth the price of the set alone for completists if one can find it a little cheaper than its steep list price.
Animated Classic or Back To The Drawing Board?