Walt Disney Productions (December 21 1937), Walt Disney Home Entertainment (October 6 2009), 2 BDs plus 1 DVD, 84 mins plus supplements, 1080p high definition 1.33:1 original Academy frame ratio, DTS 7.1 Master Audio, Dolby Digital 5.1 Surround and Restored Original Mono Soundtrack, Rated G, Retail: $39.99
Storyboard:
Walt Disney's first animated full-length feature, a retelling of the classic Grimms' story about a sweet princess preyed upon by a wicked stepmother and rescued by seven odd little men, pulled cartoons out of the supporting program and changed the future of filmmaking.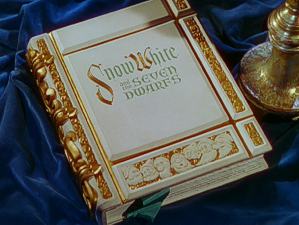 The Sweatbox Review:
Often referred to as "the one that started it all", or "the first and fairest one of all", it is of course well documented that Walt Disney's phenomenal rise to the higher echelons of Hollywood famously "all started with a Mouse". If you prefer to go back before that, then it's a cartoon rabbit. Or a little live-action girl. Or a dentist. But what about going way back? Well then we're on to something, for one of Walt's very earliest memories was sitting in the audience of a silent feature production of…Snow White And The Seven Dwarfs, released by the Paramount Famous Lasky Corporation in 1914.
Walt was just thirteen years old, but the hand color-tinted images that flashed up on the screen (actually four of them since this was an early four-screen presentation) enthralled him to the extent that, twenty years later when his Mickey Mouse and Silly Symphonies had put him on top of the Hollywood cartoon pile, it was this memory that would inspire him to make the world's first animated feature film in sound and color. The enormous, unprecedented success of the result, Snow White And The Seven Dwarfs, naturally changed not only the face of animation, but of filmmaking in general. Without it, we wouldn't have had MGM's The Wizard Of Oz that followed soon after in 1939, or perhaps many of Disney's subsequent animated features.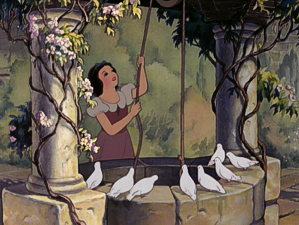 There is no question that Walt Disney would have eventually produced a full-length animated film. It was his dream – the ambition that drove him and his company, the Walt Disney Studios. Created with his brother Roy O. Disney in the early 1920s after a string of other animated endeavours including the Alice Comedies, the Disney Bros Studio, as it was originally known, first tasted real success with the launch of the Oswald The Lucky Rabbit character based shorts, for distributor Universal. As the well-known legend goes, Universal balked at the rising costs of Disney's shorts and stole production away from Walt. He returned to Los Angeles bitter at Universal and determined never to work for anyone else ever again. He had an idea for his next character, a mouse…
Mickey's public debut, Steamboat Willie, was an instant hit on its release on November 18 1928, and Disney's reputation was assured. But cartoon shorts were one thing, and Walt knew that in order to lift animation up into the art form he saw it as, he would need to compete with his Hollywood contemporaries commercially, and there was little money in shorts. A new series, the Silly Symphonies, began with The Skeleton Dance in 1929 and soon after, the inaugural Academy Award for an animated cartoon, the first Technicolor cartoon Flowers And Trees, had won Walt a first step towards his goals. But after years of supervising the refining of his artists' work, Walt finally gathered his top men in one of Hyperion Studio storyboard room in 1934, around the same time that the Studio had switched to fully color cartoons in its Mickey Mouse and Symphony series, to tell them a story…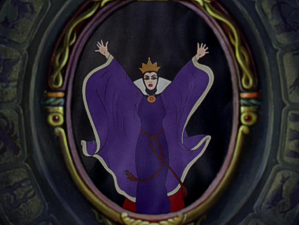 It was his most audacious gamble yet: they would embark on a journey to create and release the world's first full-length Technicolor animated musical feature film, to be based on the Grimm Brothers' Snow White And The Seven Dwarfs. Acting out the whole tale, performing voices and hunching his back in order to portray the evil Queen, Disney inspired those in the room so much that animators Ken Anderson and Ollie Johnston later commented that the film, although lauded in Hollywood as a masterpiece, never did turn out quite as good as Walt told it! Most of the staff continued to work on the Symphony and Mickey cartoons (Mr Mouse having turned to color in 1935's The Band Concert), but a select few were busy, hard at work designing and coming up with concepts that would shape Snow White.
Around this time, differences in some of the Symphonies cartoons began to show up. Techniques that would be used in the feature were developed and adapted, with the most celebrated and famous of these being the Multiplane Camera – a new kind of animation apparatus that gave the illusion of depth to the artwork in a much more believable way. It was first used and extensively tested in the 1937 short The Old Mill, while another cartoon, The Goddess Of Spring, was basically an experiment to see if a human figure could be drawn convincingly. The answer was: "more training"! Soon, there were nightly animation courses on offer for the Studio staff. The story goes that when Walt heard that some of his top animators were gathering each evening to study the female anatomy, he ordered the classes to be moved to the Studio on official grounds. After all, as Disney stated, he could not have his animators known to be looking at naked ladies after hours!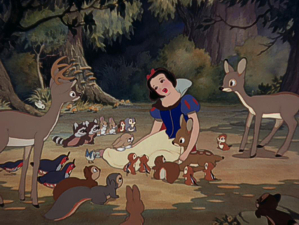 Known for the four years it was in production as "Disney's Folly", Hollywood was sure that the film would fail and bankrupt the still young Disney Studio. Not for the first time (and most definitely not for the last!) Walt threw caution to the wind and continued to push ahead with his dream film, drawing on the experience of his animators – who had become known as the best in the business – and his own incredible knack for storytelling. Knowing that the original Grimm Brothers story had all the pathos and romance that he felt was needed to create a memorable film experience, Walt decided to up the humor quota by giving each of the story's Dwarfs their own individual personalities.
Originally there were over 40 names and characteristics suggested, which were of course finally whittled down to the magnificent seven: Dopey, Sneezy, Bashful, Happy, Sleepy, Grumpy and Doc. Other names that came and went included Scrappy, Hoppy, Weepy, Snoopy (long before Schultz), Gabby, Silly, Flabby, Daffy, Dizzy, Puffy, Biggy-Wiggy, Jumpy and Awful! In previous versions of the story, the Dwarfs all acted as one (as they had in an early Symphony version of the Hansel And Gretel story, Babes In The Wood), but the decision to create separate characters, like Walt had learned from the 1933 Silly Symphony success of The Three Little Pigs proved to be the film's masterstroke and took the story in new directions. Under animator Fred Moore, who had designed the Three Pigs, these characters are not just supporting players…they do, in fact, save the day!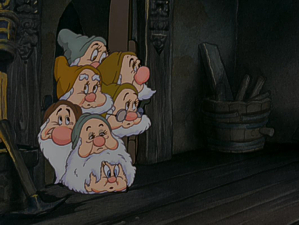 Providing the flip side to the Dwarfs' comical performances is the Wicked Queen herself, a wonderful creation who hides her twisted and bitter hatred of Snow White under her calm and beautiful smile. Her transformation into the evil Witch is one of the film's highlights – a brilliant montage that, in full color and blasting sound, would have shocked audiences back in 1937! Bringing the vocal chill to the Witch was Lucille La Verne and, when no better casting could be found, she provided the dulcet but cold tones of the Queen as well. Finding a voice for Snow White herself was a much tougher task. The call had gone out all over Hollywood for a voice that would reflect that of a young girl. After auditioning hundreds of girls, casting director Roy Scott telephoned Los Angeles singing coach Guido Caselotti. Eavesdropping on an extension line was Caselotti's 19-year-old daughter Adriana. She piped up during the conversation and Scott immediately asked her in for a reading. When Walt heard the voice, he jumped up in enthusiasm, and had found his Snow White!
The other voices in the film were somewhat easier to find. The Dwarfs' roles had been given to popular radio names, with Pinto Colvig in the running due to his performances in many of the Disney shorts, not least as his regular guise in the character of Goofy, and Harry Stockwell (father to Quantum Leap's Dean) became the handsome Prince Charming. Since perfecting Snow White's delicate and authentic animation proved to be challenging, later dancing star Marge Champion was drafted to portray the princess in live-action reference, while the majority of the animation was handled by Grim Natwick, who had given the Fleischer's Betty Boop much of her boop-oop-de-doop!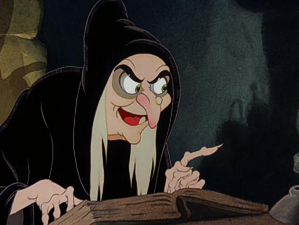 Eventually, due to overruns and budget constraints, Walt ran out of money. The Bank of America was offered a viewing of the incomplete film by Roy O. Disney, something Walt was adamantly against. All through the screening, the banker sat silent until the end when the lights came up. Walt walked him back to his car, the banker talking about everything but the film. Getting in and driving off, he finally nodded to Walt and said: "You know, that thing's going to make you a hatful of money". The film was finally completed, coming in on time, but at six times over the original budget – and $1.5 million was a lot of money back then!
Opening night came on December 21 1937 at the Carthay Circle Theater in Los Angeles. The top stars of the day – Shirley Temple, Marlene Dietrich, Judy Garland, Mickey Rooney, Charles Laughton et al – gathered at what was one of the biggest nights of the year. Ward Kimball, who had animated the later famous Music In Your Soup sequence that had been cut from the final film, was astounded that these people – his idols – were sobbing their hearts out at the apparent death of Snow White, only to stand and cheer at the film's happily-ever-after ending a moment later. "These were cartoons, just drawings" he said later, "but they gave definite emotion and were real for the audience".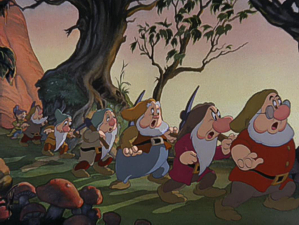 The applause was echoed just over one year later, when Walt was called to the stage of the 1939 annual Academy Awards. Presented with an honorary award for "a significant screen innovation which has charmed millions and pioneered a great new entertainment field for the motion picture cartoon", the special trophy was larger than usual, made up of a regular Oscar on a podium, followed by seven smaller statuettes! Walt's dream movie was a success, also taking home awards for its songs and score. In fact Snow White also became the first film to have its complete soundtrack released on phonograph record in a multi-disc set, as part of a huge merchandising and promotional campaign.
Snow White And The Seven Dwarfs was the unprecedented blockbuster of the time, bringing in over $8.5 million – a feat even more unbelievable when considering that the average admission price at that time was 25 cents, and children, who made up the bulk of the audience, paid only a dime! Over time, the film has brought in close to $200 million – and that's before adjustment for inflation. In 1993, in the last theatrical reissue for Snow White, it was reported that if adjusted for increasing ticket prices the film would have made close to $6 billion! Part of the reason Snow White was a success worldwide was Walt's attention to detail for each foreign territory that the film was released in. For instance, in France the Princess became Blanche Neige, and all the writings in the Queen's book of spells, and the names on the Dwarfs' beds were translated in the artwork.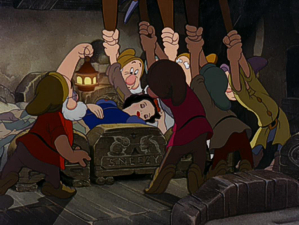 There are other reasons for the film's enduring success and popularity too, of course. While Pinocchio is often referenced as being Walt Disney's Citizen Kane of animation, perhaps due to its often foreboding tone and intricately elaborate style, returning to Snow White again makes it clear that its this film that surely warrants that title more. Kane was the first film of that brilliant director Orson Welles, a man who had enjoyed enormous success in one medium – radio – and had been hand picked by RKO to produce whatever story he wanted as a feature film. Not knowing the mechanics of filmmaking drove Welles to discover his own ideas and push his experienced crew to find new ones. The parallels are not so different: having built a reputation as a purveyor of excellent quality cartoons, Walt Disney had signed with RKO and was able to produce his films independently.
He was head of a team that, while highly experienced in the art of making animated films, had never taken on anything as large-scale as Snow White before. Their ambitions forced them to discover new ways of storytelling and pushing the boundaries of cinema as an art. The editing in Snow White is absolutely as modern and contemporary as anything the Disney Studio releases nowadays; the intricate dovetailing of music into the story shows just what a good judge Walt was and how well he trusted his collaborators. The staging in the film is just as fashionable as today's animated films and, since they were all essentially making it up as they went along, only fuelled by Walt's singular vision, the crew were coming up with new ways to do things, sometimes coming up with amazing answers because they didn't know any better. And, just like the 26 year old Welles of Kane, Walt Disney (and the rest of his team) was ridiculously young – at 32 – to have the mastery of their form that Snow White shows off so compellingly.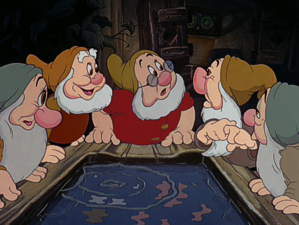 It's simply a very confident movie, and this new edition manages to scrape away any traces of age to reveal a truly new appreciation of the film. However could such a joyous milestone ever be "more entertaining", I wondered, when that proclamation was made in the Blu-ray teaser trailer. Well, incredibly, I sit here now and can absolutely see how! Snow White, more so than any other of Disney's films, has always felt just a little bit "quaint". It was a stunning achievement, obviously, but compared to what the artists began to turn out just two years later with Pinocchio, Fantasia and Bambi, it could be seen as being often naïve, showing off the slight inexperience of its crew. But that's all gone again now, and I would even go so far as to say that this is really the first important reissue of the movie since 1937 to really matter.
Undoubtedly able to see the film in a quality only Walt himself could have dreamed of, the digital cleanup artists have surpassed their attempts at Pinocchio last year and deliver a simply astounding restoration. It's perhaps true that these digital wipes clear the frame of anything resembling "film", leaving these transfers to come across as what the films would look like if Walt had access to high-definition video, but the paint marks in the colors are still visible here, retaining the look and feel of a handmade creation. And, despite the last minute rush by Walt and any inadequacies in the animation, the restorers have not seen fit to toy with history: a number of effects shots (most notably the Dwarfs leaving their mine, non-existent one frame, fully visible in the next as opposed to fading in from the darkness into the light) have been left intact with the slight "unfinished" feel that some of them have (Walt was famously never quite satisfied with the final "kiss of true love" shot at the end of the movie either).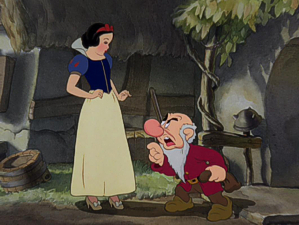 It really is like seeing a new film, and a new luxuriously hand-drawn animated film at that. I haven't seen Snow White in about four or five years, but the minute the film began it all came flooding back: the music, the dialogue, the voices (I'll admit that a party trick of mine is bizarrely being able to pull of a perfect Snow White…wait, did I just admit to that!?). And it's clear how the film has stood up to become one of the most successfully reissued titles of all time: it's not only a blockbuster in 1937, but remains one in 2009. More than anything, Snow White And The Seven Dwarfs puts over a feeling of effortlessness. One can totally engross themselves in the story and lose themselves with the characters. The personalities are so well defined, even the princess herself, often wrongly cited as being too bland when she actually has a head on her shoulders.
The effortlessness extends to all areas of the production: the voices are perfect, and the music score does things that I really can only appreciate now as an adult who has tried turning a hand to writing something along similar lines. I could go on and on, but the important thing is that Snow White is back, truly looking more fairer than ever before!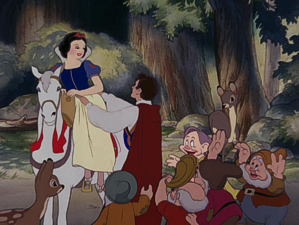 Is This Thing Loaded?
If there's one thing marring this release of Snow White, it's the lack of an anniversary year to celebrate, or a general lack of magic on Disney's part to make the package feel special. Sure, there's a $250 gift set, or a storybook and disc collection, but for all the overblown packaging, it all feels a little basic and ordinary, unlike the hoopla that surrounded the 2001 release of the title as the first Platinum Edition. Here it's been upgraded to Diamond Edition status (after initially being announced as a Platinum, just showing that Disney hasn't had its eye on the ball from day one). Suggested as being the definitive edition, packing in all-new and previous content, it does actually turn out that each previous important edition of the film (the 1993 LaserDisc box set, the 2001 DVD) contains their own plusses, so don't go throwing out what you may already have.
The confusion over this release is highlighted more in the Case Study below, but top of average customer's concerns will be the formatting of the discs: Snow White is not set to come to DVD proper until November 24; in the meantime Blu-ray viewers are set to go. No major issues with this, you may think, until one realizes that the DVD bundled in with this BD package doesn't come with the bonus features in standard definition that many might be expecting. Nope…you'll need to pick up a Blu-ray player while you're in the store…a clever marketing trick by the Studio to get slow adopters to cross over. The included DVD of the film in these "combo packs" do seem to be a popular choice among consumers, and it does allow me to run the film in another room other than my BD-equipped home theater, though holding back the release date of the regular two-disc seems a bit heavy handed.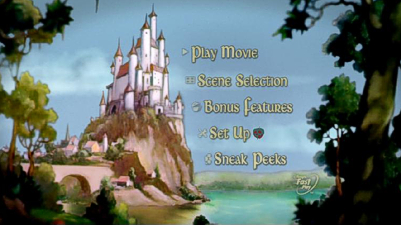 The standard definition DVD offers up some limited extras of its own (an audio commentary copied over from the previous Platinum – here dubbed a "Classic DVD" – and a typical Disney Channel type music video that features someone called Tiffany Thornton singing Some Day My Prince Will Come outside the TeamDisney building at the Disney Studios in Burbank (hey, I guess the location was at least cheap to hire). One has to wonder if this is all the first disc in the November two-disc edition will hold: if so, it's awfully sparse, chiefly, most of the excitement rests on a preview of the Studio's latest princess feature The Princess And The Frog, of which more below. Sneak Peeks across both DVD and Blu-ray discs take in trailers for The Princess And The Frog (another one), G-Force (yeah, I know…G-Force being advertised on a Snow White DVD), Santa Buddies (ditto), Up, Ponyo, Tinker Bell And The Lost Treasure, Mickey's Clubhouse Choo-Choo Express and various other Disney promotions.
An odd inclusion is to see Beauty And The Beast's BD debut advertised before the much-hyped upcoming 3D reissue, while nicest of all is to see Dumbo looking fantastic for his hi-def debut next spring. I'm a huge Dumbo fan and always hope the next video edition is the one to clean up the film properly. As a wartime-effort filler, made on a budget, Dumbo was shot to cheaper film stock that resulted in a much grainier image, which has plagued the countless home video tape, LaserDisc and DVD issues of the movie in the past. I don't mind telling you, as this exhilaratingly put together new 70th Anniversary Special Edition preview began, my heart leapt and a tear came to my eye: Dumbo truly now looks like the bright and colorful hymn to circus life that it was intended as. I can't wait!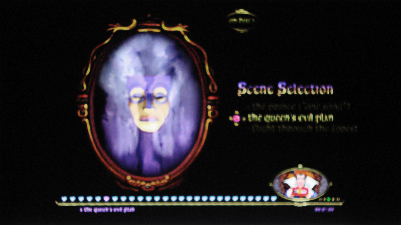 On the Blu-ray Disc, which may require an update to your player, we find the content from the DVD naturally repeated, the meat being the Audio Commentary with John Canemaker and Walt Disney. Although this has been pulled from the 2001 Platinum, it's an archive heavy track, meaning that many of the comments come straight from Walt himself. Drawing on thirty years of interviews, the quality of this material varies significantly, but it is obvious that Canemaker – no slouch himself, of course, when offering his own information or point of view – is excited at the prospect of enthusing over a film he clearly enjoys, and Walt's comments have been carefully picked to make them as scene specific as possible. I should also point out the disc's Main Menu, modelled after the concept of the Magic Mirror "hosting" the contents a la the 2001 Platinum, are again well done here, our host serving up some witty comments, and a very nice touch, after minutes of inactivity is a dimming of the brightness (also settable by the viewer!) so as not to invite burn-in on susceptible screens.
The big push on the packaging is for the DisneyView option of filling in the black vertical bars on the sides of the Academy image in hi-def's widescreen frame, which although I can't say I appreciate as much as some might, is a better option than destroying the Studio's heritage and cropping the image. As with Pinocchio, Disney Art Editions artist Toby Bluth (who also pops up to express his enthusiasm for the film) was again commissioned to create some themed side panelling that complements the color and tone of various scenes in the film. This isn't a new idea (I remember several films with similar art created to fill in the letterboxed bars on 2.35:1 films on television years ago), and I have to say I think these panels can detract from the beauty of the original film, though I suppose Bluth's paintings are in keeping with the design. But they call attention to themselves with their contrasting coloring, and that they remain inactive throughout, merely fading in and out in a cycle of around 20 images (usually changing from scene to scene), somewhat takes away the point, and having static frames on either side of a pan or camera movement is a bit disconcerting.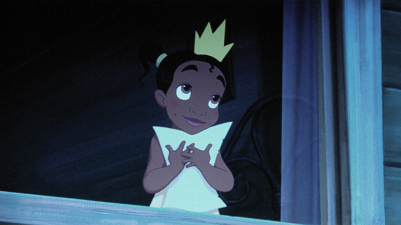 Never let it be said that Walt wasn't shrewd about promotion, and the Studio that bears his name is likewise on the ball by including an exclusive sneak peek at The Princess And The Frog, the first six minutes of their next traditionally animated film, in fact! While some may be hoping for a big musical number, directors John Musker and Ron Clements – on hand for a fun if slightly forced introduction – and Disney's John Lasseter have instead gone for a character building backstory for our heroine Tiana (seen here with a friend who seems to be related to Cats Don't Dance's Darla Dimples!), and very well it works too. This mix of final color and pencil test whets the appetite for what looks to be a stunning return to form, while including it in this set also plays directly to the right audience demographic. Smart!
Heading into Backstage Disney: Diamond Edition, another much touted spot on the packaging plugs the possibility that Walt was considering a sequel to the film, and so a Snow White Returns featurette is given much prominence. Did I buy this attempt to convince us that Walt was seriously thinking of another film? Yeah, right…about as much as the fake story that this very website ran about "Snow White And The Eighth Dwarf" one April Fools! Putting producer Don Hahn front of camera to explore the concept may smack of desperation to sell this idea to Disney enthusiasts, and the whole thing falls apart a bit when Hahn explains the concept was probably ever intended to be a short and not a feature (the Dwarfs did, of course, turn up in several later cartoons), based around using the deleted animation from the Snow White film.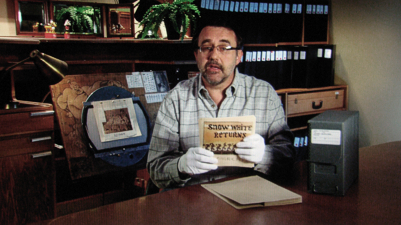 Could it be that Walt was at the forefront again? The resulting film, if it had happened, would have foreseen the DVD bonus shorts made popular by Pixar! While the nine minute look at discarded artwork is fascinating, it's clear that if Walt ever did consider a follow up, it was probably only for five minutes before another project consumed him and he stuck to his "you can't top pigs with pigs" philosophy. Still, it would have seen the completion of the Soup Song footage, a unique prospect in itself.
A couple of Deleted Scenes touched on in the Snow White Returns piece are presented next: Ward Kimball's legendary Soup Song sequence and a moment where the Dwarfs decide to build Snow White a more suitable bed for her to sleep in. The Soup Song is a well-known piece to Disney fans, but the other scene may not be as well known, only surfacing before on the LaserDisc and Platinum DVD. But those with those sets will know of several more deleted moments that were partly animated, or reconstructed in storyboards for the previous LD release – and they're all missing in action here, a major oversight. Running a combined ten and a half minutes, these two are great scenes, though the knowledge that there's more from where this came from is disappointing not to see in high definition or otherwise.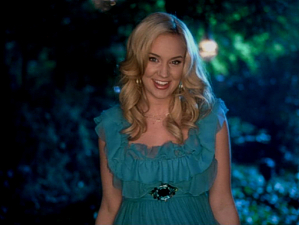 After Music & More takes us through the Some Day My Prince Will Come music video by Tiffany Thornton again, our next stop is a series of BD-Live Games, marked Family Play. Mirror Mirror On The Wall puts some emphasis on Tiana, asking us if her film's Down In New Orleans is a favorite song (I might know if we'd seen the actual movie yet!), but this is really just a Disney Princess activity, and a slow one at that.
What Do You See?, Jewel Jumble and Scene Stealer are of a similar ilk, not really offering anything other than a more fancy version of a standard DVD game experience, and though the Jewel Jumble game is a fun time waster, it goes on for ages and there's no way out once you begin! A menu-space hogging option for a DisneyFile promo that tells us "how to take your favorite movies on the go" is pointless…there isn't a Digital Copy of Snow White included with any of the packaging options.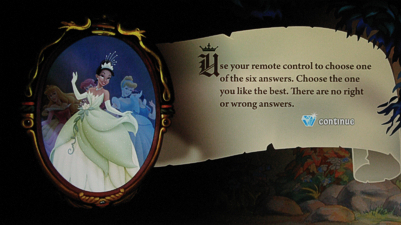 Also rather pointlessly, an option labelled "On Disc Two" seemingly offers up more Bonus Features: more Backstage Disney, and Classic DVD Bonus Features. I was perhaps expecting one of those "this is what awaits you on the second disc" spots, but instead, and after a lot of fumbling through extra menu entries, all that happens is that the Mirror continually asks us to "insert Disc 2". This, ridiculously, happens no less than twenty four times, eventually getting really irritating. Why not simply drop this Disc Two option, which lists all the Disc Two content but ultimately leads nowhere every time and is simply and utterly stupid to include here!?
So…on to Disc Two proper and I have to say that the underwhelming feeling I have had so far for the bonus features doesn't exactly melt away for me here, though spooky is that the Magic Mirror – through the magic of being connected to the internet – happens to know what time of day it was when I played the disc! Pointlessly again, we get all the options for the first disc – including entries to play the movie, scene selections, bonus features and even the sneak peeks – all of them just leading again to the Mirror asking us to "insert Disc 1". There's just no need for this, just as there's no point repeating the Toby Bluth intro to the DisneyView feature, which isn't even available on this second disc. Much better is to go simply to the Bonus Features selection here, although even this seems like a redundant option: why not just load the disc straight to the two main choices: Backstage Disney, and Classic DVD Bonus Features!?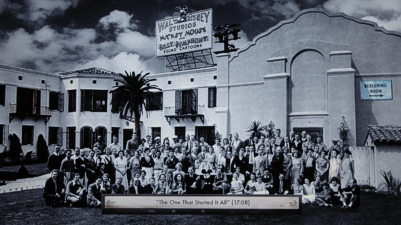 Head of the list on the second disc is Hyperion Studios, where we are "digitally transported to 1937 to discover the original studio Walt built, where Snow White was conceived and developed". Now this is more like it, beginning at the December 1937 premiere of the film via an interestingly sourced but too hyperactive faux newsreel, notable for sliding in a reference to the newly re-bought Oswald The Lucky Rabbit. Hyperion Studios is easily the best of the supplements – nicely introduced by Pixar's Andrew Stanton dressed as a typical photographer of the time – and actually comes close to being as "immersive" as promoted. But while there is a ton of material to go through here, it can also come over as being a fairly fractured an experience, relying more on newly filmed interviews and retrospectives rather than allowing us to view original archival or promotional footage, and the removal of a linear narrative means a lack of chronology and, sometimes, appropriate context (an index, listing all the content, proves to be more than useful).
From the main front lawn of the Hyperion Avenue located Studio, we're presented with various options: locations in the Studio for us to visit to learn more about the production, and a couple of selections that set up the beginning of the tour. Family Business is a short clip describing the friendly work atmosphere at Hyperion, and the almost 12 minute featurette Where It All Began outlines life at the Studio – now sadly said to be a supermarket – before Snow White (though cheekily slips in a few elements that aficionados will recognize as coming from later years). Dropping the one-hour format from previous releases, the 17 minute documentary The One That Started It All is this set's whirlwind journey through the production, though anyone with any knowledge of the Snow White stories and legends will not find anything new here. Mostly it's a collection of contemporary talking heads imparting information for those with little understanding of the animation process or the making of the film, meaning that a comprehensive and informative documentary is ultimately missing from this edition.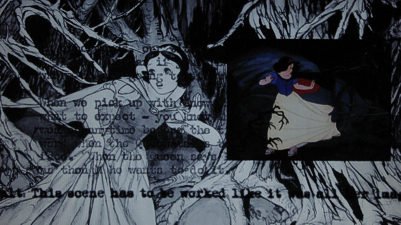 Heading into the Story Room, and each location comprises of various objects and elements within each illustration (photos of the artists at work, accompanied with snippets of some wonderful archival audio) which offer up more chances of exploration. While on the face of things it all feels quite in-depth, and the choices endless, once one has skimmed under the surface you might find it all a bit light and, as mentioned, quite a splintered kind of exploration. It's a different kind of approach rather than the linear and comprehensive documentaries of before, mixing in galleries, video clips (including audio re-enactments of Walt's story meetings), photos and audio, and the amount of work put into each element and the transitions between locations is exemplary. But perhaps years of exposure to the LaserDisc sets of old and the more elaborate usage of what could even be achieved DVD (the Bambi story meetings presentation being a particular point) has spoiled us?
But what's nice is the line-up of current animation talent relaying the information to us in an illustrated lecture style, sometimes inserted into old stills and all of them clearly inspired by the film, and there's certainly a who's who of current Disney names to look out for. Highpoints are various, not least the lengthier clips focusing on specific aspects, but the real treat is the first release in high definition for a host of Silly Symphonies! Among the pleasures is the inclusion of the earlier Hansel And Gretel fairtytale short Babes In The Wood (running 8:04 minutes with an Andreas Deja intro), a Silly Symphony featuring early versions of a group of singing dwarfs and a wicked witch. The Music Of Snow White featurette (6:14 mins), the debut 1929 Symphony, The Skeleton Dance (6:02m), a dedicated and brilliant Gustaf Tenggren gallery (among others), Creating The World featurette (6:53), and the Music Land short (10:15) round out trips to the Story, Music and Art Department rooms.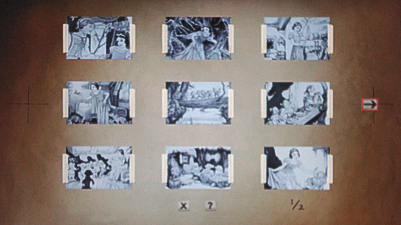 In Character Design, Walt describes the Dwarfs in his own words, and there are of course the expected character concepts and model sheets, while the Background Department offers up more galleries. In Animation, as well as a great look at the master animators that were involved in Bringing Snow White To Life (11:33), there are more shorts: the often referenced The Goddess Of Spring (10:04), which gave the artists a chance at animating a human girl, and a beautifully clean Playful Pluto (8:04), the celebrated cartoon short that features Norm Ferguson's legendary moment when he demonstrated that a cartoon character could be seen thinking for himself, a major step forward in bringing depth to Walt's cartoons. Live-Action Reference is just what it sounds like, also touching on finding the perfect voice for Snow White and the production's Sweatbox sessions including another of those deleted scenes, this one being known as The Bedroom Fight (2:26).
A visit to the Soundstage pulls up some more treasures, including the high-definition debut of the fully restored edition of Steamboat Willie (8:02), the 1928 short that marked Mickey's sound debut! Another first to be included, in the Ink & Paint department, is Walt's first Oscar winner, and his first Silly Symphony in color, Flowers And Trees (8:31), while in the Camera Department, the Multiplane Camera's debut in the 1938 classic short The Old Mill (9:06) is flawed slightly in this transfer by the three-strip Technicolor being slightly out of alignment. Finally, in Walt's Office, you'll find a collection of production and publicity stills and some recollections on working with the old Mousetro. Exiting Hyperion doesn't lead you back out to the forecourt to catch anything you might have missed, instead showing the Studio shutting down for the evening – the light in Walt's office window characteristically staying on into the night.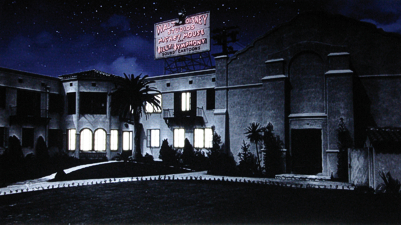 Back to the Backstage Disney menu, and the only other choice is another opportunity to see the disc's making of documentary The One That Started It All, perfectly fine on its own, but it repeats much information that we would have gleaned from the audio commentary, though John Canemaker and the wonderful Brian Sibley are always tremendous value with the breadth of their knowledge and genial manner. Going to the main menu offers up more from the Classic DVD Bonus Features selections, though this is by no means a complete archive of what came before. Animation Voice Talent does little other than to run through the character's vocalists, and a couple of more kid-friendly features – Dopey's (not so) Wild Mine Ride set top game and a Heigh-Ho Singalong – don't add as much interest as some of the other, better material from the Platinum disc would have done.
Lastly, Disney Through The Decades is carried over, being one of the most interesting segments on the original Platinum disc. Using the reissue dates of Snow White throughout each successive decade as a marker, this Studio timeline highlights the films and achievements made at the Studio during Snow White's "lifetime". A famous Disney-associated star hosts each decade, with each part ending with the corresponding theatrical trailer for Snow White from that particular era. A big gripe could have been that the Platinum edition debuted in 2001 and here we are almost ten years later without an update, but rather neatly, a new introduction (with John Ratzenberger) and final wrap-up, dubbed A New Century, does indeed fill us in on the past few years and predictably sets us up for the return of traditional Disney animation with The Princess And The Frog later this year. A Play All option runs through all this content in a cohesive and enjoyable 40 minutes.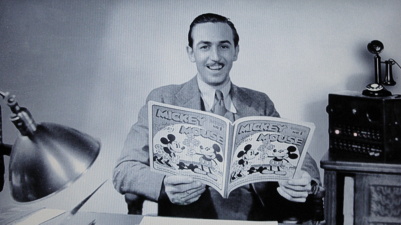 WHAT'S MISSING?
So go ahead and all me Grumpy, but as supposedly the most immersive edition of Snow White to hit home video yet, I must say that claim doesn't hold too true when one notes what has been made available in similar sets in the past: definitive this isn't. Going back to the deluxe LaserDisc, that set featured the film with an additional isolated music and effects track, great for hearing the intricate sound work, as well as an extensive gallery of posters, press kits and merchandising. A 50-minute documentary The Making Of A Masterpiece outlined the production (an alternate 25-minute piece could also be found on VHS copies), but for the most part most of these video based extras were ported over for the 2001 Platinum Edition DVD.
Exclusive to the LD box, however, was the inclusion of a limited run of ten lithographed prints of theatrical posters for Snow White's reissues, as well as the informative hardcover book Snow White And The Seven Dwarfs And The Making Of The Classic Film by Brian Sibley and Richard Hollis. The 2001 DVD naturally lost those physical extras, but retained much of the content, including a number of additional deleted scenes (including a fully animated scene of the Witch planning the sleeping death at her cauldron that Walt cut late into production as it was deemed too gruesome) that have inexplicably been dropped here. Back in 2001, it was even suggested that the Soup Song sequence be cleaned up and colored for the release, and perhaps included in a branched "special edition", a nice idea that fails to materialize here too.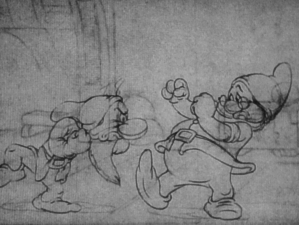 Most noticeable to me is a complete lack of comments from Walt Disney himself, other than the audio commentary – itself a carry over from the Platinum DVD. There's just not that much original archival material shown in its entirety, such as the premier newsreel or the RKO press film A Trip Through Walt Disney Studios or the general release of this short How Walt Disney Cartoons Are Made. The DVD and LaserDisc also contained literally hours of additional audio content, including radio play versions of the script and promotional shows, as well as storyboard to film comparisons and those additional deleted scenes and abandoned concepts. On the DVD, several scenes were also optional in storyboard versions, and an extensive exploration of the film's visual development was placed in better context, with additional stills.
Complimenting the Disney Decades feature, an account of Snow White's restoration over the years was interesting to see on the DVD, including the 1987 film-based clean up for its 50th anniversary and the 1993 video paintbox edition, and it would have been insightful to have a feature on the extensive work done for this new high-definition version: how were certain choices reached? Who was consulted on these decisions and what is their authority? Also produced for the 1987 anniversary was a terrific one-hour TV special hosted by Dick Van Dyke which would have been a treat to see again, closing as it did with Linda Ronstadt's rendition of Some Day My Prince Will Come. For the 2001 Platinum, a high-profile feature was singing star Barbra Streisand's then-new performance of the same song, not too essential to feature again here, but if we're being completist about things then it should be mentioned.
Lastly, why not include Paramount's 1914 version of the story: the very film that so inspired the young Walt? Now in the public domain, a very nice archival copy, with original intertitles and color tints restored, was recently made available by the George Eastman House for inclusion on the souvenir DVD of the Once Upon A Time…Walt Disney art exhibition, so it wouldn't have been out of the question. On that disc, I was personally mesmerised and completely drawn in to this version of the story, which as well as highlighting several fascinating similarities, takes several completely different directions to Walt's eventual adaptation, not least the sizeable cast. Unfortunately, the creators of this 2009 Diamond Edition seem to have been more intent on showcasing their ability to deliver a quality Blu-ray experience rather than providing a definitive archive on the film it tries so desperately to illustrate.
Case Study: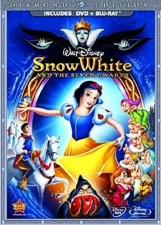 Never before has a Disney release has such a heap of different versions to choose from, though aficionados may find none of them actually fit the bill! Going from the top down, the $250 gift set is the one most will want to own, though the expensive cost (even with online discounts) is likely to still be too prohibitive. A little cheaper at $80 is the Blu-ray edition bundled with seven plush Dwarfs, though their caricatured features don't seem to have been captured very well.
At $60, a book and disc pack bundles a DVD-cased edition of these discs into a deluxe slipcover along with a storybook telling of the film and its production, but those who simply want the disc content have two choices: a regular Blu-ray sized case (slipcovered similar to Pinocchio's release earlier this year), or a DVD-sized edition [pictured right], all of which feature two Blu-ray Discs along with a standard definition DVD of the movie.
Confused yet? Exactly, and we haven't even mentioned the two-disc regular DVD that's set to be released on November 24, or the debates over the inappropriate package design that sees Snow White OR the Witch front and center of the sleeve (depending on the edition's sleeve art), leaving one design with the Dwarfs apparently cheering the Witch on!
There's really no need for all these alternatives, especially putting the Blu-ray content into a standard DVD box, which can only be leading to disappointed standard definition owners who purposely stay away from the blue Blu cover and think they're getting the right DVD set that will play on their system. Just who, if it's not a ruse to force people to buy Blu-ray, is this DVD-sized Blu-ray edition for?
Of course the DVD in the pack will play fine on regular systems, and the film itself will look great, but if you're interested in the bonus content listed above then you'll need a dedicated Blu-ray – or to wait until November 24 and buy the DVD again! Inside the packaging, everything seems to be the same across the board: a Blu-ray Disc guide (BD sized even in the DVD case) acts as a sitemap to all the material, though it all looks very skimpy at first, the gems to be found at Hyperion Studios not listed at all. An additional booklet promotes other upcoming product, the important news being the releases of Beauty And The Beast, both Fantasias and Dumbo on Blu-ray in 2010.
Ink And Paint: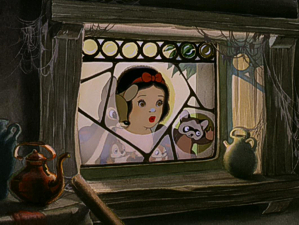 Walt's triumphant feature debut has certainly been a film that's been returned to several times over the years. In 1987, the Disney Company celebrated the 50th anniversary of Snow White by giving her a total visual makeover. The restoration team at YCM Labs, who had carried out similar restorations on classics such as Gone With The Wind and Hitchcock's Vertigo, painstakingly toiled to remove scratches and dirt from the original negative, in order to strike a new theatrical print. A few years later, for the 1993 video release, Snow White became the first film to be totally digitally restored. This meant taking each frame of the film into the digital realm, and using a paintbox device to literally touch up every remaining blemish and pop that the 1987 restoration could not have even attempted to achieve. The audio underwent a similar process. Using the original mono track elements, the mixers at Buena Vista Sound were able to give more dynamic range, punch and the effect of surround effects to Snow White.
All that work was undertaken again for the 2001 Platinum Edition, where new technology was available to return to the original negative and pick out details and colors that had not been seen since Walt's 1937 release. Perhaps closest in form to how Disney might have actually seen the film, the 2001 edition built on what had come before but was still not able to remove certain marks and debris inherent in the original cel layers. Now, with this 2009 release seeing the Studio returning to the well one more time in order to bring Snow White into our new high-definition world with another complete re-do, the question must be: what kind of advance alien technology does the Disney Studio and its restorers have to hand!? The results are staggering, a "digital print" (well she did always hope Some Day My Prints Will Come!) of the film that is more direct to the eye, with an immediacy that gives one the chance to feel as if we're able to touch the artwork, or seeing the movie again for the very first time.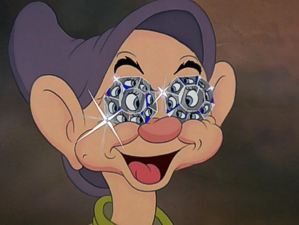 The question must be asked, however, if a total wipe clean of any debris is also washing away history: while Snow White now looks like it was a hand-painted feature photographed digitally, in removing unwanted elements in the negative, the restorers have also taken out original cel scuffs and dust caught between the layers. Although the result is pristine, probably preferable and certainly what Walt would have perhaps approved of, this does raise serious concerns about technology being used to make films look better than their original creators could have ever hoped for. It's known that Walt lamented the dust and scratch marks inherent in cel animation and undeniably given the chance he would have preferred the perfection realized here, but the truth of the fact is: when Snow White was committed to film in 1937, those artefacts were part of the technology. Who are we to come along many years later and possibly alter color, brightness or any original intent?
Those thoughts aside, it's clear that a lot of care and attention has gone into how Snow White should look in the 21st Century's current video format of choice, and wiping all that debris out of the frame does reveal many "new" intricate details. Sure, some of the wider shots of the Dwarfs belie the more cartoony approach the animators sometimes had to go with, but washing away the dirt also washes away the years: Snow White truly feels brand new again, and visually speaking at least, for young eyes or anyone who unbelievably has never seen the film, I should think they would be hard pushed to guess at its 1937 release date. There may be other questions about the film's vibrant colors, or the brightness of the exposure (some of the backgrounds look like they were intended to drop off into crushed blacks when the paper pigmentation is very clear), but these are perhaps personal choices which could be approximated in the home via color and contrast settings.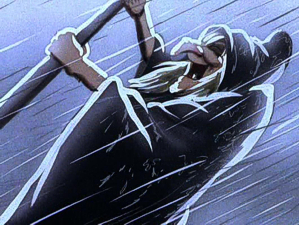 What's neat is that Snow White truly does feel brand new again, but doesn't ever go as far as feeling like a direct-to-video title the way some of these restorations (ahem, Cinderella and Peter Pan) can do. Though certainly not the way Walt and his artists would have seen it even in a pristine premiere print, this Snow White And The Seven Dwarfs is perfectly fit for purpose in this new age of super clarity, at least retaining a hint of the handcrafted nature of its production.
Scratch Tracks:
As with the video, it's clear that some form of advanced alien technology has allowed the sound wizards at the Disney Studio to go into the original audio and recreate Snow White's soundtrack for the current generation of home theater set-ups. If anything has ever "dated" Snow White, it's the 1930s/40s dance band arrangements on the peppier songs, and perhaps Adriana Caselotti's sweet and innocent voice: Snow White herself is no Californian valley girl. But these are merely slight concerns now, the sound having been magically (and it is magical) transformed into a 7.1 surround mix for the Blu-ray. Naturally it's not the most enveloping of mixes – taking a mono original and spreading sound around the channels has produced some notoriously suspect results over the years – but it's the purity of the sound that impresses.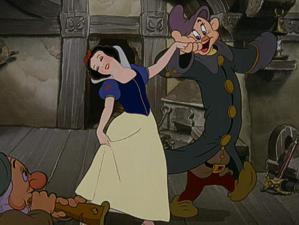 Just as the picture restorers have managed to give us the digitally photographed version of Snow White while leaving the paint strokes intact, those working on the sound give us the exact intention of the original soundtrack while bringing it firmly into our surround environments. No new sound effects have been added, and happily there's none of the "fake stereo" effect that plagued such tweaks in the past, but each track (dialogue, effects, music, etc) is startling in its clarity and warmth. There's none of the background hiss that's usually inherent in the background of the vocals (rising and fading with each word) – it's been scrubbed away, but without losing any of the fidelity to the original recordings.
Likewise the musical score, always so intricately tied to both the visual action and, uniquely, the dialogue, now sounds just as beautifully warm, layered and, again like the visuals, more direct. Bass is naturally reliant on such boosts from the original mix, but there's a lovely rumble that can be picked out in appropriate spots, and even the sound effects feel more nestled into the mix than before. French and Spanish 5.1 tracks (and subtitles), and the Restored Original Mono Soundtrack are also bundled in, the Restored Mono perhaps sounding like it's had another makeover since the 2001 Platinum, but otherwise there's not much in it. For once, the 7.1 enhanced track is the one to go for, matching the image perfectly for a brand new way to experience an old favorite.
Final Cut:
I can't help but think that for all the bells and whistles, this is something of a mish-mash edition of Snow White, with the supplements less about the making of the movie and more about the Disney Studio's achievements before the film and how great the Blu-ray format is for interactivity. Much is missing from previous editions, and the lack of any new Cine-Explore additions to the existing audio commentary feels like a cheap way of including expected content without bringing anything new to the table. The first disc especially is light on worthwhile content, being too heavily reliant on games rather than collectible material, and the loss of some important deleted scenes to make way for a redundant music video is typical of Disney's current reissue strategy.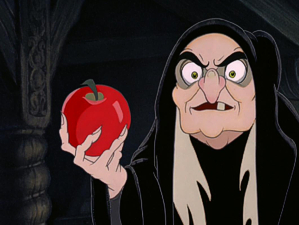 Likewise the poor authoring, resulting in potentially hundreds of repeated hints to insert the first or second discs, smacks of lack of thought, resulting in much frustration when simply dropping those options would have been more user friendly. The inclusion of several very important Disney cartoons pre-Snow White's production is a big plus, though that they're embedded within another supplement and accessible only with introductions to them is either a plus or a minus depending how you look at it. But it is, of course, the movie that most warrants picking up this new set, and the first time to see it in high-definition. If this was a regular DVD, it would be the new transfer that means most, but in terms of extras, even casual fans will not want to jettison the much more extensive and authentically archival supplements assembled for the original 1993 LaserDisc or Platinum Edition in 2001.
Those that loved the opening of the recent homage to Disney films, Enchanted (and, indeed that entire film), would do a lot worse than to catch its primary inspiration here and, in a way, what this set proves is that everything does begin with Snow White. The film sparkles better than ever, even if the supplements, for all their quality, feel lacklustre and often only reiterating what has come before. Definitive this isn't, and I can only hope that Snow White And The Seven Dwarfs will get a more comprehensive treatment on the next go-around, probably for the film's 80th anniversary in 2017, since Walt's feature debut deserves more. This isn't a bad apple…it's just not as sweet and juicy as expected or hoped for, but in the meantime Snow White's digital makeover suits her just fine.
Animated Classic or Back To The Drawing Board?