Disney Channel (2015), Walt Disney Home Entertainment (August 11th, 2015), 1 DVD, 121 minutes, No Supplements, 1.78:1 Ratio, Dolby Digital 2.0, Rated TV Y, Retail: $19.99
Storyboard:
Miles Callisto and his family–including his space captain mother Phoebe, his laid back surfer dude father Leo, his smart older sister Loretta, and his robot pet ostrich Merc–travel across the galaxy in the service of the Tomorrowland Transit Authority. Under the command of a two-headed admiral, their mission is to explore strange new worlds, to seek out new life and new civilizations, and to boldly go where no man has gone…whoops, wrong show!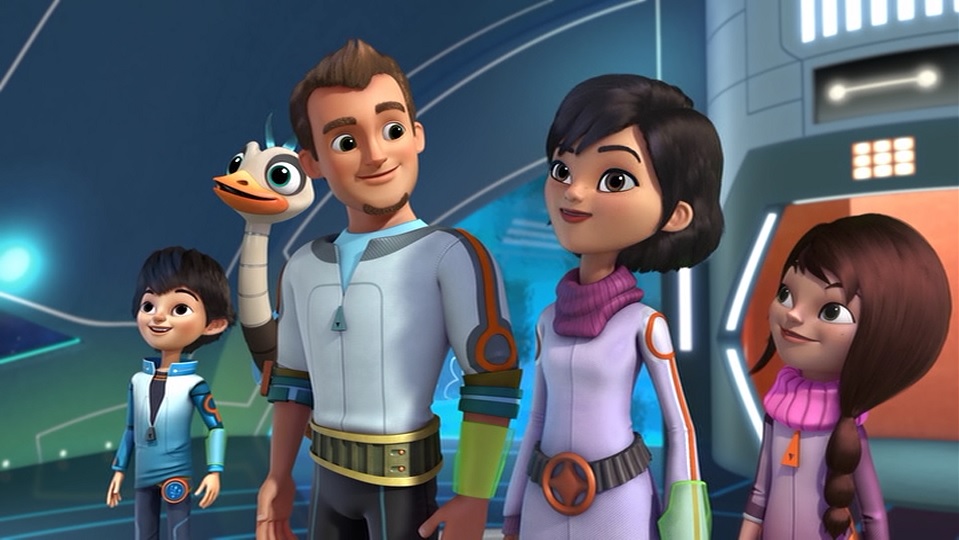 The Sweatbox Review:
If Star Trek had been centered around two kids instead of on Captain Kirk and Mr. Spock, it might've been something like Miles From Tomorrowland, a bright, spunky, and frankly almost shockingly intelligent children's show. Premiering on the Disney Junior lineup on Disney Channel earlier this year, the series is as fun as it is educational, but the most surprising thing about it is its subject matter. While other kids shows focus their lessons on letters, numbers, and getting along with others (all worthy topics in their own right), Miles has its sights set a little higher…quite literally, as it teaches its viewers about outer space.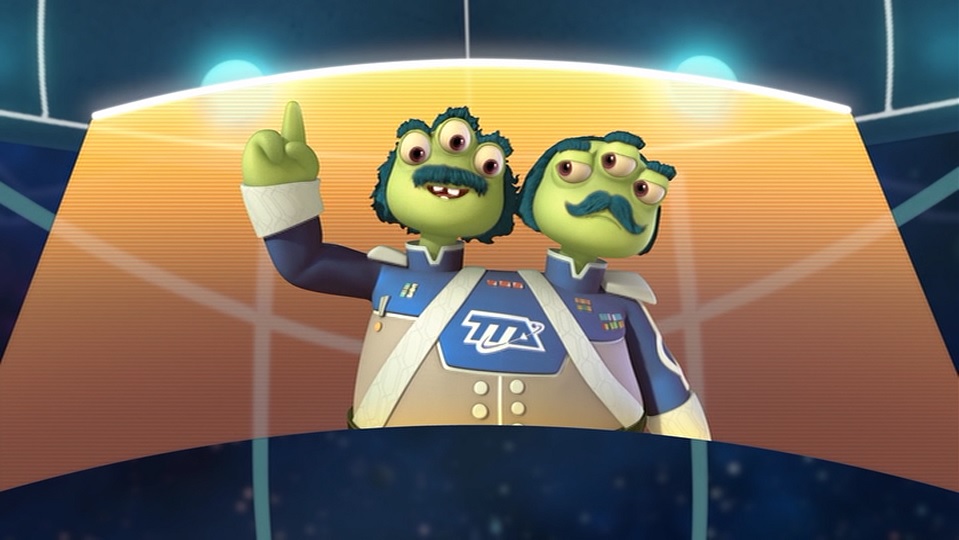 And, truth be told, that's what makes Miles so unique. While Sesame Street tried its hand at focusing on science in the mid-90's, even going so far as to center an entire season around Slimey the worm going to the moon, they more or less abandoned those concepts in the years that followed, as the show, quite honestly, made itself dumber more "suitable" for a much younger target audience than it had previously aimed for. Beyond that, it's hard to think of many shows for little kids that have made science their top priority, with the beloved The Magic School Bus always being intended for grade schoolers, and the British Octonauts–which also airs on Disney Channel—keeping itself occupied with teaching children about various types of sea life. Miles is different because it not only provides lessons on outer space, but also on actual scientific subjects. Words like "gravity" and "black hole" are frequently used by the characters, and an entire episode is centered around "The Goldilocks Zone," a term that's used by astrologists to describe a planet that's "just right"when it comes to being suitable for sustaining life.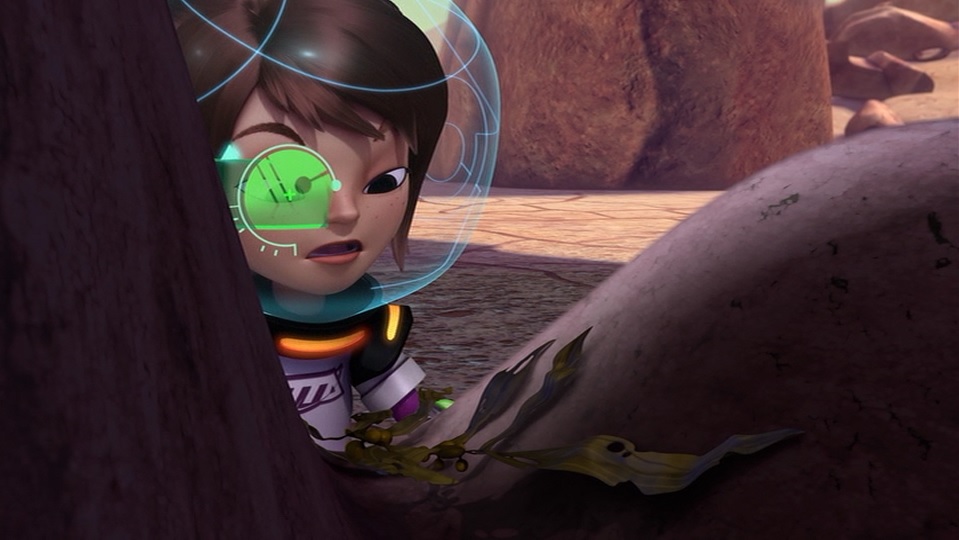 All of this wouldn't mean anything, though, if Miles let itself become so bogged down with education that it forgot to be entertaining, but fortunately, that's not the case here. In fact, of the ten 11-minute episodes included on this DVD (listed on the disc as five two-part episodes), just as many are as focused on being fun as they are on being informative. For instance, in Who Stole the Stellosphere?, Miles finds himself having to outwit an incompetent space alien criminal named Gadfly (voiced by Mark Hamill, something that any "big kids" watching will very much appreciate). The adventure is fast-paced and action-packed, with Miles using various tools to dispatch of Gadfly's "hologram ghosts" that have been sent to capture him. There's not much that's academic about this one, but that's okay. Miles knows that it's fine to reward its viewers with a good time without any lessons sometimes, especially since it treats its audience with a remarkable amount of respect. The series never talks down to kids in any way, expecting them to be smart enough to grasp the show's more complicated ideas, while still keeping things simple enough for them to be able to follow each episode's story.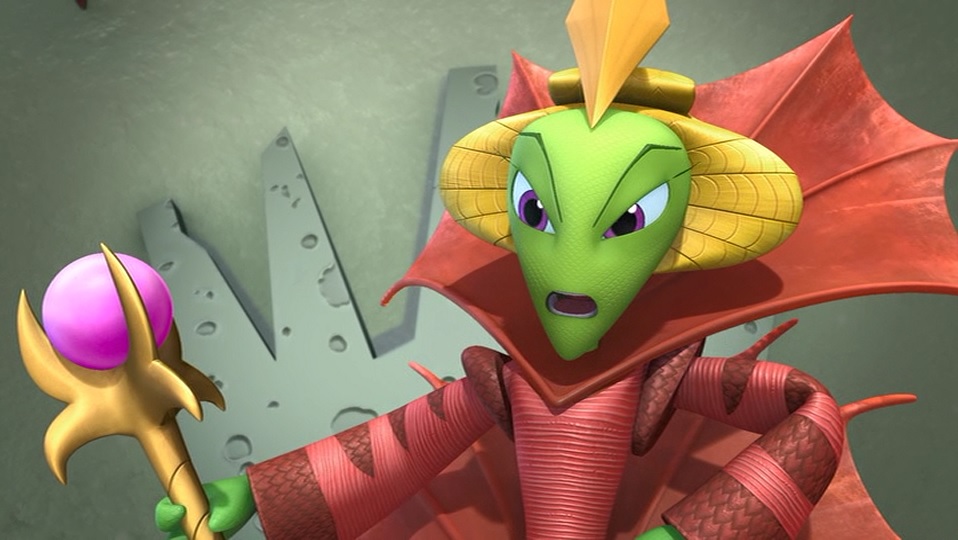 Not underestimating children is perhaps the show's greatest accomplishment. While many of Disney Junior's shows in the past have had characters looking at the camera and asking the kids at home "for help" (Poor Mickey is so old on Mickey Mouse Clubhouse, apparently, that he's needed assistance from his viewers in order to remember who Minnie is), Miles lets its cast speak for themselves, unafraid of ever losing its audience's attention span thanks to its engaging plots and likable and distinctive characters. In fact, the show is actually quite feminist without making a big deal about it. Both Miles' mom and especially his sister Loretta are strong and likable female role models, but the series, thankfully, never points out their gender. Trusting kids to understand that women are just as capable of things as men are without ever needing to tell them that is something I've seen very few children's shows do. It's just one of many ways in which Miles From Tomorrowland is truly out of this world.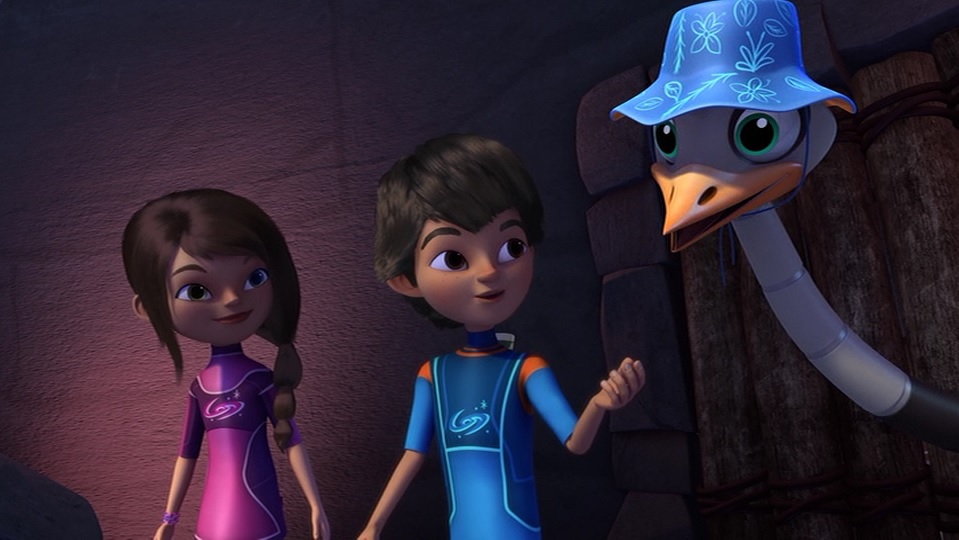 Is This Thing Loaded?
Miles From Tomorrowland has no special features. Trailers for Born in China and Aladdin on Blu-ray automatically play when the disc starts, with an additional promo for Disney Movie Rewards being included when Sneak Peeks are selected from the main menu.
Case Study:
Miles From Tomorrowland comes in a pretty nice slipcover, surrounding a black plastic case. Inside inserts for Disney Movie Rewards and an advertisement for the Disney Movie Club can be found, along with a "mini flashlight" that kids can apparently use as a key chain. I can't say if the flashlight actually works or not, as I couldn't even figure out how to turn it on, but it appears to run on non-replaceable batteries. As a sidenote, when my screener copy of Miles arrived in the mail, its slipcover was completely torn off, but it was nothing a little tape couldn't fix.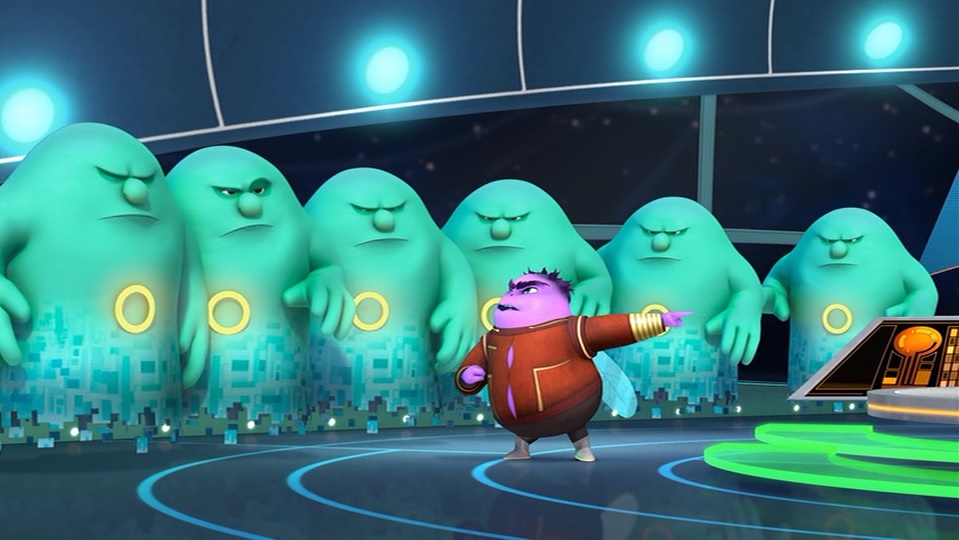 Ink And Paint:
Miles From Tomorrowland is a brand new show, so it almost goes without saying that it looks terrific on DVD. Colors are bright and crisp, with no notable flaws to be found anywhere. I have been told that Miles is apparently broadcast in high definition for those with HD cable, but even when seen in standard definition, it still looks pretty great.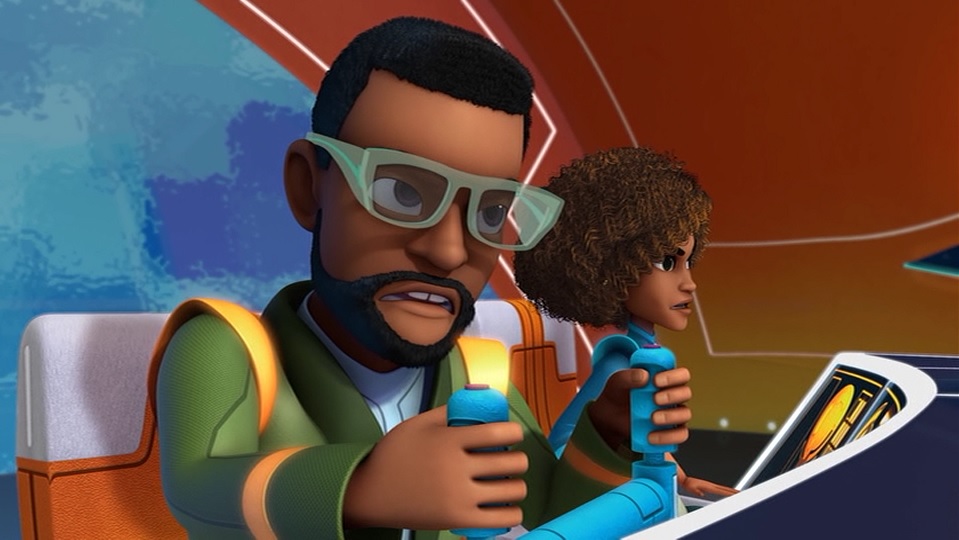 Scratch Tracks:
Not surprising for a show aimed at small children, Miles From Tomorrowland is not presented in Dolby 5.1, but the sound quality on display here is more than serviceable nonetheless. Sound is clear and balanced, with the show's bouncy musical soundtrack never overpowering any of the dialogue. French and Spanish language tracks are also included.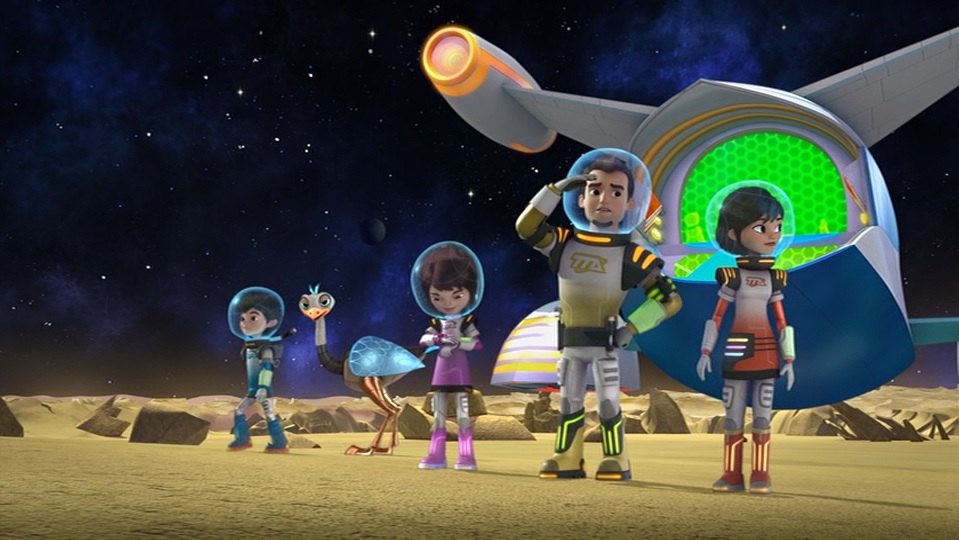 Final Cut:
Contrary to what some people might think, Miles From Tomorrowland bears no connection to a certain Brad Bird movie that came out this summer, although the fact that they came out in the same year hardly feels like a coincidence. What both share, though, is an embracing of the optimistic that would make Gene Roddenberry proud, with Miles possessing a colorful vision of what's to come in a way that is non-threatening but still full of excitement. All of the episodes included on this disc are good, but they are also frequently shown on the Disney Channel, so buyers may or may not want to shell out roughly twenty dollars for it. But for those who haven't seen it–or those with children who will want to watch these adventures again and again–, Miles From Tomorrowland is a charming, slickly animated and arguably highly sophisticated show, and quite possibly one of the smartest cartoons for kids on TV right now. Supposedly, Disney has already ordered a second season, and assuming the series doesn't see a severe drop in quality, the future should be quite "Blastastic" for it indeed.
Animated Classic or Back To The Drawing Board?