Disney Channel (2017), Walt Disney Home Video (March 7th, 2017), 1 DVD, 68 minutes + supplements, 16:9 1.78:1 ratio, English 2.1 Dolby Audio, rated TV-Y, Retail: $19.99
Storyboard:
Mickey and his friends drive around in transforming race cars. Yup. They made an entire show about that.
---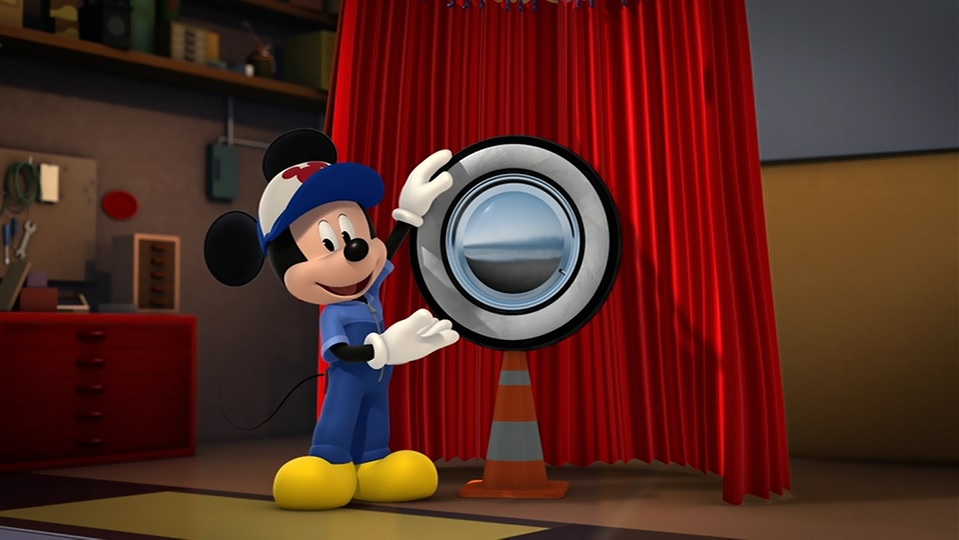 ---
The Sweatbox Review:
It seems unlikely that anyone at Disney would've had any idea just how successful Mickey Mouse Clubhouse would be for them when it first premiered. Debuting in 2006, the series was an instant hit, quickly becoming Disney Channel's most popular preschool show of all time. And while it would be an easy program for adults to make fun of, it understood exactly what its target audience wanted, which was bright colors, bouncy songs, and goofy comedy. Though it "officially" ran for four seasons, various TV specials kept the show going for more than a decade, making it Disney's longest running cartoon series of all time.
---
---
During its run, however, there were dramatic changes being made in how the studio was producing its preschool programming. Mickey Mouse Clubhouse came from an era in which the majority of shows aimed at little kids were "interactive," meaning that the lead characters would frequently stop the action and ask the audience "for help." While it was a technique that had technically been used for television since at least Sesame Street, it was shows like Dora the Explorer and Bear in the Big Blue House–which were also struggling for the attention of kids thanks to the CD-ROM boom of the mid 90's–that made it into a trend. As Mickey Mouse Clubhouse went on, the "fad" was dying down, perhaps at least in part due to Disney's notoriously lazy Special Agent Oso, which stopped just short of using the exact same script for every episode, but only just.
---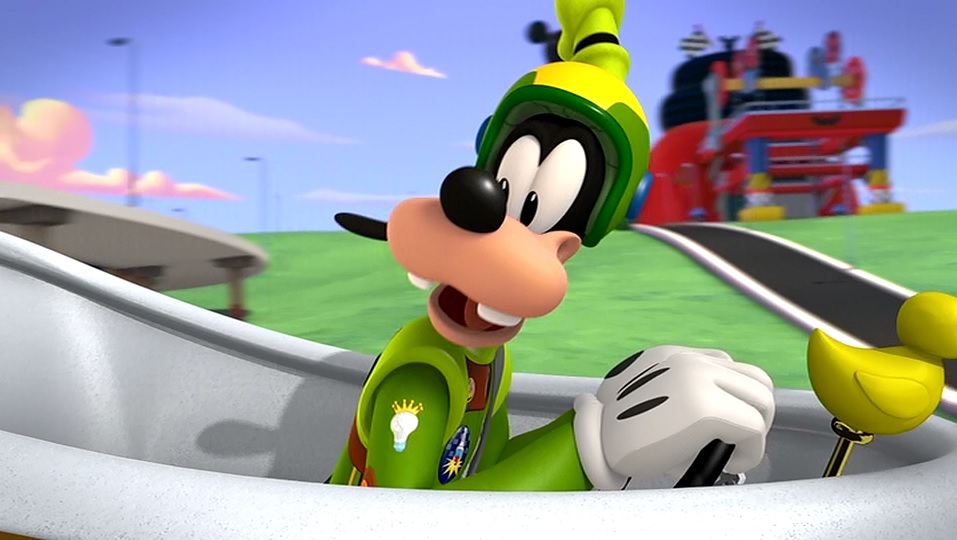 ---
But the real change came in 2011, when Disney completely reinvented their Playhouse Disney block by renaming it Disney Junior, and launching several new shows in the process. The poster child for this was Jake and the Never Land Pirates, which while still initially "interactive" was ultimately much more independent with its storytelling, relying on it less and less until it eventually abandoned the format entirely. More impoartant was the quality of the show, which had almost shockingly great animation and lively, Saturday morning-style adventures. Jake was sadly cancelled recently, but by the end of its run, it was no different from the cartoons which used to air on The Disney Afternoon, and would've felt right at home on that programming lineup back in the day.
---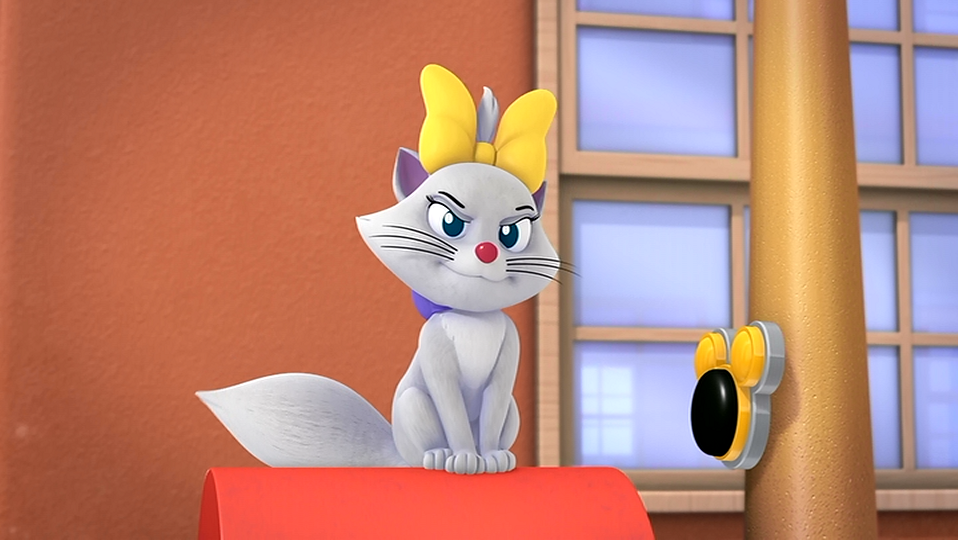 ---
The tradition of making more "grown-up" preschool programming continued over the years with shows like The Lion Guard, Miles from Tomorrowland, Elena of Avalor and to a certain extent Sofia the First. Maybe someone at Disney felt that Mickey was overdue for a "non-interactive" series of his own, but in any case they decided to "wrap up" Mickey Mouse Clubhouse last year with A Goofy Fairy Tale before moving on to what is essentially a spin-off, Mickey and the Roadster Racers. Though why they decided to "continue" the show in this way is a little beyond me, as the concept behind Roadster Racers (at least from a cynical standpoint) sounds more like a pitch for a toy line than a show. Basically, Mickey and his pals are all race car drivers now, traveling around the world to compete in various competitions. Meanwhile, in a sort of "sub series," Minnie and Daisy run their own private business (called "The Happy Helpers") in which they help their patrons with tasks which range from something as seemingly simplistic as pet sitting to more complicated jobs like giving guided tours around Rome. Roadster Racers plays out like "Mickey Mouse Clubhouse 2.0" in many respects (the animation style is almost identical, although the characters have been slightly redesigned), but for better or for worse, it's much faster, more hyper, and potentially exhausting for certain moms and dads. There's nothing wrong with that, of course, but if parents are looking for a "before bedtime" video for their kids, Roadster Racers may be the equivalent of giving their tykes a cup of coffee. And Mickey's not even asking them to get up and dance with him this time!
---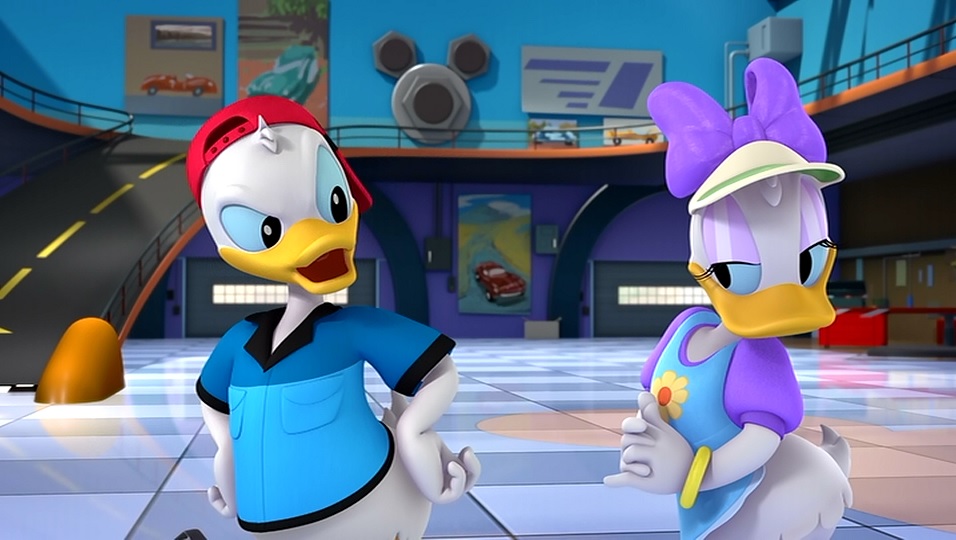 ---
Part of the reason for this is that it almost never stops to take a breather. Of the eight 10-minute adventures included on this disc (two of which are included as "bonus episodes"), there are rarely moments where things aren't going somewhere, with jokes and everything else coming forward at a breakneck pace. One episode, for instance, is centered entirely around Mickey chasing a runaway tire around town. Another involves Minnie and Daisy pursuing a baby gorilla (who, at least to my eyes, looks almost disturbingly like the one who was violently killed off at the start of Tarzan) following his escape from the zoo. These episodes race along from point A to point B, almost as if they are in a hurry to be over.
---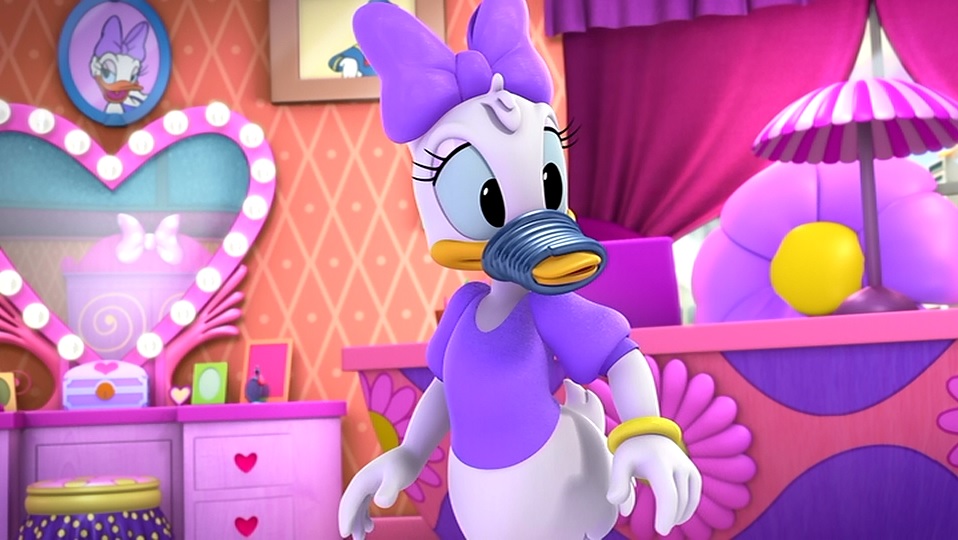 ---
There is, however, throughout all that chaos slapstick comedy aplenty (some of which, I will admit, made me laugh), along with the occasional gag for the adults (including Gladiator references, which is something I'm seeing more and more of in family entertainment these days for whatever reason). Those "big kids" watching will have a hard time not smiling during at least some of this if they grew up with Mickey Mouse, especially when The Three Caballeros themselves make an appearance (though Jose is understandably without his trademark cigar this time). Jay Leno is also fun as a semi-regular who's a fast-talking TV sports host, but I can't for the life of me figure out why veteran Donald Duck voice actor Tony Anselmo isn't playing him here, especially since he'll be returning for the upcoming DuckTales reboot. But I suppose the target audience won't care, and they're the ones who really matter here, which is why this show ultimately earns a passing grade. Mickey and the Roadster Racers is fun enough and perfectly fine for kids, and most adults/parents should find it to be completely painless. But I still wonder how much mileage Disney will be able to get out of the race car craziness before they decide it's time for a reboot of the reboot.
---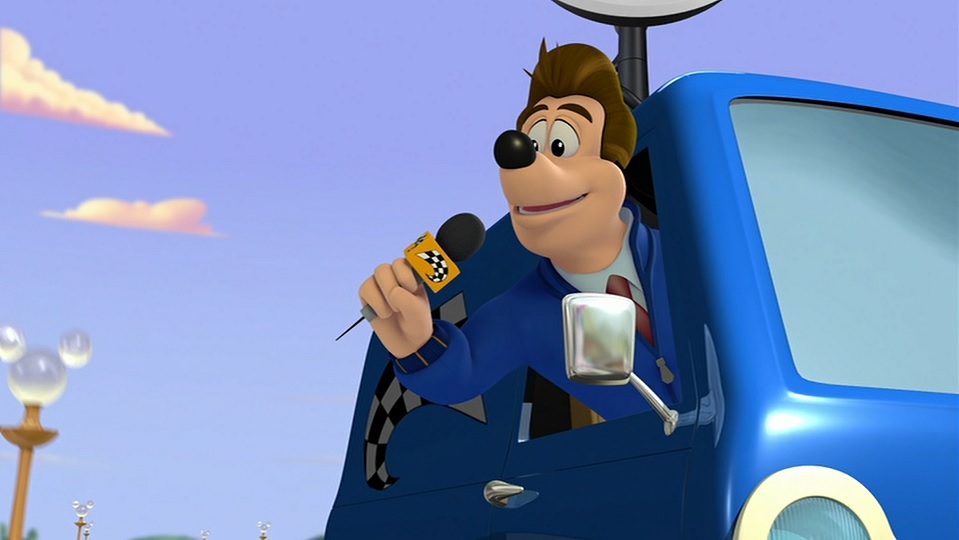 ---
Is This Thing Loaded?
Mickey and the Roadster Racers opens with the super serious trailer for Cars 3, while previews for Tangled: The Series, Born in China, Elena of Avalor and Disney Movie Rewards can be accessed from the main menu. Among the extra features, we have the aforementioned Bonus Episode, which is probably among the best on the disc as it's the one featuring The Three Caballeros. Two Music Videos are also included.
---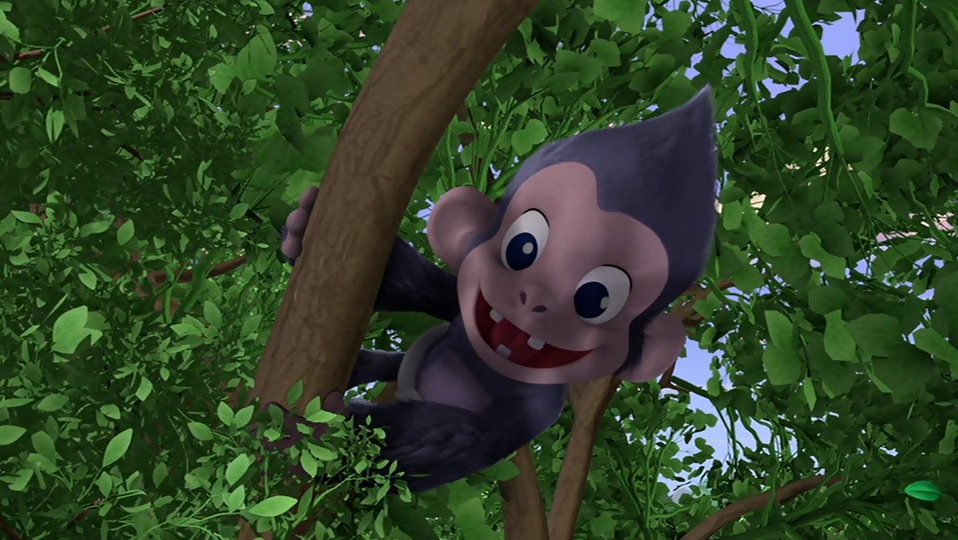 ---
Case Study:
Mickey and the Roadster Racers arrives in a pretty spiffy slipcover, with extra layering on the cover art to give it a "3D" effect. But what really stands out is how heavy it feels when you hold it. Roadster Racers comes with a surprisingly sturdy "license plate" kit (pictured below) which kids can write their name on with included sheets of stickers. It's a pretty neat little project, and the durability of the plate (which is made out of metal) is impressive. Also included are inserts for the Disney Movie Club and Disney Movie Rewards.
---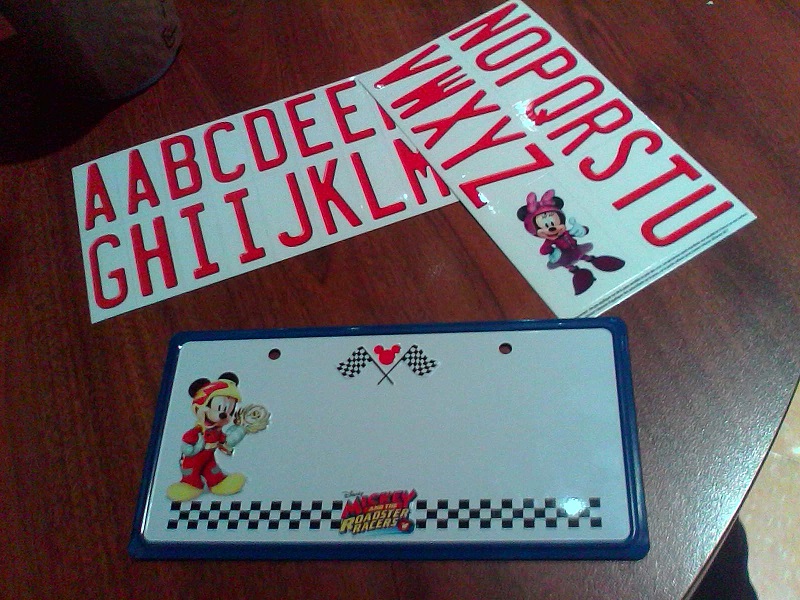 ---
Ink And Paint:
You all know how this goes. Mickey and the Roadster Racers is brand new, and looks perfectly decent on disc. Disney hasn't given this the sharpest transfer they could have, I suppose, but it still meets all demands for a title of this sort.
---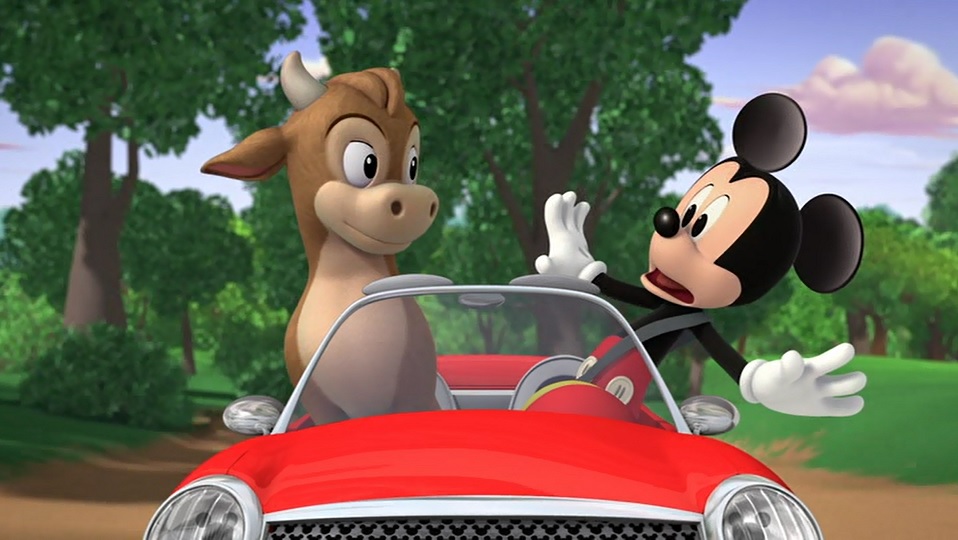 ---
Scratch Tracks:
Once again, you know the drill. This is a brand new show, so naturally it sounds decent, even though Disney obviously hasn't decked it out with a 5.1 surround sound mix given who the series is intended for. French and Spanish language tracks are also included.
---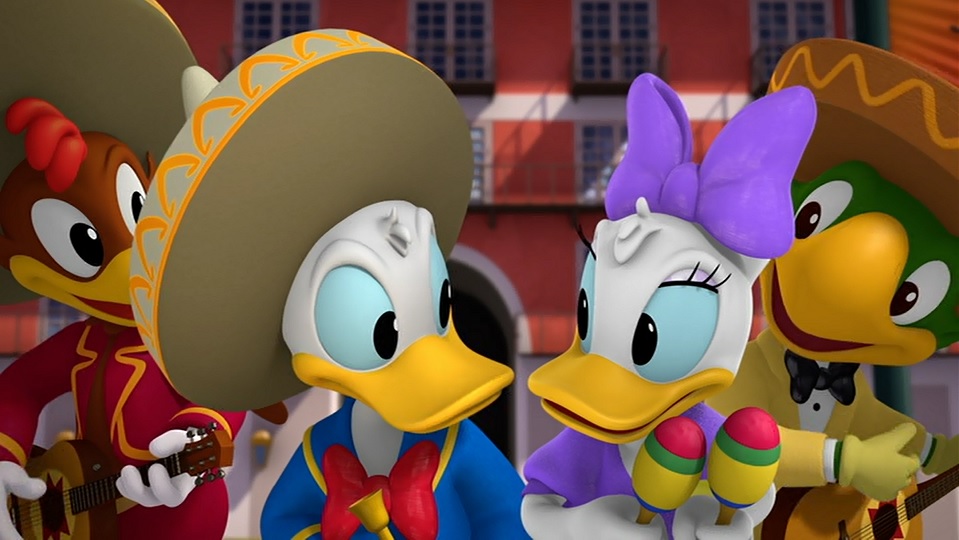 ---
Final Cut:
In some ways, this almost feels more like a product than a show, and it's worth noting that Disney has rushed this to DVD much faster than is the norm for them when it comes to releasing their TV series on disc (Roadster Racers premiered two months ago). It doesn't have the production values of The Lion Guard, the smarts of Miles from Tomorrowland or the sophistication of Elena of Avalor, but it's just cute enough to get a pass, and should keep the tykes happy. The so-called "bonus episode" included here is a good one, and the license plate kit is pretty nifty. A brand new series, Roadster Racers appears to be finding its feet, and does have potential to grow as it drives along. But it also might quickly run out of gas if Disney's not careful.
Animated Classic or Back To The Drawing Board?