In 1996, Disney did something that at the time was seen by at least some as being a financial gamble: They re-made one of their animated classics as a live-action film with 101 Dalmatians. True, they had technically done a live-action version of The Jungle Book two years prior, but that movie sold itself as an adaptation of the original source material (to the point where it was marketed in theaters as Rudyard Kipling's The Jungle Book), rather than as a repeat of what the studio had done before with animation. 101 Dalmatians, on the other hand, proudly proclaimed itself a remake of the beloved 1961 film, with Glenn Close being touted as the movie's "star" as perhaps the studio's most popular villain of all time. However one felt about the actual film (I myself haven't re-visited it since its theatrical run nearly 20 years ago!), from a financial standpoint, it was a massive success, so it's somewhat puzzling that Disney didn't try doing the same thing again until more than a decade later with Tim Burton's Alice in Wonderland. That movie ended up being even bigger than Dalmatians had been–no doubt benefiting from the star power of Johnny Depp and being the first 3-D release to come out after Avatar–, and from there, Disney was quick to greenlight more big budget movies based off of classic properties, mining both their own library (Maleficent) and others (Oz: The Great & Powerful).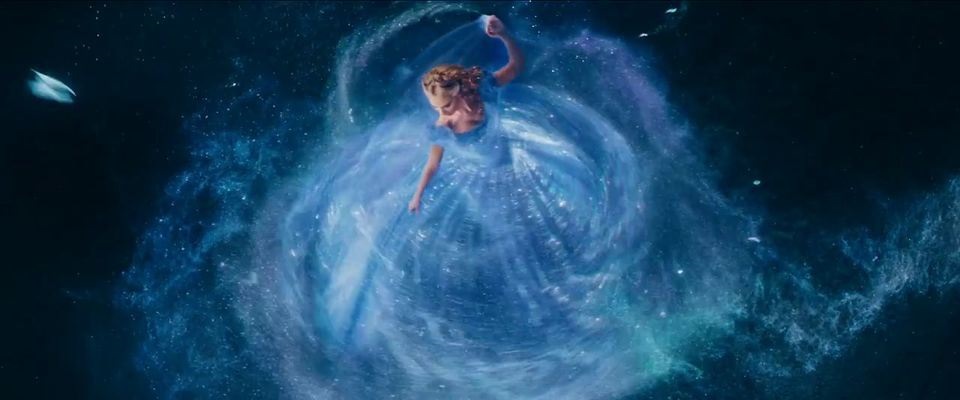 Which brings us to Cinderella, the latest in the studio's "trend" which, as you no doubt know, has already seen huge box office returns for them. What sets it apart, though, is that it's arguably the first time Disney's actually remade one of their animated movies since 101 Dalmatians. It's not a quasi-sequel like Alice, not an unofficial prequel to a movie Disney didn't even make like Oz, and it certainly doesn't completely rework the original story to make the villain into the good guy as Maleficent did. Not an update so much as a retelling, Cinderella is exactly what you expect for it to be, providing all of the story beats one associates with the tale without offering any major changes.
But, guess what? If that's what you're in the mood for, then you're going to be more than happy. If nothing else, Cinderella proves that a good story is worth repeating if it's done well. It may the cinematic equivalent to comfort food, but it's very well prepared comfort food, and the sense of familiarity that one has with the subject matter only adds to the magic. There's a wonderful feeling of nostalgia behind everything here, with the film being faithful to the 1950 animated movie without being slavish to it. True, there are some minor tweaks made here and there. Cinderella does briefly get to meet the Prince (who has an actual name beyond just "Charming" this time!) before the ball, and the movie does make the somewhat curious decision of turning the Grand Duke into a villain during the third act. But, for the most part, this is Cinderella as you know and love it, and while some audience members will no doubt be disappointed that the mice don't play a major role here (Gus Gus is the only one to make any sort of a comedic impact), they're going to be so satisfied with everything else they get that they'll still leave the theater in good spirits.
It's actually hard to place why Cinderella works as well as it does, although much of the credit probably does go to Kenneth Branagh, who directs the movie beautifully. While his best known work as a director with most audiences is going to be his helming of Thor, what Cinderella brings to mind are earlier films from his career, particularly his unpleasant but nevertheless exceptionally well-made Frankenstein in 1994. Like that film, Branagh doesn't treat the movie as a fantasy so much as a period piece with a healthy budget, and the results are glorious. It's hard to think of one moment in the film that isn't visually pleasing in some way, even though some audiences might be taken aback by how "non-flashy" Cinderella is compared to the studio's recent string of live-action fairy tales. Cinderella is actually quite light on special effects–only ever using them when it really counts–, and while I suspect this is at least in part due to budget cuts done by Disney before filming began (Various production problems on Maleficent caused that movie's budget to inflate past $200 million),  Branagh makes the most of what he has available to him, creating a film that feels magical while still taking place in the "real world."
The cast is also so good that it's hard to know where to begin, with virtually everyone involved doing a great job with the roles they've been given. Game of Thrones fans should be amused to see two of the show's stars on screen together, with Richard Madden making Prince Kit into a very likable character and Nonso Anozie bringing authority to the role of his loyal Captain of the Guards. Derek Jacobi gives dignity to the King–here not a lovable buffoon as he was in the animated movie–, while Stellan Skarsgard brings his usual talents to the scheming Grand Duke. Some may be surprised to see Captain America fan favorite Hayley Atwell as Cindy's mother, making her brief time on screen appropriately angelic. As one would expect, Cate Blanchet is terrific as the Stepmother, and Helena Bonham Carter is perfectly cast not just as the Fairy Godmother, but also as the story's narrator, with her tone being gentle, non-threatening and always reassuring. Still, it could be said that the movie really belongs to Lily James, with her giving a sincere performance as the title character that makes her seem like a genuinely good and strong human being.
Of course, Cinderella isn't the only thing you get for your movie dollar here, as the film is preceded by the much-hyped return of Elsa and Anna in the animated short Frozen Fever. It's a testament to the popularity of Frozen's two female heroes that the short is centered around them instead of on the film's sidekicks as Tangled Ever After was, with Elsa's elaborate birthday party plans for Anna going slightly awry when a case of the sniffles causes for her to accidentally create mischievous tiny snowmen every time she sneezes. Rather than serve as a "mini-sequel" to Frozen, Frozen Fever works more like an extended ending to the film, essentially playing out as a gigantic musical number with cameo appearances by almost every character from the movie (the trolls being the only ones not to show up here). Spoiling anything else would ruin the fun (Disney's given more than enough of the short away in various commercials), but fans of the film will find nothing to complain about here, and it's a joy to finally see Elsa and Anna happy together as they deserve to be after being forced apart by their parents during their childhood. Frozen Fever is everything that it's supposed to be: Extremely pleasant, fast-paced, and leaving audiences hungry for more (which they will eventually get in the form of a recently announced theatrical sequel, although I still wouldn't be at all surprised if a Christmas-themed television special were to come out before then).
In fact, if there's one disadvantage to having Frozen Fever shown before Cinderella, it's that the cheerful nature of the short directly contrasts with the actual movie's depressing opening scenes, which play out a lot bleaker than many might initially expect. Still, even though it deals with the deaths of three parental figures, Cinderella is appropriate for all ages (the PG rating, as is often the case these days, makes no sense), and is refreshingly old fashioned entertainment. Disney could have a lot more of these live-action remakes coming our way (including Beauty & the Beast, which with new songs by Alan Menken and Tim Rice is almost guaranteed to be a huge hit), but if they continue to be as solid as Cinderella, we're all going to be living happily ever after for quite some time.
Animated Classic or Back To The Drawing Board?
Cinderella
Walt Disney Pictures
March 13, 2015
105 minutes (plus short)
Rated PG
Directed by Kenneth Branagh