Walt Disney Pictures (February 15, 1950), Buena Vista Home Entertainment (October 4, 2005), 2 discs (with gift set available), 76 mins plus supplements, 1.33:1 original full frame ratio, Dolby Digital 5.1 and original Mono, Rated G, Retail: $29.99
Storyboard:
A poor young maiden must overcome her wicked stepsisters and stepmother in order to meet a prince. With the royal ball coming soon, Cinderella must rely on help from a fairy godmother and some friendly mice, who reward her for her kind heart.
The Sweatbox Review:
In the aftermath of World War II, Walt Disney's studio had by necessity become a place where movies were done in sections. Disney had to rely on the "package features", like Make Mine Music and Melody Time, to get films out as quickly as possible. The post-war films were pleasant enough, including such other delights as the more feature-like Song Of The South and The Adventures Of Ichabod And Mr. Toad, but both Walt and his public yearned for a return of the greatness seen in his previous full-length stories. Due to Wartime economics, Disney had not put out a fully-developed animated feature utilizing a single story since 1942's Bambi, and by the mid-Forties, plans were underway to develop a film that would signify Disney's return to full-length fairy tales. It was seen as a big risk at a time when the Disney brothers had to consider whether or not to even keep the studio running. Fortunately, the film that would be released in 1950 was a major hit.
The Charles Perrault version of Cinderella was an obvious choice. The story of Cinderella had much in common with the studio's first feature, Snow White— a wicked stepmother, a flirtation with a prince, a little magic, and (naturally) a "happy ever after" ending. What it lacked, as with the tale of Snow White, was enough story to fill up a feature-length film. Fortunately, the years of development paid off, as the Disney staff came up with numerous enhancements to the story that have made the Disney version of Cinderella somewhat definitive for generations of children.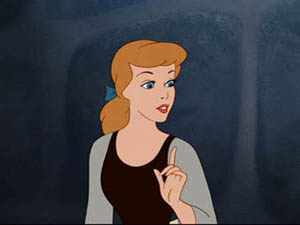 Aside from bringing Disney a much-needed hit, Cinderella is notable for being the first of three films to have been worked on by all of the legendary "Nine Old Men" of the Disney studio. The result is a beautifully animated film that has a multitude of special sequences. And, unlike the scattered story of Alice In Wonderland which they would tackle next, the story department gave the Cinderella artists a tight, cohesive narrative to which they could apply their craft. Several characters and situations were added to the story, most predominantly including a group of mice and their feline nemesis, as well as several more minor characters.
The film was unique for its time for having been filmed first in live-action, utilizing real actors and simple theatrical sets. While the animators may have scoffed at such a timesaving measure, they were free to use or ignore the footage as they wished. There can be little doubt that much of the naturalistic motion in the animation came in part from this method of preparing the film.
The film was last available on VHS and laserdisc in 1995, and its last time in theaters was in 1987. Now, it's time for the next generation to be exposed to this Disney classic, now available in a 2-disc Platinum Edition from Disney.
From the moment the film begins, it is obvious that Walt was trying to capture the same lightning that he bottled with Snow White. The audience is shown a storybook opening, and an illustrated history of our heroine is offered. The rest of story of Walt Disney's Cinderella has become so familiar, that many might assume that all of its elements come from the original Perrault story, or from other versions such as the one from the Brothers Grimm. Certainly, the main points of all versions of this folk tale are present in the Disney film. Cinderella is the stepchild of a wicked woman who treats her like a slave and allows her own boorish daughters to ridicule Cinderella. Cinderella dreams of escaping her cruel life, and sees her opportunity— even if the escape may be brief— when she and all the women of the kingdom are invited to a ball at the palace.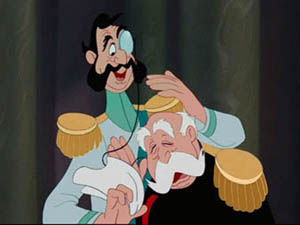 What the Disney version adds is a menagerie of animals, principally a number of mice and their nemesis Lucifer, a cat. Jaq is the main mouse in the story, along with his newcomer friend, Gus. Their humor and the character moments they inspire give the film much of its warmth.
Aside from some business between the cat and mice, and a fun segue into the discussion between the king and grand duke about finding the prince a bride, the movie sticks to following the struggle of Cinderella to finish her work and prepare for the ball. (As important as the prince is to the plot, he does not even appear in person until 49 minutes into the movie.) Cinderella's stepmother makes this impossible, and the mice decide to help out by preparing Cinderella's dress, in one of the most charming sequences in Disney animation. As everyone knows, Cinderella's fairy godmother must also show up to lend a magical hand, giving Cinderella the opportunity to appear at the ball in fine style, with the only condition being that the magic will end at midnight. Cinderella goes to the ball and falls in love with the prince, but has to leave suddenly as the clock strikes twelve. She flees the castle, leaving only a single clue to her identity: a glass slipper.
It's a slight story, but a tight one. The only extraneous scene in the film is early on, when the mice are seen outsmarting Lucifer in order to gain some food. Despite the lack of story progression, the scene does serve to flesh out the relationship between the various animals, and it is so entertaining that the slight diversion from the main plot may be easily forgiven. A later scene between Lucifer and the mice, where they battle over the gathering of items for Cinderella's dress, is much more integrated with the overall story.
More than ever, the songs in this film are all necessary to drive the story forward or to highlight the emotions and actions of the characters. They were written by big-time songwriters from what was known as Tin Pan Alley, and the results of their efforts was an Oscar nomination, and three popular hits. From A Dream Is A Wish Your Heart Makes to Bibbidy-Bobbidy-Boo, the songs are eminently hum-able and have become quintessential Disney tunes.
The look of Cinderella is not so lavish as what can be seen in Snow White or Fantasia, but it is extremely polished. The Disney staff by now consisted of highly skilled animators and draftsmen, and the film is also infused with the amazing graphic sensibilities of Mary Blair. The lush realism of the earlier features gives way here to a more stylized world that occupies its very own fantasyland. Believe the hype: This is pure Disney magic.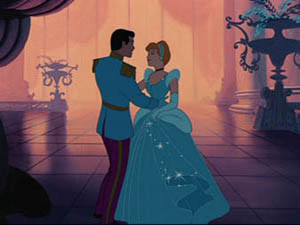 Is This Thing Loaded?
Aside from the feature itself, Disc One has the bizarre and somewhat unwelcome inclusion of Cinderella Stories Presented By ESPN Classics (33:40). Joe Namath hosts this look at some of the greatest sports stories, focusing on well-known American underdogs. This is probably the worst "special feature" in the history of Disney DVDs, just due to its utter irrelevance. Joe tries to make the case for its inclusion, but I remained unconvinced. It has nothing to do with the film, and everything to do with corporate synergy, as Disney owns a big piece of ESPN. Otherwise, it's okay for what it is, even if Namath's recounting of his own New York Jets' victory in Super bowl III is not even supported by any video clips.
The other special feature on Disc 1 includes a couple of Music Videos. A Dream Is A Wish Your Heart Makes (3:50) gets a pop makeover from Disney Channel teens that will make purists cringe, as well as its own Making Of The Video (3:20). Every Girl Can Be A Princess (2:25) features a montage of scenes from "Disney Princess" movies played under a tune sung by Cinderella herself. A Preview For Disc 2 (0:52) reassures you that the second disc has special features that are actually worthwhile. Thank goodness!!!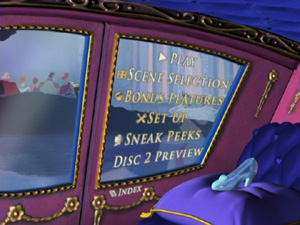 Disc 1 also has the regular assortment of Sneak Peeks. The ones that play automatically (though skippable) are looks at Lady And The Tramp Platinum Edition DVD, Chicken Little, Cinderella III (coming in 2007; some voice work is included but no new animation is shown), and Disney Princess: A Christmas Of Enchantment. A few more can be selected from a menu, including The Little Mermaid Special Edition (curiously this one is shown in the 4:3 ratio, while the DTV titles get 1.66:1 previews), Bambi And The Great Prince Of The Forest (this is a sneak peek at a scene from the film with Bambi and Thumper), Pooh's Grand Adventure: The Search For Christopher Robin, Kronk's New Groove, Toy Story, and Pixar's Cars, as well as a Cinderella-themed Walt Disney World promo.
Unfortunately, the Cinderella movie itself does not come with any additional audio features, such as any form of commentary track such as has been seen on other Platinum releases. This may be forgiven when one begins to explore the wealth of special features on Disc 2.
Now, take a deep breath…
Starting things off on the second disc, we have two Deleted Scenes (9:50). Don Hahn gives an Introduction (1:55) prior to the two sequences. First of all, the "Cinderella Work Song" (3:20) sees Cinderella reflecting on all the work she has to do, and she imagines herself splitting into many Cinderellas to get it all done. It's a nicely realized scene (shown in storyboards, with a new recording of the never-used song), but as a fantasy sequence it would have stopped the movie cold. It also did not make sense that Cinderella would spend her time idly daydreaming when she had so much to do. The second deleted scene is "Dancing On A Cloud" (4:35), a variation on the "dance in the clouds" scene that Walt kept trying to develop before it finally showed up in Sleeping Beauty.
The next section of Disc 2 is "Music And More", which has a few neat treasures from the Disney vault. Cinderella And Perry Como (6:30) is a clip from Como's television show where he offered a preview of the songs from Cinderella. This charming sequence sees Perry narrate, accompanied with movie stills as well as an appearance of Cinderella's voice, Ilene Woods, who acts her role with some other actors playing the mice. Como wraps it all up with his rendition of Bibbidy-Bobbidy-Boo. Too fun! Best of all, a very special guest star appears for the finale— so watch it to the end! Cinderella Title Song (2:10) has the original demo recording, and we get further demos for Unused Songs (17:20 total, audio only)— these include seven discarded ditties including Sing A Little, Dream A Little, I'm In The Middle Of A Muddle, The Mouse Song, The Dress My Mother Wore, Dancing On A Cloud, I Lost My Heart At The Ball, and The Face That I See In The Night. The audio quality here is generally decent, but expect some hiss, and quite a few pops during I Lost… Lastly, there are three Radio Programs (12:15): Village Store Excerpt, Gulf Oil Presents, and Scouting The Stars. These all feature Ilene Woods discussing the movie, her big break, and her past. Again, these vintage shows have a number of crackles and pops, but it is great to hear them.
Under the heading of "Games and Activities" falls a number of kiddie-only features. The House Of Royalty (17:55), an exercise in corporate synergy if there ever was one. A Disney Channel tot speaks to several people, including the stars of ABC's Extreme Makeover Home Edition and a Yugoslavian princess about looking like, living like, and acting like a "princess". Princess Pajama Jam has a fairly pointless video and a blurb encouraging the purchase of the Disney Princess Party Volume 2 DVD.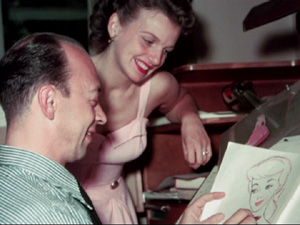 Disney-philes can breathe a sigh of relief when they get to the next section, which has plenty of terrific bonuses. "Backstage Disney" begins with From Rags to Riches: The Making Of Cinderella (38:40 total). The featurette is divided into four sections:
A Dream Is A Wish Your Heart Makes (7:10) – Historians, animators, and more discuss how Cinderella saved the Disney studio.
Of Mice And Nine Old Men (12:50) – An appreciation for the grand veterans of the Disney studio, examining each of their styles and contributions. I especially enjoyed the commentary on how they treated the live-action footage shot for the film. Great piece!
A Perfect Fit: The Voices Of Cinderella (7:30) – This sounds straightforward, but offers some surprises.
Musically Ever After (11:10) – A look at the songwriters and composers.
Don Hahn hosts a look at The Cinderella That Almost Was (14:10). This featurette looks at storyboards for a version of Cinderella that was being developed, essentially scenes and story treatments that never made it into the version we now know and love. Included are reenactments of Walt's comments during story sessions, which provide a fascinating look at what Walt decided to dismiss and why— all of which led to a near-perfect film.
From Walt's Table: A Tribute To Disney's Nine Old Men (21:50). This wonderful tribute to the fabled animators that created magic for Walt Disney includes comments by several of the Disney Company's more contemporary talents, such as Glen Keane and Andreas Deja, hosted by film critic Joel Siegel. Each participant reminisces about the Old Men that he met, and how he was inspired. Interview footage with the Nine Old Men is also intercut.
The Art Of Mary Blair (15:05) is a much deserved and appreciated tribute to a Disney artist who has recently been enjoying some well-deserved attention from Disney fans and historians. Blair provided art direction and color stylings for many Disney films in the 40s and 50s, not to mention the "It's a Small World" attraction at the Disney parks, defining the "Disney style" possibly as much as any animator.
Storyboard To Film Comparison – Opening Sequence (6:50) includes both traditional storyboards as well as stills from the live-action footage.
Cinderella Art Galleries includes copious samples of production art, promotional material, and production photos.
1922 Cinderella Laugh-O-Gram (7:25) shows Walt's first attempt at the Cinderella story, from his Kansas City days. This fine addition to the bonus features has a more contemporary take on the story, showing a flapper girl crashing a palace ball. Organ music accompanies the visuals, which show a surprising amount of sophistication for the era.
Excerpt From The Mickey Mouse Club With Helene Stanley (Original Air Date: January 24, 1956) (3:55) gives us a look at the "other" Cinderella, as Miss Stanley was Cinderella in the live-action footage. Mouseketeers help her act out a scene, naturally taking the parts of the mice! Precious.
We are use to seeing Theatrical Trailers (7:00) on DVDs, but with a release like this they are more interesting than usual. Included here are the original 1950 trailer, along with trailers from reissues in the 60s, 70s, and 80s— seven trailers in all.
Dreams Come True (1:30) is simply a promotional piece for DisneyHand, an outfit which does charitable work with sick children.
Whew!!
DVD ROM: The Royal Life DVD-ROM Design Studio activity gives you the opportunity to design your own palace, gown, and room. To be honest, I was not too tempted to spend much time on this one.
Laserdisc Box Set Comparison: For those that might be interested… Part of the 1995 video release of Cinderella included the production of a massive laserdisc box set, loaded with special features. It was a CAV edition, meaning that the movie got spread to three sides on two discs. Aside from the original mono track, there was also a stereo track and a mono music and effects-only track. Additionally, the picture still holds up very well, AND the RKO title card is used— this card does NOT appear on the DVD!
A third disc had the special features spread over two sides. A different but similar-to-the-DVD "Making of" featurette was present on Side One, running 34 minutes. (Many interview clips were ported over to the new piece done for the DVD.) This featurette accented the live-action footage a little more. Additional audio features on this side included all the deleted songs (with more info on who created them and when they were recorded), and all the radio show excerpts. In addition, there were 20 radio commercials from 1950 and 1957.
Side two of the bonus material had the Laugh-O-Gram, the 1933 Silly Symphony storyboards, 1940 story concepts, numerous used and abandoned storyboards, tons of character designs and preliminary design concepts, many more stills of the live action test footage (very cool to see), the Mickey Mouse Club clip, trailers, the 1950 Sunday color comic strip, and lots of stills for publicity and merchandising.
Lastly, the laserdisc box set also had a terrific Making Of Cinderella book that has other art and photos from the film's production.
In short, the laserdisc set still has a few things that the DVD does not (the RKO title card, the book, the radio commercials, and much more in the stills department), but the DVD also has a number of great new featurettes that make the DVD purchase more than worthwhile.
Case Study:
The packaging presentation for Cinderella is similar to that of the past few Platinum Editions. The DVD case sits inside a slipcover that opens to present a summary of the disc contents.
The front cover of both the case and the slipcover are the same, which I always felt was a missed opportunity— why not make the disc case cover the original theatrical poster? The covers also display the regular schizophrenic labeling seen on these Disney releases: Is this a Platinum Edition, or a Special Edition? Apparently, it's both. One could understand the term "Special" when there is new footage inserted, but that is not the case here. Sometimes the hyperbole is wearying.
The disc case is of the standard thickness, with both discs inside, the first one sitting in a tray. Also inside is a 12-page booklet that offers an overview of the two discs, as well as a navigation map; DisneyDVD Insider magazine is also inside, as well as a Cinderella sweepstakes postcard entry.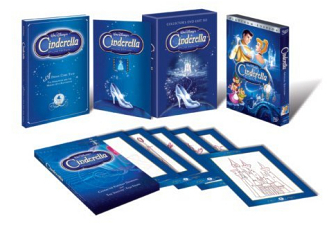 Special Attributes of the Collector's Gift Set: For the true fan, there is also the Gift Set, which comes in a sturdy box. Included inside are the DVD set, a hardcover companion book, a set of sketches by Ollie Johnston, and a numbered film frame. Whether or not you spring for this (which comes a little closer to feeling like the glorious laserdisc set of old) will largely depend on how much you like non-DVD bonus material, and how much you are will to pay for it. At $20 extra (retail), it might be a tough sell for all but the most dedicated Cinderella fan; but if you have previously enjoyed the gift sets Disney has put out for their Platinum Editions, then by all means spring for this one.
Ink And Paint:
Cinderella was digitally remastered for this release, and it looks marvelous. Despite the fact that the film runs only 75 minutes, it was split over two layers to maximize the bit rate. As a result, the picture is rock solid and without any artifacting that I could notice. Neither is there any noticeable haloing nor shimmers. The cleanup work was also successful, as the newly created digital "print" looks pristine— all dust and scratches have been eradicated. Releases like this make me not-too-excited about high definition formats, because I can't see that Cinderella will look any better than this on future formats.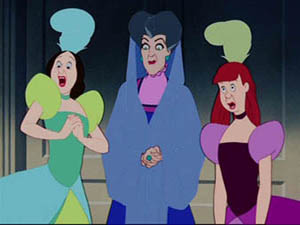 Scratch Tracks:
As with other Platinum releases, Disney has created a 5.1 Disney Enhanced Home Theater Mix. It was a little weird at first getting used to hearing so much ambience with Cinderella, after becoming accustomed to its mono presentation on the previous tapes and laserdiscs, but honestly I thought the 5.1 mix came off quite well. I noticed the music benefiting the most, and found that the fuller soundscape did benefit the film. Spanish and French 5.1 mixes are also offered.
Fortunately for purists, the restored original audio tack is also provided in center-channel mono. It sounds better than a 55-year old film should— clear, no hissing, just perfect.
English captions for the hearing impaired are also provided.
Final Cut:
Walt Disney's Cinderella is undoubtedly a classic. While not as flashy as some of Disney's other films, it still manages a certain perfection that is undeniable. There is a strong sense while viewing the film that it is just as it should be— the pacing, the design, the songs, and the story itself come off as prototypical for this type of filmmaking. The Disney artists were at the top of their game, and they produced a wonderful fairy tale movie. The Platinum Edition DVD falls just slightly short of perfection, adding too much corporate synergy and kiddie content to make the collector feel that he or she has been catered to, and stops short of the depth of the laserdisc set. However, the overall quality of the special features and the remarkable new featurettes spotlighting Mary Blair and the Nine Old Men help to make this an essential purchase.
Animated Classic or Back To The Drawing Board?