EuropaCorp (2013), Shout! Factory (October 7, 2014), 1 Blu-ray + 1 DVD, 89 mins, 1.85:1 ratio, DTS-HD Master Audio 5.1, Rated PG, Retail: $24.97
Storyboard:
A baby born on the coldest day in history has his frozen heart replaced with a cuckoo clock. One of the rules of living with this fragile mechanical heart is that he may never fall in love. Of course, love is too big a part of life to avoid for long. Once love is discovered, can one choose to live without it?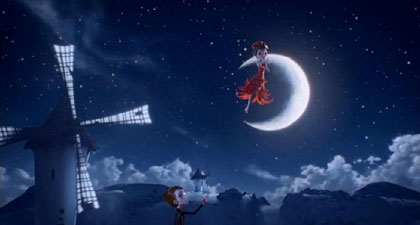 The Sweatbox Review:
The genesis of this film began when Mathias Malzieu wrote the fantasy novel La Mechanique du Coeur in 2007. The book became a bestseller in France. (In 2009, it got an English language edition with the title The Boy With The Cuckoo-Clock Heart.) Malzieu also turned his story into a French-language concept album with his band Dionysos, which helped to attract the attention of filmmaker Luc Besson, who optioned the book and album for a film. The resulting collaboration is an astounding piece of filmmaking that haunts the viewer as much as the tremendous visuals inspire.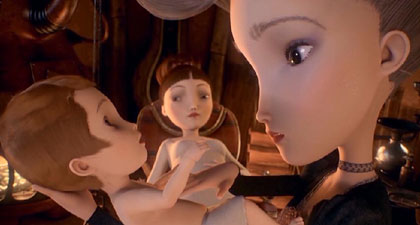 In the late 1800s, on the coldest day in history, a young expectant mother struggles to make her way to an isolated house near Edinburgh, Scotland. The owner of the house, Madeleine, is considered a witch by the local town folk, but she is in fact a talented scientist and midwife. The baby is born safely, but Madeleine notices that its heart is frozen and he cannot possibly survive unless drastic measures are taken. She successfully replaces his heart with a tiny cuckoo clock. When the mother slips out the door and abandons the baby, Madeleine has to raise the boy herself. It is a challenge she is grateful to accept.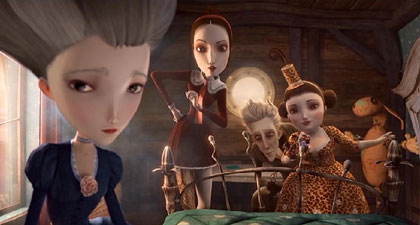 The boy, who she names Jack, grows steadily over the next few years. Madeleine gives him home schooling, and cautions him that there are three rules that go with his mechanical heart. He must never touch the hands of his clock, he cannot lose his temper, and — most importantly— he must never fall in love. Madeleine is convinced that the best place for Jack to be, the safest place where she may best protect him, is in her home; but Jack yearns to be with other children and to explore the outside world. Madeleine does have friends who visit, including two eccentric "aunts" and an older man, but this cannot compare with the opportunities that going to school would bring.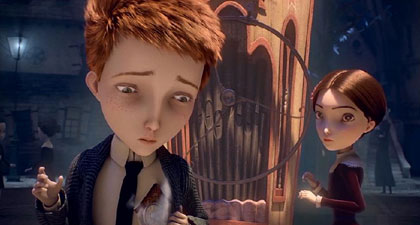 Responding to Jack's pleadings, Madeleine acquiesces and allows Jack to go to school in Edinburgh. This proves to be a mixed blessing, as Jack encounters two figures that will change his life forever. He sees the worst of humanity in a boy named Joe, who lords over the schoolyard and bullies Jack simply out of spite. Other boys take Joe's lead and also taunt Jack, going so far as to poke around his cuckoo-clock heart. On the other hand, there is also Acacia, a beguiling young lady with an enchanting voice. Jack is so taken with her that he doesn't even seem to notice that she grows thorns around her when she is upset. Jack has begun the dangerous process of falling in love. Joe, however, is a rival suitor, and Joe insists to Jack that Acacia actually loves him.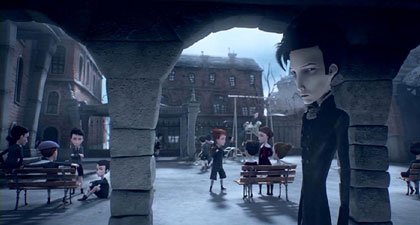 Things turn dark for Jack when he gets into a final schoolyard fight with his tormentor. Joe is injured in the melee, and Jack runs off, going home to see Madeleine. His adoptive mother insists that Jack run away, as the police are now approaching. Jack listens, and makes his way to he knows not where. After a harrowing train ride in which he is pursued by Jack The Ripper, our Jack is befriended by a kindly magician and photographer named Georges Melies. Georges offers to take Jack to Paris, where he can fix Jack's heart. Jack tells Georges of his desire to find his lost love, and, touched by the boy's story, Georges accompanies him on a journey forward in search of Acacia. They do find her at a circus in Spain, but the nearsighted singer does not recognize him. Worse yet, Jack's rival is on the same trail; and, even if Jack can rekindle their love, what about Madeleine's warning?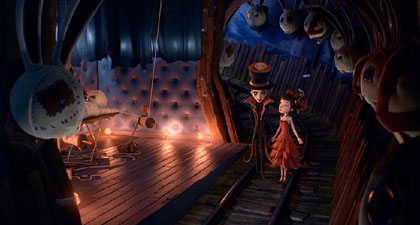 This is a very fine love story, but that is less than half of what makes the film great. The animation is absolutely beautiful, utilizing a variety of inspirations, from puppets and early silent film, to cut-outs and stop-motion animation, and of course state of the art CGI, to tell the tale. From a production design standpoint, the visuals are uniformly marvellous, being both inventive and artistically powerful. The porcelain doll-like character designs evoke a true sense of a fairy tale, and the brilliantly imaginative fantasy sequences are simply jaw dropping in their beauty. Every filmmaking trick seems to be on display. While watching the film, such names as Selick, Burton, and Gilliam (with more than a dash of Tod Browning) sprang to mind readily, but even those name-checks don't do the film justice.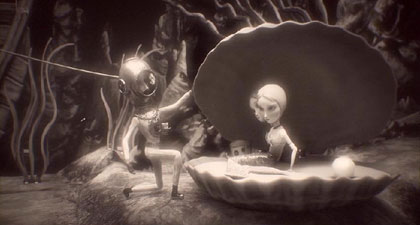 That is because I haven't even mentioned the music yet. This sounds like no animated film I've ever experienced. The rock opera styling of the soundtrack is beautiful to hear, uniting with the almost steampunk— let's name it clock-punk— design and the marvel of 21st century CGI to create a staggeringly original and stunning concoction. This is one of my favourite animated films… ever.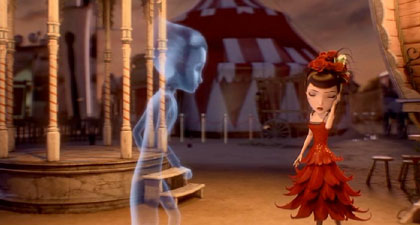 That said, this is not a film for general audiences. Some will certainly find it weird, and the ending is unconventional (but beautifully romantic and moving in its own way). Young children may be creeped out by some of the subject matter, such as the open-chest surgery seen in the opening scene. For others, though, this film will be an intoxicating breath of fresh air, a true art film that gives hope to an industry that has become increasingly bland here on this side of the Atlantic. If you are wondering where the next great animated film is coming from, look to Europe. Look to Jack And The Cuckoo Clock Heart.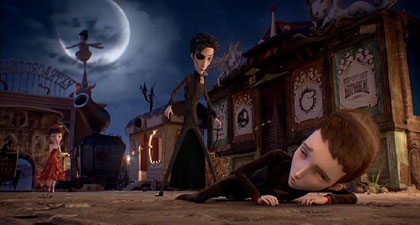 Is This Thing Loaded?
If you decide you like off-kilter European animation, then hopefully you will be inspired to check out A Monster In Paris, whose Trailer appears at the beginning of the disc.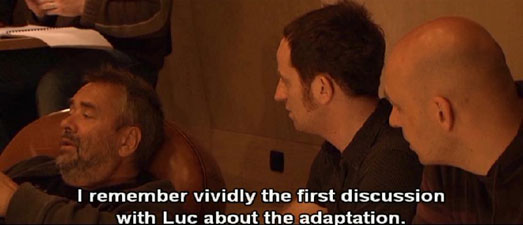 The true bonus features start with The Characters, a series of two to three-minute featurettes where the filmmakers and the French voice artists discuss several of the main characters. Interspersed with interviews and "making of" material are clips of the band performing the French soundtrack in front of an audience.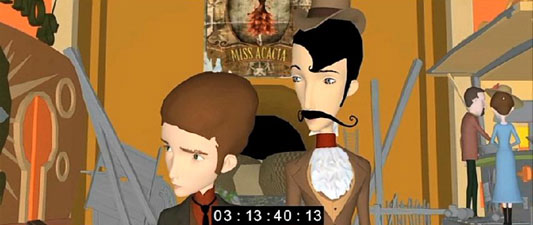 From Book To Animation (6:19) gives a fuller look at the general production of the film, featuring interviews with several of the filmmakers, artists, and producers. Lots of behind-the-scenes material is presented. It is only too bad this was not longer.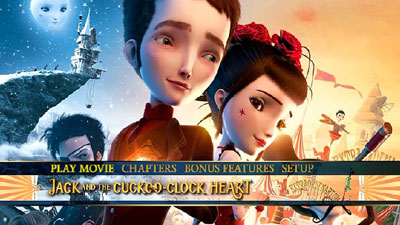 The DVD carries the same material as the Blu-ray.
Case Study:
The film comes in a standard Blu-ray case, with a disc sitting on either side of the interior (one Blu-ray and one DVD). The Digital Copy must be downloaded from the Internet, and an insert inside the case explains how this may be done. The cover slip is identical to the disc cover.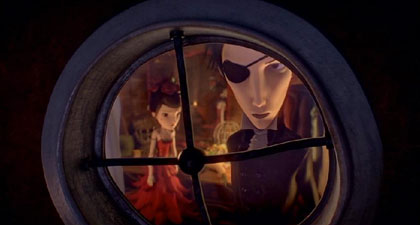 Ink And Paint:
I will just reiterate here that this film rates highly as a visual masterpiece, and the Blu-ray transfer thankfully does the film justice. There is an overall slight softness to the image, but it seems intentional to me, a subtle reminder that what we are watching is a dream of a tale. The 1.85:1 image (occassionally switching to closer to 2.35:1) successfully brings to us all the amazing color and artistry as intended, complete with dazzling colors and effects, never being betrayed by edge enhancement or aliasing.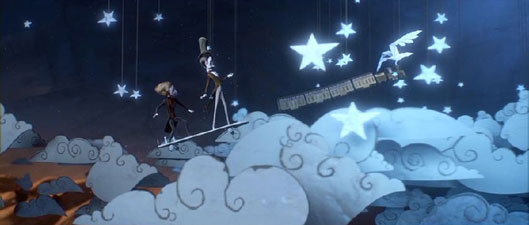 Scratch Tracks:
If I loved the visuals, I was over the moon for the soundtrack. The pulsating songs, the ever-present underscore, and the lively effects are brilliant. You may listen to the film in its native French, or its just as accomplished English track, both offered in DTS-HD Master Audio 5.1 (Dolby Digital 5.1 on the DVD version), or as Stereo PCM tracks (Dolby Digital Stereo on the DVD). Subtitles are only available in English on either disc.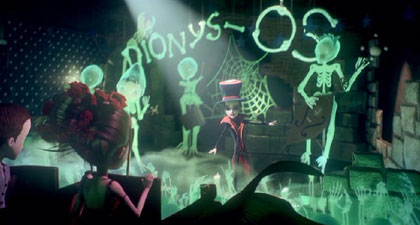 Final Cut:
Simply put, I loved this film. It is an art film that still manages to contain a solid and extremely compelling romantic story, with a classical feel to its events and denouement. The visuals are outstanding, both in concept and in execution. There are so many fine touches in the direction that a course could be taught on this film. The music is likewise beautiful, with a rock beat carrying an age-old message that nothing is more important to life than love. It is films like this that make one want to write film reviews, in order to convince others to make the effort to appreciate something wonderful. I admit that this may not be a film for general audiences accustomed to the standard pap, but I do think that most will find this at least extremely interesting, and maybe even amazing. For me, it's already one of my all-time favourites.
Animated Classic or Back To The Drawing Board?