Columbia Pictures/Sony Pictures Animation (2013), Sony Pictures Home Entertainment (December 3, 2013), 1 Blu-ray + 1 DVD, 105 mins, 1.85:1 ratio, DTS-HD Master Audio 5.1, Rated PG, Retail: $40.99
Storyboard:
Smurfette is smurfnapped by one of Gargamel's Naughties, for the purpose of learning Papa Smurf's secret of turning a Naughty into a Smurf. Papa Smurf directs a small group of Smurfs to seek the aid of their friends the Winslows, then they all smurf to Paris to smurf Gargamel, smurf the disillusioned Smurfette, and smurf the day. And they all live smurfilly ever after.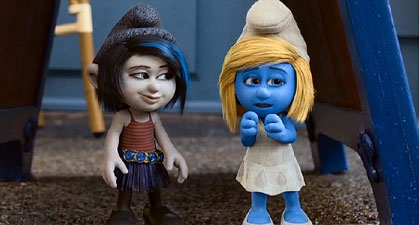 Don't worry, I don't do that "smurf" thing all the way through the review.
The Sweatbox Review:
The Smurfs was a bit of a surprise hit in the summer of 2011, garnering more favorable reviews than many might have anticipated. It was in fact a decent kids' film, though the Smurfs purists had reasons to object to certain liberties. Still, success breeds sequels in Hollywood, which usually means more of the same. And so we have Smurfs 2, practically a remake of the previous film, but with the significant addition of an extra character arc or five.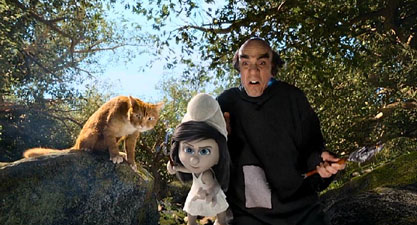 The focus of this film is Smurfette (sensitively portrayed by Katy Perry— seriously, she's really good), who thinks that her fellow Smurfs have forgotten her birthday. As it is, she was already swamped with neuroses about not being seen as a "real" Smurf, since she was originally a creation of the wicked wizard Gargamel. It was only Papa Smurf's magic that transformed her into a true Smurf. Smurfette still has nightmares about being rejected by the Smurfs some day, or being reclaimed by Gargamel; so, when it appears that the Smurfs are neglecting her on her birthday, she feels even more downcast.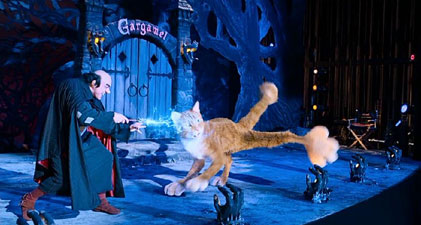 Meanwhile, Gargamel is still stuck in our world, since the conclusion of the previous film. He is now a world-famous (but still supremely snarky) magician, who has taken up residence in Paris. He is still plotting to use "Smurf essence" to increase his magical abilities and take over the world, but now he has a new plan: to coerce Smurfette into giving him the secret of turning his grey-skinned Naughties into blue-toned Smurfs. That way, he can simply create more Naughties, transform them into Smurfs, and have an unlimited supply of Smurf essence. To this end, he deploys the Naughty Vexy, who travels back to the Smurf village via magical vortex to smurfnap Smurfette.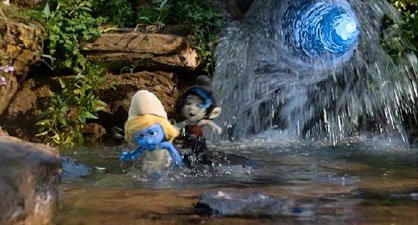 Naturally, the Smurfs have actually been planning a surprise party for Smurfette, and they are tremendously upset that she has been taken. They also feel guilt when they realize that they had made her feel unwanted. Papa Smurf gathers up a commando squad to launch a rescue, but through the mishaps of Clumsy Smurf the squad members get replaced by Clumsy, Vanity, and Grouchy. Undeterred, Papa Smurf (lovingly played by legendary Jonathon Winters, in his final role) leads them to New York City, to contact their friends Patrick and Grace Winslow, played by Neil Patrick Harris and Jayma Mays. The Winslows' little boy Blue is growing up, too, and we are also introduced to Patrick's stepfather Victor.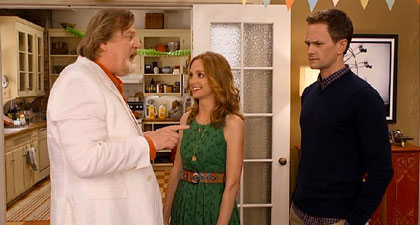 And here we have more angst, as Patrick still has major daddy issues, given that he was abandoned by his real farther as a small child, He has transferred his resentment to Victor, who in truth is a clod, even if kids find him lovable. With Victor and Blue joining the Winslows as part of the Paris rescue, the film juxtaposes their story of family-mending with Smurfette's insecurity and uncertainty about her own family.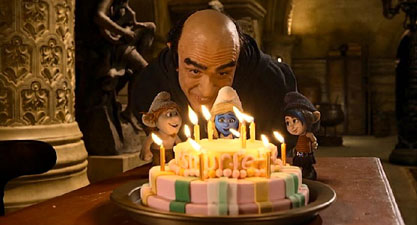 You see, Gargamel realizes that Smurfette won't simply be intimidated into telling Gargamel Papa Smurf's secrets, so Gargamel has his Naughties, Vexy and her brother Hackus, to befriend Smurfette and manipulate her into believing that Gargamel has good intentions. Even as Smurfette escapes Gargamel's clutches, she ends up spending time with the Naughty siblings, and develops feelings of family towards them as she explores her own naughty side. As you might guess, if you've ever seen a movie before, Gargamel's plans looks like it may backfire, as the Naughties also begin to take to Smurfette, and can now see that Gargamel is truly a rotten father to them.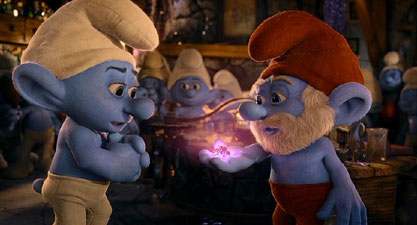 The film has several merry chases, lots of CGI-enhances slapstick, good-natured fun, family pathos, and the obligatory and unfortunate fart joke (sigh). As a parent, I was also a little put off by the mocking of deadly peanut allergies, but I'll get over it. Most of the film is in decent taste. Director Raja Gosnell—– (also known for the Scooby-Doo live action features and Beverly Hills Chihuahua) returns for this film, showing his usual affinity for this type of thing, and gives us a climax that is quite reminiscent of the last film, but this time with the addition of affirming Smurfette's role with the Smurfs, some reconciliation, and a couple of additions to at least one family. Moving the setting to Paris does little to escape the feeling of "we've been here before," but at least there is an effort to explore the characters further and give the grown-ups in the audience something to appreciate.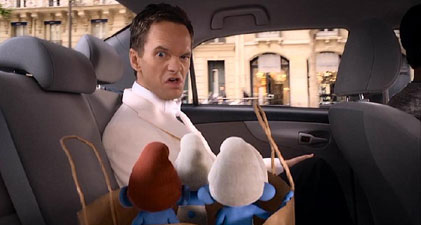 I've never been sold on the necessity of bringing the Smurfs into our world, as they function perfectly fine in their own. In Peyo's Belgian comics, they do interact with humans, but in a type of fairy tale kingdom. Transporting them to our own New York or Paris… is just weird and unnecessary. And with all due respect to NPH, whom we all love and respect, I think the Smurfs can stand on their own. I also think that, if we are going to see the Smurfs in Europe, they could have at least set the film in their native Belgium, don't ya think? Sure, Brussels doesn't have the famous landmarks that Paris does, but I could have done without a big SFX scene at the Eiffel Tower. We have all seen Paris on film hundreds of times, and if I were Belgian, I'd be feeling a little choked that the filmmakers came so close, but settled on setting yet another animated film in France.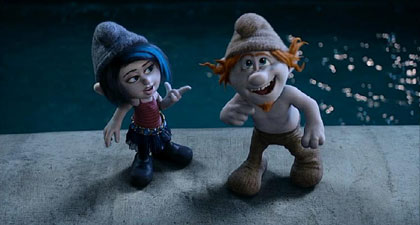 Having said all that, I still found the film enjoyable. For those that think it's not as good as the first, I think they may need to watch it again. The Smurfs 2 is very much on par with the first, and in fact I think I found this one's story more interesting. Maybe I'm just remembering my childhood crush on Smurfette, but I found her story to be authentic and touching. The addition of the Naughties is a welcome enhancement, even if their story arc is just as predictable as Smurfette's.
The Smurfs 2 is at least as good as one could reasonably expect, and maybe a tad better. Once you've made the decision to team them with NPH and his under-appreciated step dad, well— this is pretty much what you're going to get. For myself, I'd be happy to stick with the old graphic albums in the future, but the films are fine for what they are. This is slick, well-produced children's entertainment, with a positive message and a strong focus on family. Who can argue with that?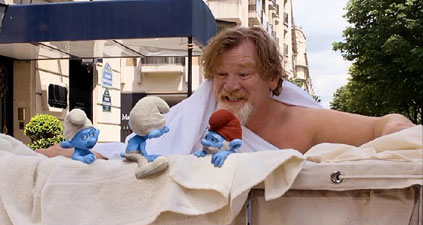 Is This Thing Loaded?
The disc boasts several featurettes, after showing us Trailers for the Smurfs 2 app for Apple devices, Cloudy With A Chance Of Meatballs 2, Hotel Transylvania, and The Smurfs. The menu offers additional previews for Angry Birds Toons, The Swan Princess: A Royal Family Tale, and One Direction: This Is Us.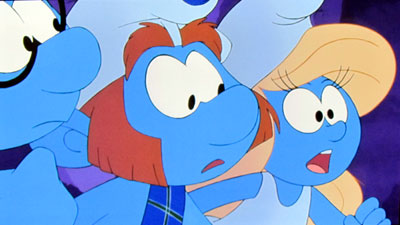 For those that already bought the DVD of The Legend Of Smurfy Hollow (22:15), I'm sorry to say that you could have held off, since it's included here in full high definition. A CGI introduction sees Narrator Smurf telling ghost stories to stranded Smurfs, then this gives way to hand-drawn animation to actually tell the tale, similar to the A Christmas Carol mini-movie shown with the first Smurfs Blu-ray.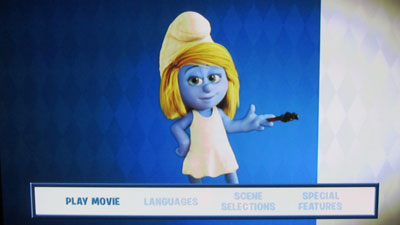 Five Deleted Scenes (3:52) focus mainly on Gargamel's narcissism and cruelty, with a tiny scene extension of the Smurfs just prior to their departure to our world.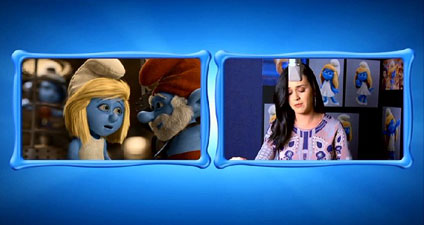 Daddy's Little Girl: Journey Of Smurfette (6:21) has the director, screenwriters, and voice actor Katy Perry discussing the character from the comics and how her journey is explored in the film. Counterpoint: The Naughties! The Tale Of Hackus And Vexy (5:42) tells us more about the "evil Smurfs" introduced in the film, and shows us their voice artists, Christina Ricci and JB Smoove. Evolution Of The Naughties (3:41) further examines the development of Vexy and Hackus.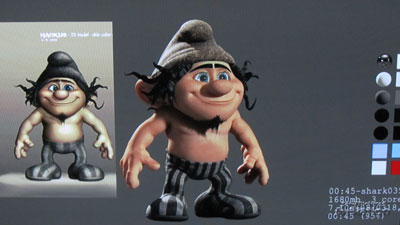 The Puurrfect Companion: Azrael's Tail (4:40) gives us behind-the-scenes footage of the great Frank Welker doing his voice work, with additional commentary by Hank Azaria (Gargamel), director Gosnell, a CGI animator, and others, amusingly describing Gargamel and Azrael behaving like an old married couple. The cat is further spotlighted in Animating Azrael (3:24), which looks at mixing real and digital felines for the film.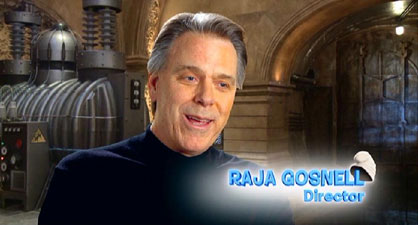 The included DVD carries the same trailers, and the featurettes Journey Of Smurfette and Animating Azrael, plus the deleted scenes.
Case Study:
This Blu-ray Combo pack comes with an additional DVD of the film, with one disc sitting in each side of a Blu-ray case. The embossed slip duplicates the cover art, and its stickers promise to dazzle you with coupons, and (on the back of the slip) an ultraviolet version of the film. There is also a 3D version of the film available at retail, assumedly with the same standard Blu-ray included. The back of the cover lets us know that the film was mastered in 4K; it's strange that they don't push this fact more strongly, like on the front cover.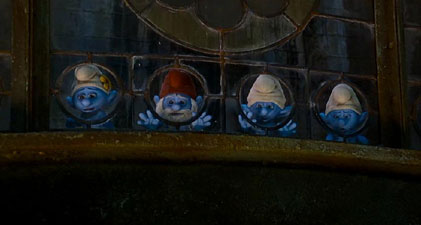 The inside of the case reveals an image of a Smurf getting ready to moon you, in a bathing scene from the film. Hilarious.
Inside the case is the aforementioned coupon booklet, an insert with the Ultraviolet code and info on Sony Rewards, and info on the Smurfs 2 app (purchasable from the Apple app store, and enhanced with unlockable content from the Smurfs 2 Blu-ray).
Ink And Paint:
The 1.85:1 image is naturally pristine, quite capably showcasing the film's many CGI effects, right down to the rubbery blue textures of the Smurfs' skin. Outdoor scenes shine, with detailed foliage and of course the beautiful Parisian scenery. Darker scenes underground or at night still show appreciably good detail peeking through inky blackness. Being mastered in 4K is certainly a benefit, as this transfer is beautifully crystal-clear, though consumers are reminded that the file is then down-converted to regular old Blu-ray quality. This isn't even a "Superbit" version, as the Blu-ray still holds several special features, but that is really okay since the film itself isn't terribly long.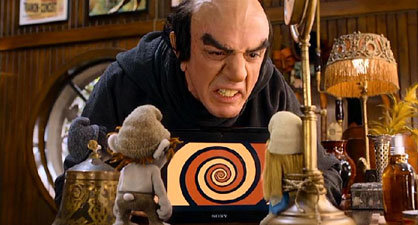 (Note that the screen captures are taken from the DVD. Note also the unsubtle product placement.)
Scratch Tracks:
The sound mix is a playful one, particularly during the chase scenes and copious physical gags. The Danny Elfman's music soundtrack is nicely balanced with the dialog, for a generally fun (but not overdone) sonic experience. A French track dubbed in Quebec also appears in DTS-HD MA 5.1, plus there is a Dolby Digital 5.1 track in Spanish. Descriptive audio is available in English and French; and subtitles are here in English (plus English SDH), French, and Spanish.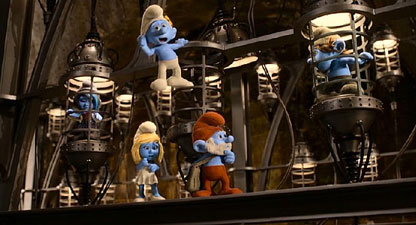 The DVD carries the same language options.
Final Cut:
The Smurfs 2 has more of what we saw in the first film, and does attempt to make a more complex story with both Smurfette and Patrick Winslow coming to terms with their families. Though the film is certainly aimed at kids, the filmmakers need to have something meaty for the adult audience to focus on, and I think that children can certainly identify with needing to find a place to belong, or the struggle to deal with less desirable family members. In the end, everyone in the movie is happy (well, no promises about Gargamel), showing us yet again that all things are possible when you smurf life and smurf the most out of your circumstances. With perfect video and solid audio, plus a fine assortment of bonus features, this Blu-ray is recommended for any lovers of the first film.
Animated Classic or Back To The Drawing Board?