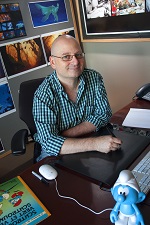 The world's most beloved little blue creatures embark on a new spooky adventure this fall! The Smurfs: The Legend Of Smurfy Hollow is an all-new animated mini-movie from Sony Pictures Animation and Sony Pictures Home Entertainment, making its debut nationwide on DVD on September 10th.
Combining computer animation with hand drawn animation, the 22-minute short was directed by animation veteran Stephan Franck, who served as a supervising animator on The Iron Giant and a story artist on Despicable Me. Franck also created the comic book series Silver, the first issue of which has just been published by Dark Planet Comics.
Recalling the Smurfs' origin in comics, Animated Views' Jérémie Noyer spoke with Franck about Smurfy Hollow and the connection that can exist between comics and animation. Courtesy of Sony Pictures Animation, Animated Views is also pleased to offer several images from the short, including one — the first traditionally animated pic — exclusive to AV!

---
---
Animated Views: You discovered both European and American comic artists through your parents' comic book store in France. How did they influence your career?
Stephan Franck: My first discoveries were the French/Belgium comics (Lucky Luke, Tintin and, yes, The Smurfs). I immediately fell in love with them and tried to turn them into animation. When I was 6 or 7, my parents noticed that the living room coffee table, which had a glass tabletop, had disappeared. Somehow, it had found its way to my room, where I was using it as a lightbox.
Then I discovered the American comics, which were distributed in France in no particular order, so the entire history of 20th century US comics would just pop up randomly on the newsstands. I loved the efficiency and economy of that storytelling. The fact that the story was told visually first, and that the dialog was layered in as it was polished, is what I think made it so powerful. I often still do that when I storyboard a sequence — I play out the beats of the scene visually, then adjust the dialog.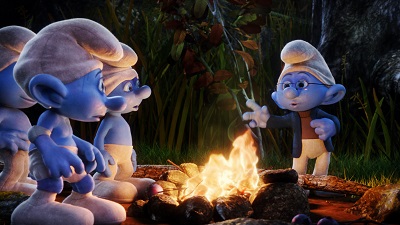 AV: To you, how complementary are animation and comics?
SF: Oddly, my inspiration for animation has always come from comics. I spent the better part of my teenage years doing a short animated film based on The Spirit by Will Eisner — five minutes, all painted on cells, shot on Super 8. So, now that I do get to make actual Smurfs movies, I feel that I've gone full circle. Not to mention that this year has seen the debut of my first actual comic, Silver, with Dark Planet Comics. So, I guess I really am going full circle.
AV: How did you come to the Smurfy Hollow project?
SF: I first came to Sony Pictures Animation with an original feature project called Futuropolis. When it turned out that the project wasn't going to happen, the studio asked me if I would be interested in directing Smurfy Hollow. To be honest, the Smurfs had fallen off my radar a little bit. But earlier in the year, I had helped Raja Gosnell storyboard sequences for The Smurfs 2, and I had a great time reconnecting with the characters. I felt that I knew them and what they were about — which is often about some sort of sibling rivalry. I felt that our story, which is centered on a petty rivalry between Gutsy and Brainy getting out of hand, would be a chance to tell something very true to life and true to the Smurfs I grew up with.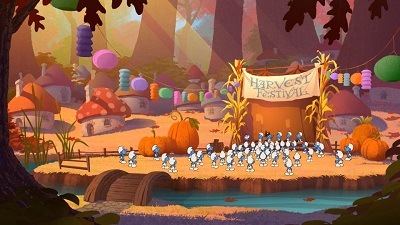 AV: What attracts you to the short film format?
SF: In terms of storytelling, 22 minutes is not that dissimilar from those 22-page comics I mentioned earlier. It forces you to be on point, on concept, and on character at all times. Another way to look at it is a two-act sitcom format. As they say, 10 minutes to get them into trouble, 10 minutes to get them out.
In terms of art, shorts always tend to be a little more adventurous. I guess these days, hand-drawn animation would be considered adventurous. It's really great to finally be able to animate 2D Smurfs at this quality level.
AV: Sony's first Smurfs short retold Dickens' A Christmas Carol. Now we have a Smurf version of Washington Irving's classic The Legend of Sleepy Hollow. How fun was it to revisit a classic like this one and "smurf" it up?
SF: I honestly think that, in the case of Smurfy Hollow, it's the other way around: We didn't try to "smurf up" a classic story. We told a fun, honest character story with Brainy and Gutsy, and we got to throw some fun, spooky stuff into it.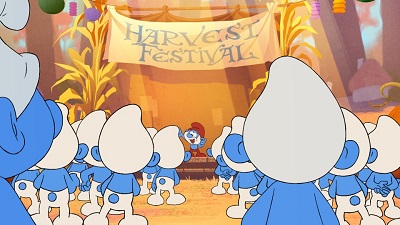 AV: Why did you want to blend computer animation and hand-drawn animation in your movie?
SF: The 2D/3D combo is a format we inherited from the first short, so that was always a given. For me, I love that the 3D allows you all the sophistication of modern filmmaking in terms of using the camera. There's an expressiveness in the use of your lenses, that is hard to replicate in hand-drawn animation. However, the 2D, when well-done, brings you something incredibly charming. Every single scene becomes an entirely unique piece of art, while CG may be more uniform.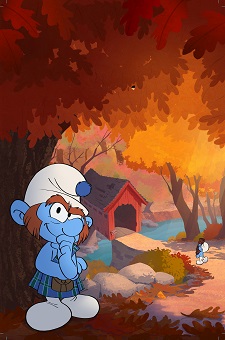 AV: Before directing, you were an animator. How did you work with your crew in that regard?
SF: The basic creative process is the same in both cases. I will do or say whatever I need to convey my approach to the scene. I might do a sketch if there's one key image I'm looking for, act it out if there's a sense of physical comedy, spell out the subtext to make sure we're clear on the characters' objectives — whatever I need to give the animator as solid a direction as I can. Then it's about letting the animators create their performance. Sometimes it's okay to say "surprise me", as long the context is clear. With CG, I find that you get something solid very quickly, and it's really about "breaking it" a bit more to squeeze out that extra five percent that will make the performance. "Raise that eyebrow more." "Tilt the head more." "Push the asymmetry of the pose a bit more." We have a great program that lets me draw over the CG when we're in the screening room. It's really about breaking free from the sameness of the assets.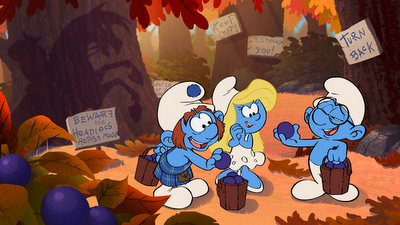 With 2D, it's that challenge of engaging the camera in a specific way. Giving the feeling that a character is shot with a specific lens, and making the audience feel the weight of it, when the illusion has to be in the drawings themselves since the actual lens is completely flat. So, for instance, if we had a close-up scene, pushing in on a character, getting up in his face to get to the truth of some sort of emotion, I wouldn't just flatly zoom in on the drawings. I would ask the animators to animate at least 50 percent of the push in, drawing that wide lens sensation. Also, 2D animators sometimes have an old-school habit of making everything three-quarter, so the goal is often to get them to stay "on axis", especially for close-ups. In both cases, I tried to squeeze as much fun, appeal and expressiveness out of the scenes, while keeping them cinematic.
AV: What makes you particularly proud of Smurfy Hollow?
SF: There is something really magical about seeing all the different groups of artists — writers, actors, animators, painters, composers and musicians — make the material come to life, layer by layer. They are all very generous with their passion and talent, and I'm extremely proud of the chance to be working with them. And of course, the response to the short has been very positive, and I'm very proud of that.
AV: What is your next project?
SF: I'm working on a new project for Sony Pictures Animation that hasn't been announced yet, but I am very excited about it!
---
---
---
---
Our smurfest thanks to Stéphan Franck, Olivier Mouroux, Steve Argula and James Adams!