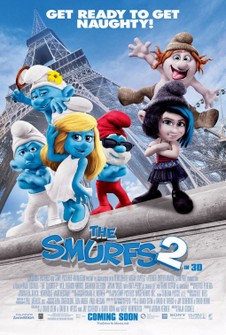 The Smurfs 2, the sequel to Sony Pictures Animation's 2011 live action/computer animated success The Smurfs, hits theaters nationwide today. Hence, Animated Views would like to pay tribute to the creator of the little blue men, Peyo!
The story of how Peyo created the Smurfs is a fascinating one indeed, as detailed by the artist's official bio from publisher Dupuis:
Born in Brussels on June 25, 1928, Pierre Culliford, known as Peyo, started at the CBA studio shortly after the Liberation as a painter in gouache. Here, he sketched his first imps for an animation project entitled Un Cadeau à la fée. Alas, the company collapsed in no time, leaving the film in the early stages and throwing its artists, Franquin, Morris, Paape and Peyo, out onto the street.

Although the first three found work at Dupuis in no time, Peyo did a little bit of everything for five years to earn a living: he drew flowers on lampshades, illustrated advertising brochures and besieged advertising agencies to get odd jobs which would help him to learn the rules of graphic composition.

At the same time, he created a lot of work and had some of it published here and there in 1946; a few small stories with the Indian Pied-Tendre and the scout Puce in 1946 in Riquet, the supplement of the daily newspaper L'Occident; Une aventure de l'inspecteur Pik in Le Petit Monde, the promotional weekly magazine of Bon Marché, in addition to the first brief appearances of the little page boy Johan in the weekly youth section of the newspaper La Dernière Heure.

Between 1949 and 1952, Le Soir accepted 25 short strips involving the kitten Poussy and two short Johan adventures for its weekly page for young people. With the exception of a single cartoon, accepted for a cover of Moustique in 1949, all his attempts with Dupuis proved fruitless, until he entered by the main door thanks to the recommendation of his friend Franquin. Providence had crossed their paths in a café in Namur.

Recommended by his guardian angel, Peyo was to see the physique and hair colour of his lucky page boy again. He reworked his original cartoon strips several times, becoming as much of a perfectionist as his senior, and later passed on his experience to his juniors.

Since he first appeared in Spirou on September 11, 1952, Johan had a favourable reception, and the appearance of Pirlouit in 1954 gave rise to real enthusiasm. There was a genuine frenzy when the Smurfs and their special language joined this little medieval universe in 1958.

Intended to be secondary characters who were only to appear in the single episode of La Flûte à six trous, the little blue imps – direct descendants of the sketches for Cadeau à la fée – were a big hit. Yvan Delporte crowned them the stars of mini-stories, with the little strips and boxes being perfectly designed for their size. The public were soon demanding that they have their own independent adventures in bigger comic strips, like real heroes, with their own series of traditional books. And the Smurf language spread faster than Esperanto or Volapuk.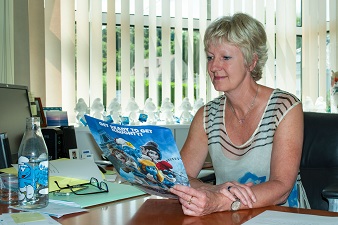 In honor of Peyo and his influence on The Smurfs 2, we were privileged to talk with Véronique Culliford. Meeting Culliford is a magical mix of dream and reality due to her being both Peyo's daughter and Smurfette herself – as a child, she was the inspiration for the character's design! She is the president and founder of I.M.P.S. (International Merchandising, Promotion & Services) which is responsible for the licensing and promotion of the Smurfs intellectual property. She also co-produced both Smurfs movies.
With communicative enthusiasm and true devotion to her father's work, Culliford kindly talked with us about the heritage of Peyo in the modern adventures of the Smurfs, culminating now with the theatrical release of The Smurfs 2.
---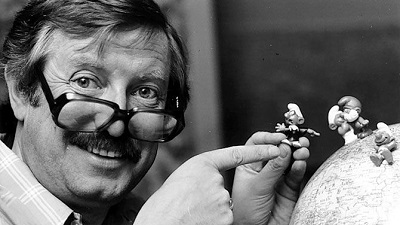 Animated Views: Peyo's first passion was cinema. And now, the Smurfs are movie stars – we have come full circle!
Véronique Culliford: Absolutely! He was a teenager at the end of the war, and he had lost his father. His mother was alone at home with three children, so they decided it would be better to stop studying and start working. So, he became a projectionist. That's how he discovered American films and cartoons and became passionate about that.
He's always been an artist. At school, he used to draw on his copy-books! His first job as an adult was in animation. The movies were just the continuation of his passion for art.
AV: Can you tell us about the creation of the Smurfs?
VC: At the time, he was a full-time comic artist. His main series was Johan & Peewit, and for one story, he wanted to introduce little gnomes. It was first published in the Spirou comic book magazine, and the title was La Flûte à six trous (The Flute with Six Holes). Yet, the success of those little characters was such that, when it was decided to publish the book version of the story, they changed the name to La Flûte à six Schtroumpfs (The Flute of Six Smurfs).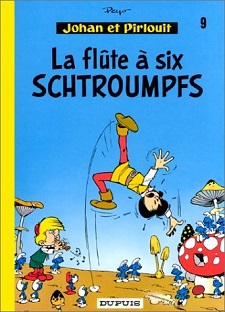 AV: Why are they blue?
VC: My mother, who has always been the colorist of my father's albums, chose the blue. She hesitated between different colors. It couldn't be a human color since they're not humans. Red was too aggressive. Green and brown would blend with the colors of the trees – you wouldn't have been able to see them! So, what about blue?
AV: Then, from comic books, the Smurfs went to TV through Hanna-Barbera Productions.
VC: As we said, my father had always been an animation fan, and he was delighted to have his characters go from paper to television. He was very excited by this new adventure. The series was a hit on NBC for nine years, from 1981 to 1990. It was very unusual to see such European characters succeed overseas. It was the Smurfs' publisher, Dupuis, through their animation division, who contacted NBC with a 2- or 3-minute pilot short. At the time, the head of NBC had a granddaughter who always had a Smurf plush with her, and he was wondering what it was. As soon as he saw the pilot, he understood and decided to produce the series.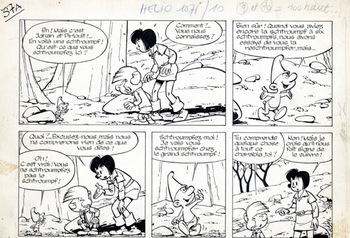 AV: In 1984, you founded your company, I.M.P.S., that's responsible for the Smurfs' rights. Can you tell me about your role?
VC: It's not about managing a product – it's about managing a heritage. I had worked with my father for five years in the late '70s, and I founded I.M.P.S. in 1984 in order to manage the licensing. Then I started to oversee the broadcasting of the series worldwide – except in the U.S. since Hanna-Barbera did it there – and also the albums. For 30 years now, it's a whole Smurf environment that we have to manage worldwide!
AV: As I understand, it's not just about rights, it's about respect.
VC: My father was very much attached to the respect of his work and values. And so am I. Smurfs do not deal with politics, religion, alcohol and those kind of things. That's very important to us. That's my role, to see to it. Also, I have to make sure quality is maintained in all of the Smurfs products.
AV: And we see the same respect in the Smurfs movies?
VC: Absolutely. It took a lot of time to complete our deal with Sony, and then to complete the movie. Our first intention was to have the movie released in 2008, for the 50th anniversary of the Smurfs, but it took a little longer.
We all agreed the film needed to be a mix of live-action and animation. I admit I was surprised at first when I heard about Sony's idea to put the Smurfs into our contemporary world. But when I read the first draft, I was fully reassured, since the way the Smurfs entered our universe was just perfect. They got out of their village but had to get back to it in the end. So, we were true to the spirit of the stories my father created, and I was certain he would have liked doing a movie like this one.
There was a great deal of imagination and creativity in the first movie. It allowed a unique, Smurf perspective on a huge city like New York; the comparison between the two worlds was really interesting.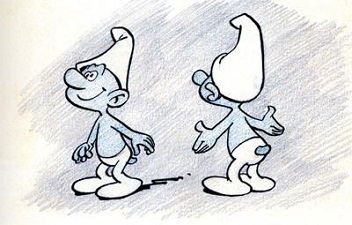 AV: How was Peyo as a storyteller?
VC: My father was first and foremost a storyteller, before being a comic artist. He was always very specific in his way of writing. He created stories for children, that could be interesting and entertaining for adults, too. And we see that in the movies.
Jordan Kerner, the producer of the movies, understood that very well. He did a lot of research about the Smurfs. He's so respectful, almost more than myself. He and I saw that every single detail of the movies was respectful to my father. We were very fortunate to have him on board!
AV: In the first Smurfs movie, there was an extreme delicacy in the depiction of that young couple expecting a baby, of the arrival of the Smurfs into their lives, and how they interacted.
VC: Exactly. That's something I realized: the kids who discovered the Smurfs in the '80s and '90s are now young parents. It was such a nice way to have the Smurfs come into their universe. They're the Smurf generation!
AV: What about that family dimension in The Smurfs 2?
VC: It's even stronger. Many things evolved from the first movie to the second movie. There's more humor, more action, but also more emotion. It's still a Smurf story, but their meeting that little kid with the rest of the family is very moving and very strong. It's all about the relationship between grandparents and grandchildren. The movie also explores the fact that just because you were created by someone doesn't mean you belong to him. It's about true love. No matter where you come from, it's who you want to be that matters. Just like Vexy – whose design is a nod toward Peyo's early version of Smurfette. It's really a family movie, and that's what I love about it. It's really fantastic!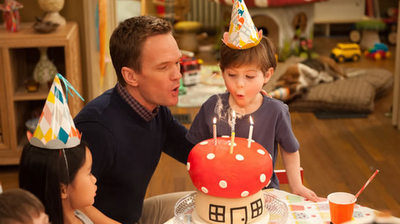 AV: How did you deal with the Smurfs becoming computer animated?
VC: I took great care to it. We did the conversion here, in Brussels. We have our own digital studio, and we did tests here to see if it would be possible to computer animate the Smurfs. Everybody agreed that they were just perfect for computer animation! From comics to hand-drawn animation on television, and now to computer animation, the evolution is wonderful and always revealing different aspects of those lovely characters.
AV: What were the challenges of that transformation?
VC: The proportions, first, and then the texture of the skin. It had to be not too "plastic," but not too "human" either – not too many muscles, no hair. They had to look like people from another universe, but at the same time, because of the computer animation, they had to act like humans.
AV: To me, the most astonishing aspect of the transformation was…
VC: …the eyes, I'm sure!
AV: Yes.
VC: At first, journalists told me they were shocked by the eyes. I admit I was also surprised. Then I realized all the emotion goes through them. In The Smurfs 2, they improved the technology even more. The eyes look even more "alive." That's amazing!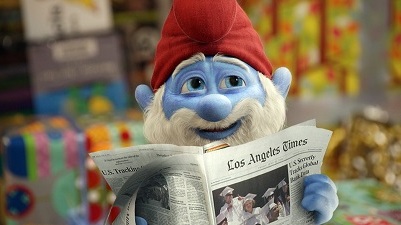 AV: The Smurfs 2 has just been released, and there are already rumors about a third movie.
VC: Actually, our deal with Sony Columbia concerns a trilogy… and maybe more. We've already started working on that third movie. I can't tell you more, except that I'm so excited! In the meantime, I do hope you'll enjoy The Smurfs 2!
---
---
---
---
Our smurfest thanks to Madame Véronique Culliford, Olivier Mouroux and Steven Argula!