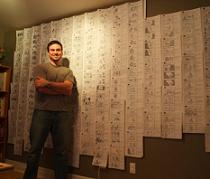 There's always surprises in Santa's sack. This holiday season, the surprise lies in The Smurfs 3-Disc Holiday Gift Set on Blu-ray: an all-new "mini-movie" The Smurfs: A Christmas Carol, directed by Troy Quane, whom we have previously met on Disney's Enchanted.
Troy began his animation career in 1995, when he was hired out of Sheridan College as a Character Designer for Phoenix Animation Studios in Toronto. Within three months he was promoted to Production Designer, then spent the following eighteen months as an Art Director and Design Supervisor for numerous various productions at the studio.
In the summer of 1996, Quane was hired as a traditional animator for Walt Disney Animation Canada's new studio in Toronto. There he worked on a multitude of direct-to-video productions including Beauty and the Beast: The Enchanted Christmas,Pocahontas II: Journey to the New World and Mickey's Once Upon A Christmas.
In 1999, he left Disney to embark on a freelance career. Over the next few years he progressed to Senior Animator on various top end commercials and feature films including Fox Feature Animation's Titan A.E., Disney's The Tigger Movie, Warner Bros. Feature Animation's Osmosis Jones, Sony's Eight Crazy Nights and Universal's Curious George.
In 2003, Quane joined the story crew for The Wild, a CGI feature film executive produced by Kevin Lima, before working as a story artist on the director's critically acclaimed live-action & hand-drawn animation hybrid film Enchanted. Most recently, Quane joined Sony Pictures Animation to direct the twenty-two minute short film The Smurfs: A Christmas Carol, a mini-movie, which combines CGI and hand drawn animation and that we are speaking to him about today…
---
Animated Views: What have you been up to since Enchanted and how did you get to direct The Smurfs: A Christmas Carol for Sony?
Troy Quane: After Enchanted, I continued to work from Toronto as a story artist on a few series and films such as Shane Acker's 9. I also began doing more development work on films like The Incredible Mr. Limpet and Candyland, becoming involved at a much earlier stage. One of these development projects was a film at Sony Pictures Animation (SPA), which eventually led to me being hired by the studio and relocating to LA. I continued to help develop projects for SPA while also lending a hand storyboarding on Arthur Christmas and Hotel Transylvania. And that's when the opportunity to make The Smurfs: A Christmas Carol came along.
AV: From storyboard artist to director, do you see a natural evolution? Was it a desire of yours to get into directing?
TQ: Absolutely! When you get a scene as a story artist you find yourself going through a very similar mental checklist as you do when you're directing. What is the arc of the scene? Can I elevate the material? What do the characters want and how do they go about accomplishing that? What camera angle best expresses what you want to get out of the shot? What's the pacing of the scene? Character performance and dialogue? The lighting? The location?
Sometimes you even consider how the art direction and color of specific details will affect what you're trying to say in a shot or across the entire scene. With both story art and directing, it's about telling the best story possible with the tools you have at your disposal. As a director, I love the challenge of being faced with all of these decisions and having the opportunity to bring my creative vision to the film as a whole.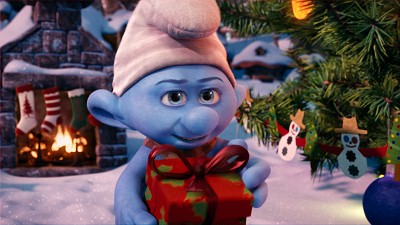 AV: What interested you in that project?
TQ: I grew up with the Smurfs. Not the television series, but the original Peyo comics. Being from Canada, we would get the French language comics a lot. It was those Smurfs comics and another comic series in French, Asterix, that actually inspired me to start drawing and led me to animation. I would draw from those books for hours, creating my own characters and stories, and making my own comic books. So when Sony Pictures Animation offered me the chance to do the same for them, with these characters I've drawn and loved since childhood, I leapt at the opportunity.
AV: A Christmas Carol has often been adapted to the screen. What did you want to bring Dickens' novel through the Smurfs' eyes?
TQ: The advantage of working with such a well-known story, is that it frees you to focus on the characters and emotional heart of the film. People already understand the framework of the plot; Scrooge, the three ghosts, etc. You have the same benefit with the Smurfs: the audience is already familiar with these characters so you don't have the same pressure to reintroduce them. Of course, as much as this familiarity helps in some ways, it puts pressure on you to keep it interesting and unexpected.
Christmas is hands down my favorite time of year. My family is from northern Ontario in Canada, and I was lucky enough to enjoy the traditional, picture-perfect postcard holiday growing up. It seems like so many current holiday stories are so cynical, I wanted to unapologetically embrace the spirit of Christmas. The Smurfs are the perfect choice for expressing this kind of undiluted enthusiasm with sincerity, you believe the truth in these characters. Taking these open hearted characters and placing them within the timeless framework of Dicken's A Christmas Carol just felt like the right fit.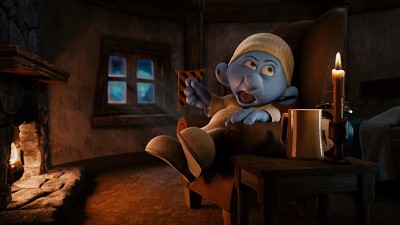 AV: What challenges did you face, story-wise, and how did you deal with them?
TQ: One of the trickier challenges we had to deal with was actually our main character. The natural casting for our "Scrooge" character is of course, Grouchy Smurf. The difficulty there is, Scrooge goes from being a greedy miser to becoming generous and cheerful. Grouchy has to not only begin Grouchy, but also has to end, well, Grouchy. It's not just a character trait, it's also his name! It took a lot of careful story balancing to give a mono-emotional character a full story arc, but I think people will be surprised at how heartfelt this pessimistic little guy can be.
AV: How did you build your crew? How did you choose the artists?
TQ: My producer Kurt Albrecht was instrumental in working with the studio to bring together all of our artistic talent. He helped secure one of our top editors, a fantastic composer in Christopher Lennertz and Academy Award winning sound designer Rob Sephton.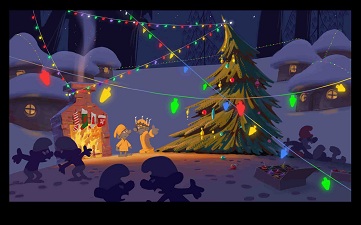 AV: Design-wise, what was your approach (along with Andy Gaskill), regarding the original Peyo design?
TQ: First of all, I have to say what an honor and a pleasure it was to work with art director Andy Gaskill, and to be lucky enough to have someone of his calibre on this project was invaluable. His ability to speak the language in both the CG and 2D worlds had a profound effect on how we were able to keep the quality level of the art so high.
Since we knew that a big portion of our animation was going to be 2D, it was obvious that the design style of the characters should embrace their hand-drawn heritage and be from Peyo himself. We stayed as true as possible to his original designs. The CG was going to be the same as the feature. So that left us the environments to play with. When I start on any project, I like to gather reference and inspirational work. As I started on the Smurfs short, I stumbled across this unbelievable book. It was a collection of Christmas cards, designed and painted by Eyvind Earle (Sleeping Beauty). You should see this thing, it's amazing!
Anyways, that got me thinking that the perfect design inspiration would be Christmas cards. So when Andy came on board, I pitched my thought to him and he took up the idea and ran with it. From there we chose colors and design styles based off classic Christmas cards for each of the time periods (Past, Present, and Future) as well as using this idea as a guide when dressing the CG sets for the holidays.
AV: The short is a mix of 2D and 3D animation. Can you tell me about that aspect?
TQ: I was so excited about the idea of mixing the 2D and CG animation! It felt right in the way we were planning to tell the story as well as a nice nod to the Smurfs history as a hand drawn comic, but also because I spent the first ten years of my career as a traditional animator. It was fun to get to play in that sandbox again. All of the excitement aside, the biggest challenge that this idea of 2D animation presented was, Sony Pictures Digital Production is, well, a digital production company. We don't do traditional hand-drawn animation! So we partnered up with a studio here in Los Angeles called DUCK Studios. It was great to be able to use a local production house, we drew on a lot of incredibly talented artists who have worked for all of the big animation studios. We even had a few artists that had worked on the series!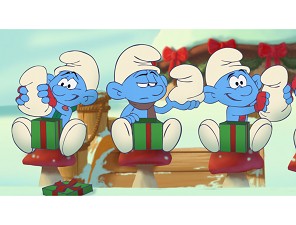 AV: Part of your crew were character animator Nick Starcevic and visual effects artist Daniel Kramer who worked on this summer's Smurfs feature film. Was it a way to stay close to the movie, animation-wise?
TQ: This was a HUGE bonus. We were lucky that the timing of our short put us right in line with the end of production on the Smurfs feature. The artists literally rolled over from the film onto our short. So the quality of every aspect of the CG in our Christmas Carol is full feature quality, by the exact same crew that made the feature! Working with Daniel Kramer was a fantastic experience, his eye for detail and the demand for quality both he and every member of his crew had was amazing. They would constantly surpass my expectations. I can't say enough about them.
Poor Nick, I had him going over and over this one particular shot! It was huge and there were specific production needs that had to be addressed, and the details kept shifting on him. He not only pulled it off, but it's a fantastic piece of animation. Nick and I actually go back a number of years. It was an unexpected bonus to get to work with him again, as well as animators Mike Beaulieu and Mike Langford. We all met when we were animating on The Wild for Disney back in Toronto.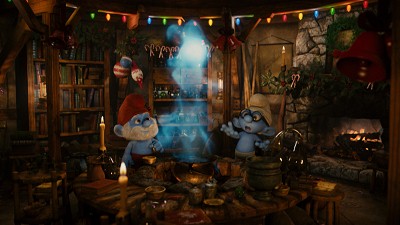 AV: In the voice cast, Jack Angel plays Papa Smurf. He was an additional voice artist in the original series. Did you share some memories with him about that?
TQ: Jack Angel is a total character! A born entertainer. From the moment he stepped on the sound stage, he was regaling us with hilarious stories and anecdotes, not only about the original series but Hollywood in general. I loved working with him and all of our amazing cast.
AV: What about the score of the film, by Christopher Lennertz?
TQ: Having the opportunity to make this film has been an incredible experience. I love learning new things, and being able to work hands on with every department from the conception of the idea to the last second of post-production has been an invaluable education. For me, working with our composer and his music team and being part of the orchestration of our score was both fascinating and exhilarating. The music is so important to help set the tone of a film, it influences how the audience perceives what they're seeing on screen. It's something I haven't had experience with before now, and I loved every minute of it.
I truly feel like we've managed to create a film that is as visually beautiful as it is completely honest and heart-felt. I feel so fortunate to have had such an unbelievable crew of artists and production staff that never showed up willing to give anything less than 200%.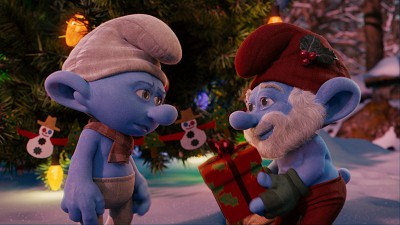 AV: You were also a Storyboard Artist on Arthur Christmas, to be released this holiday season. Can you tell me about that experience?
TQ: Between this and Smurfs, it feels like I've been caught in a holiday time warp for over a year now! I came on board Arthur Christmas at the very end of its story schedule, so every day was crunch time. We had to get through a lot of material fast, but the story crew I was working with was world class.
AV: What are you up to now?
TQ: I'm currently heading up the development on two features here at Sony Pictures Animation, both of which I'm incredibly excited about. One hasn't been announced yet, so unfortunately I can't speak about it. The other is Popeye. It's a character and world with such rich mythology, and everyone here at Sony is excited about being able to re-introduce him to new generations around the world. It's going to not only be a great story, it's going to be visually amazing as well!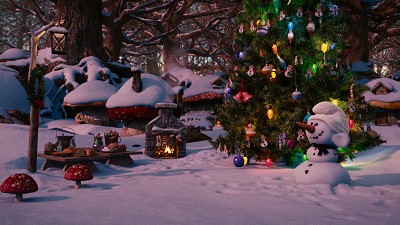 ---
---
The Smurfs / The Smurfs: A Christmas Carol
Three-Disc combo Blu-ray / DVD
is available to order now from Amazon.com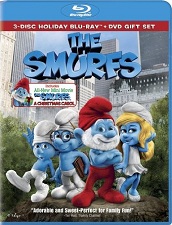 ---
---
Our deepest thanks to Troy Quane and Olivier Mouroux.
Visual development by Andy Gaskill. All rights reserved.