Hanna-Barbera (October 31 1993), Warner Home Video (August 28 2012), single disc, 70 mins, 1.33:1 original full frame ratio, Dolby Digital Mono, Not Rated, Retail: $17.98
Storyboard:
A group of trick or treating friends find their best friend Pip's life is in danger and embark on a journey of discovery, meeting the mysterious Moundshroud, who reveals the origins of Halloween and how the friends might just save Pip…
The Sweatbox Review:
Despite his inarguable huge presence in print, the brilliant storyteller and novelist Ray Bradbury's work has almost never been translated to film very well. There were the early television anthology series adaptations of his short stories, of course, such as one-off episodes for Alfred Hitchcock Presents and The Twilight Zone, and the schlocky-horror of It Came From Outer Space, inspired by one of his stories, but initially in features Bradbury's name came from writing screenplays based on other authors' material. John Huston's masterful direction of Moby Dick was due in great part down to Bradbury's re-writing as mush as it was down to Gregory Peck's performance in the 1953 classic.
In 1966 perhaps his best known work, Fahrenheit 451, became the much-lauded Francis Truffaut movie, and despite an apparently tough shoot it remains a true classic of cinema and continually resistant to any substantial attempt to remake it. Rod Steiger was The Illustrated Man three years later, but only three of the book's fifteen-plus stories were picked and the involving themes and questions asked on the page struggled to make it to a convincing screen adaptation. On the small screen there have been many more translations, although the lower budgets and, sometimes, aspirations seem to limit the material to the point that, while the ideas are certainly there, they can't always be conveyed convincingly.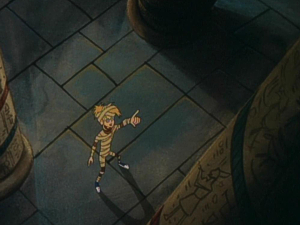 Bradbury often made a point of setting some of his more personal or semi-autobiographical stories in a small 1920s American town, usually referred to as Green Town and based on his childhood home. Dandelion Wine and Something Wicked This Way Comes are among the most well read, with Something Wicked also becoming a notorious live-action Disney movie – notorious for all the wrong reasons. With a screenplay penned by Bradbury himself, this was finally a chance for the writer to work with the Studio founded by his old friend Walt Disney, but the shoot was anything but magical, with scenes being added, then cut, and the director being overridden numerous times.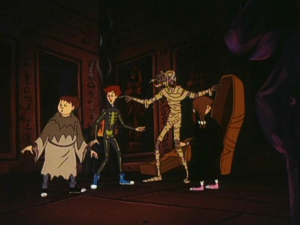 Made during the period when Disney was trying to appear more edgy and in line with the somewhat darker story demands of movie audiences, Something Wicked was the casualty of a Studio worried about the balance between being too scary…or not scary enough. Bradbury wished to stay true to his novel, but director Jack Clayton, under pressure from the head office, wanted to create a more wistful and family-orientated piece. The film itself is wonderfully atmospheric but does suffer from the differences in tone: Georges Delerue's original music was replaced by – it has to be said – a perfect James Horner score, when several scenes were revised, and an early cut was only brought into line with Bradbury tradition by adding a new opening narration and alternate ending.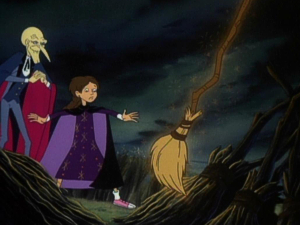 The experiences on Something Wicked were unfortunate: the movie was almost universally panned (it deserves reappraisal after all this time) and was a commercial disaster; scarring Clayton emotionally, he only ever made one other film some five years later. Bradbury would work with Disney again (for The Wonderful Ice Cream Suit, released by Touchstone direct to video in 1998), but mostly endorsed radio and TV versions of his short stories: the 1985-1992 Ray Bradbury Theater successfully adapted 65 of them for HBO, with Ray introducing each episode in the style of his friend Walt Disney, sitting in his office and remarking upon various mementos and their ability to inspire his stories.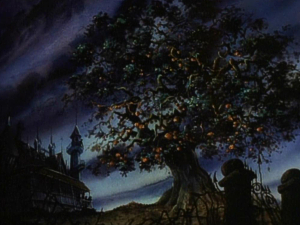 Often narrating the openings to each story, this same approach is taken to Hanna-Barbera's animated adaptation – the only translation of a Bradbury work in this medium as far as I am aware – of The Halloween Tree, based on the author's 1972 book. Working from a screenplay by Bradbury himself, anyone that knows his voice will recognize it immediately from the opening scenes, and he lends the "film" (otherwise a longer than usual television special) a definite authority. The Horner-like score by feature composer John Debney also consolidates the ambitions of the program: this is certainly a step up from the usual kind of Saturday morning cartoon fare we may be more accustomed to.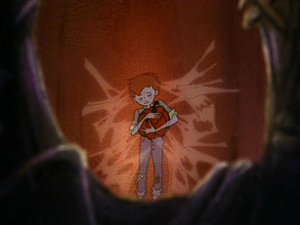 Perhaps because it is clear that holiday specials can become perennials that can be re-run each year, producers tend to spend out a little more on them at the time, and The Halloween Tree certainly benefits from a lavish treatment (although this is its first time on disc, it remains a Cartoon Network staple). The original concept was for Bradbury to work with Chuck Jones, back in 1967 when the animation director was in the midst of his popular Dr Seuss adaptations. That film didn't happen, but it provided the basis for Bradbury's later book (reissued in 2005 in even longer form with both '67 and '92 screenplays included) and this eventual adaptation.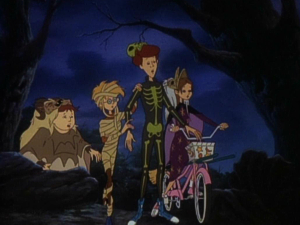 Naturally, the book has been condensed down: instead of eight boys, the group of kids that journey with and confront the supernaturally tinged Moundshroud consists of four, one of which is a girl, and even the original Pipkin's name has been shortened. But the changes work for the screen, tightening the story and making sure there aren't too many protagonists to try and keep track with. The shorter than feature-length run time wouldn't have allowed for too much deviation anyway: there's more than enough actual plot in The Halloween Tree to intrigue and hold the attention. Bradbury's writing and narration offer a warmth all-too missing from other narrated works, and it really comes over like a good old bedtime story.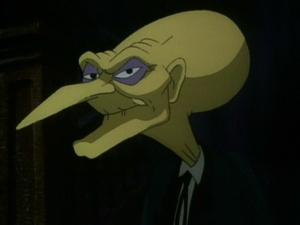 The other voices are great, too: there are none of your standard issue celebrity kids providing the vocals, even if each contributor has had impressive careers outside of this outing. Bradbury aside, the only major "star" vocalist here is an unrecognizable Leonard Nimoy, providing Moundshroud with just enough uncertainty to his lines: he's clearly not all that he seems, but is he or isn't he truly bad, we keep asking ourselves, until the answer comes too late for one character. There's also much to engage in the story itself as the kids travel through time and space, spanning the globe back to various Halloweens past including ancient Egypt, where they discover the consequence of mummification, and medieval Paris, to an as-yet unfinished Notre Dame Cathedral.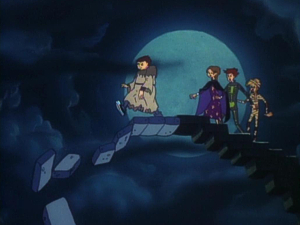 It's quite spooky stuff, albeit in an animated kids TV special by Hanna-Barbera, and the book's themes of death, ghosts and revival are deftly handled amongst what is essentially a very good adventure story. It's no mystery as to why The Halloween Tree earned an Emmy Award for its screenplay, but just as impressive are the film's visuals, a cut-above the usual HB norm. Especially matching Bradbury's poetic words are the beautiful backgrounds, most of them much more detailed that one would expect and some of them actually quite striking and almost like painted autumnal studies of small town America (in these respects, and others, the influence of the Something Wicked film's tone is clearly felt).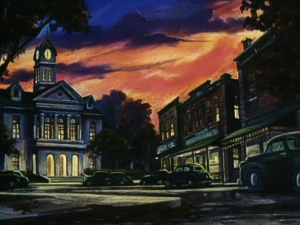 The animation couldn't ever really be described as feature quality, or anything near it, but there's certainly more care and attention gone into its planning and execution. Bradbury gets the major screen credit here, but producer/director Mario Piluso earns kudos for his imaginative staging and various unique camera angles, which just about save the day when some of the layers and characters can come over a little too flat. This is especially apparent during some of the large scale special effects sequences when the TV budget cuts in, but in other ways this could well be the perfect Ray Bradbury movie too, if not for that curbing of some of the bigger visual ambitions: with these respects lacking, it could perhaps be best described as the purest Bradbury adaptation.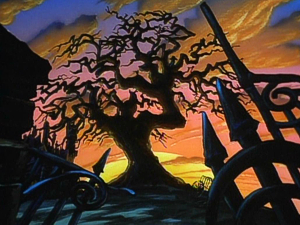 I had, alarmingly, not even known a screen treatment of The Halloween Tree even existed and so was excited to finally catch it on this new DVD. Certainly the tale conjures up some excellent and intelligent family entertainment that should thrill children and keep the grown ups watching too, and Bradbury's own narration provides a fitting testament to his immense talents as a storyteller on the page and in voice. In a nice touch, his Disney connection continued recently, with Ray attending the inaugural presentation of Disneyland's own Halloween Tree in 2007, now a decorative part of the annual park-wide spooky celebrations. It seems each year Bradbury's work remains alive as it ever was: the Tree continues to grow…
Is This Thing Loaded?
As a Warner Archive title, The Halloween Tree enjoys no bonus features whatsoever – we don't even get a Warner Home Video logo! I'm sure some promotional material must have been assembled in the run-up to the program's original airing, or even some kind of preview to aid international sales, but there's nothing of that sort here. There aren't even any trailers for other Hanna-Barbera spook-fests or even a short featurette on how to carve out your own jack-o-lantern. The static menu is as basic as they come, too. Disappointing, but not unexpected.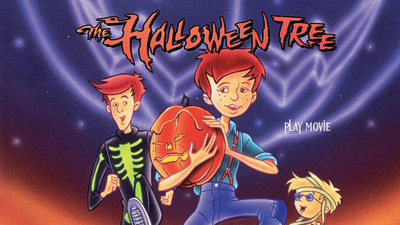 Case Study:
Warner Archive's usual branding takes a back seat to the Hanna-Barbera Classic Collection banner this time out, bringing The Halloween Tree more in line with previous releases. The lack of a true DVD logo remains disappointing on the Archive's more recent editions, but it's a minor gripe and the artwork on the sleeve and the disc itself is colorful and descriptive enough.
Ink And Paint:
Apparently newly remastered, this appears to mean that they took the original TV master and ran it through a digital clean-up processes because otherwise The Halloween Tree looks exactly as one would expect a 1990s animated television special to look. The original and correct 1.33:1 image is smooth enough if sometimes a little too soft and obviously taken from video, although pleasingly any color cross talk is mostly non-existent across the pretty dark artwork (the film mostly being set at night or in low-light locations and filled with Halloween blues and purples), and the average 8mbs bitrate means compression is a no-show.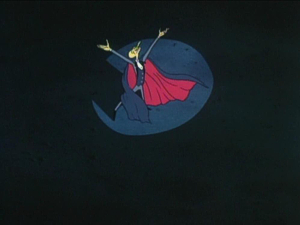 Scratch Tracks:
The Halloween Tree is designated a monaural soundtrack on the sleeve but the Dolby 2.0 track sure sounds like it has more depth to it than that to me. It's nothing a banshee could really scream about but it does the job, and Debney's lush, fully orchestral score certainly sounds nice and wide. If it is mono then it's a shame but perhaps understandable that a stereo mix couldn't have been found (Surround was certainly in effect for prestigious TV productions even then) or that the score couldn't have been featured from the no-doubt stereo recordings on its own track, but then this is a barebones Archive title after all, and what we can hear here is perfectly fine.
Final Cut:
Ray Bradbury branches out (sorry!) into animation with style: The Halloween Tree is an engaging surprise and certainly a quality entry in the author's screen adaptations. It may not be as well-known as some of the bigger live-action pictures, but Hanna-Barbera step up to the plate to deliver a quality special and Warners' disc offers a decent enough sound and visual appreciation of everyone's efforts.
Animated Classic or Back To The Drawing Board?