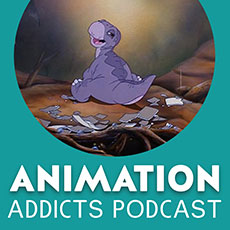 Learn more about The Rotoscopers!
The Rotoscopers kick off their Dinos & Dragons series by reviewing Don Bluth's 1988 classic The Land Before Time!
Runtime: 1:27:59 / 84.5 MB
Highlights
• Main Discussion: The Land Before Time (1988)
• The commercials and merchandise of this film. Pizza Hut birthday commercial and Pizza Hut puppets, anyone?
• The Land Before Time beat out Oliver & Company!
• This movie is the epitome of childhood epitome.
• Originally started as "Bambi with dinosaurs." Why do the animated mother's always have to die?
• Props to Don Bluth for his stunning hand-drawn effects like bubbles, tar, egg shell fragments, lava, rain, and, of course, the classic Don Bluth sparkle.
• 9 minutes of cut footage, mostly of sharptooth attacks scenes.
• Mason Conspiracy Theory: Littlefoot is a jinx.
• Many themes in this film: segregation, dealing with loneliness,
• Listener Twitter Question: How important was The Land Before Time to your childhood?
• We rate it!
• Mail bag
• Don't forget to use the hashtags #AnimAddicts and #DonBluthDazzle when talking about this episode on Twitter!