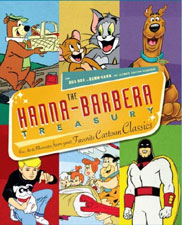 The Hanna-Barbera Treasury: Rare Art And Mementos From Your Favorite Cartoon Classics
By Jerry Beck
Insight Editions
November 20, 2007
Hardcover
$45.00
---
I love Hanna-Barbera cartoons. I always have. Oh, not all of them, maybe— though I can find even the weak ones appealing. Growing up on the work of Bill Hanna and Joe Barbera was a joyful thing to me. I used to race home at lunchtime from school to watch the reruns of The Flintstones, and naturally my Saturday mornings were filled with favorites from the H-B studio— Jonny Quest, Scooby-Doo, Jetsons, Super Friends… and so many more. My childhood experiences made me a lifelong fan and defender of the studio. I guess it's the haze of nostalgia that partially blinds me to the weaknesses of much of their later output; but anyone who wants to argue against the value of their pre-1970 series will get an earful from me. The stuff they did up until (and including) the first season of Scooby-Doo, Where Are You? is largely golden in my eyes. Those late 1950s and 1960s shows had uncommonly good writing, exquisitely sharp timing, and wonderful voice acting. Okay, there were a few lesser shows in there, but even when scripts got to feeling recycled, the other qualities were still present. Something may have faded in-between Huckleberry Hound and Magilla Gorilla, but I still find the majority of the H-B series from the 1950s and 1960s vastly entertaining. It probably helped that, just as the funny animal shows were getting stale, they switched over to superheroes and other concepts. Fortunately, this is the era where Jerry Beck decided to focus when writing his new book on Hanna-Barbera cartoons. Ironically, the time period covered by this book ends just a year before I was born, so my own knowledge of these shows comes from reruns, books, and DVDs, but I know these are the classics. Beck begins with the theatrical Tom And Jerry shorts that Bill and Joe did at MGM, before moving on to Ruff And Reddy and the successive TV cartoons, up to the original Scooby-Doo.
Beck has compiled what the cover describes as a scrapbook, filling the pages with wonderful photographs and replicas of artwork and memorabilia. This is not a book to give the reader a complete look at the Hanna-Barbera legacy, but there are other books out there that can do that for you— at least if you read two or three of them (I think we're still waiting for the authoritative text on the subject). In The Hanna-Barbera Treasury, Mr. Beck does offer a history of the creators and information about the spotlighted shows, but the real reason for getting this book is for the pretty pictures. I don't mean to slight Mr. Beck's writing here, but much of the information he provides can be found elsewhere (or viewed on DVD), although those less well versed on the studio will certainly find this a fount of information. And, even for those that have read the Bill and Joe autobiographies, or other studio histories, the tons of photos in the book will still be a marvel.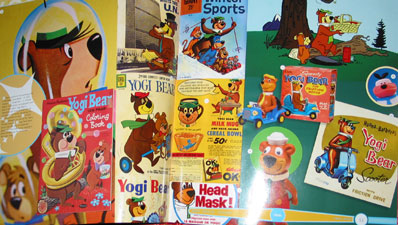 (You can actually flip through that coloring book on the left!)
In terms of the text, the book begins with a foreword by former H-B head Fred Seibert, followed by Beck's introduction, which give a concise history of Bill & Joe themselves, and their studio. Over several pages, Beck outlines the origins and growth of the studio, including the various sales, takeovers, and its final absorption into Warner Bros. Animation. He then goes on to describe how the cartoons were made, including what shortcuts were taken to allow for rapid television production. I was then pleased to see him give the spotlight over to the voice actors, though I would have appreciated more than the two pages provided; still, it is a nice tribute. After this, we get into the meat of the book, going series-by-series.
Many of the stars of the Hanna-Barbera golden age are represented in their own chapters, though one must acknowledge the limited scope of the book. Licensed properties are not addressed, so nowhere will you find pictures from H-B's syndicated Abbott And Costello show, nor their Fantastic Four. But, there are a total of 23 chapters on their television shows (in addition to the Tom And Jerry chapter). Some shows actually get more than one chapter, spotlighting different characters— for example, Quickdraw McGraw has his own chapter, as do Augie Doggie and Doggie Daddy, who appeared on Quickdraw's show. However, the other segment from The Quickdraw McGraw Show, Snooper And Blabber, rates only a brief mention and a tiny portion of a lunchbox picture. Similar fates befall many other secondary characters that appeared on the character anthology shows, whether due to Beck's own interest level or the availability of photos to share. Touché Turtle gets a chapter, but Wally Gator does not. The randomness continues to the adventure shows, where Space Ghost and Birdman appear in their own chapters without Dino Boy or The Galaxy Trio, but The Impossibles appear alongside Frankenstein, Jr. in that show's chapter.
But, as I said, this book does not seek to be the end-all and be-all of Hanna-Barbera historical documentation. If you expect that of it, you will become very frustrated. Even the text in the character chapters gives only an overview of a character's show, without offering much insight on the genesis of either the character or the show. Also, I regret to report that you cannot expect 100% authenticity with the represented facts. A few small errors crop up (e.g. Birdboy did certainly not appear in every Birdman episode), and I was disappointed to spot some typos in what is otherwise a very attractive book. Enough of pointing out the book's drawbacks, though. Let's talk about what makes it great.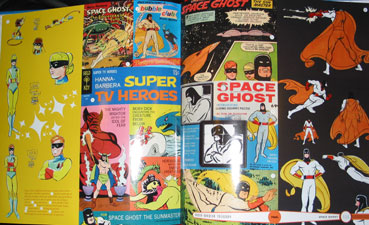 The book is absolutely jammed with production art, photos of vintage merchandise and collectibles, and an assortment of pasted-in or removable artifacts that numbers over two dozen. As you flip through the book, there are loads of real treasures to be found, many existing in assorted envelopes and pockets. Even the inside front cover has a hidden introduction, and progressing through the book brings you miniature comic book and coloring book reproductions that you can really page through, a Ruff And Reddy cel, storyboard sheets, and much more. It's one thing to see photos of these things, but it is a real treat to hold them individually in your hands. Of course, not everything could gets its own reproduction, but I still loved seeing photos of such items as a Secret Squirrel Soaky Bubble Bath container, numerous lunchboxes, and Flintstones Tinykins. And of course, there are wonderful model sheets, from Mr. Peebles to Alex Toth's Birdman. (To scope out the best collection of Toth model sheets, though, do yourself a huge favor and track down the book Hanna-Barbera's World Of Super Adventure.)
This is all quite fascinating to a cartoon connoisseur like myself, but there are caveats. Not all the images in the book are vintage. Some are clearly from more recent Hanna-Barbera style guides or consumer product sheets, and in the Wacky Races chapter they even used a close-up of Dick Dastardly from the cover of the Dastardly And Muttley DVD release! It's hard to believe that nothing better was available to fill these spaces, though I only really resented it when the newer stuff obscured the vintage stuff behind it. On the whole, however, there is a tremendous wealth of cool stuff to be seen in the book's 150+ pages. The busy layout of the book may remind one of Chip Kidd's book design work, but I'm happy to see as much crammed into a page as possible, so long as it all remains legible.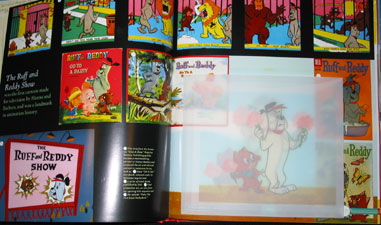 In terms of following its intended purpose, this book is a delight. This is a scrapbook, not a textbook, and a fun scrapbook it is. With all due respect to Mr. Beck, you may find yourself skipping much of the text as you pour through the many pages of vintage artwork, toys, and published products. Honestly, I might have preferred to eliminate some of the text in favor of including more photos, as the written work does little to inform those already familiar with the cartoons. Still, this is a fine piece of Hanna-Barbera heaven that I will find myself visiting often. This book is recommended to any and all fans of classic cartoons.
---