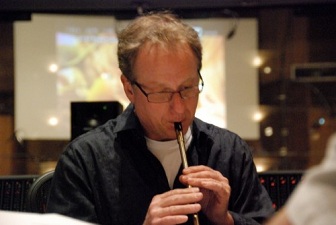 From the world of Disney Fairies comes an all-new movie that unlocks an amazing secret about Tinker Bell that will change her life forever. Directed by Leroy and Stitch's Roberts Gannaway and The Little Mermaid: Ariel's Beginning's Peggy Holmes, Secret of the Wings takes you on a magical adventure that leads Tink to discover a new wintery fairy world and reveals new fairy characters.
To accompany her on that journey, Tink's official composer Joel McNeely is back at the Irish whistle and the baton to create a new musical wonder. The creator of so many brilliant scores, among which is the stunning Disney Dreams! night time spectacular at Disneyland Paris, his career also started with faith, trust and Pixie Dust!
After earning his master's degree in composition at the Eastman School of Music in Rochester, New York, where the renowned educator Rayburn Wright influenced him deeply as both a composer and an orchestrator, he headed to Los Angeles where he began working as a studio musician in the film industry.
A year later, frustrated by his lack of opportunity as a composer, McNeely hatched a plan. He used his small savings to hire a studio and create a demo tape. Orchestra members were each paid $25 and a lottery ticket to record several different hypothetical dramatic cues in various styles. Put together in just one night, the recording began to circulate in Hollywood and created the buzz McNeely needed to get started.
He was soon invited to be the first ASCAP Fellow at the inaugural Sundance Institute Composer's Workshop. After an evening of jazz jamming at Dave Grusin's cabin, the young composers who participated in the workshop shared their tapes with an invited audience of their peers. An agent who was in attendance took McNeely on as a client and his career was launched. Early support from composers David Shire and Bruce Broughton was also critical in helping McNeely get established.
Now, from the techno patterns of James Cameron's Dark Angel to the traditional Disney sound of Return To Never-Land and the jazzy hits of Jungle Book 2, and from the recording studio to the concert hall, Joel McNeely is acknowledged as one of the most talented and versatile composers of his generation.
---
Animated Views: From the first Tinkerbell movie to Secret of the Wings, you're the composer of all the Tinkerbell features. How did you create the musical identity of that universe?
Joel McNeely: It just seemed natural pairing elements of Celtic music with Pixie Hollow. The spry nature of Celtic music went well with the fairies.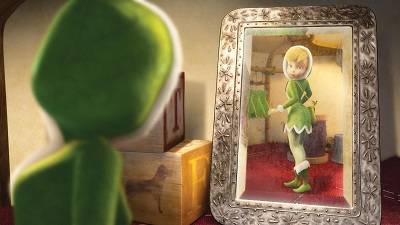 AV: How did you work on that Celtic dimension?
JMN: I did do a lot of research. But I have always loved and listened to Celtic music. And since I was a kid I've played the Irish whistles so I performed all those parts myself. I heard Mairead Nesbitt from Celtic Woman on PBS and thought her sound would be a perfect addition to the musical world I was creating. I used traditional Celtic instruments such as the pipes and bodhran but I also incorporated sounds from nature as percussive elements. There are times when there is a little ticking sound in the track that might be a bird chirp. I also used whale sounds, water drops, wooden sounds and all manner of bird and animal sounds.
AV: Secret of the Wings is the fourth feature of the franchise that you score. How did you make the musical voice evolve?
JMN: In Secret of the Wings, I tried to have two distinct musical worlds. The musical identity of the Winter Woods is made up of very high glassy sounds. I used crystal wine glasses and other very transparent sounds to give a sense of cold. This is contrasted with the more warm texture of Pixie Hollow.
AV: So, it seems that this episode sounds a little less Celtic?
JMN: Yes, Secret of the Wings is less Celtic than the others. Every time I tried it, Peggy Holmes the director and I decided it didn't fit the story.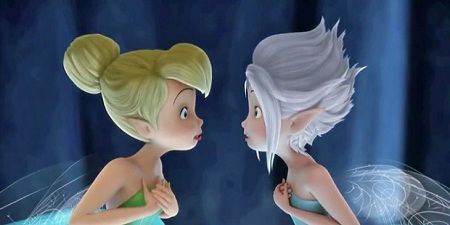 AV: What was the most delicate aspect of creating the score?
JMN: The hardest thing was coming up with Tinkerbell's sister Periwinkle's theme. I wanted it to be complimentary to Tink's theme but different. I took a page out of John Williams' playbook who composed Anakin's Theme by using Darth Vader's theme in reverse and wrote Tink's theme backwards. With a few modifications it fit like a glove as counterpoint when played together with Tink's theme. Another benefit of taking this approach is that the resulting theme from this experiment sounded somewhat incomplete or finished…as if it's searching for something to complete it. I thought that fit the character very well.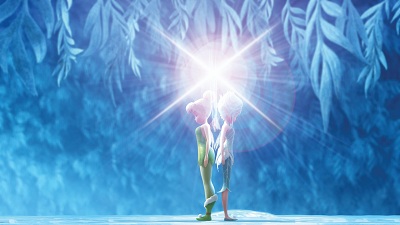 AV: How did you approach the scene when the two fairies realize they're sisters?
JMN: This cue sort of wrote itself. When the directing is so strong it can be easy to find the right music. The drama and the imagery was so strong that my job was just to enhance it but mostly stay out of the way.
AV: What about the other new themes?
JMN: For Milori I wrote a very solemn dignified theme. This gets used when the tale of his past with the Queen is told.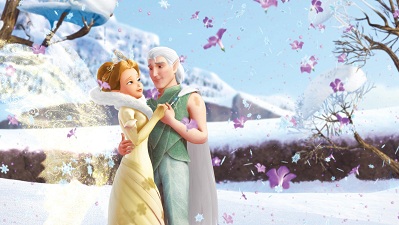 AV: Peggy Holmes is a primarily a choreographer. Did you feel that in her way of co-directing the movie?
JMN: Absolutely. Peggy's expertise as a dancer means that she has a fantastic sense of not only rhythm and music, but how music can be used to tell a story. I thoroughly enjoyed working with Peggy.
AV: How did the recording go?
JMN: We recorded here in LA at Sony. The largest group was 92 players and then down to 70 and 50. Disney is so fantastic to put the resources into the music that it takes to have a real quality sounding score.
AV: After four Tinkerbell films, you seem as inspired as it were the first one!
JMN: It's easy to be inspired by these films. There is much heart in the stories and I love working on projects that make children happy. There is nothing better!
---
---
---
---
Our thanks to Joel McNeely for his time and kindness!