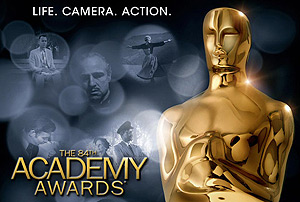 It's Oscar weekend! Hopefully you entered our prediction contest for a chance to win a $50 Amazon gift card. If so, you can print your ballot to check how you're doing while watching the show at home. And we'll be tracking the results online as each award is announced.
Whether you entered the contest or not, be sure to join us at 7:30pm ET Sunday night during the Oscar telecast in the Animated Views chat room where you can join the AV staff and your forum friends as we discuss the people, the fashions, the story-lines, and the awards.
We'll also be announcing a new feature coming to Animated Views during the chat. If you can't make it be sure to come back on Monday to check it out!
Until then, get a jump on the potential winners. Here are the probable Academy Award winners according to our readers in the contest: