Warner Bros. Animation (1939 – 1967), Warner Home Video (August 28 2012), 2 discs, 133 mins plus supplements, 1080p high-definition 1.37:1 original negative ratio, Dolby Digital, Not Rated (a standard disclaimer noting potentially questionable images of brief smoking reads "Mouse Chronicles is intended for the adult collector"), Retail: $34.99
Storyboard:
Chuck Jones' early Sniffles and later double-act Hubie and Bertie characters are collected in one volume of classic animated cartoons.
The Sweatbox Review:
One hundred years after his birth, and especially since his passing ten years ago in February 2002, the legend of Chuck Jones has only grown, thanks to the unending work his family continues to do in honoring his name through the Chuck Jones Center for Creativity, and to Warner Bros.' prolific showcasing of his directorial outings via countless documentary tributes and home video cartoon collections. Indeed, going by Warners' leaning on Jones' library and unless you didn't know any better, anyone would think Chuck was the sole artist responsible for the majority of the Studio's Looney Tunes cartoons.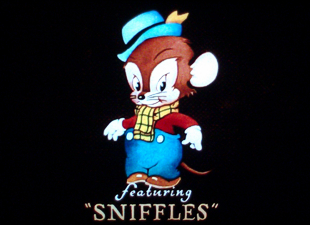 To casual movie viewers it's perfectly understandable: when Chuck and his one-time colleague Friz Freleng were among the last of original producer Leon Schlesinger's golden age Termite Terrace gang still creating new animation in the 1970s and 80s, they were largely the only ones keeping those flames alive. Following fellow-director Bob Clampett's re-ignition of interest in the Looney Tunes characters in the 1970s, a gentle rivalry between Jones and Freleng saw the two battle it out for "ownership" of the characters' roots, with Freleng perhaps clawing back a lion's share of the credit in The Looney, Looney, Looney Bugs Bunny Movie and Jones offering a more pragmatic view in his Bugs Bunny/Road Runner Movie.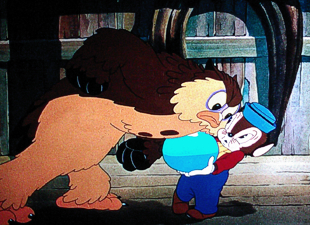 With the death of Clampett, Tex Avery and Freleng, Jones became pretty much the sole survivor of those Termite Terrace days and, quite rightly, became the de-facto go-to-guy for all things Looney Tuned, with home video bringing new appreciation to their many animated shorts and the internet a chance for fans to exchange views and really get together to study and rediscover them all over again. If you were a Disney fan, the last remaining of the Nine Old Men were still around to impart their knowledge alongside the likes of Leonard Maltin, while Chuck was still at the forefront of the Looney Tunes movement with Jerry Beck an author/historian-champion on that side.
In recent times, however, the onus has perhaps swung the other way a little too much: dedicated collections of Chuck's later Tom & Jerry cartoons, an eventual issue on DVD (albeit in the Warner Archive program) of his animated feature The Phantom Tollbooth and several and much-regurgitated tribute films were all very welcome, but shone the light away even further from his past associates. Clampett, Avery, Freleng, Frank Tashlin, even the much underrated Bob McKimson – they may not have all been Chuck Jones, but they are as just much of the Warner cartoon story and all produced their own (many) moments of brilliance.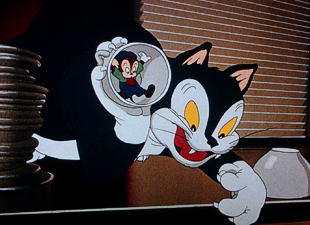 Maybe in the centenary year of his birth, one can understand the heavy inclusion on Chuck's Looney Tunes output for the debut Platinum Collection around one year ago. The set was welcomed but just as derided by fans for two things: firstly many felt the onus on Jones was too strong, both in the cartoon selection and the bonus disc that focused all too heavily upon him, the hope being that future sets would redress the balance one director at a time. The flipside of this was that many of the best cartoons in the series made their HD debut earlier than they would have done; a fact not lost on all. Secondly, and also more appreciated, was the inclusion of complete character appearances for several characters, from the Tazmanian Devil and Witch Hazel, to Jones' Marvin The Martian.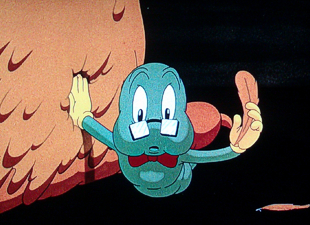 Which brings us to Looney Tunes' Mouse Chronicles, a frankly weird kind of cartoon selection that I can only but think was grown out of planning ahead for this year's upcoming Platinum Collection. How come? Well, once again the focus is on Jones, and it could be that the powers that be decided on an individual release so as to deflect more of the same complaints that faced the first edition. It also follows the same lines as last year's set in presenting the complete character appearances for three of the series lesser-known characters: just the kind of fodder that would sit neatly in a serving of Looney Tunes on disc. Only, this time, there are more than just a handful for each character, so a dedicated release makes more sense.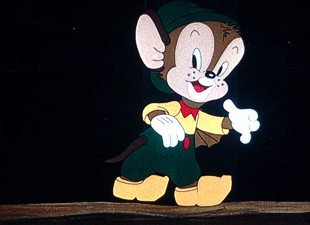 Or…does it? It's true that, in the run up to the Platinum Collection last year, animation fans in general were eager to catch some premium-grade golden age cartoons on Blu-ray. Apart from some initial WB offerings on the HD-DVD format and early Blu-ray titles, where some of the classic cartoon library would be used to prop up the supplemental extras on such titles as The Adventures Of Robin Hood or Casablanca, classic short-form animation was thin on the ground on the BD format. Sure, Disney was serving up the pristine digital restorations of its full-length classics, but it was widely assumed shorts compilations would be prohibitively expensive to bring to HD due to the high costs involved in bringing the images up to the required level of quality.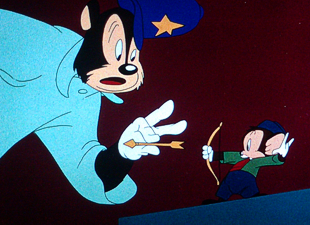 The Blu-ray format took a while to reach the kind of saturation point where the major studios would even think about gambling on releasing these kind of animation anthologies, and it was surprising that Disney hadn't taken the lead here, after jumping in so fervently with the Walt Disney Treasures line of character collections back in the DVD days. Warners were slower on that uptake, but then did make a heck of a splash with their Looney Tunes Golden Collections, turning out an annual selection of remastered cartoons accompanied by some truly great supplemental material, much of it rarely seen from the archives.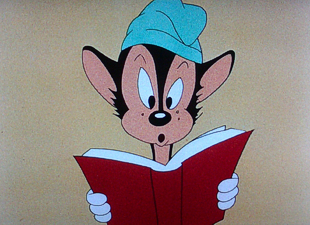 With those collections under its belt and fans raving for more – in HD – Warners found itself leader of the pack with the 2011 debut of the Looney Tunes Platinum Collection preceded by a matter of days with the release of the first such animation anthology release that I was aware of on the format: rich gathering of cat and mouse cartoons in the first Tom & Jerry Golden Collection, the kind of chronological selection that fans had been screaming for ever since the DVD Spotlight Collections stumbled early on and never really recovered.
There's no Tom & Jerry this year, but in its place as a warm up to a second, heaped volume of Looney Tunes Platinum Collection discs comes this assortment of WB-animated mice featuring, in particular, the Chuck Jones collection of Sniffles and Hubie & Bertie cartoons. It's an "interesting" set to be sure: on the one hand it's pretty nifty to group these characters together, and their appearance here means less space dedicated to them in later Platinum Collections. But on the other, it's a pretty odd title to release individually, since there's definitely the faint sound of a scraping the bottom of a barrel to be heard, if ever so slightly.
What Looney Tunes' Mouse Chronicles has going for it is that there are a handful of really funny cartoons to be found in the set, mostly from the Hubie & Bertie pairing and from an unlisted – but included on the BD only – eleven additional shorts (sadly non-remastered but looking fair). Going against it is that – and I can almost see the fans' eyes rolling in their head already – here's yet another leaning on Chuck Jones' cartoons…and, dare I say it, they're not all even some of his best, most recognisably trademarked work, the first disc being dedicated to the cuter than cute Sniffles, a character even Disney would have kicked out had he turned up looking for work in the Silly Symphonies!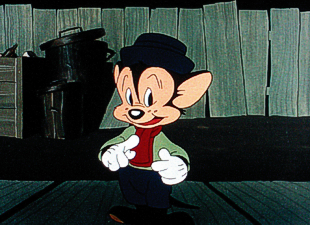 Indeed, at least half of the enjoyment to be found in Mouse Chronicles will be down to how much of Sniffles – so named because he always supposedly has a cold, although this reaction is often then ignored! – one can take. Coming from Jones' earliest Termite Terrace days, when every studio in town was trying to ape the Disney style and, to his credit, Chuck was doing it better than most, you could say that the Sniffles films were even more Disney than Disney, which is probably a backhanded compliment if ever I made one. Making his debut in 1939's Naughty But Mice, Sniffles is already a full personality (for good or bad), and the cartoon feels like a mid-series entry rather than a character debut.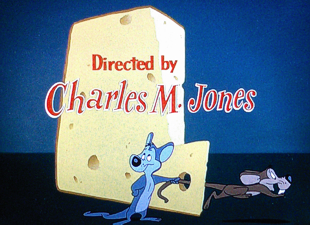 Walt's The Country Cousin often comes to mind, especially when Sniffles inadvertently gets drunk, and these are the least looniest Looney Tunes from the golden age era, although the flipside is a much more organic visual approach – especially in the backgrounds and some nice perspective animation – which really does show the artists were just as able to handle the realism of Disney as they could the zips and zaps of Bugs Bunny and Daffy Duck. The oddly-named Little Brother Rat and Sniffles and the Bookworm, both still from 1939, feature more of the same, the Bookworm cartoon introducing a sweet sidekick character that would come back a couple more times, in one of the most seen shorts in this series.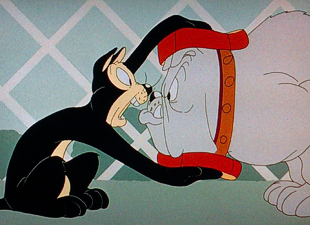 1940's trio of Sniffles Takes a Trip, The Egg Collector and Bedtime for Sniffles just seem to be Jones coasting along to varying degrees of success: Trip is perhaps the most elaborately animated, and Egg features the return of a pretty substantial Owl villain who can be genuinely menacing in his theatricality, but Bedtime is the nadir of this run – in this story of the little mouse trying to stay awake to catch Santa Claus nothing basically happens! You know your lead isn't going to make it as a major star when the supporting characters come off better, and I can't see why the Bookworm didn't get more of a career for himself when there's a lot that could have been done with him.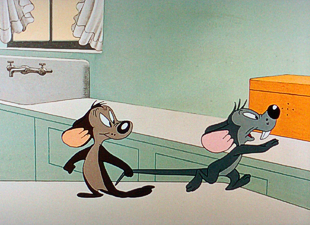 It seems Jones was aware of Sniffles needing more personality as the mouse slowly develops from being nondescript, other than being cloyingly cute, to more of a mischief-making instigator: if one Sniffles wasn't enough get ready for four of 'em in Sniffles Bells The Cat. This cartoon and the next, the run-of-the-mill Toy Trouble, both from 1941, eliminate the more limited "gee willikers!" dialogue from before but replace it with too much chat, and Sniffles goes from being too cute to becoming too talkative. However, as Chuck developed his other characters and furthered his style at the Studio, inevitably and undoubtedly becoming influenced by his stablemates, the Sniffles cartoons become somewhat intentionally funnier in nature.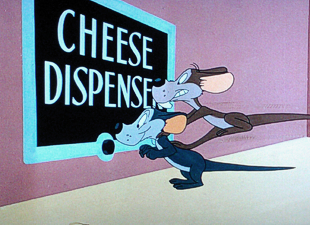 Also from 1941, The Brave Little Bat introduces a never-ending question-asking Sniffles-sized bat who gives the mouse a run for his money in the motormouth stakes. A year away from Sniffles (including the debut of Hubie & Bertie) seems to have dried up Jones' fascination with the Disney style, and returning to the character for the last three shorts shows more of his attributable style, even if Sniffles has been influenced by the Little Bat's motormouth nature so much as to have become another character entirely, now outrightly annoying despite the clearer Studio aesthetic. The series also seemed to be coming to a natural end, with a longer delay between each new cartoon going from an initial two or three a year to one just in every couple.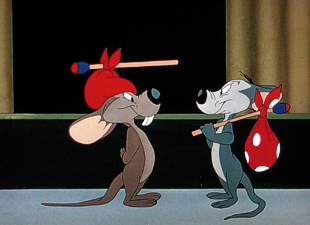 1943's The Unbearable Bear is much more in keeping with the developing Looney Tunes template of the time, from the UPA-influenced abstract backgrounds to such conventions as a character amusingly breaking the fourth wall and the fracturing of fairytales, a popular Looney Tunes target. Lost And Foundling (1944) perhaps shows Sniffles could have had new life as a more typical Looney Tunes character, but by 1946's Hush My Mouse he nominally turns up as just a support in his own (very funny) cartoon, and it seems even Jones knew he just couldn't really do much more with the character and began to focus more on his newer mouse double-act instead.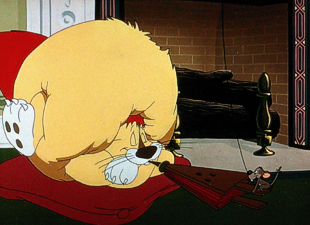 On the second disc the pace picks up, even though some of the cartoons overlap in their dates so that Jones would have been directing the last of the Sniffles shorts while diverting attention to the burgeoning, more boisterous and downright Looney Tune Hubie & Bertie series. From 1943, The Aristo-Cat (hey, great title, somebody tell Ken Anderson!) also introduces a hapless, helpless cat character: one of many, particularly one named Claude, who will find themselves at the wrong end of the mice's intentions. The set-up is routine enough – and shares some interesting similarities to Disney's later feature – but in many ways this is the cat's picture and might have been intended as a one-shot cartoon but for the success of the two mice characters who make the feline's life heck.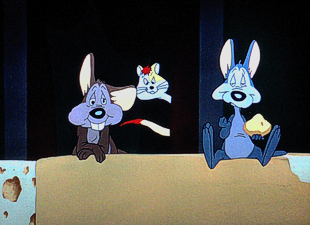 Despite them not really being the stars of the short, this new pairing's formula is established pretty quickly, perhaps reminding one of a proto-Pinky And The Brain: both are typical New Yorker-accented streetwise rodents, with Hubie always coming up with a scam of some kind and Bertie often just going along for the ride. Sometimes they end up coming off just as bad as their victims, including a guest-starring Porky Pig in the very amusing Trap Happy Porky (1945). Technically a Porky cartoon, Hubie & Bertie still haven't even been officially named at this point, don't actually feature for more than around a third of the length (and don't even speak with their assumed voices when they do), but it's a funny and smartly directed picture (eagle-eyed viewers will note that the animators are still playing with the pair's coloring too, before settling on their final choices).
Their next outing, Roughly Squeaking (1946), finds the mice's personalities entirely developed and in full-force as they convince another cat, the timid Gilmore, that he's really a lion capable of taking on next door's moose-disguised bulldog, in a terrific Looney Tune that's a typical example of some of the series' basic traits. Hubie and Bertie really don't exist other than to get others in some sort of trouble for nothing more than their own (and our!) enjoyment, and 1947's House Hunting Mice the devil-may-care attitude continues when the pair wreck havoc in one of those Houses of Tomorrow, bringing with it a new level of violence from Jones.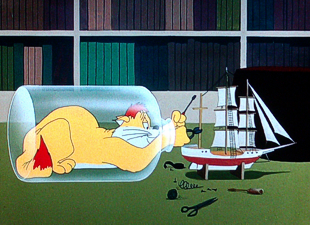 As the series progressed, Jones' penchant for slightly off-kilter or dark humor comes ever increasingly to the fore. Unfortunately, there were only ever seven Hubie & Bertie cartoons produced – who knows why? – and it's something of a shame they they're not greater Looney Tunes stars. Maybe the public just didn't warm to them given the sometimes offbeat approach, but they still do turn up in Looney Tunes character montage images and, if I'm not mistaken, they were last seen in small roles in the Looney Tunes movies Space Jam and Back In Action, so they're very much accepted as part of the fraternity. Illustrating this alternative humor are the last selection of three all-time classic Tunes, and a mark of their quality is that they were previously sampled in the very early DVD Golden Collection volumes.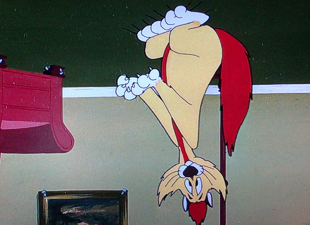 From 1949, Mouse Wreckers – perhaps the best cartoon here – finds the duo in full-swing as animated characters, and is the first short in the series to award them their own title card. In fact, these last three shorts could be seen as an unofficial trilogy in itself, with some brilliant touches (the upside down room, for example) as Hubie & Bertie first convince Claude he's going nuts before, in 1950's The Hypo-Chondri-Cat, the mice hilariously convince the cat he's going to die (and rather poignantly achieve their aim!). Cheese Chasers (1951) saves the darkest for last and deals with the notion of suicide as only Chuck could handle, with mice, cat and dog all freaking out at the others' choices to end it all.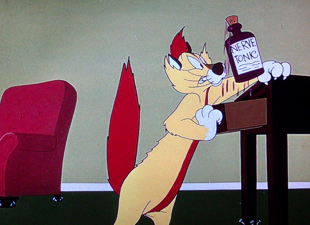 These Hubie & Bertie shorts – especially the last three – easily save the collection from being too inconsequential. Those collectors eager to own all but the lousiest of the later 1960s Looney Tunes will find much to engage them here: although a handful of cartoons were previously available in the Golden DVDs, this is the first time to disc for many of them, and naturally the first time any of them have debuted in HD. Of special note is Sniffles Takes a Trip, now vastly updated from a murky interlaced inclusion on Golden Vol. 6, and Hubie & Bertie's The Hypo-Chondri-Cat: the Blue Ribbon reissue titles seen on the first Golden DVD no longer replace the original 1950 cards.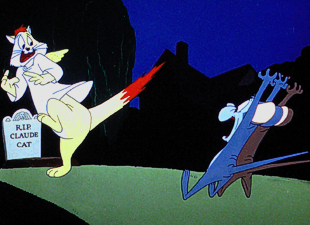 This is, essentially, what it says on the tin, a Chuck Jones collection of Looney Tunes mouse cartoons. I'm personally a little on the fence here: while not a great fan of the early Sniffles (too "knock-off Walt"), I appreciate having all of those shorts on disc and in one place. Likewise, and much more so, for the Hubie & Bertie cartoons that are pure Looney Tunes gold. So long-time collectors will find this a "nice", if not necessarily worthy, addition to their shelves while more casual fans may wonder what all the fuss is about. However, there is interest in seeing how the same director evolves his style with similar characters over a couple of decades…and that's where these Mouse Chronicles really earn their title.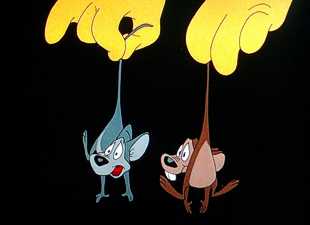 Is This Thing Loaded?
As noted in the packaging remarks below, it's not clear as to which disc houses the Special Features, but this being a WB set, and with less cartoons to take up space on Disc Two, the smart money is on inserting that platter into your players to catch the newly-produced Of Mice And Pen featurette, in HD (mislabelled as Pens on the packaging). Taking a trawl over several decades of rodent animated action at Termite Terrace, this 8½-minute clip collection narrated by Pinky And The Brain's Maurice LaMarche splices together moments from the Sniffles and Hubie & Bertie cartoons to explore the apparent mouse-fixation Chuck and the rest of the Looney Tunes animators had.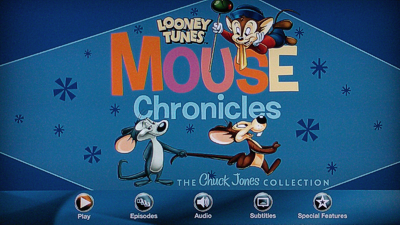 And there's fairly good evidence to back it up – the success of Mickey Mouse is given as verification that mice have always worked well in animation (lessons not dismissed even as recently as when Disney needed to bounce back in the 1980s and Spielberg got into the animation game with The Great Mouse Detective and An American Tail, respectively). It's interesting to see the state of the prints in the clips assembled before they were remastered, and one can never complain at getting some nice perspective with a collection like this. Simple and brief – but effective! – although the talk is less focused on Chuck himself as it is setting up this collection of cartoons and, sometimes, seemingly attempting to justify the selection.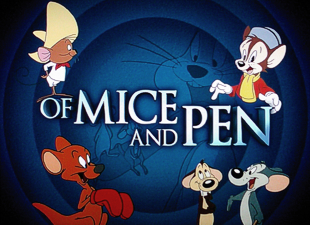 As if to make the point, several non-Jones mouse cartoons are evoked to support the argument but, just when one might think it's a scam to promote cartoons in some other collection, a welcome surprise is a Blu-ray exclusive of More Mice: 11 Bonus Cartoons From The WB Vault! Although presented in standard definition only, and from non-remastered, sometimes heavily interlaced transfers and reissue prints at that, there's still some fun to be had from this selection that runs the gamut over some 35 years and even shines the light on Chuck's stablemates.
From 1935, Freleng's two-strip Technicolor The Country Mouse, a brutal boxing bout in the ring aside, and The Lyin' Mouse (1937) are still both within the boundaries of the Disney-fied Tunes of the time, leaving it to Avery to break away with some typically surreal and sometimes unexpected gags in The Mice Will Play of 1938. Freleng responds with Little Blabbermouse (shades of the over-talkative Sniffles) and Shop Look & Listen, both pun-filled 1940 attempts to introduce another little mouse with a big mouth.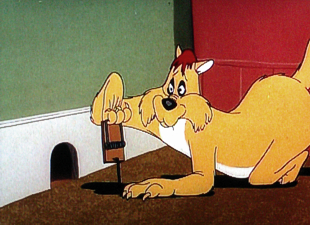 The Sylvester-starring Mouse Mazurka (a jump to 1949) is simply hilarious, for its European setting, vocalizations and pantomimed mayhem, and the single Jones entry here is 1952's Mouse Warming, a gag-fest which plays much more along the lines of the later Hubie & Bertie series than anything from the Sniffles days. It's also great to see McKimson not overlooked with Mouse-Taken Identity (1957, the one with Sylvester and a baby kangaroo) and the riotous Mice Follies, from 1960, although this only goes to remind that these Chronicles are far from complete going by several omissions including the other Honey-Mousers shorts and the memorable mouse incarnation of Jack Benny.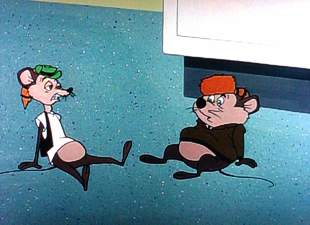 A natural inclusion may have been Jones' Mouse On 57th Street from 1961 but it seems to have been passed over for Freleng's It's Nice To Have A Mouse Around The House, the first pairing of Daffy Duck and Speedy Gonzales from 1965 and not, frankly, the highpoint of anyone's career (it was actually produced after Warner's animation unit closed, at DePatie-Freleng Enterprises and does the worst thing imaginable: it makes Daffy a responsible character). Finally, Merlin The Magic Mouse, directed by Alex Lovy in 1967, is one of those totally late-entry cartoons that plays more like a Hanna-Barbera TV segment than a theatrical short: it doesn't feel like a classic Looney Tune, but then that suits this collection fine and it's nicer to see it than not.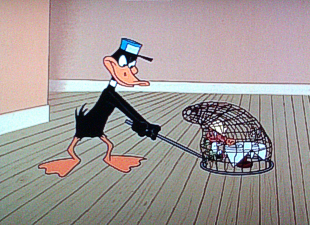 The Hypo-Chondri-Cat Storyboard Reel offers up a rare chance to see some original storyboard drawings and an alternate ending for that particular Hubie & Bertie cartoon cut into the finished animation (I don't know why, but because so many of the original production elements for the Looney Tunes cartoons were destroyed in re-use during production, it's always more of a treat to see this kind of material), and five Audio Commentaries play up the fact that not many people have that much to say about Sniffles – he gets just one, on the debut Naughty But Mice, from Jerry Beck – but are happy to speak more about Hubie & Bertie.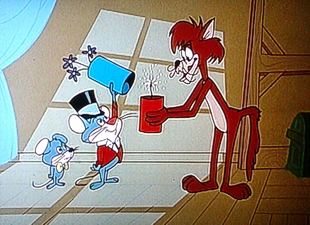 Beck is up again on The Hypo-Chondri-Cat and The Aristo-Cat gets two: one from Eddie Fitzgerald and a much better one with Greg Ford and Jones via archive audio, while Ford also valuably speaks for Mouse Wreckers. Recycled from previous Golden DVDs, the tracks offer up everything from routine observations (well, there just isn't very much anyone could say for a Sniffles cartoon!) to the kind of animated minutiae that always serves up at least one or two nuggets of fresh information for fans to enjoy. Rounding the set out are a couple of previews for other animated WB titles: Dr Seuss classics and The Looney Tunes Show.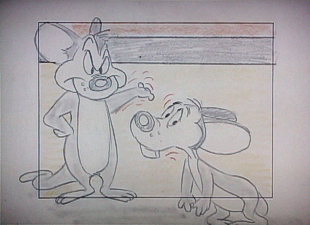 Case Study:
Remember that DVD collection of Chuck Jones' Tom & Jerry cartoons? Well that seems to serve as something of a Chuck-disc template here, since the same kind of design and signature Jones branding marks this up as something of a companion piece, albeit on Blu-ray. Otherwise pretty standard for a deluxe release but still nicely produced, a slimline BD case houses both discs (the only personal caveat with this is that it's one of those eco cases with the cut-outs behind the discs that may save plastic but can ruin the paper sleeves with too much removing and replacement of the platters). Protecting this from happening too much is a nicely embossed slipcover that replicates the sleeve underneath and could suggest all three characters appear together in the cartoons.
Missing from the inside is any kind of booklet with such information as anything on the characters, the cartoons or a synopsis for each, release dates…there's not even anything printed on the inside reverse of the sleeve by way of indicating which disc holds the supplemental features. The blurb on the back actually suggests Sniffles is an annoying character (not the way to try and sell one of a two-disc set!) and the overall blue and Blu coloring can overwhelm, but I like the overall approach, and having the characters grace each of their respective discs (Sniffles on the first, Hubie & Bertie on the second) means it's easy to see which set of cartoons you're about to watch.
Ink And Paint:
The phrase "remastered" rather than "restored" can sometimes ring internal alarm bells, but by now one should really just about know what to expect from Warners' cartoon shorts presentations. There's no info about the way Chuck's mouse films have been transferred here, but clearly original elements have been used, either from original negs, interpositives or prints in really good shape before a further digital pass removes more noticeable artefacts. As we saw in the previous Tom & Jerry Golden and Looney Tunes Platinum collections, WB chooses a happy medium in its digital presentations that doesn't wipe-wash the image as much as Disney's classic features but provides a stable, vibrant and noticeably sharp representation that retains production artefacts of the time and leaps over anything we've had before on LaserDisc or DVD.
Appearing to either dispense with the dreaded DVNR or utilise a more refined method of it, film grain remains noticeably intact, providing a lovely reminder of the vintage of these films, all framed in their correct ratios of what is actually stated on the sleeve to be the original 1.37:1 aspect – the first time I think I have seen the correct terminology used even though Warners have been presenting Academy material like this for some time. As always with many classic animated shorts collections, many of the shorts have their title cards windowboxed within the frame so as to retain text information, although pleasingly here we don't get the usual colored borders, just plain and welcome black matting, which offers a more preserved approach. Once again, Warners proves that their way of presenting mass quantities of classic animation can be done with quality well in mind.
Scratch Tracks:
Perhaps casualties of time or even during their original recording process, the soundtracks of any given vintage material can vary not only on title to title but even within the same film at different points. Given that proviso, the tracks here are largely perfect, the result I would imagine of some audio tweaking to the original mono mixes, and the slightly softer clarity might be down to the Dolby Digital format used over an uncompressed option. They're perfectly serviceable, and to be honest it's not something that draws attention to itself at all unless you're listening out for such things for a review! English and Spanish (in two flavors) are optional, as are subtitles.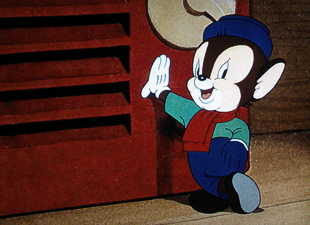 Final Cut:
In one collection, Warners has split fans right down the middle, and I myself am right on the fence in being able to outwardly recommend Mouse Chronicles or not. On one hand, it's a very nice compendium of two character series grouped together in one neat package, as well as offering a unique aspect in watching a very important director's work evolve. But then… Sniffles and Hubie & Bertie aren't exactly A-List characters, and the value in the set will be as much down to how much you like them as how much it entertains you: half of these cartoons really aren't the best Looney Tunes has to offer and the other half only occasionally reach the high peaks we usually associate with the series. For those that like to be Looney Tuned in to this sort of thing it's naturally an essential addition, and a title I'm glad to add to my shelf personally, but for those casual fans and those looking for typical babysitting fodder, I fear you may be stumped by these Mouse Chronicles.
Animated Classic or Back To The Drawing Board?