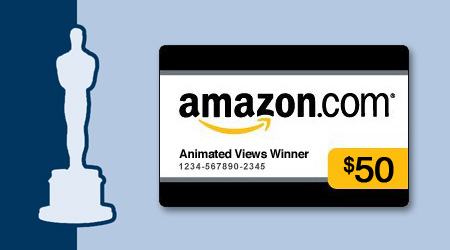 Animated Views is giving away a $50 Amazon gift certificate! All you have to do is predict who is going to win at the 84th Annual Academy Awards (to be held on Sunday, February 26th on ABC). The person with the most correct picks will win!
Entries are due TODAY by midnight ET.
Already entered? You can review/print your ballot. And this year you can keep track of the standings live as the awards are announced.
And don't forget to join us for our annual live chat. We'll be talking about the people, the fashions, the story-lines, and the awards. We'll also be keeping track of the contest results as well.
Finally, be sure to come back to Animated Views on Monday for an announcement about a new feature we're launching!