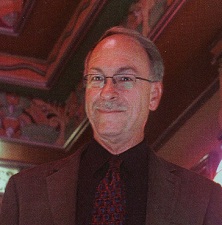 Walt Disney's Snow White and the Seven Dwarfs was first shown to a theatrical audience in December 1937 and brought overwhelming, joyous applause from a house full of hardened film-industry professionals. In subsequent months it would open around the world, happily acclaimed by audiences and critics everywhere as one of the best films of the year, if not the decade.
From today's perspective, its stature is even greater — named as one of the best movies of all time by the American Film Institute, and still beloved by children and adults around the world, Snow White can be seen as the flowering of an all-too-brief Golden Age of animation as well as a fascinating document of its time.
Such a level of artistic achievement doesn't happen by accident. Walt Disney and a staff of exceptionally talented artists labored over Snow White for four years, endlessly working and reworking their scenes to achieve an ever higher standard. The result, as we know, was magnificent and game-changing for the Disney Studios and, indeed, for the art of animation itself.
The Fairest One of All is the first book to reconstruct that process in exacting detail, with the loving attention it deserves from an internationally noted film scholar. Author J.B. Kaufman is one of the most distinguished Disney historians. He spent years researching the film's history, interviewing participants, and studying the marvelous archival art that appears in these pages. The result is a work that can be appreciated equally as a piece of film history and as a collectable art book, a joy for anyone who loves film, animation, and the magical world that Walt Disney created.
The publication of The Fairest One of All is paired with by the one of Snow White and the Seven Dwarfs: The Art and Creation of Walt Disney's Classic Animated Film. J.B. Kaufman's second book on Snow White is based on a ground-breaking exhibition of both familiar and never-before-seen art from the Walt Disney Animation Research Library, and walks the reader scene by scene through the movie, accompanying the art with behind-the-scenes stories about the film's production.
The book features over 200 pieces of art, many reproduced from original concept sketches, background paintings, and production cels, as well as alternate character concepts, deleted scenes, and step-by-step process shots.
A genuine piece of animation history!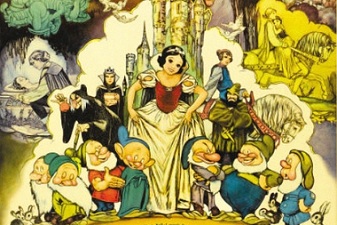 ---
Animated Views: In the video presentation of the books, you say: "it needs to be recognized that Snow White and the Seven Dwarfs is one of the great American films." Well, it is known that Snow White was Walt Disney's personal achievement in many ways, as well as his studio's, being the first feature length animated movie, developing on all the improvements that Disney brought to animation and storytelling over the Silly Symphony years. Now can you explain the importance of the film in American film history as you say it?
J.B. Kaufman: There are two ways to answer that question. The most common answer would be that Snow White blazed a new trail and placed the art of animation squarely in the mainstream of American movies. In the process, it opened up a new field for the Disney studio and others: the medium of the animated feature. That, as I say, would be the most common answer, and it's true enough and I don't dispute it. But to me it's even more important to consider the stature of the film itself — not its role as a forerunner of other films, but its own stature as a self-contained work of art. When we consider a classic D.W. Griffith or John Ford live-action feature, we're less apt to talk about them as "firsts" than to focus on the artistic achievements they represent. Snow White is a film that merits the same kind of appreciation, a film that captures a great artist at the peak of his powers, perfectly sums up his achievements in the development of his craft, and stands as a timeless work even as it mirrors the vital culture of its own time.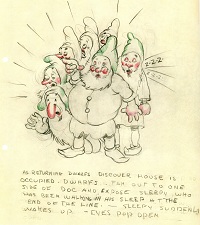 AV: As a presentation of your two books, would you tell me how complementary they are to each other?
JBK: I'm happy to say that they do complement each other. The Fairest One of All is (I like to think) a definitive history of the making of the film, richly illustrated. Snow White and the Seven Dwarfs, as the catalog for our special Snow White exhibition at the Walt Disney Family Museum, presents a more general history of the film, but is packed with an even more generous selection of production art — including some drawings and paintings that illustrate, in detail, how specific effects were achieved in the film. In this way, rather than duplicating each other, the two books really do work together.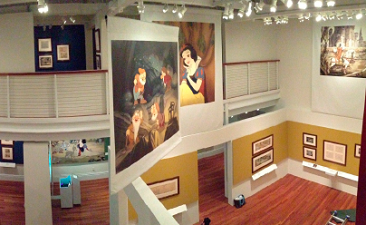 AV: Disney's ARL is known to be the place for Disney animation research, but there's now the Walt Disney Family Museum documents. Can you tell me about the richness and diversity of the WDFM library, and how it was collected/gathered? And about your emotion getting access to all those treasures?
JBK: Actually, at the Disney company there are both the Walt Disney Archives and the ARL — both of them absolutely invaluable resources for researching Disney history. But you're right, the collection of the Walt Disney Family Foundation also has a tremendous collection of its own, and it's growing all the time. I think retired Disney artists, or the people who represent their estates, are sometimes inclined to approach the Foundation with their large collections, just because they know the Foundation represents Walt's own family. Very often, their great love for Walt's legacy leads them to an organization that is so closely associated with him. As for my emotion, yes, of course it's an awe-inspiring privilege to be granted access to all those documents and works of art. And like many great privileges, it comes with a great responsibility.
AV: Not to mention your rich background in matter of research and interviews, how long did it take you to make these books? How did you manage the colossal amount of documentation in order to write them?
JBK: It wasn't easy. But I'm not complaining! It took literally years to go through all the production materials that had been preserved for Snow White: story conferences, memos, drafts, exposure sheets, correspondence, and much more. I had to come up with a complicated filing system for my notes in order to keep track of all that information. As you say, I did have a head start, having interviewed some of the artists in earlier years and gathered miscellaneous items of research. With that background to start with, I think my actual full-time work on The Fairest One of All only took about three or four years. The catalog was written in far less time than that, but of course it drew on the same body of research.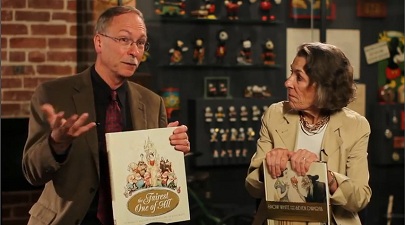 AV: Can you tell me about the involvement of Diane Disney-Miller from the origins of the books and during your research?
JBK: Actually, I think the book was her idea. And she thinks it was my idea, so we've agreed to compromise and say that we both thought of it at the same time. After that she let me follow my own course in conducting my research, and never tried to dictate or control. But when I did consult with her, she always had valuable suggestions and insights. She volunteered her own early memories of Snow White, which of course were invaluable, and she suggested some ideas that turned out to be some of the best things in the book.
AV: I found all of your chapters intriguing, yet I must admit that I was particularly receptive to the musical history of Snow White. How did you work with Booker White and Leslie Smith at the Disney Studio Music department? There had already been some research done on the deleted songs of Snow White, but nothing that detailed.
JBK: Leslie and Booker were kind enough to let me see early musical documents that had been preserved in their department: lead sheets, early pencil sketches, and so on. And, in fact, at the time I was conducting my research they fortuitously discovered some Snow White cutting records that had been kept in the music files for some reason, and those were tremendously valuable too. As for the deleted songs, some details of those songs came from the story conferences and production memos. As so often happens in this kind of research, it was the combination of clues from various sources that made it possible to reconstruct the bigger picture.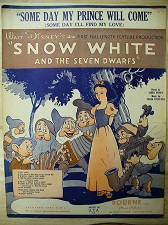 AV: Through your books, it appears that not only was Walt Disney a genius storyteller, but also the greatest of "casting directors", always choosing the right person, or the right association of persons (like Ham Luske and Grim Natwick on Snow White, or the different composers of the score, etc.). Can you tell me about that aspect of Walt's genius and how it came to be so effective in Snow White?
JBK: I've been doing this research for some time now, and that's an aspect of Walt's talent that I still can't get over, or understand, or explain. It's just uncanny. Through hindsight we can see that Luske and Natwick were the perfect animators to bring Snow White to life, that Frank Churchill was exactly the right composer to write the film's songs, and so on, but how did Walt have the foresight to make those assignments? There are some facets of genius that I think just can't be explained.
AV: In addition to researching through the different Disney archives, you also researched at other studios and libraries on the origins of Snow White. Can you tell me about that aspect of your work and how those origins shed an interesting light on the Disney version of the tale?
JBK: That was really an interesting part of putting the book together. At the beginning of my work I didn't know anything about folklore history, but I got a crash course before it was all over. I learned a lot from the writings of Maria Tatar, the distinguished folklorist, and she was also kind enough to help me pursue the more obscure aspects of the subject. My research on the stage versions of Snow White drew heavily on the collections of the Lincoln Center branch of the New York Public Library, the Shubert Archive, and the Harvard Theatre Collection, and a prominent German film historian, Helmut Färber, found and shared some essential information on the German stage version of 1856. And of course I delved into the earlier film versions! My friends at the Library of Congress, the Margaret Herrick Library of the Academy of Motion Picture Arts and Sciences, George Eastman House in Rochester, and the USC film library were especially helpful in that connection. The story of Snow White has a long and rich legacy, and understanding that legacy really helps us to appreciate the richness of the Disney version.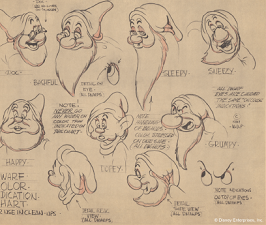 AV: Did you get feedback from present animators and artists? At a time when the medium has changed so much from its origins, how does Snow White continues to nourish the inspiration of animation artists? And more generally speaking, what is, to you, the role of Disney history in that regard?
JBK: Actually, the truth is that I didn't have much contact with current animation artists while working on the book. As a rule I tend to focus on the older films, not so much the newer ones. But I have heard from some of the top people in the industry since finishing the book, and I'm very happy to report that they love Snow White as much as I do! Snow White, and other Disney films of the same period, really are regarded as the gold standard in the craft of animation, and there are plenty of present-day artists who openly acknowledge that standard and are still devoted to it. I think that can only be a good thing. As for the role of Disney history, I think it represents the high point of a highly specialized and demanding art form, and I think Walt will be remembered among the great artists of history. Some people may feel it's too early to say that, but Snow White has been around for 75 years now and it's looking better than ever.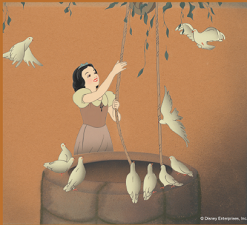 AV: Can we consider The Fairest One of All the first chapter of a new series of books based on serious research on Disney history?
JBK: Yes! These two books on Snow White are really the initial offerings of our own venture, the Walt Disney Family Foundation Press, but they're only the beginning. There are more books coming that will really explore the life and legacy of Walt Disney with the serious attention they deserve. Stay tuned!
---
---
The Fairest One of All: The Making of Walt Disney's Snow White and the Seven Dwarfs
is available to order now from Amazon.com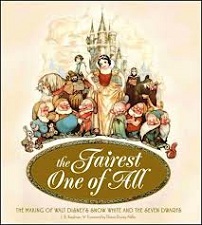 ---
Snow White and the Seven Dwarfs: The Art and Creation of Walt Disney's Classic Animated Film
is available to order now from Amazon.com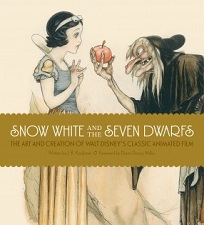 ---
---
Enjoy these two behind-the-scenes videos on the making of J.B.'s books:
The Fairest One Of All: The Story Behind the Book (1)
The Fairest One Of All: The Story Behind the Book (2)
Our deepest thanks to J.B. Kaufman and Andrea Burnett