Touchstone/Walt Disney Pictures (October 29 1993), Walt Disney Home Entertainment (August 30 2011), 3 disc set comprising Blu-ray 3D, Blu-ray HD and DVD/Digital Copy disc, 76 mins plus supplements, 1080p high-definition 1.85:1 and 1.66:1 widescreen, 7.1 Dolby True-HD, Rated PG, Retail: $49.99
Storyboard:
Tim Burton's now classic holiday tale returns to hi-def, now with added spooky third dimension…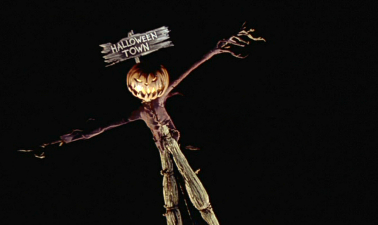 The Sweatbox Review:
Proving how much Tim Burton's 1993 stop-motion animated feature has not only entered the mainstream (no more Touchstone banner for this now proudly Disney-branded franchise) but also that as a bona fide movie classic it withstands multiple reissues, The Nightmare Before Christmas returns to the home video disc market for the fourth time following its original release, 15th anniversary special edition, Blu-ray HD upgrade and, now, a fully-featured combo pack that presents the retro-3D equipped edition of the film.
Burton's Nightmare was not always seen as much of a sure thing, and despite annual Halloween theatrical showings and an enormous run of Jack Skellington merchandise that sells in big numbers to kids who were too young to see the film originally – if, sometimes, at all – the film was a risky venture back in the 1990s, even for the bold and brash – and super successful – Disney of the time. In 1988, Who Framed Roger Rabbit was the mainstream, proving that Western animation could be a hit among the older teenagers and adults for whom the "cartoons are for kids" ethos rang sadly so true.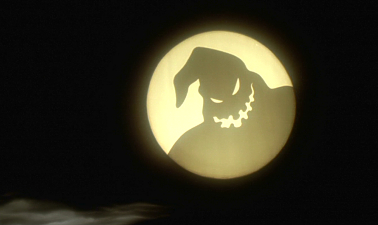 The film was so groundbreaking enough to draw in much more than the usual family crowd (indeed, re-watching the Chinatown-themed Roger reconfirms just how adult minded it is in tone if not fully in execution) and actually played on the idea that animated shorts came from our childhood but were just as complicated and complex as grown ups, if a little more invulnerable. The approach worked: "toons" were suddenly cool again, backed up with surprisingly blockbuster returns for The Little Mermaid a year later (described by some critics as more layered than most live-actioners) and a no less than Best Picture Academy Award nomination for Beauty And The Beast in 1991.
Then Studio-head Jeffrey Katzenberg was interested in pushing the boundaries even further, and was looking for another cross-demographic project like Roger when he came across the sketches former Disney animator Tim Burton had created for a stop-motion film before leaving the Studio just as Katzenberg and Michael Eisner had joined in 1984. Burton, a wildly independent artist, found his unique voice lost in the somewhat schizophrenic world of Walt Disney Productions at that time: a place tied to the cuteness of the past, but with several artists (Burton, John Lasseter, Glen Keane among them) trying to reach out into other more daring areas.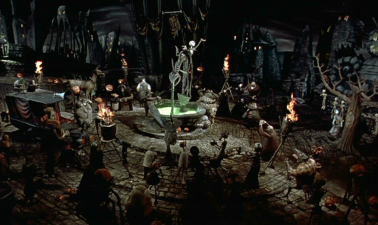 Lasseter and Keane collaborated on an amazing test for a hand-drawn/computer-generated hybrid version of Where The Wild Things Are, the cost of which had it shot down after the disappointing returns on the lavish Tron, while Burton, after animating on The Fox And The Hound and providing designs for The Black Cauldron was eventually left to his own devices and created a macabre stop-motion short, Vincent, and live-action featurette, Frankenweenie. Disney Studios just didn't know what to do with them.
Frankenweenie, on the festival circuit, had proven to be the calling card Burton needed to land various freelance credits before Warner Bros. came calling for him to helm the Paul Reubens oddity Pee Wee's Big Adventure and the spook comedy Beetlejuice, both of which gave him ample opportunities to indulge in some of his beloved stop-motion eccentricities. By the time of the merchandising blitz of Batman in 1989, Burton's future as an A-List feature director was assured and Katzenberg, realising the Disney Studio owned a piece of the director's past, proposed that they get into the Tim Burton business, sensing that the project could be another in the line of growing animated blockbusters Disney was fast becoming acclaimed for. The fact that it would lead the Studio into the three-dimensional realm was just a bonus.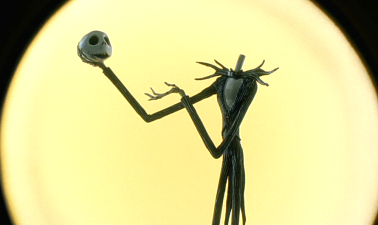 Burton jumped at the chance to revive what he felt was one of his most personal projects, revealing that he'd sketched a poem telling the story of one Jack Skellington, the pumpkin king of Halloween Town who knocks on the wrong door and manages, almost by a series of accidents, to hijack Christmas, replacing Santa Claus in the sled and handing out all manner of inappropriate presents: ghoulish gifts created by the citizens of Halloween Town – hence the NightMARE Before Christmas. At Burton's insistence, the film would be filmed using models and purpose-built sets in the stop-motion process, a medium the director had enjoyed since childhood (during which he witnessed many of Rankin/Bass' animated television specials) for its tangibility. The director signed a multi-picture deal to oversee Nightmare (while he helmed a Batman sequel for Warners), as well as bring a long-cherished biopic on "worst director of all time" to the screen, the brilliant Ed Wood, and the bizarre but overlooked Cabin Boy.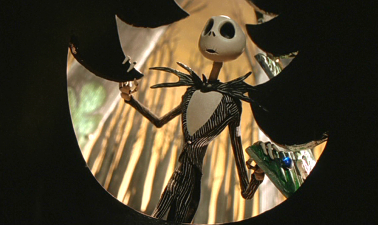 Burton's frequent collaborators Denise Di Novi and Danny Elfman came on board to flesh out the original poem, which Elfman felt lent itself to musical sensibilities. Elfman, the now celebrated composer who had started in the off the wall band Oingo Boingo (performers of the title track from John Hughes' Weird Science among their handful of albums) began working on song demos, singing the title character himself which such conviction that he ended up recording the actual final songs for the movie too. As a day-to-day watchman, Burton chose Henry Selick, probably the most prolific stop-motion director of the time and responsible for MTV's channel-making early branding spots as well as the pilot for Slow Bob In The Lower Dimensions, which displayed a similar sensibility to Burton's style.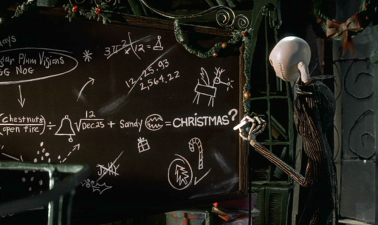 Selick assembled his team in a warehouse in San Francisco (mainly because that's where a high number of skilled stop-motion animators resided) and began work on the soon to be ground breaking film. Although it was, on release, promoted as being the cinema's first full-length stop-motion musical, this was the Disney hype machine blowing at full blast, forgetting the few Rankin/Bass attempts of the 1960s (most notably the somewhat similarly themed Mad Monster Party) and various European features, including an elaborate take on Hansel And Gretel. But Nightmare was the first film of its type created with unreserved deep budget pockets that would forgo the slightly kitschy appeal of stop-motion and elevate it to a new level. Though an early teaser promoted the film as a Walt Disney Pictures release, some of its more "distinctive" aspects and a PG rating, led the Studio to issue it, as it had done with Roger Rabbit, under the Touchstone label. In retrospect, it was a speculative move that proved to be the doing and potential undoing of Nightmare's success.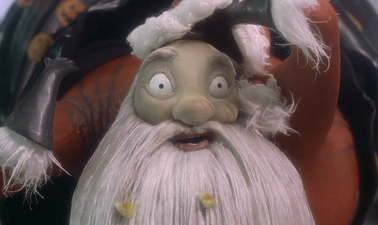 The film itself, almost eighteen years on from its original 1993 release, now needs no introduction, and is perhaps best experienced without any kind of spoiling beforehand. It's filled with flights of fancy, director Selick plussing producer Burton's source with elaborate visuals provided by Disney's deep pockets. You'll not find any disparaging remarks from me, I'm afraid: Nightmare was the film that set me off on an adventure to pen an animated musical of my own, such was the impact of the film, its songs and score on me. If there are any complaints, it's that Patrick Stewart's original and more involving opening narration and coda (preserved on the soundtrack album) was replaced for a far more abrasive Vincent Price-esque take, or that there's no place for frequent Burton collaborator Johnny Depp (a relationship that wouldn't actually be cemented until the following year's Ed Wood).
Possibly, the henchmen Lock, Shock and Barrel (whose job is to kidnap Santa, misheard as "Sandy Claws", and prepare him for torture by the evil Oogie Boogie Man!) are never truly characterised perfectly; their allegiance seems to be to whoever pays the most, though it's not clarified and they remain the vaguest characterisations in the picture. However, apart from these very small caveats, The Nightmare Before Christmas is almost perfect fantasy filmmaking, finding itself released at a time when its producing Studio was very much finding itself back on its feet, embracing its legacy of pure entertainment and innovation, pushing animation boundaries and enjoying an unprecedented renaissance of success that has never been matched – lest we forget Toy Story was only two years away too!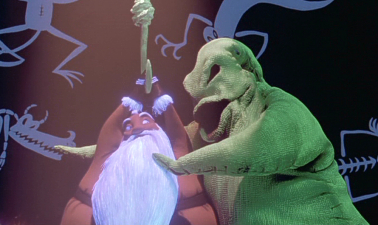 In one sense, releasing the film through Touchstone was the right way to go: at the time the Disney name was still tied up with storybook musicals and do-good, empowering family features – something at odds with Nightmare's slightly melancholic, though never morbid or gruesome, tone. As such, it was accepted by general audiences who hadn't yet made the Disney/Touchstone connection, and even Tim Burton's name became a part of the promotional title, firmly placing the film as one of his as opposed to something coming directly from the Mickey Mouse factory. Unfortunately, the label might have had an adverse affect on original release: despite good word of mouth, Nightmare couldn't be counted amongst the Studio's biggest hits of the early 1990s, even if in retrospect it is in fact every bit as good as Beauty And The Beast or Aladdin (and actually features effects work from Walt Disney Feature Animation and a small Pixar crew). Who can say if the film's more odd attitudes wouldn't have been cancelled out by the Disney branding, which might have elevated the release to an increased awareness.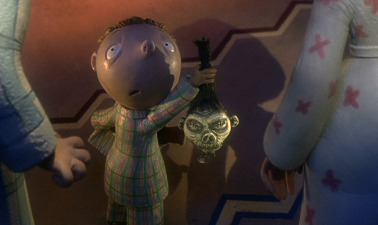 But, over time, The Nightmare Before Christmas has become so much more than a cult film: its home video release (and a gorgeously lavish LaserDisc set) was a major benefactor of the theatrical release, Burton and Elfman's growing fanbase and praise from those that had seen it helping it become something of a success story. The emerging crowds coming out in support of the film were confirmed when Disney ran the film in a limited tenth anniversary engagement: Nightmare played to packed houses in the fall of 2003, cementing its reputation and the Studio's embracing Jack as one of its own. Just as Roger Rabbit found himself starring in Disney-branded spin-off cartoon shorts and a place within the walls of Mickey's Toontown in Disneyland, Jack's been welcomed to the park with open arms as well, "hosting" an annually Halloween themed version of The Haunted Mansion and helping The Nightmare Before Christmas to become a firm Disney favorite. In fact, when the film was spruced up for future high-definition release and the 3D theatrical reissue presented in this new set, it was finally heralded under the Walt Disney Pictures banner.
Ironically, Nightmare also now finds itself among the most popular of Disney brands: merchandise featuring Burton's fantastical characters is everywhere, with Jack and the NB4X (if you're down with the kids) crew popping up in all the places that Mickey and company used to hang out, though arguably appealing to an older and more specific audience. If you will, Nightmare is Disney gone goth, but in a very nice way; a now-solid brand that still generates enough interest that guarantees further perennial limited theatrical runs and even churned out a sequel of sorts, the video game continuation Oogie Boogie's Revenge, in which Jack's nemesis from this original film returns. A recent reissue for Elfman's soundtrack included cover versions from artists as diverse as Marilyn Manson, with Elfman's music – particularly his What's This? signature moment for Jack – continuing to find life outside the film as a temp-track staple in many theatrical trailers.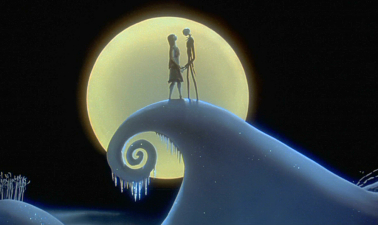 Following Nightmare's release, Burton and Selick embarked on another stop-motion odyssey, James And The Giant Peach, perhaps the most faithful adaptation of a Roald Dahl book to the screen, though the film – even with the Walt Disney Pictures name intact and a cameo from Jack himself – failed to take hold at the box-office. Selick went on to the stop-motion/live-action hybrid Monkeybone, an underrated and exceptional merging of techniques that were even more perfected in scenes shot for Wes Anderson's The Life Aquatic. But "more Nightmare" seems to be how the audience now perceives stop-motion: Selick's CG short Moongirl and subsequent feature Coraline both returned to similar ground, and Burton himself, on the back of the resurgence of interest in Nightmare, produced the closest to what could be called a follow-up if not a direct sequel, the delightfully twisted Corpse Bride, for the Warner Bros Studio that he has often made his home.
After another Dahl adaptation, Charlie And The Chocolate Factory, in which he dabbled in computer generated imagery, fans of the director were pleased when he announced a return to Disney's, for the love-it-or-hate-it Alice In Wonderland and the long-awaited (and much anticipated) stop-motion feature take on Burton's Frankenweenie. Although it's still unclear as to whether it will be a musical, Elfman's involvement is practically a certainty, which will ironically bring Burton full circle and back to his Disney roots, especially with long-time Studio producer Don Hahn behind the camera. But it's to The Nightmare Before Christmas that Frankenweenie and any other similar films will remain inevitably measured against. Though the films that follow may have even more refined super-smooth animation or cleverer effects, it was Nightmare back in 1993 that stood out as something special. Nearly two decades on, it still is.
Is This Thing Loaded?
Previously issued as a standard edition DVD with a few supplements ported over and chopped down from the super-deluxe LaserDisc set, it's the 15th Anniversary Edition's wealth of old and new supplements that accompanies the new 3D disc added to the pack. Sadly, the Blu-ray 3D itself adds nothing to the line-up except for the newly dimensional feature; the opportunity for a featurette on its stereoptical conversion has been sadly passed over. Across all the discs, the customary (updated) previews are for the Diamond Edition of The Lion King and its stage show, Disneynature's very cute-looking Chimpanzee and African Cats, the Disney Movie Rewards program, Cars 2, SpookyBuddies, and the debut announcement for Lady And The Tramp's Diamond Edition.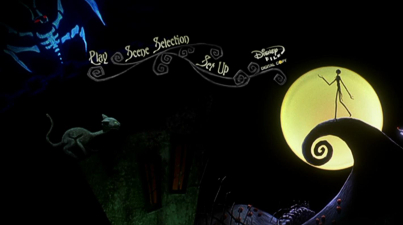 On the Blu-ray Disc, and with the film being an averagely "short" feature at just 76 minutes, there's naturally a lot of disc space left, and it has been well and truly filled admirably by the very nice selection of material from the earlier releases. Everything remains fun or classy, although the previously wonderful main menu (a zooming fly-through of Halloween Town packed with characters from the movie popping out from all over the place) has been zapped for a much more static affair that isn't anywhere near as involving. Also changed is the supplemental line-up, now a potpourri of content that places the extras in a rather haphazard and random selection.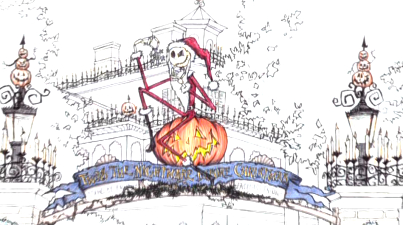 Now offered in hi-def, the What's This? Jack's Haunted Mansion Holiday Tour takes us to Disneyland to experience the annual re-dressing of the park's classic attraction between every Halloween and Christmastime. "On Track" offers the seven minute ride in a first person environment, the camera being our eyes as we experience Jack's tour of the haunted house complete with a Paul Frees-soundalike narration. Unfortunately, while we can pick up on the flavor of proceedings, it's all a bit rushed and quick cut, the hyper approach to trying to convey the excitement ultimately cancelling out the enjoyment factor. The extensive amount of decoration that has gone into the redesign is very impressive, however, and this is best sampled in the Trivia Track version of the ride, which repeats the same seven minute clip but overlays subtitled pop-ups that reveal many facts about the original Haunted Mansion and Jack's inhabiting the house in the dark months.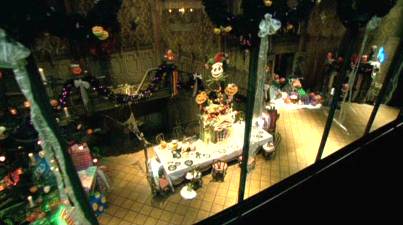 While the many details concerning the huge amount of numbers involved in the various facets are interesting, there's a lack of really good info and none of the ride's secrets are given away or even highlighted, something that's also a disappointment with the "Off Track" version, a no-less than 37 minute exploration of the ride that perhaps goes over the top in depth. Despite the many titled segments within the program, there is an unfortunate lack of chapter indexing, which means a sitting in one stretch. At nearly 40 minutes, it's obviously got the time it needs to pick out every little piece of minutiae one could ever possibly imagine to find, even if it does feel a bit like overkill. However, it certainly made me appreciate the Tour a little more, even if it still doesn't feel as if one has experienced it in the all-encompassing way the Sleeping Beauty Walkthrough feature on that film's Platinum Edition achieved and, being a different kind of attraction, instead of a CG recreation the camera crew have obviously snuck into the park during the night to capture the feel of the Holiday Tour – but that's all they do.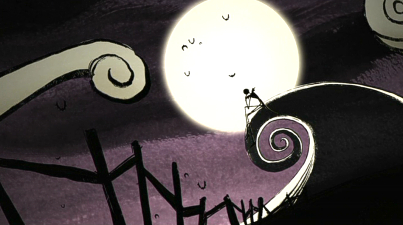 A real treat is Tim Burton's Original Poem Narrated By Christopher Lee, which runs for a generous 11 minutes and in HD to boot. With background score from the film and newly manipulated artwork that will be familiar to those with the published version of Burton's story in book form, this is just about as magical as the movie itself. The production value is exceptional: rather than re-use shots from the movie, the new animation does just as good a job of telling the story as our very special narrator. A fan of the Hammer Films of the 1960s and 70s Burton cast Lee in his own homage to those horror classics, Sleepy Hollow, and the two have remained firm friends ever since, re-teaming for Corpse Bride and Charlie And The Chocolate Factory. With his strong literary sensibilities, he is the perfect choice for a vocal rendition of Burton's inspiration for the movie: a bedtime story that'll make grown adults feel like young children again!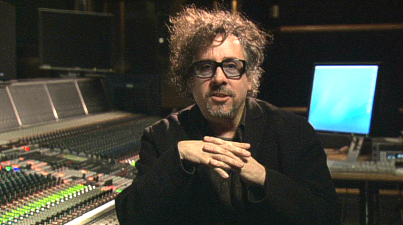 An "all-new" (2008) Audio Commentary with producer Tim Burton, director Henry Selick and composer Danny Elfman replaces the earlier LaserDisc track with Selick and director of photography Pete Kozachik. That discussion was among my favorite commentaries for its quietly hushed but exceptionally informative remarks, and with the film's two main players joining Selick this time out, I was intrigued to hear what they could bring along. Interestingly, not one of them speaks before the new Disney opening to the film (see below) has concluded – perhaps saying as much about the switch from Touchstone as they'd like to, by saying nothing! It's immediately apparent that the three participants are not in the same room, and that their comments have been cobbled together from separate sessions. While they each have something to say – especially Elfman, who enthuses profusely about how the songs came to him – the disjointed feel doesn't make for a very warm track, and though it's a never ending stream of very interesting and mostly retrospective comments, I found myself missing Selick and Kozachik's technical reveals and "stories around a campfire" approach.
Burton's time at Disney isn't really gone into, but we do get a peek at his early work: which began at the Studio with the short film Vincent. Skipping this for the moment, and although Vincent didn't garner much praise from within Disney's own animation department at the time, it did lead to Burton's leaving the unit and moving over to live-action when they declined to let him film his next proposed project in the same stop-motion medium. The result was another black and white homage to the horror films the director had seen as a child, and it's presented here in full: the uncut featurette Frankenweenie (1984, with no prizes for guessing which famous monster of filmland the title refers to). Featuring 80s NeverEnding Story and D.A.R.Y.L. child star Barret Oliver (of whatever happened to… fame) as a young lad who reanimates his pooch after a road accident, Frankenweenie is great fun for fans of the director's work, with many trademark touches, casting choices and thematic elements making their debuts here.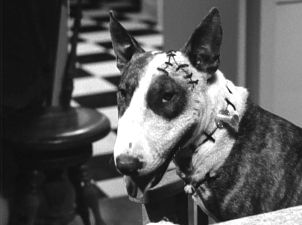 With the property about to come full circle as it makes it way back to the screen as originally intended in animated feature form, I wouldn't be surprised to see it turn up again as an extra on that disc's eventual release, and hopefully by then in HD. Here, in an Intro By Tim Burton, the director reveals a brief peek at some artwork (which reveal a classic Family Dog look for Sparky himself) for the currently in production movie. Shot to an open matte negative and masked in theaters, it looks like we'll have to wait until next time for the obviously intended widescreen framing to be preserved, because this is again the same interlaced transfer as used before. The claims of an "uncut" version are valid, however, and even though this is the same print element, there are indeed some additional moments contained within, bringing the running time up from the previously released LaserDisc's 27 minutes to the DVD and original Blu-ray's 30, including an extra opening film within a film gag and a couple of non-essential scene extensions (mostly concerning parents Shelley Duvall and Daniel Stern), so nothing too exciting or of a questionable nature that might have affected its original G rating.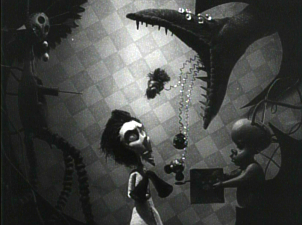 Before Frankenweenie there was Burton's original stop-motion short Vincent (1982, sadly still just SD) a more than appropriate inclusion: not only was this the director's (with Rick Heinrichs) first professional attempt in the medium, but it played with Nightmare in its theatrical run and continues to be a popular companion to the film (with one character displaying a clear lineage to the future Jack Skellington). Both a paean to and narrated by Vincent Price, the somewhat autobiographical short (at six minutes) portrays the morbid fantasies of a rather isolated young boy (a non-too camouflaged Burton) and is full to the brim with the director's style and touches that would later flourish in NB4X. Wonderfully told in atmospheric monochrome, the low budget doesn't belie the production values, which Burton and Heinrichs manage to make look top-notch, packing in some clever special effects and camera moves. I was hoping that after years of a murky, composite video transfer that we'd be presented with something fresher here – or even a matted widescreen edition as seen in theaters at last – but alas it's the same old interlaced open matte print, again looking as beat up as ever.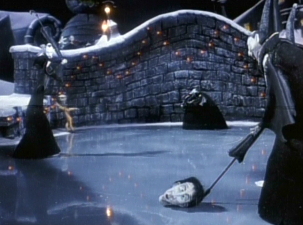 A grouping of Deleted Scenes ports over all of the material from the previous editions: Deleted Storyboards' Behemoth Singing features an extra verse of Making Christmas (0:53), as does Oogie Boogie With Dancing Bugs (0:37), and the Alternate Identity Of Oogie Boogie (1:22) reveals a more unlikely face behind the cloth; the latter two clips are presented with director Selick's LaserDisc intros intact. Deleted Animation Sequences lines up four such clips: Jack's Scientific Experiments (with John Williams' Witches Of Eastwick used as a temp music track), Vampire Hockey Players (a proposed cameo for Burton), Lock, Shock And Barrel and Oogie Boogie Shadow Dance, running for five minutes in a Play All option that again ports over Selick's previous comments made for the LD. Some of these moments are among my favorite of the original LD extras, and so I'm very pleased that they've been included here for wider enjoyment, even if they're still only presented in SD.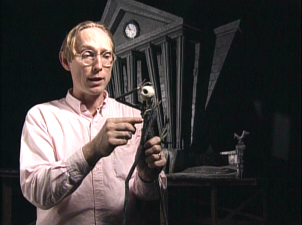 Those with the LaserDisc set will want to hold on to that for the extensive behind the scenes materials, which are drawn upon, but not included in their entirety here. The Making Of Tim Burton's The Nightmare Before Christmas is a standard definition 25 minute cut down of the hour-long series of Kurtti/Pellerin's interviews found in the LD box, but it's not technically a repeat, being a reworked TV styled documentary with assorted clips from the movie thrown in for a bit of gloss. The LD covered a few more basics (including some very neat proof of concept sequences) and comments from then Studio head Katzenberg, but they've been snipped here in return for a voice over that keeps the info coming. Sliced into six chapters (The Beginning, Music, Storyboards, Art Direction, Puppets and Animation) as opposed to the LD's 12 segments, one can't say one is better over the other, the LD being much more extensive (especially concerning the song recording sessions), this version arguably including much more "on-set" footage and slickness.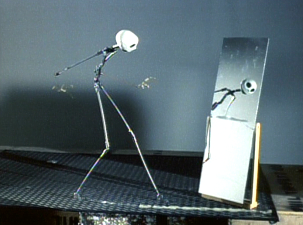 One of the LaserDisc set's strong points was an exhaustive still frame gallery, and a fair chunk of that has wound up in The Worlds Of Tim Burton's The Nightmare Before Christmas, a catch-all section, if you will, of much of the left over material. Split into three sections – Halloween Town, Christmas Town and The Real World – you'll find here a collection of Character Designs, Animation Tests and Concept Art covering individual characters and their environments. Missing from before is the proof of concept sequence and a huge number of production photos that could have quite easily been included in this section, but otherwise this is, in many ways, a wonderfully celebratory set, and for once one can honestly say that much if not most of the supplements found in the original Deluxe LaserDisc box have made the cut in this new selection, much of it in HD.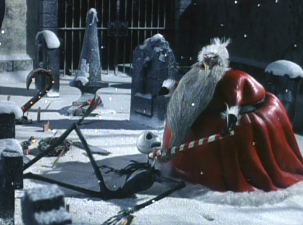 Actually created for the LD but never used, a Storyboard To Film Comparison plays the almost four minute Town Meeting sequence on screen along top and bottom respectively, allowing for a lengthy look at the genesis for a typical sequence. Rounding things out, and a very nice change to the usual stinginess that Disney greets its promotional clips' inclusion in these packages, we're offered a series of Original Theatrical Trailers And Posters, including some one-sheets that didn't make the LD (though many more on the LD that didn't make it here). The previews, a teaser and trailer, are the same as before, the first sprouting flowery words about the legacy and innovation of Disney animation from Snow White to Roger Rabbit, with a sampling of Elfman's What's This? demo recording; the second reverting to its original Touchstone release and interestingly scored with a cue from John Williams' score for Hook. Together, both trailers run for around three minutes, in standard def 4:3 open matte, providing a nostalgic look back and a fitting way to end the supplements here.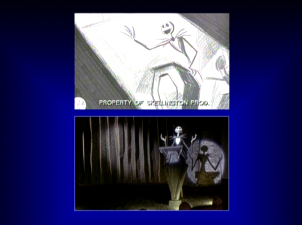 On the DVD, and with all the bonuses confined to the BD only, Disney has split the difference on Nightmare's running time and removed any extras to include the Digital Copy on the same platter. This is a move that I think is justified and totally rational since most will either have the previous DVD or BD edition and will be curious about the 3D, or those buying for the first time – and going for a 3D combo pack – will surely be able to enjoy the supplements via their Blu-ray decks. Also, it saves on a redundant disc and goes back to what the DVD and Digital Copy versions in these sets were originally intended as: just an extra way to watch the movie rather than as feature-packed editions in their own right. The film, naturally in standard definition only, is presented without any space-impeded hindrance as far as either layer goes, with a rich Dolby 5.1 mix and the original negative ratio of 1.66:1 preserved.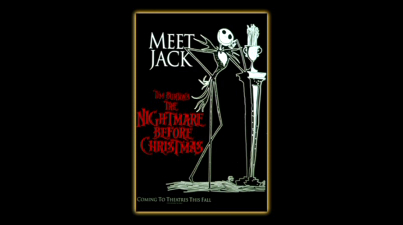 While it is not quite definitive, this is an exemplary selection of extras – one might call it an "alternate" edition – which manages to convey a pretty similar wealth of information that one can't really quibble. The major omissions from the LaserDisc box (apart from obviously missing out on The Film, The Art, The Vision 200 page hardcover book, original commentary and additional interviews already mentioned) focus more on director Henry Selick's work: early pencil tests from Cal Arts, The Small One and The Fox And The Hound, a sequence from his early film Seepage, a number of MTV station idents, his entire short film Slow Bob In The Lower Dimensions (showing clearly how he landed the Nightmare gig!) and some now outdated comments regarding the "upcoming" James And The Giant Peach. None of this material amounts to much more than 20 minutes at the most and essentially this contains everything from the 15th Anniversary DVD and the 2008 Blu-ray editions.
Case Study:
Just when Mars Needs Moms had us thinking that Disney had dropped the groovy lenticular slipcover fronts that they've been using on their animated 3D titles of late, Nightmare brings the somewhat dimensional cover concept back, and this treatment of one of the film's original theatrical posters is most welcome. Other than that, this four-disc combo pack follows along the usual lines: a slipcovered thick case holds the discs in flap-over trays to provide a pretty substantial feeling package – not, sadly, as engrossing as the 15th Anniversary Edition's "carved out" Jack on the front of the DVD box, but nicer than the flat original Blu-ray's drawn version of that same concept. As before, gone are references to the Touchstone logo, replaced with now proud proclamations of Walt Disney Pictures Presents.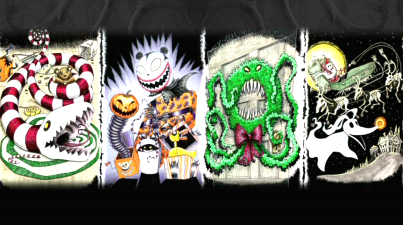 Ink And Paint:
Blu-ray 3D: Here's the main reason for this new edition, and the big question is, does Nightmare work in 3D? The answer is yes…and no. If Burton had been given half a chance, he would have shot NB4X as a black and white homage to the chillers he loved as a child (as Frankenweenie is set to be shown). Disney, already betting on a pretty risky venture, would have put paid to that idea early on, but that's not to say that Nightmare features the most bountiful color scheme! Dark purple is sometimes about as colorful as it gets, apart from the festive scenes in Christmastown and the real world, and of course Oogie Boogie's ultraviolet lair is absolutely bursting with neon-like tints. When the color strikes, Nightmare can be quite beautiful with the added dimension, but for the most part the darker shading means this is another movie whose added depth isn't really served justice by the intentionally heavier lighting, with some of the high contrast shots of the brilliantly white skeletal Jack against the black settings leading to quite a bit of (appropriately?) ghosting. The extra-D does, actually, bring a little more depth to the film, and some fun moments include Jack scaring the wits out of Lock, Shock and Barrel that really comes alive with the added planes.
This was my first experience of a post-converted animated title on disc, though I can't say I was always impressed, with the effect not being so far off how a ViewMaster edition of NB4X might have looked, although that's probably because of the stop-motion and inherent nature of the already three-dimensional "real world" puppets. But – and I'm undecided if this is a big or little but – while the dimensionality strives to make the puppets look as if they're being animated right in front of you, there isn't the hyper-real feel to the depth that is greater than one would experience in real life, and this lack of the kind of stronger perspective we're used to with more recent 3D animation (Nightmare's 1.85:1 3D conversion dates from some five years ago), any added clarity is somewhat dimmed by the process, conversely taking away as much as is added. As such, long-time fans of the film may well either appreciate seeing it again in a new way (and even though it's been post-converted, some moments have always seemed set up with 3D in mind), or they may wonder what the point of it is. I'm right on the fence, liking it when it works (for the "realness" to the puppets and in certain colorful scenes), but not when it doesn't (for the softening of clarity in the often darker moments). "Interesting" may well be the right word…!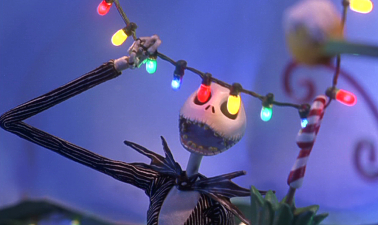 Blu-ray Disc: Using the same SLR camera-sourced digitally composed files as for its 3D resurrection, NB4X's already stunning image, as fans of the CAV LD will remember, looks even clearer, sharper and deeper, with highly detailed textures, pure blacks and a light layer of grain keeping things real. First thing fans will notice is the swapping of the Touchstone opening for the recent Wonderful World Of Disney castle, complete with the Disney Pictures text and new timing for the main title, which takes a second to get used to (though the film retains its Touchstone copyright). But after that things are stunning: a rock-solid original 1.66:1 image (uncropped unlike the 16:9 display filling 3D version) offering a new appreciation of the model work and Kozachik's live-action styled deep focus and always moving cinematography that undoubtedly contributes to making the size of the sets feel larger and therefore opening up the worlds of the film, making them more believable, even without the extra dimensionality. The hi-def BD format marks this release as the definitive record of the film where, in 3D or not, it feels like one could reach out and pick up the characters!
Scratch Tracks:
With Burton and Elfman proving themselves as filmmaker and composer respectively, they pretty much had carte blanche when it came to the look and sound, and as such Nightmare's soundtrack was pretty top-notch even back in 1993. So there are no great new revelations with the terrifically enveloping 7.1 Dolby True-HD track provided in this edition – effectively the same as has been on the current regular Blu-ray issue of the film for three years now – and it retains all the dynamics, from small quiet moments of introspection to the big bombastic climax, inherent in the original mix, easily beating even the DVD's DTS mix with infinitely more fidelity, separation, and a wonderfully chubby bass that will stomp through your woofers. French and Spanish 5.1 tracks and subtitles are also included, though the DVD drops the Spanish for some reason, and the BD includes the D-Box code for those with interactive viewing chairs that really want to be shaken out of their skin!
Final Cut:
If you've seen and enjoyed any of the other titles referred to in this review, then you'll instantly warm to Tim Burton's The Nightmare Before Christmas; if you've seen Nightmare, you'd do well to seek out those other films, as well as Burton's almost balletic Edward Scissorhands, with Johnny Depp, and grown ups should find much guilty pleasure in Burton/Depp's most recent effort, the graphic horror comedy musical Sweeney Todd: The Demon Barber Of Fleet Street, all of which are very much cinematic cousins sharing the same visual flair. But Nightmare is also truly warmer than those films, and such is its enchanting allure that it works just as well as a Halloween or Christmas treat, popping up on television around both holidays. It's a truly original and unique film experience (I'd say "one-off" too, but such is its impact that there have been and will continue to be others that strive to re-capture its magic), there really hadn't been anything like it before 1993.
A story that takes place in a wonderful and whimsical world of its own, The Nightmare Before Christmas is the kind of film that can appeal to all audiences, crossing the boundaries and finding fans in people that usually don't warm to musicals, animation or, for that matter, scary movies. Nightmare is that rare thing: a movie that's grown in stature over time, becoming more than the sum of its parts; a safe and fun "horror" experience for kids that's multi-layered enough for adults. It's a film that well deserves its place among Disney's renaissance pictures of the early 1990s, pulling a long overlooked filmmaking process out of the doldrums while looking ahead to the animation innovation to come. The addition of 3D may or may not offer any extra bells and whistles, but conversely offers fans a new perspective on the movie and those yet to see it a catch-all combo pack with all the supplements intact. In its own way, The Nightmare Before Christmas could well be Tim Burton's masterpiece. It wouldn't at all be a bad legacy to leave behind, and this all-encompassing set is a simply wonderful way to remember it, with or without the added dimension.
Animated Classic or Back To The Drawing Board?