Walt Disney Animation Studios (November 24 2010), Walt Disney Home Entertainment (March 29 2011), 4-disc set comprising of 3D Blu-ray, HD Blu-ray, DVD plus Digital Copy, 100 mins plus supplements, 1080p 1.78:1 high-definition, DTS-HD 7.1 Master Audio, Rated PG, Retail: $49.99
Storyboard:
The classic Rapunzel fairytale of a long-haired girl trapped in a tall tower is given a fashionable twist in this very smart blend of old-school storytelling and new-style computer animation that may be state of the art, but still comes with a healthy sprinkling of pure pixie-dust magic!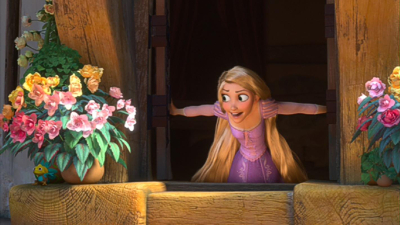 The Sweatbox Review:
Whatever the tangled process was that the artists at the Walt Disney Studios had to go through in order to bring their eventual take on one of the last great fairytales as yet untouched by the Mouse Factory, the result is a pure, premium grade slice of magic that can stand proudly alongside with the best from the past 50 animated pictures the company has produced. The film famously started life as animator Glen Keane's pet project; a retelling of Rapunzel intended to recall the majesty and scope of Beauty And The Beast, but quickly thrown off target by the then supposedly hip Disney executives that, smarting from the barrage of pop-culture smashes from rival DreamWorks, demanded the film take the contemporary mocking approach that had proved such a hit with the Shrek series.
The ungainly title Rapunzel Unbraided was announced, the story apparently following two modern-day teenagers and their transformation into storybook characters that would then play out the typical Rapunzel tale with added trendy references and, I expect, knowing humor. Sounds great, doesn't it? No, I didn't think so either… So hooray for John Lasseter and his marching into the head honcho seat at Disney Animation, and even though some of his immediate changes may have ruffled many feathers, we can thank him for many others. Several films already in advanced development were too far into production to be canceled, but Lasseter's Pixar-honed touch undoubtedly made better product of such titles as Meet The Robinsons, even if the finally released Bolt was a watered down version of Chris Sanders' admittedly wacky American Dog and Elton John's garden comedy Gnomeo And Juliet left the Studio to be outsourced.
Because of the sheer time it takes to make an animated movie, we're still now only really starting to see the results of Lasseter's shepherding the Disney Studio. The first thing he did on arriving was to put a typically Disneyfied animated musical fairytale into production, but instead of utilising the current CG animation approach, The Princess And The Frog returned to the beautiful hand-drawn style the Studio was traditionally known for. The storytelling – feeling very much like the kind of film that might have been made in Disney's 1990s heyday – may have been a little rusty, but the goals were clear, only for Rapunzel Unbraided to be the next to get a complete makeover. Out went the modern teenage characters and in came the kind of Disney magic that had been a little lacking of late. Even composer Alan Menken, who had been missed as the song-writer on Princess And The Frog, was asked to pen the film's songs and score.
Originally, the film had been designed as a hand-drawn outing, but the switch to CG production since the messy Chicken Little (before Lasseter's tenure began) meant that Rapunzel was always going to be a computer animated picture. Knowing this, it was a surprise when the uncompromising advocate of traditional animation Keane – slated to make his directorial debut – embraced the computer and immediately began exploring how he could make the sometimes marionette-like characters behave with all the fluidity and grace of hand-drawn animation, with all its squash and stretch technique almost invisibly providing the very definition of what good Disney animation was all about. Keane's goal was also to push the technological boundaries – as every good Disney production has done – and in particular to advance the look of CG, wanting to use its rendering capabilities to create moving, living paintings as its frames of animation.
An early test revealed the inspired of Fragonard's The Swing, which depicts a young girl lost to the pleasure of her own enjoyment, but these were lofty creative ambitions: an entire feature film requiring this kind of rendering power – especially one that had already been in costly development for the past few years – would prove prohibitively expensive and time consuming. Lasseter reportedly offered Keane the chance to return the project to the hand-drawn medium, but the then-director was eager to proceed with pushing the computer's boundaries. It was clear Keane's ambitions lay in bringing a new look to the often mannequin appearance of CG characters, and so Nathan Greno and Byron Howard – two of Disney's most recent up and coming directors – were brought in to shepherd production while Keane took on supervising the animators and executive producer duties.
Keane's look is, ultimately, what really supports and often saves Tangled's visual approach. The artist is covered in pure Disney pixie dust and it's his eye for performance detail that lifts the characters' animation to a new level for CG film, combining all that is good about that medium, with the traditional characteristics of classical animation. Reportedly, Keane viewed each scene as it was animated, revising poses and changing the shape of the models where needed in order to create the feel of a hand-drawn performance, but rendered in 3D CGI. At first I admit I was skeptical that a traditional Disney musical fairytale would even work in CG: over seventy years and almost fifty films created by hand means this sub-genre's technique has become as important and identifiable as the films themselves.
And yet there's no real reason as to why such a project wouldn't work in CG, but Tangled's masterstroke is in the execution, supplementing the new visual approach with lots of what we expect, from the European-inspired settings, to the mock-medieval costumes, and even the character designs and inclusion of typical sidekicks, villainesses and, of course, extremely hum-able tunes! All of which adds up – CG visuals included – to what turns out to be the most classic, purest kind of Disney picture that anyone could hope for, mesmerizing from around 30 seconds in and staying absolutely enchanting for the rest of its duration. It's perhaps not quite in Keane's intended Beauty And The Beast league, but coming after The Princess And The Frog's Little Mermaid-like good steps, Tangled certainly marks a full return to Disney's past top form.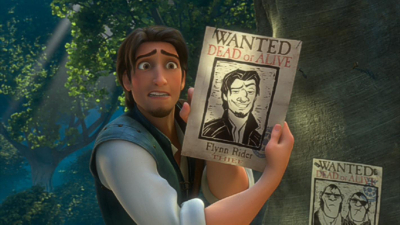 I wasn't, perhaps, a big fan of the rogue Flynn's opening lines: here instead of a traditional storybook there's a fully-animated prologue, and it's in danger of becoming a disjointed attempt at pulling in a modern crowd, tipping over once or twice into the kinds of smart-alecky dialogue that has killed other such openings. However, it's over quick and still sets up the Once Upon A Time concept fairly neatly, and when it really works is when vocalist Zachary Levi takes on a more sombre and serious tone. The perhaps awkward segueing from old to new over with, the rest of Tangled is just amazingly entertaining, and it's very apparent just how much Glen Keane's hands were all over the film, retaining his painterly intentions in the lush and luscious background settings and absolutely superlative character animation that indeed stretches CG like never before.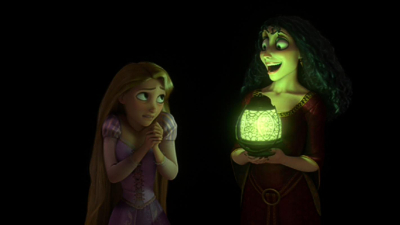 Added to this is Greno and Howard's direction, which fantastically keeps things moving and felt, to me, to be the most innovative in an animated picture – Disney or otherwise – since the Studio's Tarzan. In fact, without putting too fine a point on it, I thought Tangled was the best pure Disney film since Tarzan, and I'm astonished as to why it didn't make the Best Animated Feature shortlist at this year's Oscars, even in a quality year that saw Toy Story 3 and the DreamWorks surprise How To Train Your Dragon joint by a perhaps mindful nod to hand-drawn (and independent) animation The Illusionist. But, hands down, if any film beats all of those, for me at least, in terms of pure escapist entertainment and animation technique, it's Tangled.
Okay…probably enough of the hype. If there's one thing that might have held Tangled back from Oscar gold, perhaps it's the feeling that – however new the approach may be – this is the latest fairytale (and 50th animated motion picture) to be rolled off the Disney conveyor belt. They may be a little weight to that argument, but it has to be said there's a freshness too. For instance, I was a little worried, truth be told, that the wonderful Alan Menken might have too easily relied on previous "tricks" in his new songs and score, but on the whole it felt rather new and exciting, the result of a 1960s folksy influence bringing something fresh to the orchestrations.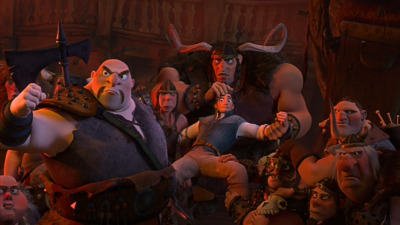 Back in theatrical release, I mistook the pure Broadway sound for something akin to Sondheim, but after playing the soundtrack countless times, it seems to me that the songs are more Boublil and Schönberg (Les Miserables), with even a bit of Menken's own past catalog thrown in (flecks of Pocahontas, for example, with one melody strongly recalling the deleted song In The Middle Of The River). But listening to a soundtrack over and over also reveals any weak points, and on the lyrical side of things, Glenn Slater's work isn't always up to his usual standards, and lacks the super-wordplay of Menken's previous collaborators and even Slater's own past tongue-twisters. Indeed, I was quite surprised at how many "filler" words were used to fill out the lines in Menken's tunes, with the lyricist falling back on various standbys and often using fairly routine and mundane wording.
However, I quite liked the shorter length of the songs in the film, and their juxtaposition of having more of them (well, at least reprises) throughout the film more frequently. Rapunzel's introduction is as contemporary as it needs to be to pull in today's audiences, but retains the classic "I want" philosophy, while the Oscar nominated (and robbed on the night!) I See The Light does everything a romantic ballad should do (again despite Slater's sometimes everyday words, the melody was lodged in my mind), but best of the bunch is Mother Gothel's Mother Knows Best which, coupled with some simple sublime movement that made me audibly gasp out loud, should be up there with the best villainesses' songs alongside Ursula et al.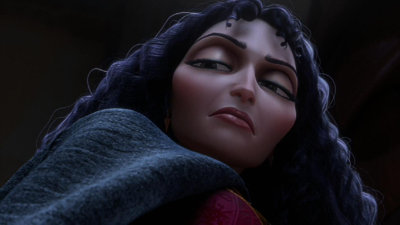 A good film is often only as good as its villain, and Gothel's animation is among the best in the film, making me totally forget I was watching CGI, or even animation. I was totally caught up in the moment and with the character, and again the direction, which uniquely used 3D to very good effect in the theater and has been replicated very smoothly and remarkably effectively in this set, is to be commended. As a non-fan of 3D that's really saying something, but it was likewise a great feeling to again marvel at new animated sights; not just once did I literally mumble "Wow!" to myself throughout Tangled's unspooling, although these weren't just confined to the extra-dimension: many times I was thrilled by story points and character moments, not least Gothel's comeuppance, which is as shocking and traditional as every good Disney ending gets!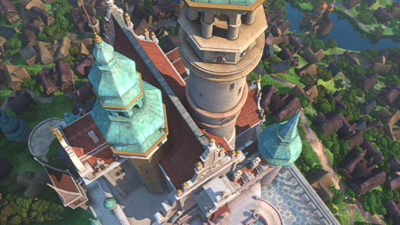 Apologies to those that may not have gotten quite as much as I did from Tangled, but I didn't think it put a single step wrong. I found myself comparing moments to Snow White, Mermaid and Beauty And The Beast throughout, especially towards the end, where Beauty is most evocatively evoked. Rapunzel and Flynn's relationship is perfectly formed too, with both characters coming to realize their feelings for each other over a matter of time that is fairly believable given that he's a dashing rogue and she's basically a girl who's been locked up in a tower all her life. In the film's almost-title role, Mandy Moore (replacing earlier choice Reese Witherspoon) does a great job as Rapunzel, and even though she's a celebrity vocalist, the casting doesn't go overboard in this sense, going for voices that fit their characters.
As such, Moore is perfect as the young innocent, all big wide eyes in voice to match her character's look. Also nicely, in another throwback, Rapunzel isn't the kind of feisty princess that always calls the shots: sure she's honed how to use her lengthy hair as an aid in various ways – usually as a weapon against Flynn's advances – but she's new to the world and still needs Flynn's guidance to help her through it, leading to the kinds of relationship fireworks typical of today's romantic comedies and having fun playing with those conventions. One thing I might have liked would be for Rapunzel to actually start off the song when the pair find themselves in a tavern: it seems too convenient and cliché for the ugly roughian who begins the song to start revealing his inner dreams, when it might have been more believable for her to use it as a distraction device, but this is a small gripe and although the sequence is the most superfluous to the film, when Moore joins in it becomes another highlight, and I did laugh out loud several times.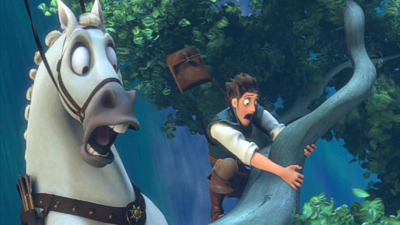 As the latest in Disney's long line of dryly humorous horses, I didn't find Flynn's "adopted" steed Maximus to be as funny as many other found him, but even here he was an excellent character in his own right, again with top-notch animation. All of which means I'm still wracking my brain to think of things I didn't particularly warm to, but simply put Tangled is everything that a Disney fairytale for the 21st century needs to be. While being absolutely ready for the here and now, it has a wonderful hark back to the real classics, more so than even the intentionally referencing Enchanted and certainly more than the last ten years' worth of pictures, good as some of them were. And it still surprises me how this hugely entertaining bullseye of a future-classic Disney film didn't get more recognition than Toy Story 3. Sure, that film was good in its own way, but it was a sequel with returning characters, a recurring same plot, etc, whereas Tangled took a formula and turned it around to give us a totally new experience that still felt just as traditional as it should.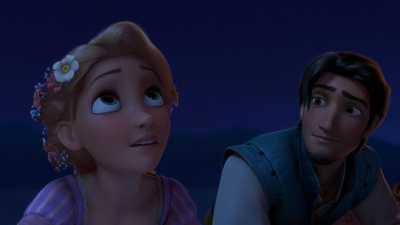 It's also so immensely fitting that it is a classic musical fairytale that comes in as Disney's "50th Animated Motion Picture" in the official listing, also as the special Walt Disney Animation Studio logo has it at the front and end titles. It may have taken the Studio a long time to get to this story (Walt had abandoned a version in the 1940s and, like so many others, it was revised several times over the years) and may have even surprised some that the Studio hadn't gotten to it yet already, but I'm very glad this story of Rapunzel found a sizable audience in theatrical release and gave Disney its first bona fide animated hit in some time, befitting such a milestone. I also felt there was a subtle visual reference to the old Mousetro in the film as well: I might be wrong, but take a look at Rapunzel's father, the King…is there no mistaking that recognizable nose!?
And as for that title? Well, sure, the film could have been called "Rapunzel", but it really is more than just that. Yes, it has a girl with long hair locked in a tower, but from that point the equal focus on Flynn does make it a two-hander. The Tangled title may well have been a marketing ploy to pull in teenagers and not put off young boys being drawn to a "girls' picture", but it's one that, in retrospect, worked anyway. Tangled proves the Studio is absolutely back on track, though I'm a little worried that the about-to-be-released new Winnie The Pooh may be seen as a step back, when really what they need to do is push forward with more innovative stuff, like new, original concepts akin to Lady And The Tramp, One Hundred And One Dalmatians or The Lion King.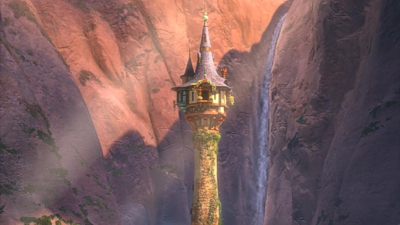 I hope that after a triumph like this, Lasseter doesn't just keep Disney making "Disney" films now, as that wouldn't be progressive to the obvious creativity to be found there. They're back on a roll. They need to keep moving forward with this momentum, keeping a toe in the past while very much striding into the future. But I do hope they also mix those kind of new projects with the kind of traditional musical fairytale that's the Studio's signature trademark, and which Tangled – an animated story expertly told for this (or any other, for that matter!) day and age – proves is still in high demand when carried off with such confidence and assuredness. Here's to the next 50 Disney pictures!
Is This Thing Loaded?
Surprisingly for a film that turned out to find its huge entertainment value rewarded with a healthy box-office bounty, Tangled isn't exactly stuffed with extras on its home video disc debut, despite this all-in, four-disc combo pack's abundance of platters and the lengthy production history the film endured. In fact, I wouldn't be shocked to find another edition come along at some point, even if Disney has kind of put all their eggs in one basket with the format offerings in this set.
The Blu-ray 3D Disc offers nothing in the way of supplements, instead saving its space for the feature film itself and leaving the extras for the second, regular Blu-ray Disc. These begin – with a conspicuous lack of audio commentary – with a rather slim selection of just three story-sketched Deleted Scenes, introduced by the directors and running 13 minutes in a Play All option. The Jaunty Moose is an early concept of Flynn and Rapunzel's visit to an olde world pub and, apart from a more predictable Shrek-style smart-alecky approach, there isn't much that differs from where the eventual scene ended up in terms of plot points. Chemistry Develops follows up that scene in slightly altered fashion to the finished film, and best of the bunch is Vigor, The Visionary, where a fortune-telling monkey might have stolen the scene but could have unbalanced his moment in the movie.
Much more interesting are two Original Storybook Openings, which hark back (somewhat) to Tangled's much trodden development groundwork. Every great Disney fairytale begins with a storybook, and back when Tangled was a more straight telling of the Rapunzel story, the Version #1 (3:56) presented here may well have been the way to tell it. Even without the 3D enhancement in play, one can see how the book's illustrations would have come to life in terms of depth, and this is very much a "classic" Disney opening, which is exactly perhaps why it was changed. For, despite the traditional elements, there's a lot of backstory exposition to get through here and, given the film's more contemporary tone, it all feels a little labored and overwrought. Version #2 (4:02) is simpler in execution, but is still much more sombre in tone than the rest of Tangled would become. Of the two, #2 is the one that could have worked, but the eventual Tangled opening is successful as both a traditional throwback and as a signal that Disney fairytales can be modern enough for today's audiences.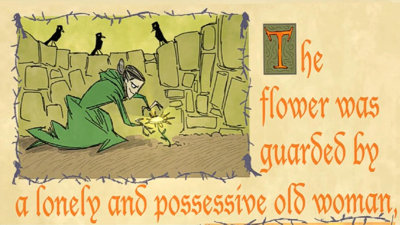 A 50th Animated Feature Countdown (2:00) sounds pretty cool, but it's just a quick montage of very brief shots from the official list Disney animated films that is sure to confuse most in the amount that are missing (for casual-only fans, the lack of Mary Poppins or A Goofy Movie, for instance, may raise questions) as well as one that's in the listing (I was never really sure that Dinosaur was counted officially, but it does indeed seem so now). The choice of clips are a little odd as well, not always picking the obvious signature moments from all, though some of the transitions are very neat, such as between Pocahontas and The Hunchback Of Notre Dame: very nicely done.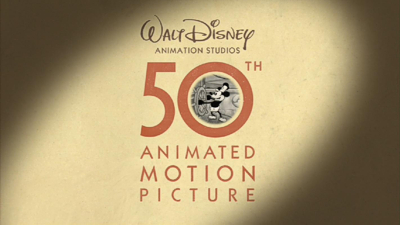 A couple of Extended Songs add some footage into two of the film's main highlights: When Will My Life Begin adds a brief line or two to Rapunzel's introduction just as the song begins (though we get the entire 3:35 cue in various states of animation), which I would guess were cut to get into the pop-guitar opening bars earlier and hook the audience immediately. Mother Knows Best is also played in full (4:17), and also adds only a little back in; a slight trim that only serves to repeat Mother Gothel's implied threats to Rapunzel if she dared to leave her tower in an extra verse or two, though it does sport one of Slater's better lyrics which couples "I know" hysterically with "rhino". Perhaps more of interest to collectors will be a chance to see the animation process in action, especially seeing how Rapunzel's hair has been animated as a completely separate element.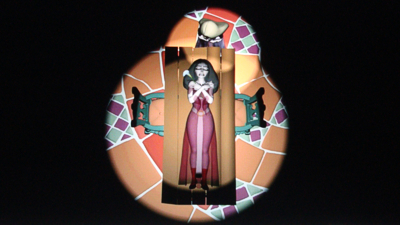 As usual for a Disney picture that went through various production difficulties, the bundled-in behind the scenes featurette Untangled: The Making Of A Fairy Tale (12:30) only wishes to serve up the sanitized whitewash of how everyone got along and thought the movie was great to begin with. As such, there's naturally nothing on Glen Keane's early straight Rapunzel take on the film, nor the contemporary comedy that would have been Rapunzel Unbraided, Lasseter's arrival and switching the project back to a more sincere and traditional telling, or Keane's eventual stepping down as director to make way for Greno and Howard.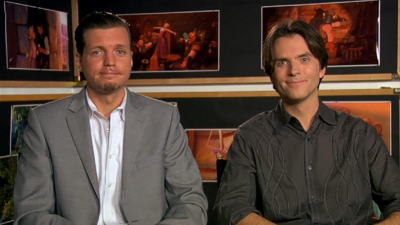 Unfortunately what we do have is pretty bland, the opening of which is more interested in an (albeit fun) interplay between vocalists Moore and Levi before it touches briefly – literally for a couple of seconds – on Walt's first attempts at the story in the 1940s and settles for a collage of soundbites from the directors, Keane and other crew. Particularly amusing is the "hot guy meeting" footage (where a Rapunzel title is clearly seen, as well as some DreamWorks character inspiration) and some hair rendering bloopers, but apart from those, this is a very basic, not very worthwhile whisk through production that's more concerned with a 50th animated film fixation.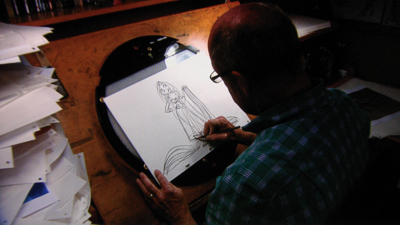 Less predictable on today's Disney discs are any theatrical trailers but, perhaps in a bid to boost the otherwise lacking supplements here, a nine-minute collection of nine Tangled Teasers round out (yes, that's it!) the bonus features. These aren't the usual kind of trailers per se, but rather the jokey commercial spoofs that were leaked through the internet in the run-up to Tangled's release. Back then we were desperate to see new footage and some of them were quite fun (Grounded For Life), but now they mostly just seem a bit too silly. If we had been given a full compliment of grade-A supplements, the inclusion of these teasers would have felt like the icing on the cake, but they're no replacement for a decent visual commentary, documentary featurettes or development galleries, all of which would have been most welcome on this title.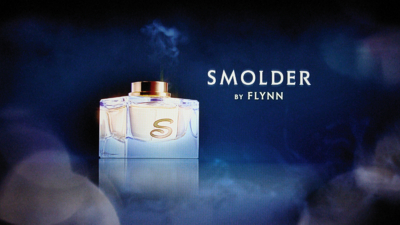 On the DVD, the BD's main menu is replicated in much the same way, except for the extras to be found in the bonus menu, which number exactly two: the two Original Storybook Openings and the 50th Animated Feature Countdown. Finally, a Digital Copy disc contains the movie, in standard definition "flat" format only, for use on portable Windows and Apple powered devices, meaning that this four-disc combo pack features every single way currently imaginable to actually watch Tangled, from a big-screen, high-definition, three-dimensional experience to a tiny thumbnail image. Across all of the discs in the set, Sneak Peeks include Cars 2, Tron: Legacy, The Lion King, Winnie The Pooh, Dumbo, The Incredibles and the latest in the Tinker Bell and High School Musical franchises.
Case Study:
Available in three flavors, Tangled comes to regular DVD in a standard keepcase, as a Blu-ray/DVD Combo Pack that includes the same DVD plus the hi-def disc, and as an all-in formatted 3D/BD/DVD/DigiCopy set, which features the 3D and flat Blu-ray Discs, the same DVD, plus the Digital Copy disc. Interestingly, presumably so that we don't get confused between the formats, these Disney discs now place the disc art's onus on the format instead of the title, so the 3D disc has the 3D Disney logo top and center on the disc, the BD the Blu-ray logo, and so on.
Packaging-wise, the sleeve art is very much the same: basically Tangled's theatrical poster art, though the 3D edition goes one better, sporting a lavishly embossed (on the title treatment) lenticular card on the front of its slipcase that really makes the artwork pop. Even on the printed cover underneath, a subtle change sees much more contrasted colors helping the characters to stand out from their background. I'm no fan of calling a movie "Tangled 3D" as the sleeve suggests, but in all other respects it's a nicely handled package.
Ink And Paint:
Blu-ray 3D: I'm not, it has to be said, a big fan of 3D in general, especially in the home where I feel the family experience is destroyed by having to don the glasses that shut us all off into our own little worlds instead of enjoying a film and being able to make eye contact with others. As a theatrical experience it works better: the screen size for a start and the feeling of going to the movies as an event, even if I am still not a major supporter of the format and don't think it really adds anything to a good film experience other than higher ticket prices and a loss of image quality. However, I was very impressed with how Tangled looked when I saw it at the movies and am equally pleased that the experience has been carried over pretty well to the home, even if the spectacle isn't as impressive. Theatrical 3D has the effect of dimming the image quality and muddying the colors a little, but because we're able to set our own brightness levels on our home displays, this can be counterbalanced (a little), and the smaller size screen seemed to lock the colors in a bit more, for me at least. I still missed being able to turn to a fellow viewer to enjoy a joke with them, but as 3D translations go, this Tangled 3D BD replicates the awesome theatrical experience very well.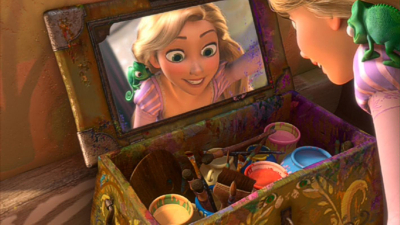 Blu-ray Disc: That said…the regular "flat" BD also exhibits a wonderful depth and clarity to it that should easily please those without the extra-dimensional bells and whistles. Tangled is a stunningly designed and rendered film, and the many swirling camera shots, low and high angle framing and detailed costumes and locations still look especially fantastic. Moreover, the film never seems to play to the 3D aspect, so that each scene plays just as well without having to wear the glasses, possibly adding to the enjoyment of being able to focus on Tangled's actual story, character performances and songs and not any visual distractions. As good as the added 3D is in this particular title, those without the technology shouldn't feel they're missing out: the regular Blu-ray disc (also available in a BD/DVD edition) is absolutely first-rate. The DVD: is also a good-looker, with bright colors and an unexpected sharpness that represents the film as well as it is likely to ever look in standard definition, made possible by pretty much saving all the disc space for the feature itself.
Scratch Tracks:
Naturally, Tangled's soundtrack is as enveloping as its visuals, with the English 7.1 DTS-HD Master Audio absolutely pumping out of every speaker with vibrant punch. And there's seriously not much more to say than that: this is demo material image and sound quality that should give any system a family friendly workout! Also optional is an English Descriptive track and, in 7.1 DTS, French and Spanish languages, with the DVD splitting those options between the US (which gets the Spanish track) and Canada (which gets the French one) in addition to the English, along with similar subtitle choices.
Final Cut:
It's a no-brainer to want to add Tangled to any Disney Animation collection, the only disappointment being that the disc set – despite four platters in the 3D combo pack – simply lacks the kinds of extras that we expect and the film deserves. Of course we're never going to get the warts and all story of the making of the movie, but there's nothing to say it couldn't all be presented under the right light, with a brief overview of the different directions the film went off on before the right team came together to deliver the final product. As such, there's nothing on Keane's original vision or his painterly approach to the CG (indeed, directors apart, there's very little of Keane on the set at all), or even the developmental artwork, animation tests and abandoned concepts.
When a film has been in production for the best part of ten years, there's more to be included than the scant hour or so of material shown here. Yes, the 3D presentation is impressive if you can enjoy that aspect, and the BD offers Tangled in a beautiful transfer, but one can't help but wonder if a better release is waiting in the wings: certainly there's a lot of "missing" elements here that would be welcome in an eventual reissue, which is a shame when Pixar's titles routinely get the royal treatment and this one was especially supposed to be something special. The movie is definitely worth seeing, but the set isn't exactly packed with the kind of added value we expect on a title like this: Disney should have combed the archive much more in order to make this release of Tangled really shine.
Animated Classic or Back To The Drawing Board?