Various (1909-1972), Thunderbean (2010), 1 disc, 136 minutes, 1.33:1 ratio, Dolby Digital 1.0, Not Rated, Retail: $15.95
Storyboard:
Thunderbean unearths more unique treasures from the past, in this collection that highlights the art of stop-motion animation.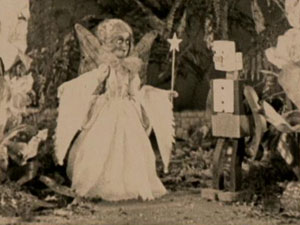 The Sweatbox Review:
Animation in America got its start with chalk drawings on a blackboard, and moved towards pencil drawings on paper before going onto sheets of celluloid. Many writers have traced the development of animation further from cels to computers, but a better antecedent to computers exists. With computer-animated characters having sometimes been described, especially in the early days of CGI, as having a puppet-like appearance, the historical precedent is clearly stop-motion animation. While today's computer wizards create virtual puppets to move in the computer realm, artists have been using real puppets in animation for many decades. The greatest stop-motion animators of today cite Ray Harryhausen as a great influence, and Harryhausen's idol was Willis O'Brien, who did the animation of King Kong back in the 1930s. But O'Brien was not the only practitioner of puppet animation. This DVD brings to light other stop motion animated films of the distant past, and even shows off later examples of the form, in one of the most surprising DVD releases of the past year.
The DVD is comprised of four sections. It looks at early experiments, including work from a couple of well-known names. There is then a selection of an interesting variety of work from various places. An assortment of theatrical and television advertisements follows, and then there is what is arguably the centerpiece of the disc: films from the Kinex collection.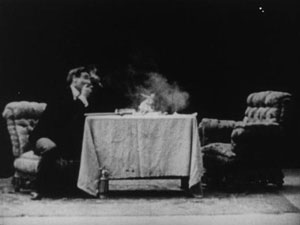 Early Experiments
Leading off this section is a film by J. Stuart Blackton, a familiar name to animation historians. Blackton created what is often considered the first, or at least the first American, animated film Humorous Phases Of Funny Faces (1906), where he used chalk drawings to create "trick" film photography. His 1909 Princess Nicotine (5:06), on the other hand, is one of the first known uses of stop-motion animation, in addition to using some other special effects and camera tricks. Watch matchsticks dance and a cigar roll itself in this sublime tale of a pipe smoker and two tobacco fairies.
The Automatic Moving Company (3:08) from 1912 has been credited in the past to Emile Cohl, but this is a similar film by Romeo Bossetti, perhaps inspired by Cohl's work. Furniture moves itself and a wardrobe fills with clothes thanks to unseen hands.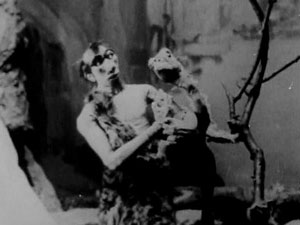 Willis O'Brien, famed animator behind King Kong and The Lost World, did a series of experimental films where he used his favorite subject: the prehistoric world. Prehistoric Poultry (1917) is an example of these. This caveman film was excerpted on a laserdisc of The Lost World years ago, and it's nice to see it included here for a new audience. Here, it runs four minutes.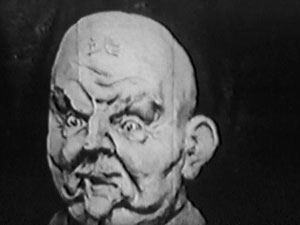 There are two films here in the genre of seeing sculptures form on their own. Miracles In Mud – Swat The Fly (2:43) has the added novelty of providing caricatures of public figures of the day, in this early form of claymation from 1915. More fascinating claymation appears in the patriotic-themed George Washington Modeled In Clay By Virginia May (c. 1927, running 2:44).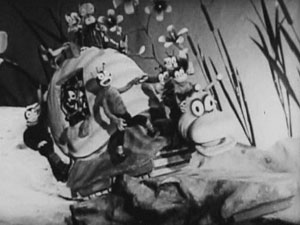 All Sorts Of Shorts
Ferda Mravenec (Ferda The Ant, 1944 ) runs over ten minutes, telling the tale of an ant colony versus a spider. This one is teeming with characters, with impressive animation, fun gags, and a good story.
Toyland Ice Capades: The Adventures Of Mugsy (1917) is a six-minute narrated story of two young boys and a little girl ice skating.
Dolly Daisy In Hearts And Flowers (1930) has lost its soundtrack, but is presented here nonetheless with a music track. The seven-minute kiddie story was originally a Warner Bros. Vitaphone release.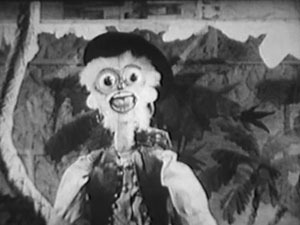 Peanut Vendor (1933) is a wild two-minute unreleased experimental film from Len Lye, though it shares a fun musical sensibility with the Puppetoons. Speaking of… A highlight of this disc for me was seeing a Puppetoon I'd never seen before. The Sky Princess (1942) is from George Pal's beloved series of shorts (best showcased on disc within The Puppetoon Movie). This fairy tale of a princess kept in a glass case runs out of story too quickly, resulting in an overlong dance sequence, but there's still much to appreciate in the various effects and camera work.
Rock A Bye Baby (1948) is a cute five-minute short that mixes live action and stop-motion animation to show a toy coming to life to entertain a crying baby.
Mecki Introduces Himself (1952) partially exists to describe the making of animated films, using a hedgehog character. English subtitles help to tell this 12-minute story that was originally produced in (I believe) German.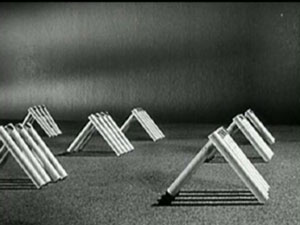 Theatrical And Television Ads
The two minutes' worth of Lucky Strikes (1949) commercials were produced by Detroit's Jam Handy, an outfit also known for their industrial films (and Max Fleischer's Rudolph The Red-Nosed Reindeer). Nothing encourages smoking like dancing cigarettes, apparently.
A Butter Commercial (1956) features instead dancing pints of cream
Camel Workprint (c. late 1940s) is presented in its only surviving form, a silent 2-minute workprint, but with music added.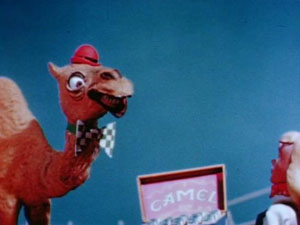 The Brylcreem Commercial (1953) seen here is quite hilarious, though more for its social attitudes than the animation that shows up at the end. Funny how styles change. In the 1950s, you apparently couldn't get a girl without plastering your hair with goop (from an "indestructible container") and sculpturing it into unnatural shapes.
A typical appeal for vitamin sales appears next in a half-minute Chocks Commercial (1965). Stop motion animation plays a very small role in two Glo Coat Commercials (1966) for floor wax, but they're fun to watch nonetheless.
The King Kong 411 Volkswagen Commercial (1972) will no doubt be of interest to many. Of all the King Kong commercials extolling a car's legroom, this may be my favorite. It even has the daughter of Fay Wray appearing!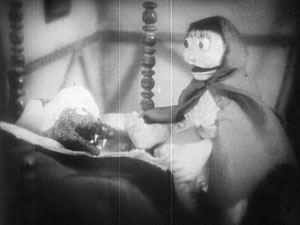 The Kinex Studios Collection
The following films make up the bulk of the DVD, going beyond simple curios and actually adding to our understanding of film and animation history. According to the wonderful liner notes, Kinex was a Hollywood animation studio formed primarily to create films for the home 16mm film market. Kinex films were distributed in the late 1920s by Eastman Kodak, as part of their Kodak Cinegraph series. Much of the history is obscured by time, but there is no doubt that these films are a fascinating glimpse into another animation era— one that very few of us know anything about.
Red Riding Hood seems to be a precursor to the official Kinex films. It is reminiscent of Harryhausen's later fairy tale shorts, but with much cruder puppets and animation.
Next are several shorts with Snap The Ginger Bread Man, which see him in various adventures in the Alps, the jungle, in Alaska and in India, as well as on the moon and in a fairytale forest meeting a witch. These run over 17 minutes total. Another fanciful everyman was created for the series Chip The Wooden Man. Chip's six shorts run a total of just under 17 minutes, as we see him encounter wooden soldiers, a scarecrow, a witch, and life on a farm.
There are six shorts in the series Daffy Doings In Doodlebugville, portraying the lives of denizens of the bug world, predating the Fleischer's Mr. Bug Goes To Town by a good number of years. Topics include the circus, a milkman, marrying a banker's daughter, and The Fire Brigade, which features some impressively sophisticated fire and smoke effects. These six shorts also run a total of just under 17 minutes.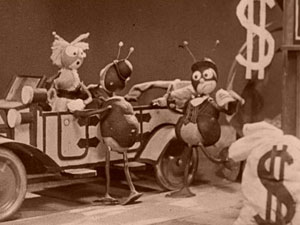 Pepper The Pup In Toodle-oo-o (8:28) sees some improved character animation and a more fully developed story, with a romantic set-up not unlike the Paramount Popeye cartoons. Hector The Pup (8:10) has a strong resemblance to Pepper, except that he's a sheriff in this one. Horse Laffs (7:31) is surprisingly a Cinecolor cartoon, combining a horse, more doodlebug-type creatures, and even a slightly racy dancing (bug) girl scene.
Crude though the Kinex films may be, they are better than one might expect. They do offer splashes of genius and more than a little entertainment. Keeping in mind that they were created for children, they remain surprisingly effective today even for adult viewers. It may be a stretch to watch them all in a row, but taken in smaller doses they can serve more of a purpose than simply educating one on film history— they're actually pretty nice little films.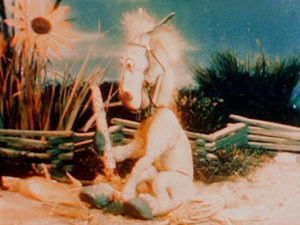 Is This Thing Loaded?
Nine Audio Commentaries help immensely to place these various films in context. Participants include Thunderbean's Steve Stanchfield, and a few of his knowledgeable friends. Among the more interesting commentators is Bob Baker, who discusses a short he worked on, the Puppetoon The Sky Princess. Stanchfield and Ken Friebe's Kinex commentary runs over several of those shorts. From the commentaries menu, you may also elect to watch the Mecki short without subtitles.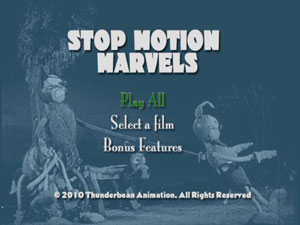 Also on the disc is an extensive set of images in a Still Gallery. The contents show off a variety of material, from Kodak Cinegraph advertisements, to Kinex photos gleaned from the collection of someone from the studio, photos from the production of the King Kong ad, photos of Steve Stanchfield's visit with Bob Baker, and even images from the animation of the DVDs stop-motion titles! (These, by the way, were exceptionally well done and a special treat in an already pretty nifty release.)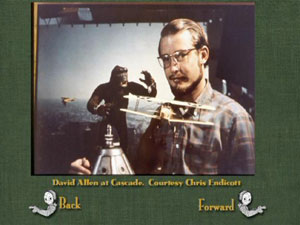 Case Study:
This disc comes in a standard keepcase. Unfortunately, the cover— as appealing as it is— still doesn't manage to really reflect the coolness of what lies inside, though it works much better once you see the image continued on the back cover. I'm not crazy about the color scheme, either, though the drawings are fine. The tiny text in the bottom right could also have been made larger. I just enjoyed this release so much, it would be a shame if people looked at this cover and simply shrugged. The liner notes inside, printed in a 12-page color booklet, do this release much more credit. A DVD like this really needs help in placing the contents in context, and the liner notes fulfil that function very well, by giving information on the history of Kinex, and adding other tidbits about all of the other films included on the disc. Among the still images in the liner notes are more behind-the-scenes photos from the making of the King Kong ad!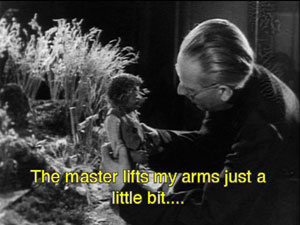 Ink And Paint:
You already know what I'm going to say, right? These are old films, terribly obscure, and we're lucky to have them in whatever form we can get. Fortunately, the source materials are mostly in surprisingly good shape, at least once we move past the early experimental films. The Kinex ones are largely pretty decent, while the presence of dust and scratches is more prominent on the rest, though it varies wildly. The Puppetoon short is unfortunately one of the shabbier looking ones, with vertical lines frequently imposing on the image. I certainly expected much worse overall, though.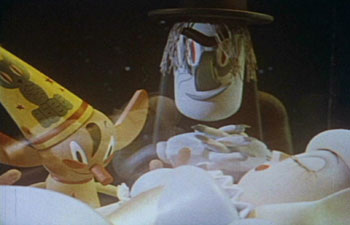 Scratch Tracks:
All of the films her are presented either with original mono soundtracks, or have had music added. Some of the music sounds slightly muffled, but it all suits the material just fine. The older shorts sound vintage, and the corny ads sound jingly, just as they should.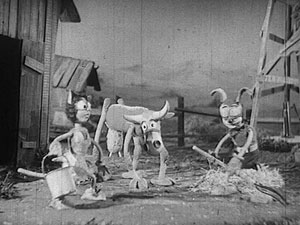 Final Cut:
This might be an easy release to overlook, but I would advise you not to do so. Like all Thunderbean titles, this DVD has an amazing array of animated films, with wonderful liner notes and informative commentaries to help it all make sense. It's easy to get absorbed into the Kinex shorts, not to mention the historic trailblazers, various oddities, and of course the cheesy commercials. Thunderbean continues to make their releases must-owns!
Animated Classic or Back To The Drawing Board?