The following is the final part of a retrospective article on the history of DreamWorks Animation through its films leading to the purchase by NBC/Universal on April 28, 2016. Catch up on Part One here, Part Two here, and Part Three here.
Four years into becoming an independent production company, DreamWorks Animation struggled to stay competitive in the industry. As their bread and butter Shrek series was put to rest with Shrek Forever After, the studio relied upon the development of more franchises to keep them going. Sequels to Madagascar and Kung Fu Panda were major hits and Puss in Boots was a successful spin-off from Shrek.
But while established films were doing well with their sequels, DreamWorks seemed to be having trouble launching fresh new properties. They would strike gold with How to Train Your Dragon, which became a big commercial hit that was universally beloved. But an attempt at building a series around Monsters vs. Aliens was mediocre at best while Megamind just barely managed to be a profitable film. With so much attention placed upon expanding established franchises, there was concern that the studio would not be able to make successful new films.
---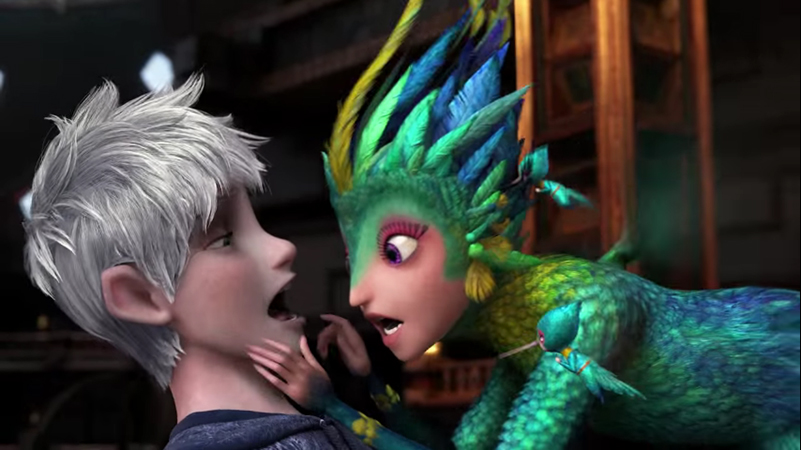 Rise of the Guardians
Directed by Peter Ramsey
Release Date: November 21, 2012
"We are very busy bringing joy to children. We don't have time…for children."
Rise of the Guardians would be the last feature from DreamWorks Animation to be distributed by Paramount Pictures. It would also be the first non-sequel or spin-off feature from the studio on which Guillermo del Toro served as executive producer. Based on the short film The Man in the Moon and The Guardians of Childhood novel series by William Joyce, the story centered primarily on Jack Frost, the spirit of Winter. He would be recruited by the other spirits as a new Guardian to combat the threat against children by the Boogeyman, Pitch Black.
I would imagine Guillermo del Toro had a lot to do with how the film was visualized. The immediate thing to notice was that the film looked darker than most other films from DreamWorks. Often appearing at or near nighttime, there was a lot of interesting lighting and shading effects at work. Combined with the skillful assistance of live-action cinematographer Roger Deakins, it was one of the more amazing looking animated films. Believe it or not, I was most impressed with the city streets. Almost photo-realistic, it made everything look all the more fantastic graphically, especially so during the sequence where the Guardians were helping the Tooth Fairy gather teeth.
The narrative played out in an interesting manner for me. At times while I was watching, it seemed just decent, but there were other times that were engaging and in retrospect had me thinking the movie was a lot better than when I was watching it. Regardless, it was a pretty good film that managed to make its intriguing premise work in the manner it was going for. The ensemble voice cast, headlined by Chris Pine, certainly had fun and made the story feel interesting. At the same time, I was still left with the feeling that it needed something more for it to be considered excellent.
Rise of the Guardians did have a decent reception from critics, who liked the visuals but were not high on the unfocused storytelling. Audiences who did see the film liked it a lot more, in particular adolescents who formed a cult following in the years since its release. But the film did not have a good commercial run. In fact, it was the first DreamWorks Animation feature since Flushed Away to not make a profit. The disappointing box-office result of the film, along with other factors, caused the studio to lay off 350 employees and force a company-wide restructuring.
Rise of the Guardians would gross a worldwide tally of $307 million against a budget of $145 million. DreamWorks reportedly lost $83 million as a result of the film not being as successful as they had hoped. It is available on Blu-ray and DVD.
---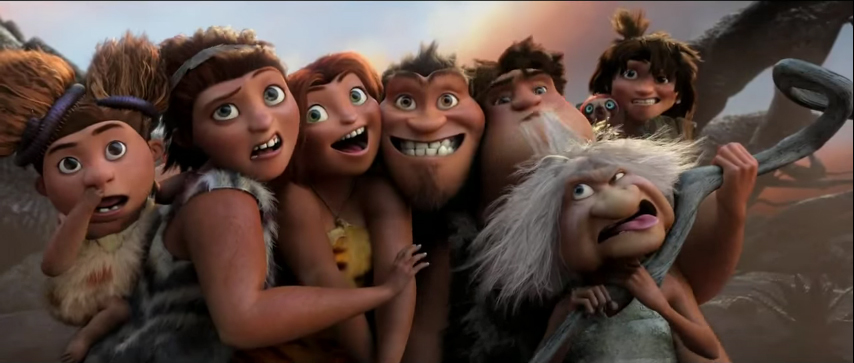 The Croods
Directed by Kirk DeMicco and Chris Sanders
Release Date: March 22, 2013
"No! Don't eat it! It's new!"
The Croods was the first DreamWorks Animation feature to be distributed by Twentieth Century Fox. Initially conceived to be developed in collaboration with Aardman Animation and John Cleese, it told the story of a family of prehistoric cavemen. Though well meaning in wanting to protect his family from danger, patriarch Grug was stern in sticking to the old ways of surviving and fearing anything new. It would be when the whole world began to change that they would be forced to face the unknown with the help of an inventive stranger named Guy.
The animation of The Croods was stunning and rather beautiful at times. It might not have pushed the medium forward or refined the tools any more than DWA's more accomplished titles did, but it was no less impressive and pretty to look at. Once again, the expertise of Roger Deakins was utilized and it resulted in some wonderful visualizations of prehistoric landscapes. I really liked how the sequence of when Guy met the whole of the family and their reaction to fire looked. Its great use of lighting and shading made for a lovely scene to watch.
I think it would have been very interesting to have seen what the version of the story would have been like in the hands of Aardman and John Cleese (we may yet glimpse a peek in Aardman's next, Early Man). But what we ended up getting was a charming story that had a great narrative and a lot of heart. It was a movie that was fairly easy to get into and enjoy from start to finish without feeling as though anything seemed out of place. More importantly, the characters were well defined and just a lovely bunch to meet. Voiced by a great ensemble cast, headlined by Nicolas Cage, they were fun to watch and made it easy to want to have further adventures with.
The Croods was a big success for the studio, which was reassuring after the disappointment of Rise of the Guardians. It had a strong commercial run and garnered high critical and audience approval. The film was also nominated for the Best Animated Feature Academy Award. As a result, DreamWorks was able to launch a new franchise off of The Croods. The film would spawn a television series and a sequel currently scheduled for release on November 3, 2017.
The Croods would gross a worldwide tally of $587 million against a budget of $135 million, making it a big box office hit. It is available on Blu-ray and DVD.
---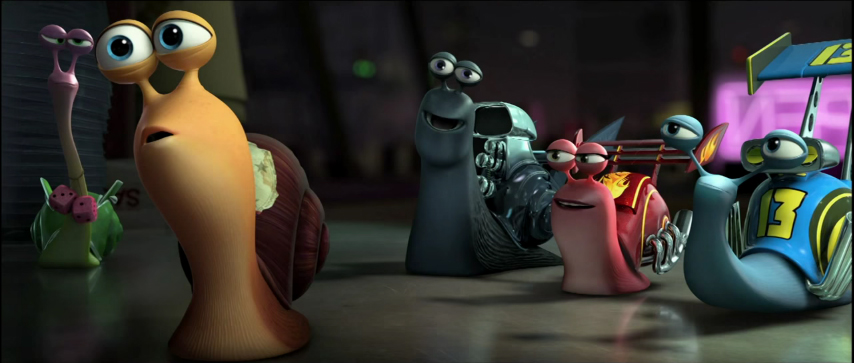 Turbo
Directed by David Soren
Release Date: July 17, 2013
"Yeah, I'm crazy! What made you think I was sane?"
Turbo was the first fully original feature from DreamWorks Animation since Megamind. It told the story of a snail named Theo who was inspired to be faster than he was from watching countless tapes of the Indianapolis 500. A freak accident during a street race in Los Angeles would infuse him with the power and speed of a car. The chance luck of meeting a fellow dreamer in human Tito would put the snail, rechristened Turbo, on a path to actually compete in the Indianapolis 500.
Turbo had a lot going against it from the beginning. Trying to create an animated venture about a racing snail was going to be a tough sell, even more so when it came to how it would be visualized in a way that would attract audiences. I didn't think the film looked bad per se. There were some nice scenes, particularly when it came to the big race at the Indianapolis 500. But there was the feeling that it wasn't quite as spectacular as it was trying to be. I didn't find anything that looked awe-inspiring in comparison to any other animated feature out there at the time. It just happened to look pretty good and nothing more.
What handicapped the film was whether or not it could tell a compelling story from its way outside the box premise. I believe credit had to be given to screenwriter Robert Siegel, who I imagine contributed the more dramatic and heartfelt moments. And the film did feature a touching look at the relationship between brothers. The ensemble cast, headlined by Ryan Reynolds in his second straight DreamWorks feature, sounded like they were doing their best to inject the film with fun that would be infectious, which they mostly succeeded at. But like the animation, the film was merely fine and not much else.
Turbo did garner positive reception from critics and audiences, who were impressed with how the film looked and with the voice cast. But while the film managed to win over those who saw it, it did not have particularly commercial legs. Expectations were high for the film, so much so that they had a television series in Turbo FAST already developed. But while there was the continued belief that the film would be profitable, it just didn't make enough in the end. Turbo FAST eventually launched and had a positive run, but the poor box office performance of the main feature did put a halt on further plans for the development of a franchise.
Turbo would gross a worldwide tally of $283 million against a budget of $127 million. DreamWorks reportedly lost $15 million as a result of the film not being as successful as they hoped. It is available on Blu-ray and DVD.
---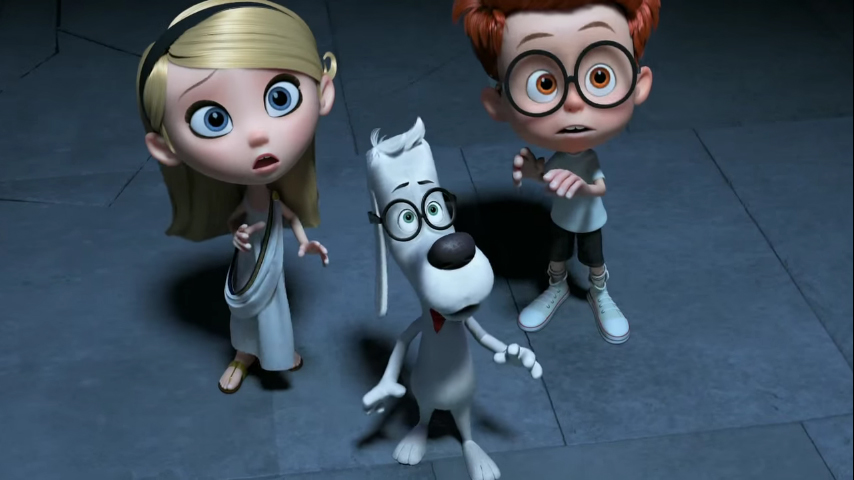 Mr. Peabody & Sherman
Directed by Rob Minkoff
Release Date: March 7, 2014
"As far as I'm concerned, they get married too young in Ancient Egypt…or perhaps I'm just some old Giza."
Mr. Peabody & Sherman was the first of three features DreamWorks Animation would release in 2014. It was the first feature to utilize characters from the Classic Media library that the studio had acquired in 2012. Based on the Mr. Peabody & Sherman segments from The Rocky & Bullwinkle Show, it told the story of a genius anthropomorphic dog and his adopted son. The trials and tribulations of parenthood were tested through time traveling misadventures and Sherman's first day at school.
At first glance, Mr. Peabody & Sherman might not look as stunning as most outings from DreamWorks and Pacific Data Images. But what it was really doing was paying homage to the look of the original show without duplicating it in full. The characters looked familiar, yet different so that I recognized them and their mannerisms while being intrigued at how modern they seemed. I felt this was evident during a trip to the Renaissance and the sequence where Sherman and a girl named Penny fly on Leonardo da Vinci's machines visually displayed this to great effect. I also liked how much of the world around the lead characters seemed huge since it was being viewed from their perspective.
On the one hand, I admired that the film explored the personal relationship between Peabody and Sherman. It was a nice change to see that there was an honest affection between the two that had rarely been seen before. The overall plot had issues that made enjoying the film a bit of a challenge at times. And I felt the humor and wit did not connect or feel as natural as in the original show. The voice acting was fine, in particular Ty Burrell as Peabody, but nothing spectacular compared to previous DreamWorks films. I smiled a lot throughout, but it was clearly missing something to make it special.
Mr. Peabody & Sherman had a good reception from critics and audiences, finding the film fun if at times dated. But while it was enjoyed by those who saw the film, it was not popular enough to be a commercial success. The film had a disappointing box-office run, which added to the growing financial woes DreamWorks was facing at having to issue another write-down due to another underperforming property. Nevertheless, the studio did create a TV series spin-off through its streaming deal with Netflix, an outlet that seemingly proved more successful for DreamWorks than their feature film releases of the time.
Mr. Peabody & Sherman would gross a worldwide tally of $275 million against a budget of $145 million. Due to the film not performing as the studio as hoped, it contributed to a loss of $57 million for the year. It is available on Blu-ray and DVD and can be streamed on Netflix, as of writing.
---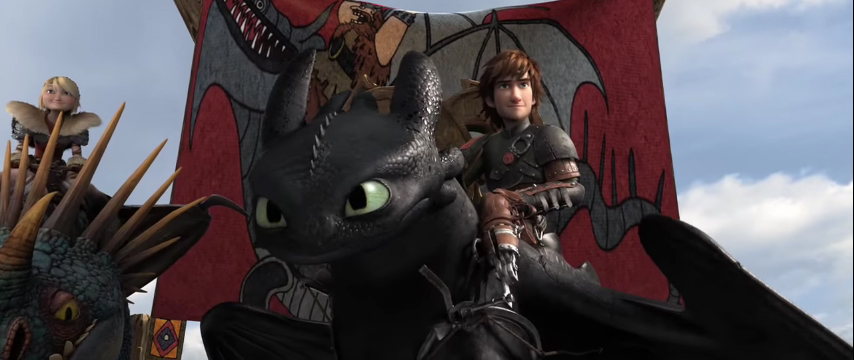 How to Train Your Dragon 2
Directed by Dean DeBlois
Release Date: June 13, 2014
"Well, now you know where I get my dramatic flair!"
How to Train Your Dragon 2 was the second feature in the How to Train Your Dragon franchise and the second film released by the studio in 2014. Set five years after the events of the first film, there was peace on Berk between the Vikings and dragons thanks to the efforts of Hiccup and Toothless. But there was a bigger world outside of their island home. Discovering the ruthless warlord Drago Bludvist amassing a dragon army to conquer the known world, Hiccup would find himself tested to his core and being challenged to become a true leader.
As How to Train Your Dragon became of the most beloved franchises to transcend being simply a DreamWorks feature, the studio would develop new animation software and tools to enhance the sequel visually. Coupled with Roger Deakins continuing to provide his cinematography expertise, this resulted in one of the most fantastic looking films ever produced. The backgrounds and landscapes were the most stunning and realistic I had seen in an animated feature; something as simple as the bubbling of water was a sight to behold, so imagine how everything else, in particular the always spectacular depictions of flight and fire, looked!
The storytelling of How to Train Your Dragon 2 might not match the level of excellence the first film had, but it was great enough to come close. It was compelling and dramatic that had little compromise while still offering hearty laughs and an enjoyable wonder throughout. The returning characters (uniquely having "grown older" in the time between films) were fleshed out just enough to play their parts right and the voice cast continued to excel, in particular Jay Baruchel being once again fantastic as Hiccup. John Powell's score didn't quite reach the heights of the first film, but they were nonetheless beautiful when they counted. This was the kind of film I wished other DreamWorks films would follow in structure and presentation.
At a time when the studio was in financial dire straits, How to Train Your Dragon 2 was the commercial success DreamWorks desperately needed, thanks in large part to an even greater international showing than the first film. It had high critical and audience reception that matched that of the first film and was nominated for the Best Animated Feature Academy Award. The success of the film would see the franchise release more video games, enhance the television series, and launch a series of comic books and graphic novels. More importantly, DreamWorks would be releasing a third film currently scheduled for May 18, 2018.
How to Train Your Dragon 2 would gross a worldwide tally of $621 million against a budget of $145 million, becoming the highest grossing of the three DreamWorks films released in 2014. It is available on Blu-ray and DVD and can be streamed on Netflix, as of writing.
---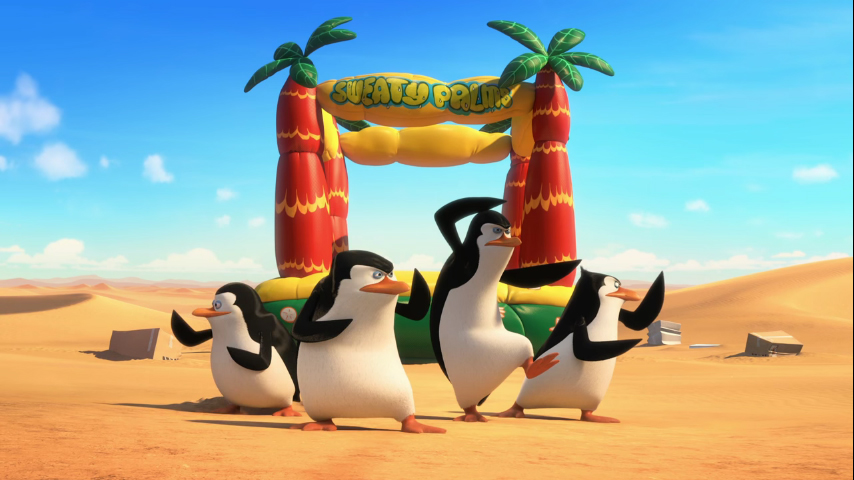 Penguins of Madagascar
Directed by Eric Darnell and Simon J. Smith
Release Date: November 26, 2014
"Charlize, they're on the ray! Helen, hunt them down! William, hurt them! Halle, bury them! Hugh! Jack! Man the battle stations! Kevin! Bake on! We're still going to need that victory cake!"
Penguins of Madagascar was the third of three films released by DreamWorks Animation in 2014. It was the first spin-off feature in the Madagascar franchise and the last film produced in partnership with PDI. The Penguins would head to Fort Knox to celebrate Private's birthday, stumbling upon a nefarious plot by an octopus name Dave, determined to exact revenge upon all penguins, as well as encountering a rival espionage team of Arctic animals called the North Wind.
The film continued with the third Madagascar film's embracing of its Looney Tunes influence to full effect with some great visuals. There were a lot more cartoony designs in comparison, but they all worked well with the silly and fantastical situations at play. A chase sequence involving gondolas certainly would not have been as spectacular, or as genuinely funny, had it been animated more seriously or straight. A lot of the visual gags worked quite well without feeling they were overwhelming, which I felt added to the charm of the film, my favorite being a play on the single shot take of the Penguins trying to get from one plane to another in mid-air.
It should be noted that the film Penguins of Madagascar was not connected with the television series of the same name and was set more within the continuity of the Madagascar films, even if there were inconsistencies regardless. However, by treating it as a separate entity altogether, I think it was a wacky enough film to enjoy on its own. There was not a lot of depth in the narrative, but that was not really the point. It was about being goofy and fun and the film was all that and more. The voice casting was nice, in particular John Malkovich as the villain, Dave the octopus, and everyone did a fine job of providing the right mix of over-the-top and playing serious without sounding out of place.
Penguins of Madagascar received a positive response from critics and audiences, who enjoyed the fast pace and bright colors. But though it was very well liked, it did not have the commercial success the main Madagascar films had. In fact, it was the first film in the series to contribute to the studio having to issue a write-down. The studio was close to being acquired by other companies on a number of occasions leading up to the film's release and, as Penguins of Madagascar was perceived as another in a line of box office disappointments for DreamWorks, it led to the closing of Pacific Data Images.
Penguins of Madagascar would gross a worldwide tally of $373 million against a budget of $132 million. Due to the film not performing as the studio as hoped, it contributed to a loss of $57 million for the year. It is available on Blu-ray and DVD and can be streamed on Netflix, as of writing.
---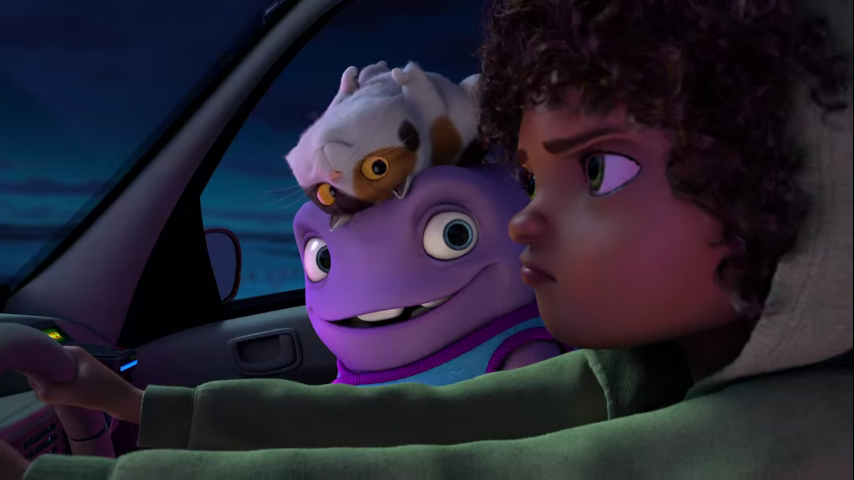 Home
Directed by Tim Johnson
Release Date: March 27, 2015
"She's bluffing. She cannot reach the… Oh! Curse you and your tippitoe tallness!"
Home was the only film to be released by DreamWorks Animation in 2015. Based on the novel The True Meaning of Smekday by Adam Rex, it told the story of an alien named Oh. His race the Boov were hiding out on Earth, believing it was remote enough to get away from a dangerous being in the Gorg. However, upon meeting a human named Tip, he would learn that the Boov invasion of Earth was not as friendly as he had been led to believe by their cowardly leader Captain Smek.
Home looked nice, although I felt that the animation was nothing really special. Some of the designs did appear rather interesting and a few of the animation effects resulted in some fun sequences, such as the one involving the Eiffel Tower. But overall it didn't seem as impressive as any other feature that DreamWorks had produced. In fact, I venture to believe that the quality took a bit of a dip in comparison to the more recent films from the studio. The design of the Boov aliens sure seemed uninspired and the humans merely looked okay. While not terrible, nothing really good stood out either.
Home had a problem in that it had a storytelling structure that just didn't work from the start and never really recovered. There was an interesting premise and at times there were moments that brought smiles, but the overall presentation just didn't come together in a way that would have made the film work. The characters were not fleshed out all that well and the voice acting, headlined by Jim Parsons, was merely okay. I wasn't all that fond of the music with only a song or two standing out only because they managed to make a scene work and nothing more. That's not to say that all of this made the film terrible, it just wasn't all that good either.
Home did not have a positive critical reception, as it was felt that the film was merely colorful and silly while otherwise being nothing special. However, it did receive high audience reception. As such, the film scored one of the studio's highest openings, exceeding expectations, and enough of a commercial success to provide a much needed profit, also allowing for the launch of a television series based on the film.
Home would gross a worldwide tally of $386 million against of budget of $135 million, just managing to be a box-office hit. It is available on Blu-ray and DVD and can be streamed on Netflix, as of writing.
---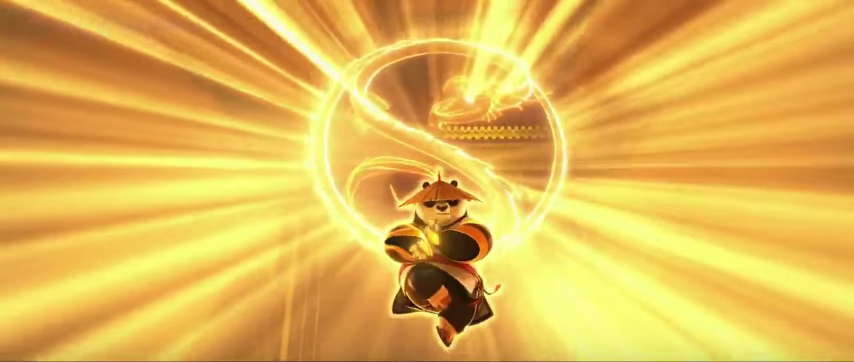 Kung Fu Panda 3
Directed by Jennifer Yuh Nelson and Alessandro Carloni
Release Date: January 29, 2016
"Never underestimate the power of a dramatic entrance."
Kung Fu Panda 3 was the first film to be produced in conjunction with the company's new joint-venture studio in China, Oriental DreamWorks. It was also the second in the series on which Guillermo del Toro served as executive producer. Po seemed to be having the time of his life as the Dragon Warrior. Then Shifu announced he was stepping down as teacher and Po would be taking his place. Furthermore, an old adversary of Master Oogway's in Kai had returned from the Spirit Realm to take vengeance by destroying all that Oogway created. As if that weren't enough, Po would have an unexpected visit from his biological father Li.
Just when I thought the Kung Fu Panda series had done everything it could visually, each entry offered something new and exciting to see. The Spirit Realm was an impressive setting that offered a lot of possibilities that probably had never been done before. The climatic battle featured a fantastic sequence that was beautiful and breathtaking. Back in the mortal realm, the look and animation was refined just enough to still appear wonderful while adding elements here and there that were unique. If the physics animation on Po was incredible in the first two films, that would be nothing compared to what could be done to a whole village of pandas!
At times, I felt the third film might have been a little too silly. Certainly when compared to the more dramatic, but wonderfully balanced second feature. Yet as the film progressed, the heart of the series kicked into gear. There were still a lot of fun laughs, great action, and the pacing worked just as it had in the previous films. The returning cast was as good as ever, in particular James Hong as adoptive father Mr. Ping, but it was the additions of J.K. Simmons as the villain Kai and Bryan Cranston as warm hearted Li that I felt shined the brightest in this entry.
Kung Fu Panda 3 was another major hit for DreamWorks and the series. It received high critical and audience response for its visual splendor and nimble narrative that offered fun for the whole family. The film was a big commercial success, in particular China where it was one of only two animated features to gross more than a billion yuan. While the success of Kung Fu Panda 3 gave DreamWorks a much needed financial boost, it also was seen as laying the foundation for Oriental DreamWorks to confidently begin development of their own films.
Kung Fu Panda 3 would gross a worldwide tally of $517 million against a budget of $145 million, becoming major box-office hit for the studio and the Kung Fu Panda franchise. It has just been released on Blu-ray and DVD, as of writing.
---
When Rise of the Guardians became the first film since Flushed Away to cause DreamWorks Animation to lose money, it sent the studio on a rollercoaster ride of financial ups and downs that nearly put them out of business. Their attempt to build franchises from Mr. Peabody & Sherman and Turbo were hampered by their disappointing commercial runs. The situation was enough that they closed their long-time animation partner in Pacific Data Images after Penguins of Madagascar failed to achieve the box-office numbers of the franchise's Madagascar films.
Nevertheless, DWA was able to keep going thanks to the success of The Croods, How to Train Your Dragon 2, Home, and Kung Fu Panda 3. The Croods provided the company a new franchise to kickstart. How to Train Your Dragon 2 solidified the Dragon series as one of the elite animation titles. Home provided DreamWorks a profitable film when it needed it the most, and Kung Fu Panda 3 got the new Oriental DreamWorks studio off to a good start. It seemed that DreamWorks was just starting to return to form when founder Jeffrey Katzenberg perhaps felt the time was right to secure the studio's future and DreamWorks Animation was acquired by Comcast-owned NBC/Universal, promoting this look back on their films over a twenty year period.
DreamWorks Animation still has a number of features to release over the next few years. Up next for the studio is Trolls, based on the toy line by Thomas Dam and a return to the musical genre for the company. It will be the first film to be released by DreamWorks Animation since being purchased by NBC/Universal, although it will be distributed by Twentieth Century Fox in a deal with another couple years still to run. Other films scheduled to be released under the deal with Fox are The Boss Baby, Captain Underpants, and The Croods 2. The first film expected to be released through Universal will be Larrikins in 2018, followed by How to Train Your Dragon 3. At the time of writing, The Trolls trailer has just been issued, bringing this survey right up to date:
What will become of DreamWorks Animation in the long run is uncertain. What is certain is that the studio successfully positioned itself as a powerhouse alternative to the industry standard in Disney. With films that were creatively unique and entertaining, while also daring to be more mature than their family-friendly rival, DreamWorks stood out enough to become a household name. There have been a number of bumps and pitfalls throughout the journey, certainly in recent years, but Katzenberg's time at DWA managed to develop stories and characters that are beloved the world over. It could be said his studio has been providing audiences with plenty of pleasant dreams for more than twenty years. It seems that, even under their new owners, DreamWorks Animation will continue to do so for quite some time to come!