Walt Disney Television Animation (5 August 2011), Walt Disney Home Entertainment (August 23 2011), 2 disc set, 77 mins plus supplements, 1.78:1 anamorphic widescreen, Dolby Digital 5.1, Rated TV-G, Retail: $26.99
Storyboard:
The Disney Channel's Phineas And Ferb become the latest characters to jump from the small screen to a movie-length format, for an adventure through alternate dimensions!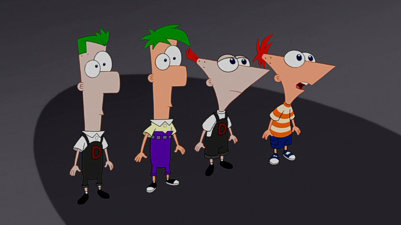 The Sweatbox Review:
Regular long-time readers of Animated Views may vaguely recall that I haven't really been a fan of Disney's television animation for some time. When the unit was created, in the mid-1980s, it was off to a flying start, creating the original – and overlooked – concept show The Wuzzles (two animals in one, two times the fun!), the fondly remembered Gummi Bears, which ran for six seasons, and, especially, the critically and audience-adoring Duck Tales, which took its lead from Carl Barks' classic comic strips and created a program which broke the mould for TV animation back in the day in terms of its quality and design.
But then came shows such as Tail Spin, Jungle Cubs, and the endless barrage of movie spin-offs such as Aladdin, Ariel's Undersea Adventures, Timon And Pumbaa, Hercules, 101 Dalmatians, Buzz Lightyear, The Legend Of Tarzan, etc, which drained the movies dry and limped on for very few seasons each until they were quietly put out of their misery. These shows never reached the early creative heights of Wuzzles, Gummi Bears or Duck Tales, and it was a while before Disney returned to original concepts again.
Dave The Barbarian and, in particular, the Alias-for-kids espionage show Kim Possible restored some prestige, with the red-headed cheerleader/spy's popularity spun-off into a couple of TV movies, A Sitch In Time and So The Drama, that paved the way for other shows to break out to the feature format, such as with The Proud Family Movie and, even making it to the theatrical big screen, Recess and the hysterical Teacher's Pet.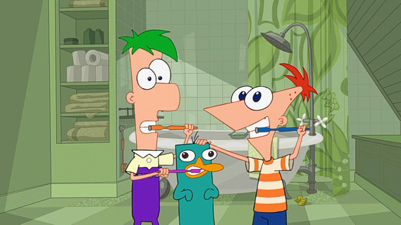 These movie editions are often how I've come to experience the more recent Walt Disney Television Animation output since The Disney Channel has almost turned its back on its original remit and become little more than a girls' tween network. There's nothing inherently "wrong" in that – Walt's original Mickey Mouse Club made a star of, and promoted, Annette Funicello as a starlet that went on to star in a series of 60s beach movies that were arguably the equivalent of Lizzie McQuire, Hannah Montana and the like – but for old time Disney fans there's very little of worth to tune into now that any classic archival programming has seemingly been canned and DisneyXD is filled with imported action shows.
However, every once in a while there does seem to be a glimmer of hope and, when the chance to catch the Channel's popular Phineas And Ferb in movie form came up, my curiosity got the better of me, my only experience of the show being what has been seen in trailers for previously released disc compilations and the preview for this movie, much trailed on Disney discs of late. I'm not sure what I was expecting, but the designs suggested something along the lines of Teacher's Pet and Kim Possible, two of the strongest programs in WDTV's line-up and both shows that I have enjoyed.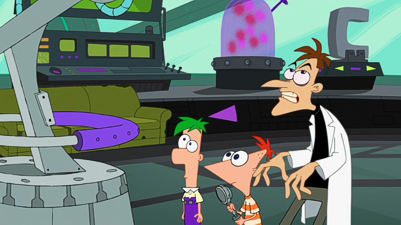 Phineas And Ferb: The Movie doesn't really bother with setting itself up to welcome newcomers to the party, but there some early scenes that essentially fill newbies in on the basic situation. It seems, unless I got it totally wrong, that Phineas and Ferb are wildly enthusiastic inventor brothers who live with their bothersome valley girl older sister Candace and their pet platypus (!?) Perry, who turns out to be a secret agent of some sort in a perpetual struggle against the loopy Dr Doofenshmirtz, a mad scientist bent on – what else? – world domination.
As it turns out, of all Dr D's inventions, an "otherdimensionator" actually works, opening up a rift to another universe where a not-so doofus Doofenshmirtz has managed to take over the world…or at least the local Tri-State Area. An unwitting Phineas and Ferb accidentally help Dr Doof enter this alternate reality, leading Perry the platypus into having to reveal his high-tech espionage-foiling true identity. When Perry meets his match in Dr D's Platyborg, it's then down to Phineas and Ferb themselves to rescue Perry and stop the Evil Dr Doof from potentially taking over both worlds!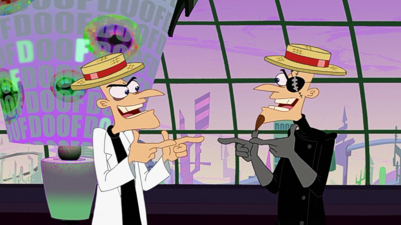 If that description sounds pretty nuts, that's because it is, and while Phineas And Ferb: The Movie might not convert too many non-fans to its cause, there is some fun to be had here. The writing – always traditionally a strong area in Disney's television productions – is fairly sharp, with some neat character observations and plenty of one-liners that fizzle even more thanks to the high-energy vocal cast. If there was one thing I wasn't too enamored of, it was with the 70s retro music scoring, which gets – often – very close to aping the pop hits of the time but feels like an easy and cheap get-out ploy so as to not actually license or pay for the original tracks' usage.
Not having seen much of the original show, the animation quality does seem to have been stepped up to be a little more special this time out, if the bonus episode presented in the supplements is anything to go by. Retaining a TV style, creators Dan Povenmire and Jeff "Swampy" Marsh's designs again reminded me a little of Gary Baseman's Teacher's Pet in not only their look but their method: some article are drawn rigidly perfect while others are free and loose, or totally filtered through their rendering process; Perry has to be the weirdest platypus I've ever seen, for instance, while Candace is more traditional. I'm not sure there's such a strong line running through everything, but most elements feel like they belong here.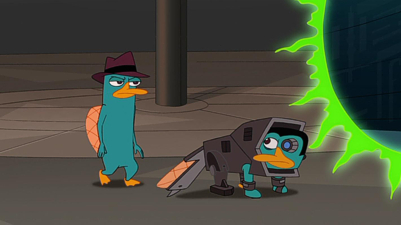 The rest of the show isn't as unique: many of the situations aren't too original, mostly stemming from the family character dynamics, but once the other dimension opens up things get a bit more interesting, even if the current preoccupation with super-secret-spy equipment and identities is starting to outstay its welcome in mainstream animation these days. However, within those conventions, the energy level just about keeps things entertaining enough for those new to the series, whereas I'm sure that fans of the program will have a blast with the amount of in-jokes and references, not least the revealing of Perry's agent background to the boys.
Doofenshmirtz (actually voiced by Povenmire) is also good value, with occasional dialogue really hitting the funny bone ("I hid the self-destruct button on the bottoms of their feet so no one could reach them…I think I've said enough"). But Phineas And Ferb: The Movie – Across The 2nd Dimension is definitely aimed at the fans, since whenever Dr Doof isn't onscreen I found things to slow down and become more episodic than they should, unlike the Recess and Teacher's Pet movies that did great jobs expanding their audience.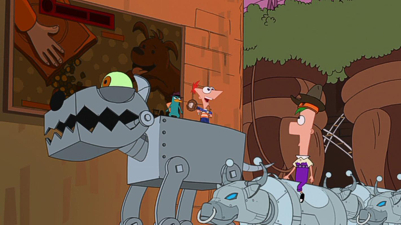 I'm not sure if the not-so-good intermittent songs add some fun randomness or take away some coherence, but it's true that for every strong point there are others that are much weaker. This could well be, of course, because I haven't been watching Phineas And Ferb's previous two seasons on TV and become attached to the cast, but even coming to the property for this first time I did find just about to keep me entertained: Dr Doofenshmirtz is very funny and the movie's second half is much more filled with exciting incident that leads to a satisfying conclusion.
While not as outright enjoyable as the somewhat similar Kim Possible – it's not quite as inventively witty or clever as it thinks it is – Phineas And Ferb does restore a little more faith in Disney TV Animation again, and it certainly feels like a Disney show and not something that would be found on any other channel. Although I'm probably not the target audience, with a little more draughtsmanship, Phineas And Ferb: The Movie could have been an early February filler on the big screen, in the way Teacher's Pet came before it, though fans will get the best from it as a fun slice of diverting entertainment.
Is This Thing Loaded?
While one can't say that Across The 2nd Dimension is absolutely packed with supplements, there's still more than expected here. The disc isn't encoded with FastPlay, but the usual Sneak Peeks play at the top of the programming and as options from the main menu, including previews for The Lion King, the teaser for Brave, Prom, a Movie Rewards spot, Across The 2nd Dimension video game, Bambi II, Cars 2, and a couple of new shows coming to the Disney Channel and Disney-XD respectively: animated comedy Fish Hooks and the sci-fi actioner Tron: Uprising.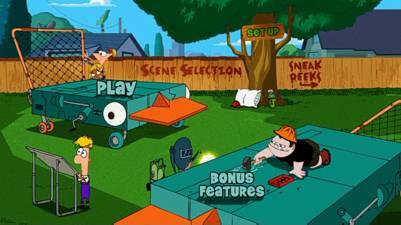 The main menu itself hold a few surprises too: as well as the usual options, use your remote to pick out some of the character and background details. For instance, selecting Phineas throws up a quick clip of an artist creating a rough frame of animation, or select the Dimensionator to switch the menu to Dr Doof's evil universe, where a few extra animated menu bits 'n' bobs can be explored. It's actually in these menus that the almost-use of some retro-pop can be heard best: see if you can spot The Jackson's ABC and Rainbow's Since You've Been Gone…or at least their near-as-heck copycat versions.
Most interesting is the new bonus episode Attack Of The 50 Foot Sister with optional Creator Commentary from Povenmire and "Swampy" Marsh: interesting for me since I'd not seen a regular episode of the show, and interesting for fans eager to hear from the creators of the show. The slightly lower level television animation is understandable on a regular episode, though it still looks good, even if the actual premise – Candace literally becomes Phineas and Ferb's really big sister – didn't have me gagging to see more of the program immediately.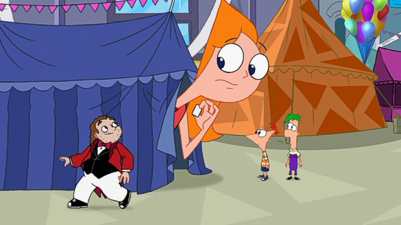 The guys obviously have a fun time making the show as far as the commentary goes, and although the chat is a little self-congratulatory there is a little decent information to be gleaned for those interested, but with the episode only running a scant twelve minutes, the opportunity of having a creator commentary seems to have been wasted here when surely there's a good call for having them speak about the main feature? A Perry-Oke option merely brings up the lyrics of the movie's songs sing-along style, a cute touch being the "bouncing Perry" that flips across the text onscreen, while a Dr D's Jukebox-inator cuts the exposition to simply just play those musical moments, Perry-Oke on or off.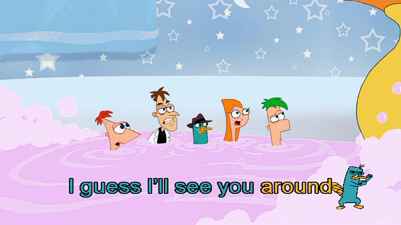 Flipping over the "alternate universe" menu, and you'll also find some alternate supplements – a nice touch! The 50 Foot Sister episode is selectable again, although this time with optional character commentary, which you'll either find hilarious of find tedious. These kinds of things can sometimes work, but more often than not they fall flat since they don't have the legions of writers behind the jokes and the performers, no matter if they're talented or not, usually end up just commenting on what's happening onscreen, which is mainly what happens here.
Adding some real value are a collection of eight Deleted Scenes, which run a full seven minutes in a Play All configuration. Mostly a series of extended moments, they range from entire removed songs (Candace's Mysterious Force, ironically one of the best songs and a mistake to have removed it), to a couple of instances of Doof's daughter Vanessa dropping in and an ever so slightly extended final shot that surely couldn't have hurt to keep in. The nice thing is that all these scenes are fully colored, though it would have been cool to have them optionally inserted into the movie to give fans something extra special.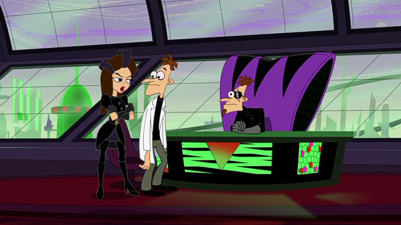 The bundled in Digital Copy file disc also contains some additional content that fans are sure to enjoy: eight music tracks from the movie, which should either autoplay in your selected media player or are accessible in M4A and WMA format on the disc's Audio folder. With a commercial soundtrack CD release also on sale, I'm not sure what the differences are between that and these tracks, although the packaging notes "the exclusive song I Walk Away" (to me a pastiche of Eric Carmen's All By Myself), so that at least may only be available here. Essentially containing all the songs from the movie, the deleted song Mysterious Force is also included, so it's a nice package.
Case Study: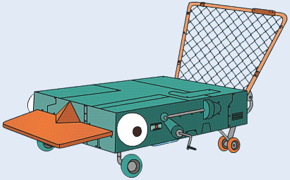 Even though this release has its fair share of extras, it's an additionally stuffed package that feels very substantial when held. Why the heck does this feel so heavy, I wondered before opening it, and the answer lies in the very fun "build it yourself" Platypult Kit that allows fans to make up a replica of Phineas and Ferb's invention from the movie.
With some pre-cut flying discs included to use as missiles, this is an unexpected touch that I wish more titles were able to experience. Simple but fun for kids to put together with or without their parents, it's also nicely tied into the movie.
A Movie Rewards code is also found inside along with a promo for other Phineas And Ferb product, revealing that the aforementioned commercial soundtrack also features songs from the second season.
Looking at the movie's logo reminded me of the same treatment given to Miramax's Dimension Films division, although I'm not sure if it's meant to be a direct nod or not! Also uniquely, and retaining the dark blue theme running through the packaging, the usual black keepcase has been replaced here with a blue one, much like the ones that adorn Disney's European DVD releases, and the effect is subtle but pretty cool.
Ink And Paint:
As mentioned above, Phineas And Ferb: The Movie rises above its usual television animation roots for this special, and even if it's not on a primary or even secondary animated classic level, presented in its 1.78:1 widescreen framing it looks very good. One might ask where an HD Blu-ray edition is, but that's partly understandable since television properties have routinely been left languishing in standard definition even as Blu-ray took off. However, this is still a rock-solid digital transfer and the fun production design and super-bright colors easily survived being upscaled for larger screen viewing.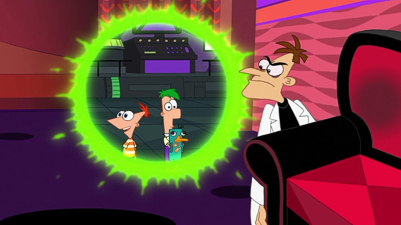 Scratch Tracks:
Following suit with the solid visuals, if there's any area where a small screen project with big screen ambitions can score it's in a very accomplished soundtrack, and this mix has everything going for it, including some big music cues orchestrated by on-off Disney Studio collaborator (and composer in his own right) J.A.C. Redford. As usual for a typical animated television comedy show of today, there's a lot going on at any one time, from high-energy voices and music to spot effects, but it's all rendered perfectly fine so as to not be too overloaded with noise. English, French and Spanish dubs and subs are all offered.
Final Cut:
I can't honestly say that Phineas And Ferb: The Movie – Across The 2nd Dimension has converted me into a new fan of the show, but it's good to see that traditional television animation ("in fabulous 2D") does still have a place on Disney's channels. I'm obviously not in the audience demographic for this, but I did feel that where previous shows managed to also appeal to adults, Phineas And Ferb doesn't quite rise to that subliminal level enough. However, fans of the show will no doubt be enthralled with this exciting adventure and will particularly welcome its unexpectedly packed DVD set. To those people this comes with a full recommendation.
Animated Classic or Back To The Drawing Board?