Melendez/Mendelson Productions (2002), Warner Home Video (October 5, 2010), 1 disc, 18 mins plus supplements, 1.33:1 ratio, Dolby Digital 2.0, Not Rated, Retail: $14.98
Storyboard:
A series of vignettes with the Peanuts gang celebrates the Christmas season. The added special is really the meatier of the two, with the moving away of the Van Pelts setting off a chain of events that forces the characters to examine some of their deepest feelings.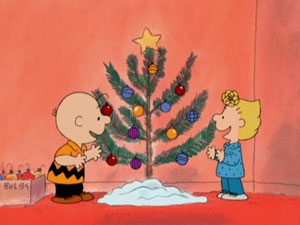 The Sweatbox Review:
When A Charlie Brown Christmas was originally broadcast in 1965, it ran during a time of fewer commercial minutes intruding upon the program. As time wore on and network needs changed, CBS began to excise parts of the classic special in favor of running more commercials. However, when they wanted to bring more attention to the program again, after its edited form had been broadcast annually for many years, they announced that they would run it unedited in 1997, for the first time in a long while. This continued while they held the rights to the show for the next few years, and then ABC also broadcast it unedited from 2001 through 2008. Of course, this resulted in either having to cut commercial time, or letting the show run long. In 2001, ABC decided to make the most out of gaining the rights to the special, and they added The Making Of A Charlie Brown Christmas to fill out a full one-hour slot. The following year, they tried something else.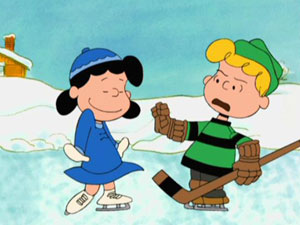 In 2002, they actually commissioned another mini-special to run alongside A Charlie Brown Christmas, once again completing a one-hour time slot. At only around 18 minutes, a full-length plot could not be used, so a different format was determined. Charlie Brown's Christmas Tales is actually a collection of five segmented shorts, each focusing on a different Peanuts character. This special was originally released on DVD by Paramount, appearing with I Want A Dog For Christmas, Charlie Brown and The Making Of A Charlie Brown Christmas. Then, in 2009, Charlie Brown's Christmas Tales was released as an exclusive in CVS pharmacies, alongside another special on the same disc. It is this same disc that now appears as a general retail version.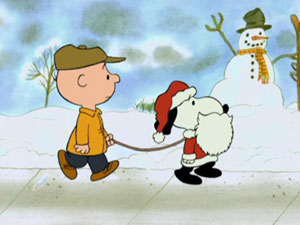 Happy Holidays From Snoopy starts with Snoopy on the ice with Lucy and Schroeder, but he later finds himself dressing as Santa and collecting money for the poor. That's where Rerun finds him, and asks him some pointed questions.
Yuletide Greetings From Linus sees Linus writing a letter to Santa, with Lucy doing her usual critiquing. One of the best parts of the whole show comes with Linus meeting a new nemesis, a girl who changes her name every day and gives him a hard time. There's also a small "Easter egg" here. When she gives him her address, we can see that the resulting addressed envelope mentions the town of "Sparkyville," making this perhaps the only instance of the characters' hometown ever being named. This tiny tribute to Charles "Sparky" Schulz is just a little throwaway thing, but I enjoyed it.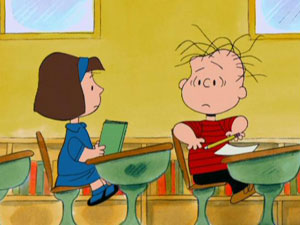 Seasons Greetings From Sally also has some letter writing to Santa, but Sally gets confused and instead writes to "Samantha Claus." She proceeds to confuse others with her mistakes, and gets a Christmas tree from another kid's yard, which creates some antagonism.
Peace On Earth From Lucy finds Lucy naturally coming into conflict with Charlie Brown, Linus, and Schroeder over her interpretation of Christmas traditions.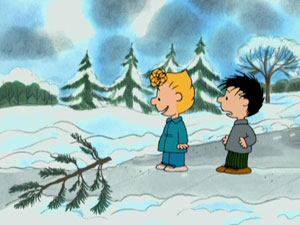 Merry Christmas From Charlie Brown again has some writing, but this time it's Charlie Brown making a letter out to the Little Red-Haired Girl. He also spies Sally waiting for Santa, and helps her interpret her Christmas dreams.
Those are the highlights, but there are many smaller pieces that are too numerous to list. Essentially, this is the comic strip brought to life, with one gag following another, just as if you were reading the dailies. There is no sustained story at all, just a nice collections of animated strips with your favorite characters from Peanuts. Given the limitations of this format, it's a nice way to pass the time if you want to get into the holiday spirit without devoting too much time or thought to it.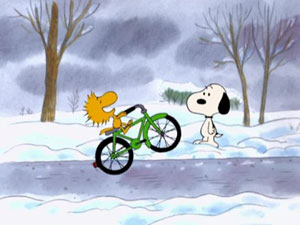 Is This Thing Loaded?
1983's Is This Goodbye, Charlie Brown? (24 minutes) is the bonus special on this disc, though ironically it is the longer of the two, being a fully-fledged special rather than just something to fill a partially empty time slot. It is also by far the stronger entry, telling the tale of when Linus and Lucy Van Pelt move away when their father is transferred. This causes all sorts of uproar in the lives of the characters, both before and after the siblings leave the neighborhood. Sally obliviously pines for Linus and expects a movie date, not believing that they are actually moving. Lucy leaves a photo of herself on Schroeder's piano, and later actually good-naturedly shakes hands with Charlie Brown. In an anomaly among the Peanuts specials, we actually see adult movers taking the Van Pelts' things into a moving van. All the characters get to say good-bye at a luncheon catered by Snoopy, who fails to think that the kids might like people food.
Once the siblings do leave, Charlie Brown's baseball team is all the weaker. While discussing this with Peppermint Patty, Patty finds herself feeling rather sympathetic to ol' Chuck, which Marcy finally calls her on— accusing Peppermint Patty of having a crush on Charlie Brown. Patty initially reacts with anger until she realizes that Marcy is right. This leads to a misunderstanding over a mid-night phone call with Charlie Brown and some hurt feelings. Meanwhile, Schroeder finds himself oddly missing Lucy, and Snoopy pines for Linus' company despite touchingly being left Linus' blanket. I doubt anyone expects that the Van Pelts don't return at the end, so you may be assured of a happy ending. Phil Roman handled the directing, and music is by Judy Munsen.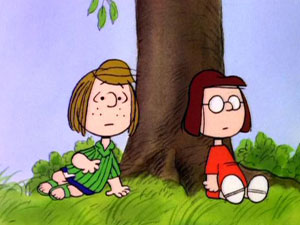 The Trailers that play after the disc loads are those for various Peanuts holiday DVDs, naturally. More Peanuts Trailers can be played from the menu as well.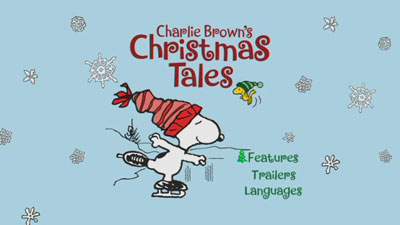 Case Study:
The eco keepcase has no insert, and does not come with a cover slip. There is no special designation for this disc on the package, as it certainly does not contain remastered material.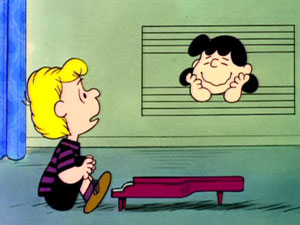 Ink And Paint:
Neither special looks all that great, and it becomes clear why there is nothing on the package about these being remastered. Christmas Tales has a bad case of the jaggies at times, while Is This Goodbye has numerous occurrences of video noise. Both specials look generally soft and in need of a clean-up. They're certainly watchable, but a far cry from Warner's usual "deluxe remastered editions" of the Peanuts specials. Despite this, I still expected more, since these particular specials aren't so old.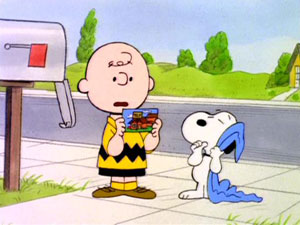 Scratch Tracks:
Christmas Tales is resented in Stereo, but with minimal separation heard. Otherwise, the presentation is fine. Is This Goodbye comes in even less distinguished Mono, but there's nothing really wrong with it. No other languages are available, but subtitles are here in English and French.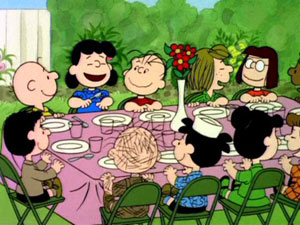 Final Cut:
Christmas Tales apparently got first billing to appeal to holiday shoppers, but it is really the most minor of the Peanuts cartoon specials. It's pleasant enough, but barely a diversion. More rewarding is Is This Goodbye, Charlie Brown?, which carries a more serious plot than usual, and offers a chance to explore the characters in ways not usually seen. Video and audio are unimpressive, but that befits this disc's budget status. They may appear remastered later on, if Warner continues their two-disc compilation sets by decade; but if you can't wait, the price may be right.
Animated Classic or Back To The Drawing Board?