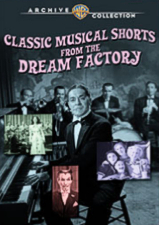 Metro-Goldwyn-Mayer/Warner Home Video (1928-48 / 2010), 4 discs, 490 mins, 1.33:1,
Dolby Mono, Not Rated, $34.95 (available online only from the Warner Archive Collection)
The Movie:
There comes a time when reviewing any multi-disc set that one must begin to take considerations of the clock into account and start to skim more and more of the content in order to make the review's deadline. And, quite often, when that time inevitably comes, I start to crank everything into double or triple speed to still see as much as it as possible…not so with this new assortment of theatrical MGM "program filler" shorts – the latest in Warner Bros.' fantastic made on demand Archive Collection titles – which I began last week and continued to be totally absorbed with until I'd seen most of the 34 selections almost in their entirety.
Apart from pulling out the best current video masters and offering hard-core fans a growing selection of rare, obscure and guilty pleasures, one of the best ways the WB Archive Collection has utilized is with large groupings of legendary, but rarely seen, theatrical short subjects, with multi-disc sets pulling together a host of collections featuring high-profile names long-forgotten by the majority of all but the die-hard nostalgic collectors. As one of those kinds of people, I've been lapping it all up, and after years of discovering the odd oddity in bonus feature sections and strange television channels, we finally have a chance to see full libraries of short films, many of which played alongside animated cartoons as part of a full evening's movie theater program.
Already from the WB Archives, we've been able to enjoy the MGM Our Gang shorts, as well as the hilarious Dogville Comedies, the globetrotting exploits of Ripley's Believe It Or Not, sets dedicated to two comics whose films I was only ever to find late night or early morning as TV filler: Robert Benchley (he of Disney's The Reluctant Dragon studio tour feature) and everyman Joe McDoakes (further sets for the brilliantly comical oeuvres of Edgar Kennedy and Leon Errol have yet to be announced – but there's hope)!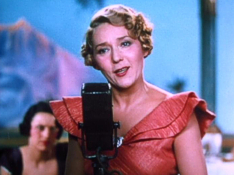 What makes these sets most fun is the feeling of returning to that time when "a night at the movies" meant a newsreel, cartoon and a short subject played before the b-picture and top lining main feature, and a selection of any of Warners' vintage sets will put you right back in time to a 1930s or 40s cinema seat for a slice of pure nostalgia. Following up the Warner Bros. Big Band, Jazz And Swing Short Subject Collection already available, this new collection of shorts from the Metro-Goldwyn-Mayer factory provides a lot more of the same, featuring two packed discs of chronologically listed black and white shorts, as well as two discs in sparkling Technicolor, an unexpected treat!
Disc One's Metrotone Shorts And Two-Reel Specials includes a potpourri of this and that, essentially offering time capsule recordings of some of the biggest stars of the day in some of the most exclusive venues. Thus we have performances from the Cocoanut Grove, the Ambassador Hotel, the Capitol Theater, etc, in as close to a "live television" broadcast as possible for the time, captured directly from the stage without the super-slick studio processes that polished the singing and choreography until it shined. Of course, that's not to say the standard here isn't as professional as we'd expect of any MGM output, but there's a "you are there" live quality that puts you in the audience as opposed to simply watching a movie routine.
The disc is the most "static" of the set for these very reasons, mostly consisting of simple camera set-ups that are more interested in recording the performance rather than imposing any directorial tricks (remember that this was still the dawn of sound in the movies, and many such early films were hindered by the initial equipment). But it's the stars we're here to see anyway, and there will be great delight for those that remember names such as Leo Beers, Van & Schenck, with Jack Benny amusingly hosting another short that counts a certain Arthur Freed ("the lyricist, who also writes the words") amongst its number, and a bunch of talented teens and kids in the Kiddie Revue, presented in a sepia tint.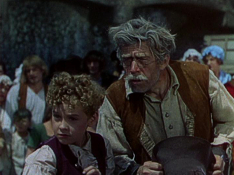 On Disc Two's Colortone Shorts, Novelties And More!, we find the early two-strip Technicolor process in full, saturated effect, though for those unfamiliar with the look of the coloring, the red and green-only filtered effect can be a little surrealistic. The format slightly veers away from straight musical content to also showcase some comic sketches, dance sequences (Earl "Snakehips" Tucker in Crazy House, and the MGM Dancing Girls, for example), and storylines, for what they are worth. In fact, the approach is more akin to being along the lines of miniature movies, with flimsy but fun bookends and narrative set-ups providing the structure for the musical scenes, some of which (The Devil's Cabaret) are quite risqué!
There's one black and white short snuck into the line-up here, but otherwise Technicolor had evolved into the three-strip process that we know and love by the time of 1934, and the remaining two films on this disc look pretty near wonderful considering that they probably weren't ever kept in absolute optimum vault conditions. These are two of the best in the set: My Grandfather's Clock a musical murder mystery told completely through song, as a Holmes-like detective sets out to solve a crime painted in the "rainbow spectrum" that MGM would use in abundance in the late 1930s onwards for their most iconic features. Absolutely gorgeously designed and photographed, The Spectacle Maker features Geppetto himself, actor Christian Rub, in a very similar role that seems to have been a very clear influence on Disney's later Pinocchio.
The All-Star Technicolor Shorts that make up Disc Three's collection is worth the price of admission alone, with a glimpse of the stars of the day in ultra rare color footage. Even the most prestigious stars' movies were still being photographed in black and white during this period, so to see the likes of Mary Pickford, Buster Keaton and, especially a treat for animation fans, Cliff Edwards – Jiminy Cricket himself – in Technicolor is quite a marvel, as we join them poolside at the Cocoanut Grove for an evening's entertainment. Star Night At The Cocoanut Grove has popped up as a supplement on another classic Warners title, if I recall correctly, but it makes sense to include it for completeness sake here.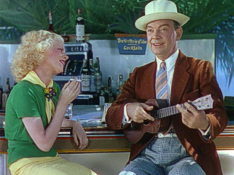 The hike up in filmmaking is also evident as this disc begins, with the static black and white of the first disc now improved to full color and fuller sound, with editing and camerawork unhindered by the new processes as the filmmakers became more familiar and confident with them. This "Galaxy Of Stars" set-up provides the framework for many of the shorts on this disc, which often inserted shots of the most popular faces under studio contract enjoying the performances with us.
Thus Clark Gable, Cary Grant, Errol Flynn and Johnny Weissmuller pop up, Bing Crosby croons, and there's a glimpse of the soon to be Judy Garland singing with her siblings the Gumm Sisters. Comics Mickey Rooney, Harpo Marx, Keaton, Leon Errol and Charley Chase provide the laughs, Andy Devine turns up as a toreador, and there's a parade of Disney style caricatured costumed characters in Cinema Circus many to the strains of many a popular or well known classic Hollywood tune that would likely become better known thanks to exposure in later MGM pictures.
Finally, Disc Four concludes the set with a series of more All-Star Shorts And Big Band Specials, including a 1937 Technicolor Hollywood Party, not to be confused with the 1934 black and white MGM feature film, but still fun for star spotting (Gable and Errol again, plus Anna May Wong's personal fashion show). This could be considered a "bonus disc" as it reverts to black and white and a reliance on the series of Martin Block's Musical Merry-Go-Round, though there's still entertainment to be found in an early version of Cuban Pete, some of the sheer spectacle at Billy Rose's, and the chance to see a very young MGM contracted Keenan Wynn on his way to screen stardom (and later infamy as recurring Disney villain Alonzo Hawk) dropping in on Block's "radio program".
Ultimately, Classic Musical Shorts From The Dream Factory is intended for the classic movie star buff and those that will appreciate seeing the music hall and vaudeville acts in their heyday. It's a real time machine that transports us back to those nights in Hollywood, when stars mingled with other stars at the most exclusive clubs to watch now quaint but no less entertaining acts that we have the fortune to have been preserved on camera. Warners doesn't provide a disclaimer but, naturally and reflective of the times, there are plenty of routines and gags that wouldn't pass muster today, so be aware that some stereotyping and pre-code humor does pop up from time to time.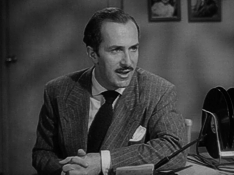 I'll admit that, even for a fan like me, not all the shorts have a lasting quality that will see them played over and over, and there are some honest clunkers in the mix to be sure, but there are more than several films here – particularly on the third disc – that warrant picking up the collection for those that consider themselves into this kind of material. Essentially, for the chance to even see this material in full outside of documentaries, clip compilations or DVD extras, let alone the wealth of it – over eight hours – for a very reasonable cost of one night out, this is very much a night worth staying in for!
Disc One – Metrotone Shorts And Two-Reel Specials (1928-1930): Walt Roesner And The Capitolians, The Locust Sisters, Leo Beers, Joseph Regan, Fuzzy Knight, The Ponce Sisters, Frances White, Marion Harris, Van And Schenck #1, Van And Schenck #2, The Kiddie Revue (color) and The Songwriter's Revue.
Disc Two – Colortone Shorts, Novelties And More! (1930-1934): Crazy House, The Devil's Cabaret, Over The Counter, Wild People, What Price Jazz (black and white), My Grandfather's Clock and The Spectacle Maker.
Disc Three – All-Star Technicolor Shorts (1934-1937): Star Night At The Cocoanut Grove, Starlit Days At The Lido, Pirate Party On Catalina Island, Fiesta De Santa Barbara, Sunkist Stars At Palm Springs and Cinema Circus.
Disc Four – All Star Shorts/Big Band Specials! (1937-1938): Hollywood Party (color), Sunday Night At The Trocadero, Billy Rose's Casa Manana Revue and six of Martin Block's Musical Merry-Go-Round series (all 1948) featuring Freddy Martin, Tex Beneke, Les Brown and Virginia O'Brien, Ray Noble and Buddy Clark, Art Lund-Les Brown-Tex Beneke, and Frankie Carle And His Orchestra.
The Disc:
As per normal for the WB Archives, the intention is to simply get this rare material out there in simple but smart editions that don't focus on dressing these editions up with any major restorations or supplements that would delay their release further. In many ways with these multi-disc sets, the films themselves feel like a wealth of supplemental material anyway, so the lack of any "true" bonuses ultimately feels like a redundant point, especially since some of these films have already turned up as extras on previous releases.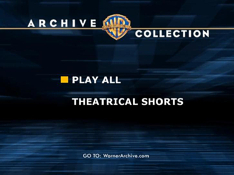 It's true that a documentary retrospective on how shorts were packaged and shown in the body of a "main feature" programmed presentation might have served as context for those coming to these films for the first time, but mainly it's going to be collectors springing for a set like this, and they'll know their history and will have seen similar ground covered before (the "shorts story" documentary available on the TCM Laurel & Hardy set is well worth seeking out as a companion). As such, this Archive Collection comes as basic as they all have, though is nonetheless welcome for it, the main menus remaining as clear and concise as they need to be, listing the shorts' titles for easy selection.
Warners once again make the point that they perform no additional restoration on their Archive titles, using instead the "best available" current video master, but considering the vintage of some of the material presented here – the earliest coming from that cutting edge time when sound had only just been applied to motion pictures – the results really are very good.
The native black and white photography should eliminate the possibility of color crosstalk, but some of them haven't been desaturated and the sprinkling of color dot crawl was distracting enough for me to turn the color down on my display. But the color films themselves look good enough, and far from disappointing – some are quite stunning – with a distinct lack of heavy print artefacts and, of course, there are no onscreen station ident logos or other interruptions.
Even MGM's b-pictures and short subjects were treated with just as much audio sheen as their feature-length counterparts, and even given that the soundtracks of this era were largely primitive in terms of the equipment limitations, I was generally pleased with the fidelity of the sound on a good number of the earlier shorts in the collection, which is surely the result of at least a little audio sweetening on Warners' behalf. Though of course there are no subtitled or foreign language options, knowing that the Studio has made sure the films reach commercial release standards should please those anticipating this collection (though be aware that at least my copy of The Spectacle Maker features a volume-busting pop midway through).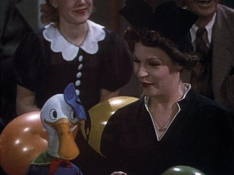 Added to this, Classic Musical Shorts From The Dream Factory comes packaged in the WB Archives' snazzy new approach to cover art, which jettisons a previous "uniform look" of before for a style that feels much more like a mainstream release. A light and breezy title treatment floats across the sleeve alongside stills and faces of yesteryear, while the back of the sleeve and disc artwork feature updated versions of the WB Archive designs.
Previous collections have provided release date information in addition to listing the shorts; I'd have preferred that again here, and had to resort to the Archives website for the title listing included above. If release years were available for the website, there's no reason they couldn't have been included on the sleeve (the room is here) along with the extra little tidbits of info found online.
The standard keepcase holds the four discs (two on each inside of the case, two in a flap tray) and, although they look like DVD-Rs, as always with the Archive Collection, Warners insist they use specific discs and propriety production software that make them more robust than home-made creations. Since I haven't had an issue with any of the releases yet, I'm taking them at their word!
Cinematic Classic or Faded Print?
Complimenting Warners' commercially released Classic Musicals From The Dream Factory line of mainstream features in boxed sets, this collection of shorter subjects from the same MGM Studio provides much more of the same in mini-form. Casual fans of the golden age of Hollywood may find themselves sitting through a selection of films which don't hold much appeal for them, but older viewers and those fascinated by the vintage and time-capsule nostalgia will, I am sure, get a huge kick out of seeing, and owning, these great little films.
With releases like these, it's not hard to remain a fan of the WB Archive Collection and the many titles that have been brought to DVD which might otherwise be languishing in the back of a vault somewhere, also providing exceptional running time value. I look forward to sampling more from Warner Brothers' early Vitaphone days, such as that aforementioned Warner Bros. Big Band, Jazz And Swing Short Subject Collection, and truly hope that the very funny RKO comedy shorts of such robust performers as Edgar Kennedy and Leon Errol are not now too far behind.
SPECIAL ORDER!
Preview and purchase
Classic Musicals From The Dream Factory
and many others directly from the online store at
WB ARCHIVE COLLECTION