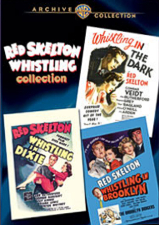 Metro-Goldwyn-Mayer/Warner Home Video (1941-43 / 2010), 3 discs, 239 mins, 1.33:1,
Dolby Mono, Not Rated, $24.95 (available online only from the Warner Archive Collection)
The Movie:
I have to admit that, for all my appreciation for classic cinema, the comedic exploits of Red Skelton have continuously passed me by for one reason or another. Indeed, although I of course recognize the name and face, the only tenuously linked exposure you could say I have ever had to him was via Tex Avery's classic 1943 pastiche of the murder mystery picture Who Killed Who?, in which a parading line of skeletons tumbling out from a closet stop mid-air so that one – naturally crimson in color – can make the dreadfully bad pun, "haha…RED Skeleton!"
Audiences at the time would have rolled over at the joke: by 1943, the third of Skelton's Whistling trilogy had hit the screens and he had become Hollywood's latest comic star, and in particular the center of that series of that popular genre, the comedy-thriller. Discovered as a teenager by none other than Ed Wynn, Skelton learned his profession in the days of vaudeville and various travelling shows and circuses, becoming enough of a name by 1937 to warrant guest spots on radio, where he was quickly contracted as a regular. Just a year later, he was on the screen too, by way of supporting roles in a couple of RKO and Warners Vitaphone projects, before earning a contract playing light relief in MGM's original Doctor Kildare pictures of the early 1940s.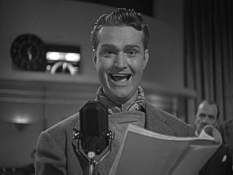 MGM were quick to promote him to star status, and the plots of the Whistling films allowed for a playful crossover of his radio and film careers. In the role of Wally "the Fox" Benton, a writer-actor of the kind of hugely successful murder mysteries that kept audiences glued to their radios at the time, the first of the series, Whistling In The Dark (1941, 78 mins) finds Wally's "perfect crime" abilities under demand from a crooked cult leader, the wonderful Conrad Veidt (later to create the role of Jaffar in Korda's The Thief Of Bagdad), to create the perfect murder in return for the freedom of his also kidnapped girlfriend, Carol Lambert (Ann Rutherford, who had previously played a similar role opposite Mickey Rooney in his Andy Hardy series) and his radio sponsor's daughter.
As with many films of the era, Whistling In The Dark was based on a Broadway play, a popular source of material for many such films, but director S. Sylvan Simon (a collectible name for those into alliteration, and no relation to this reviewer!), a stage and screen helmer who was a solid handler of comedy sequences on other films (including the Marx Brothers' The Big Store) and would go on to direct all three Whistling pictures, opens up the action and, despite the limited locations, leans it away from any staginess that often hampered these kinds of translations. He's helped immensely by Skelton, who is a natural comic presence with the spitfire dialogue, but also able to handle the more dramatic aspects of the script too, especially in the genuinely exciting final scenes.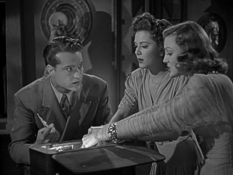 Whistling In The Dark is a pretty good example of the genre at this time, alongside such films as other "old dark house" spoofs featuring Bob Hope and the like (Skelton's hapless "in trouble" expression often resembles Hope's, too). At times Skelton reminded me of Bill Murray's mistaken identity character in the underrated The Man Who Knew Too Little, though the films also clearly left their marks on the makers of Haunted Honeymoon, both the original 1940s murder mystery and the 1980s jokey remake with Gene Wilder. Having now seen the source of many of the references in that film (most notably the central "1930s radio star crime solving couple finding themselves embroiled in a real murder on the eve of their wedding" plot), I will forever see Wilder's version in an entirely new light.
Such was the popularity of Skelton's Whistling debut that a second film, Whistling In Dixie (1942, 74 mins) was rushed into production almost immediately, released to theaters just one year later. Far from being a fast-tracked cash in, Nat Perrin's screenplay elaborates upon the characters' personalities and situations, setting up some expanded action comedy sequences and, in its tale of the duo solving another crime, this time in the Deep South, builds on what came before instead of simply repeating it. Helping the flow of what feels like a natural continuation, Skelton and Rutherford are back, alongside the first film's thug, Rags Ragland (a recognizable face popular for playing "heavies"), in a dual role that now also includes his more amenable brother via some pretty convincing split-screen.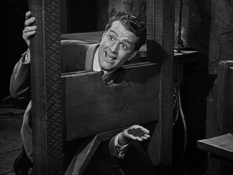 Director S. Sylvan Simon again keeps things moving and, for what might have been passed over as a B-Picture at other studios, the film is again treated to top-level values, from the elaborate sets and location shooting, to the lighting design, camera set-ups and snappy editing, which remains expertly in tune with the photography and all works to play up the comedy and plot to their best advantages. The situations reminded me more here of MGM's The Thin Man series, also featuring a pair of married sleuths, and, although it's again all played for fun, some of the more dramatic perils the cast find themselves in, particularly a purposely drawn out sequence where they are trapped in a flooding basement, work equally well to qualify the film's thriller tag in addition to the comedy.
Released once again just one year later, the third and final film Whistling In Brooklyn (1943, 87 mins) brings the three central characters (Skelton's Fox, his girl Rutherford and the reformed Ragland) back home, but before the loving pair can finally marry, Wally is confused with a serial killer and they find themselves on the lam, fugitive style, on a mission to unmask the real culprit and attest the Fox's innocence! Once again, Perrin's script opts not just to repeat what went before, although the personality traits and some running gags remain rightfully in place, and the difference in approach leads to some nice twists and diversions from the usual plotting (a strong point across all three films is that the villains are quite genuinely villainous).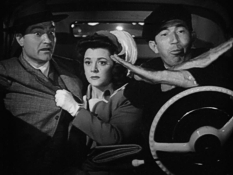 The action is stepped up too, with some of the series' best of its usual good stunt work and a character development for Skelton that shows a little bit more to the Fox as opposed to simply being a virtuoso radio writer-performer who loses his nerve in a real situation. In fact, if anything, the action/thriller aspects take more precedence over the comedy this time out, even if the convoluted ending, where Skelton winds up in disguise as a player opposite The Brooklyn Dodgers (featuring the real team of the time) is more routine and a little sillier than usual, though no less funny for it, especially the way his beard manages to catch one baseball! Everything naturally works out in the end, and the real killer is apprehended, though by the end of the movie, Skelton/Rutherford's Benton and Lambert still aren't man and wife, but seem content to be happily un-hitched!
Skelton went on to appear in several other prestige pictures for MGM, including the Technicolor Zeigfeld Follies, and a long run of other appearances, winding up as the Neanderthal Man/Inventor in the lengthy prologue to Ken Annakin's Those Magnificent Men In Their Flying Machines – ahh, so I have come across Skelton on screen before, and didn't ever realise it! Further radio success in his heyday led to continued references ("I dood it", "Now let's not get nosey, bub", "I broke my widdle arm" and "He don't know me vewy well, do he?" were all Skelton phrases) in cartoon shorts, and he later became a television mainstay in the 1950s and 60s, also founding a production company that would have a hand in, of all things, Irwin Allen's Lost In Space.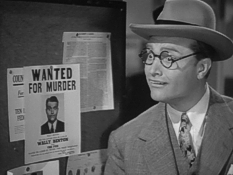 A decline in ratings in the 1970s can't have really been a surprise given the disappearing nature of such acts on the small screen at the time, and this took its toll on Skelton, who had already suffered much tragedy during his personal life.
But, recalling a happier age both for the star himself and the kinds of light, genuinely humorous films that amused audiences, it's no real surprise that the Whistling trilogy firmly established Skelton as a leading comic player of the time. With some terrifically razor sharp one-liners ("Open that thing and tell him to let us in / I don't think that's such a good idea…he's liable to do it!" in the first, "Who's a coward? I'm as brave as they go, and I'm going!" in the second, and the third's "I never forget a face, but this time I'll make an exception!") and delivery, this is a fun opportunity to catch the kinds of films the animators of the time would go see and take influence from…and they're still funny today.
The Disc:
Another in the excellent line of Warner Archive releases, the series' aim is to bring the more obscure material in the WB vaults to disc in smart but simple editions that are focused on getting these rarities out rather than dressing them up with any major restorations or bonus features that could only delay their release further. So, as per normal for the line, there's little in the way of actual "bonus" content, but a nice and very welcome surprise on each disc is the inclusion of each film's Original Theatrical Trailers.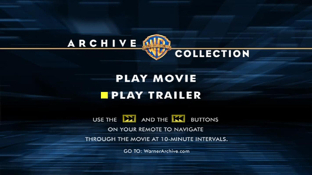 Showing the films off to their best advantage, it's always fun to see how old movies were marketed and, like the film itself, this actually plays like a template for any number of modern murder mystery-comedies. Perhaps a theatrical cartoon that includes a timely Skelton reference could have been considered for each disc, but then again that's not really what the Archive Collection is about, the main menus for the discs being once again as basic as they need to be, including the same one minute Collection promo that adorns the beginning of each release.
But with the trailers intact, the lack of extras really doesn't matter when Warners present the films themselves looking so clear. Although the general disclaimer is that the Studio performs no additional restoration on their Archive titles, using instead the "best available" current video master, I've yet to be truly disappointed by an Archive title's audio or video attributes, and the Whistling Collection, in particular the first film, retains the high quality, perhaps even more so that other titles of this vintage.
The native black and white photography naturally eliminates the possibility of color crosstalk, but even so, it's the sharpness of the images and lack of print artefacts that delight here and, of course, there are no onscreen station ident logos or other interruptions.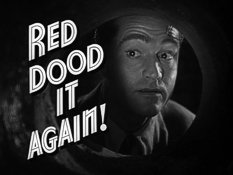 The soundtracks for all three films are also reproduced with a suitably nice punch, in authentic mono, and although there are no subtitled or foreign language options on what are essentially bare bones releases, knowing that the Studio has made sure the films easily reach commercial release standards should please those interested in this collection. Adding to this, the Whistling Collection comes packaged in the WB Archives' snazzy new approach to cover art, which jettisons a previous "uniform look" of before for a style that feels much more like a mainstream release.
Still saving design costs, original theatrical poster art for all three films is employed to good effect on the front, while the back of the sleeve and disc artwork feature updated versions of the WB Archive designs. The standard keepcase holds the three discs, two in a flap tray and, as always with the Archive Collection, although they look like DVD-Rs, Warners insist they use specific discs and propriety production software that make them more robust than home-made creations.
Cinematic Classic or Faded Print?
The first film in the trilogy, Whistling In The Dark, is easily the best, perhaps due to the tried and tested plot being performed as a Broadway play before its screen adaptation, though there's still a lot of fun to be had with the two follow-ups, Whistling In Dixie and Whistling In Brooklyn, the latter of which shows slight signs of series fatigue in its more outlandish situations but makes up for it with plenty of action. It was wise to wind up the movies at that point, but all three provide vintage entertainment that can still be enjoyed today. Whistling has never been so much fun!
---
SPECIAL ORDER!
Preview and purchase
Red Skelton's Whistling Collection
and many others directly from the online store at
WB ARCHIVE COLLECTION