MGM/Warner Bros (1969 / 2009), single disc, 2.35:1, 106 mins, Rated G, $19.98 (available online only from the Warner Archive Collection)
The Movie: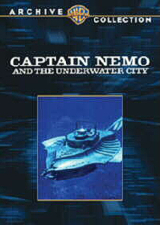 In the August of 2009, Warner Bros. Home Entertainment announced a somewhat groundbreaking new product line, the WB Archive Collection. The Studio has built up an impressive, if actually unwieldy, library of catalog titles, from the Warner Bros. Pictures they naturally own to the numerous buyouts of other output, most notably the immense number of Metro-Goldwyn-Mayer classics through the acquisition of Turner Entertainment as well as those from RKO, Lorimar and various other smaller distributors including many independents. But what to do with all this content!? Turner Classic Movies provides at least one output for some of the more obscure titles in the line-up; titles that may have their fans but not the kinds of numbers clambering to own them and make a mainstream DVD release a moderate hit.
Step forward the WB Archives, where the current video masters for many of these films are dusted down and encoded using a propriety process to blank DVD discs, simultaneously providing fans with some of the hard to get titles they've been waiting patiently for and a way for the Studio to get some of their more requested (but way down the restoration line) titles out on disc (and bring in a little revenue on masters that would otherwise stay lined up on shelves). Some have bemoaned the lack of remastering, or the absence of extras, and especially the $20 price point. But I say "phooey!" to that: I remember a time back in the LaserDisc days when an average, no-frills disc would set one back almost twice that cost, without the anamorphic enhancement, or sometimes even the original aspect ratio.
So, for those that can deal with the fact that there is a cost implication to owning some rarities on DVD without any corner logos, and can appreciate that these are made to order discs, with fully printed packaging and, in many cases, the film's theatrical trailer bundled in where available, the WB Archive Collection is for you. Serving up good quality prints that, while they may not have been restored to pristine condition, are still better than broadcast television or even LaserDisc, the series is proving to be a strong line for the Studio, who have even tackled the pricing issues by offering "two for one" deals, and the like, on themed collections (such as the Lex Barker Tarzans or a selection of MGM Silents). The collection is an eclectic assortment of old and new, and among the titles there are some that will probably temp hardcore cineastes…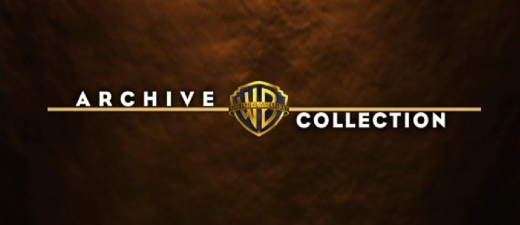 In 1954, Walt Disney started a genre of its own with his mega-budgeted version of 20,000 Leagues Under The Sea, heralding the movies' fascination with the works of Jules Verne and a whole series of adaptations and knock-offs. Although not a direct continuation by any stretch of the imagination (Nemo, of course, went down with his submarine, the Nautilus) The Underwater City does assume one is familiar enough with Verne's book or Disney's film as far as in not setting up the basics once more. We're thrown right into the action, during a storm at sea, whereupon a group of typical British character actors (the movie was made out of MGM's England's Studio in Elstree and Borehamwood) and token American Chuck Connors, seemingly stepping in to the vacancy left by Kirk Douglas' character, are saved by the mysterious Nemo. Taken aboard the Nautilus, they find themselves destined for Templemere – Nemo's secretly hidden city beneath the sea, self-sufficient and protected by a huge dome.
Naturally, the Captain cannot let knowledge of the City break out, and insists the saved souls remain his guests forever more. Of course, Connors and the bunch of stiff-upper-lipped Brits won't stand for any of that and the adventure is on as they plan a daring escape! Apart from the practical effects works, including miniatures by later big names in the field (Jack Mills, George Gibbs and Richard Conway) and a sweeping score by Walter Stott (recently issued on CD under Angela Morley's name, composer of Watership Down), it's in the spirited performances that Captain Nemo entertains. Familiar face Allan Cuthbertson is the nervous type, Nanette Newman the damsel and comic Kenneth Connor a bright source of humour. Though best known as a television regular, Connors maintains a big screen approach and does so in good fashion, while director James Hill also keeps things feeling cinematic despite the sometimes derivative elements, and the opening storm is well staged.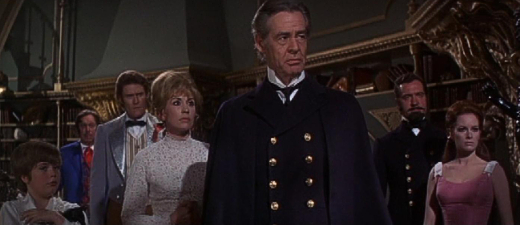 As Nemo, Robert Ryan doesn't have James Mason's gravitas, but plays him as an older, less cynical version of the character anyway, whose newly developed trusting nature could be his undoing. The Nautilus itself is very reminiscent of Disney's iconic version, though its interiors are perhaps closer to Verne's original descriptions. Ultimately, Captain Nemo And The Underwater City isn't a patch on Disney's film, of course, but it stands up well on its own, with some strong scenes and the courage of its convictions. It's certainly the best of the follow-up Nemo adventures that tried to capture the character, easily beating the likes of The Amazing Captain Nemo and Vincent Price's similar The City Under The Sea from a couple of years earlier. Good, solid family entertainment for adventurous kids!
The Disc:
Being "manufactured on demand" titles, it's understandable that the Warner Archive discs would be bare-bones, generally lacking subtitles and all using the same themed main menu, but occasionally they surprise with an added trailer here and there. Each disc opens with a sixty second promo for the Archive Collection concept, highlighting among some of the films available in the ongoing series. The discs are not chapter indexed but the films can be skipped through at ten minute intervals, so it's easy enough to bookmark the nearest point to favorite scenes. A nice surprise is the inclusion of the film's original theatrical trailer, shown in 4:3 "fullframe" in pan and scan format, and satisfactory in presentation; a very welcome inclusion.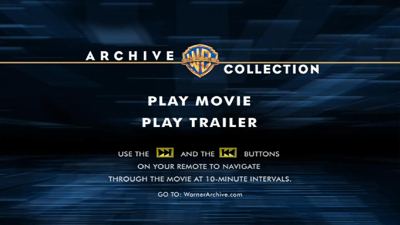 If there's one area where the WB Archive Collection doesn't quite shine as bright as their more commercially promoted cousins, it's in the packaging. Not that there's anything wrong in the artwork itself: though there's a basic design template for these releases in place, each title retains their original logos and poster or publicity images, while the synopses and info on the back are tailor made, so while they all feel uniform, each is different. The lack of enthusiasm comes with the cases themselves, the sleeves being inserted into what can feel like second hand cases; bulky low cost versions of a regular keepcase that don't come shrinkwrapped, which kind of spoils the excitement. I've instantly swapped these cumbersome cases for a clean set, but really these should feel "newer" than they do, especially for the price. Although the discs are not quite of the DVD-R variety (Warners say they use specific discs and software that make them more robust than home-made creations), the color surface print is as good as any commercial release, adding to the authenticity of these basic but official releases.
In terms of images, Warners has been very honest and very clear about the sources for these releases: no new restoration or remastering has been done and these are basically the current video masters for these titles. On closer inspection, one can see that a little care has been taken (what would be the point of simply reusing decades old transfers and asking us to pay for them?) and the results are pleasing. It's obvious these are also new transfers of existing prints, since each film is presented in its original aspect ratio, and anamorphically enhanced in 16:9 where appropriate, a presentation that itself would require new transfers as opposed to the TV and LD copies of old.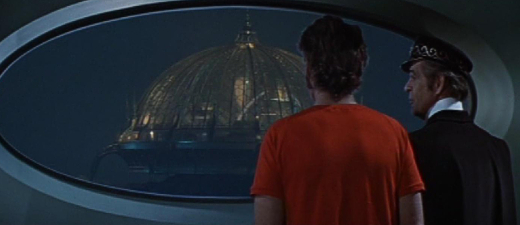 The format can change between titles, with some progressively transferred while others can be interlaced, but the effect is the same: very good versions of otherwise hard to find movies. I was particularly impressed by the stability of the elements used and the solidity of the coloring; one of the best prints in the Warner Archives is easily Captain Nemo, but although it's the best looking and more sumptuously designed of the films, it seems to be overly compressed, even if the sometimes soft and muted look can be attributed to the underwater photography and intentionally under-lit lighting. Despite a few nicks and flecks here and there, these are the best I've ever seen any of these titles looking on my display.
As with the image, Warners have been fortunate in sourcing very good audio for the tracks included on these discs. Considering that these masters have been either used for TV or LaserDisc transfers in the past, or have been newly minted for future use, one can feel safe in the knowledge that the mixes offered are well up to the Studio's stringent quality levels. Rest assured that Warners hasn't just simply used the nearest old print with a scratchy, humming soundtrack: these are all again as good as can be expected without going the whole 5.1 remix or restoration route. Due to their age, most of the tracks are in their original mono configurations, but are all direct sounding and clear. Impressive is Captain Nemo, sporting a particularly exuberant track in keeping with the high energy.
Cinematic Classic or Faded Print?
There really isn't anything to worry about in going ahead and making some choice picks among the many titles already available and those being added each month. We've all had commercially pressed discs go wrong on us, and the worry about the DVD-R type discs here can't be said to be warranted: each title played fine in the three or four different machines I tested them out on. With surprisingly better than expected audio and video qualities, and even a trailer often thrown in, the slightly high pricing is an issue, but will probably be overlooked by those that understand this is a decent effort from the Studio to get more films out into the marketplace, and the only genuine way for fans to own these titles. I'm a supporter, with another selection of titles already on my wish list, and a request for the likes of Hot Millions (starring Peter Ustinov), The Little Hut (featuring David Niven), and George Pal's vastly underrated supernatural thriller The Power (directed again by Byron Haskin) to be pulled from the archive and made available on disc. Keep collecting!
SPECIAL ORDER!
Preview and purchase
Captain Nemo And The Underwater City
and many others directly from the online store at
WB ARCHIVE COLLECTION