Warner Bros. Animation (August 24, 2010), Warner Home Video (August 24, 2010), single disc, 50 mins plus supplements, 1.77:1 aspect ratio, Dolby Digital 5.1, Not Rated, Retail: $16.97
Storyboard:
Tom and Jerry meet up with the legendary Sherlock Homes to solve a mystery involving a series of jewelry heists in London.
The Sweatbox Review:
Warner Brothers has been very careful about its Tom and Jerry franchise. Up until 2007 when they released Tom and Jerry: A Nutcracker Tale, they were able to count on the involvement of either William Hanna or Joe Barbera. After Barbera passed away in 2006, the studio went back to the drawing board to reassess the property and its future without one of its original creators. Ultimately, plans were set in motion for more movies and series to keep the brand alive for a new generation. In previous direct-to-video releases, Tom and Jerry have gone to space, traveled around the world on a race, and battled pirates. In what is now the sixth Tom and Jerry direct-to-video cartoon to be released by Warner Brothers, the cat and mouse duo join forces with another classic character – Sherlock Holmes.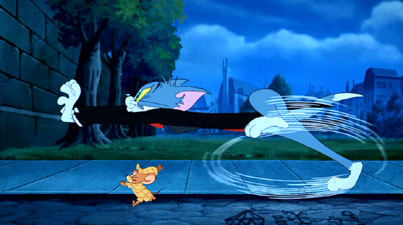 The story begins with a jewelry heist performed by a gang of cat burglars on the prowl for a rare diamond. The cats take part in an elaborate escape from the police and take the stolen diamond to a mysterious masked horseman in the country. Back in London, Dr. Watson returns home looking for Sherlock Holmes to discuss the latest diamond robbery. This is where we find Jerry who seems to be Holmes' assistant and secretary. While being sent out on an errand to fetch the latest copy of the newspaper, he bumps into Tom who is on an errand to deliver a message to Holmes. The letter is from Red, a singer (the character is recognizable from the Droopy cartoons) who is being blackmailed into dropping off a payment every night after the show to keep her singing career a secret from her society fiance. Holmes soon deduces that the blackmail is a ruse to keep Red away from her house while thieves work on a way to steal a rare jewel from the embassy next to her house.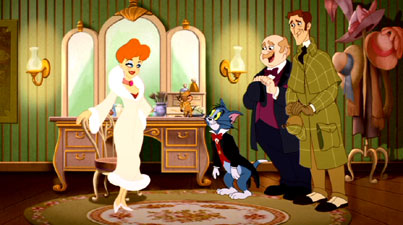 At the embassy, we find Spike and Junior working as security guards taking care of the famed diamond while the cat burglars steal it from under their noses. This is when the detectives and Red return to her house only to find a tunnel that leads directly from under her house to the embassy. Dr. Watson and Holmes find a few clues that lead them to a tailor in the countryside. Meanwhile, back at the embassy, the police are called and immediately began to investigate the tunnel and Red's involvement in the theft. While Holmes is chasing his lead in the countryside, Tom and Jerry are tasked with keeping Red safe and away from the police until they get back. The rest of the story unfolds as Tom and Jerry try to keep Red away from the police while also finding a couple of clues related to the robbery along the way. It all leads up to the resolution of the mystery, which is really not that much of a mystery since it is nearly impossible to decipher.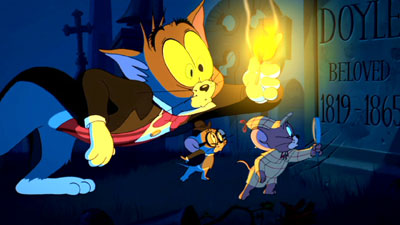 Most of the movie is one giant chase scene, which is where a lot of humor is supposed to come from. At the very beginning when Tom meets Jerry in the streets when he goes out to fetch a newspaper for Holmes, physical humor and chase gags are prevalent. There is the ubiquitous construction site, various falls, trips, and slips along the way that mostly take a toll on Tom. Later when Tom and Jerry are running away from the police, there are more gags as they both get on each other's nerves and make a fool of the two cops played by Droopy and Butch. While filled with physical humor, it is not all very clever or particularly funny. Part of the fun with the classic Tom and Jerry cartoons was the setup and suspense when you knew that Tom's plan was going to go wrong or that Jerry's plan was going to hurt. Here, there's little suspense and most of the gags feel forced. When Tom gets hurt out on the streets because of Jerry, Tom just gets hurt accidentally and repeatedly. Later, when Tom turns on Jerry and begins chasing him, it becomes a matter of survival for Jerry which is funnier, but not really that much better in these scenes.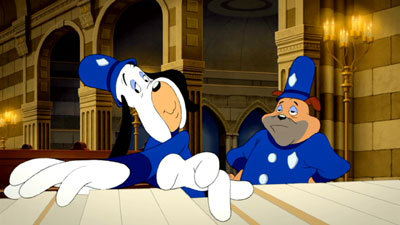 Is This Thing Loaded?
There are very few special features on this DVD. The DVD itself opens up with a couple of trailers for The Lord of the Rings (the animated film) and Scooby-Doo! Camp Scare. In the Trailers section of the main menu one can also find trailers for Peanuts: 1970s Collection and LEGO Universe game.
There is one non-trailer featurette on this set called How to Draw Tom and Jerry (7:20) where a professional animator walks through the different steps of drawing Tom and Jerry. This is a short and informative how-to session that is targeted more towards children. It takes you through basic step by step instructions on how to draw their heads.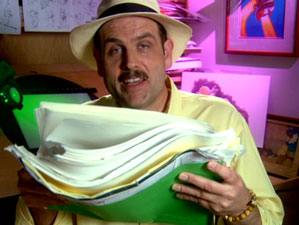 Case Study:
The DVD is being released in a standard black keepcase with a cardboard slipcase. The cover features Tom and Jerry in their best 1800s garb along with Sherlock Holmes, Dr. Watson, the cat burglars, and Professor Moriarty. The back features Tom, Jerry, Tuffy, and Droopy. There are no inserts on the DVD.
Ink And Paint:
The film is presented in a "matted" widescreen format and features a 1.77:1 aspect ratio. While this means some may have been cut off from the top and bottom of the picture, it does show what was intended to be shown on DVD. Despite its shortcomings in terms of storytelling, the movie is exquisitely animated and features some beautiful and modern character designs and backgrounds. I would say that Warner has done a great job at keeping the characters modern while still retaining some of their classic charm.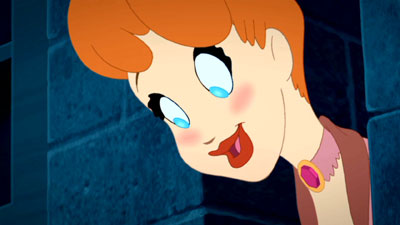 Scratch Tracks:
While only English, French and Spanish tracks are advertised on the cover, the movie is actually also available with Japanese and Portuguese tracks. All of these are included as Dolby Digital 5.1 tracks. English, Japanese, and Portuguese subtitles are also available. The special feature is only available in English, but contains Japanese, Portuguese, and Spanish subtitles.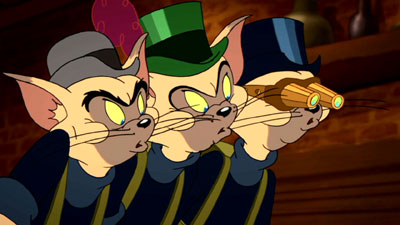 Final Cut:
When compared to some previous Tom and Jerry movies that have been released in the past few years, this one does not rank amongst the highest in terms of humor. While the story is somewhat enjoyable and moves along at a brisk pace (the movie is less than 50 minutes long in total), the humor that made these characters entertaining for generations is missing. I do not know if it is because this is the first film made without input from either William Hanna or Joe Barbera, but it certainly gives one something to think about. Despite many humorless gags, the characters are still charming which is a testament to their origins, and the story is entertaining. I think combining them with Sherlock Holmes at the turn of the century was a great idea, but could have been done in a more humorous way. Overall, fans of Tom and Jerry probably already came out for these, but I hope Warner Brothers find their footing in future releases as they deal with the absence of the pair's creators.
Animated Classic or Back To The Drawing Board?