Hanna-Barbera (1973), Warner Home Video (July 20, 2010), 2 discs, 360 mins plus supplements, 1.33:1 ratio, Dolby Digital Mono, Not Rated, Retail: $26.98
Storyboard:
Wendy, Marvin, and Wonder Dog do what they can to not get in the way, while five real superheroes repeatedly save the day in eight hour-long episodes from the classic show's inaugural season.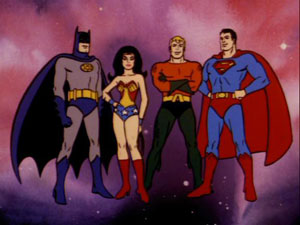 The Sweatbox Review:
There are quite a few Super Friends episodes from future seasons that can still be released, but now that we are here for the second half of the first season, there is a sense of closure. At last we now have all of the show's original 1973 incarnation— the one that got cancelled, only to do well in reruns and return in several more successful formats over the next decade and a half. Super Friends has been out on DVD for several years now, but it was only in 2010 that the series' initial season has been started and completed on DVD. Any further DVD collections of previously unreleased material will now have to feature episodes that already look much like what we have seen previously. As a child of the Seventies, but too young to remember the 1973 show, I had been quite anticipating the moment that these DVDs would come out. This is the season that saw the look of show hew most closely to Alex Toth's original designs, and it is the only season to tell hour-long stories. Admittedly, the stories still aren't too great, with a decided paucity of action or supervillains, but it's nice to have a story that— unlike in some incarnations of the show— doesn't end in seven minutes.
What these tales lack in suspense, they had to make up for in creativity, for which they succeeded to varying degrees.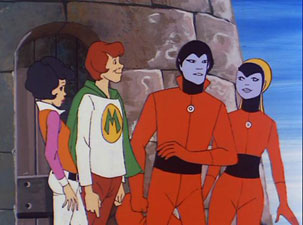 Disc 1
The Balloon People – It sounds like a fun title, but the Balloon Family have had tragedy in their lives,. They had to leave their own planet due to ecological disaster, only to be taken prisoner on Earth by a man who wishes to exploit them.
Fantastic FRERPs – The titles keep getting better, but a FRERP is really just an acronym for Fiber Reinforced Epoxy Resin Plastic, used to make replicas of animals and even buildings. They are made by a guy who really likes plastic, and wants his plastic replicas to steal more plastic for him, so that he can live in his own plastic world. Okay, that's just nutty.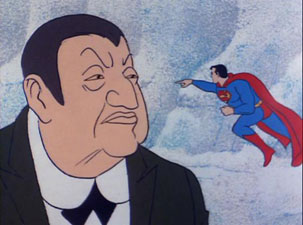 The Ultra Beam is a creation of two scientists who want to destroy all the gold in the world. They naively think that this action would solve a lot of the world's problems. To make matters worse, their beam does a lot more damage than they intended.
Menace Of The White Dwarf – Ah, finally a real mad scientist story! Not misguided, but really mad! A MAD SCIENTIST named Raven tries to get hold of some kryptonite in order to have his revenge on Superman. As part of his master plan, he utilizes white dwarf material to make things vanish (as opposed to shrink, which is what The Atom did… never mind). Wendy, Marvin, and Wonder Dog also do what they do best— they become hostages.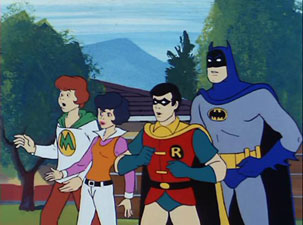 Disc 2
The Mysterious Moles – The Super Friends investigate a series of air conditioner thefts(!), the clues to which lead them to an underground world… a world with animated rocks and trees. So, how do the air conditioners fit in? You'll have to watch the show to find out!
Gulliver's Gigantic Goof – This is the best episode in the set. Why? Because it references a classic work of literature by featuring a man named Dr. Gulliver who shrinks people? Because Dr. Gulliver is mad, but is really trying to help the food shortage problem? Because Wendy and Marvin become useful? No, all those things may be true (except for the last part, of course); but the best thing about this episode is that it has the first animated appearance of Green Arrow! Sadly, he never appeared as a Super Friend again. Sad, but true, unless you include the Super Powers action figure that came out.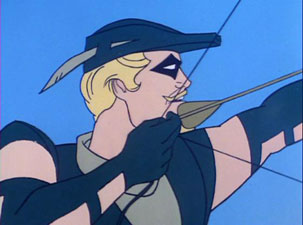 The Planet Splitter – A certain Dr. LeBon wants to split the Earth in half. He steals a lot of diamonds. Wendy and Marvin are captured. Yep, that's a pretty average episode right there, except that Wend and Marv also discuss Superman's origin story to sweeten the pot a little.
The Watermen – Our silicon is missing! Stranded aliens need it in order to get their spaceship running again, but when they take it from our oceans, bad things happen.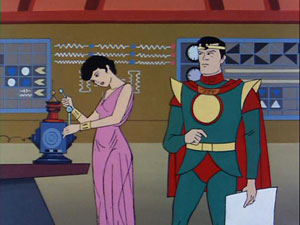 And there you have it. The final eight episodes from the very first season of Super Friends can now be yours on DVD. Call the show lame, call it poorly animated, but don't call it worthless. An awful lot of good feelings about Saturday mornings came out of this show. Will Warner now go and release the remaining episodes from 1979 through 1981? By my calculations, that would total about 22 more episodes' worth. On the one hand, there's a lot of Super Friends sitting on my shelf already, and I could probably live without the rest at this point. On the other hand, why stop now? Stay tooned, my super friends!
Is This Thing Loaded?
Sigh. Another lost opportunity. With so many Super Friends sets out now, it really seems like Warner Home Video is just going through the motions at this point. All we get for an extra feature is a Super Friends Trivia Challenge. It's kind of fun, and relies on some comic book knowledge, but there's so much more that could have been offered in this set.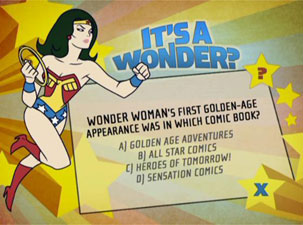 What else would I have liked? A little featurette on the show would have been nice, seeing as how this is the series that began the whole Super Friends phenomenon. Some Alex Toth model sheets would have been nice, too. Maybe if Warner had began their SF releases with the first season instead of the bizarre method they used instead, they might have found the cash to do a proper bonus-filled release. As it is, the extras here might as well be non-existent as far as appealing to collectors.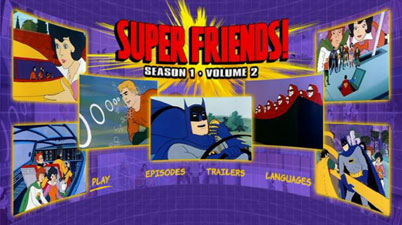 Disc One does have Trailers for Johnny Bravo: Season One, Batman: Under The Red Hood to start the disc; and from the Bonus menu, those for the DVD release of the animated Lord Of The Rings and a Jonah Hex Motion Comic.
Case Study:
The standard keepcase comes packed in a slipcase, with a tray to hold one of the discs, and no insert. The cover art, pretty as it is, appears to just be repurposed Jose Luis Garcia Lopez artwork from the DC style guide.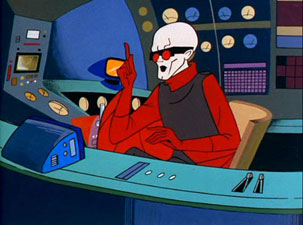 Ink And Paint:
Par for the course, these episodes look okay considering their vintage and the lack of a full restoration. Things look pretty good if you squint a little, but even with open eyes the frequent softness of the picture and typical dirt and scratches are far from offensive.
Scratch Tracks:
The best that one can say with the English mono track? Well, there isn't anything wrong with it. And, oh, the English subtitles seem to work okay, too.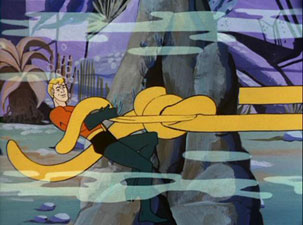 Final Cut:
All these years later, it's a little hard to believe that this show shaped how kids enjoyed Saturday mornings for a whole generation. The animation is far from impressive, the stories are silly and strictly for kids, and there isn't enough action. However, the appeal of the characters transcends the creative limitations of the show, and there's no denying how much my kids love the show even now. And, as an old DC Comics lover, I have to admit to still getting a kick out of Super Friends. The lack of decent extras on this set isn't going to drive sales any more than the quality of the stories, but there are enough of us out there who are a soft touch for Super Friends that it likely doesn't matter.
Animated Classic or Back To The Drawing Board?