Hanna-Barbera (1977), Warner Home Video (January 27, 2009), 2 discs, 366 mins plus supplements, 1.33:1 original full frame ratio, Dolby Digital 1.0 Mono, Not Rated, Retail: $26.98
Storyboard:
The final episodes of this classic Saturday morning series sees the Super Friends face off against a variety of threats, while also aiding the social, health, and arts development of the world's children.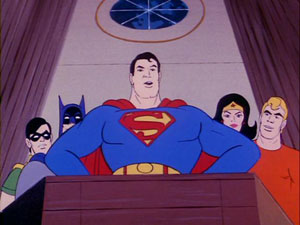 The Sweatbox Review:
It's been a year since Warner Home Video released the first volume of this 1977-78 program, which we reviewed here. With just two discs per set, I certainly would have preferred a single, full series release, but apparently Warner felt that limiting the releases to two-disc affairs gave them the best chance for sales success. At least now we can rest easy, as this second set does finish off the fifteen-episode run of the show, with the final eight episodes.
I normally like to go into the history of a show, but after doing so many Super Friends DVD reviews, including the aforementioned review of this very same series, there is not much more to report. As with the first seven episodes, each of the ones in this set has four stories, with additional brief cartoons featuring safety tips, crafts, and riddles. This made The All-New Super Friends Hour kind of like a full-featured kids' magazine, but with animated (more or less) superhero favorites. The first story had a team-up between two or three members of the Justice League, the second story had the love-'em-or-hate-'em Wonder Twins teaching lessons to fellow teenagers, the third story was the main event featuring the entire team against a fantastic threat, and the final story had a Justice Leaguer teaming with a special guest superhero.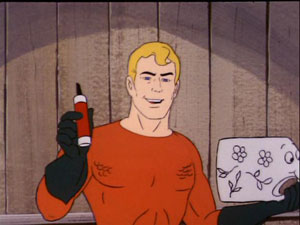 There's not much more to say than what's been said before. The stories are generally cheesy, the animation is sub par, the draftsmanship of the artists is questionable, the voice work is passable at best… you get the idea. But, for a Gen X'er who wants his kids to experience Saturday morning cartoons like they used to be, a set like this is a blast. If love is blind, nostalgia is even further visually impaired. And let's not get too jaded; the show had its heart in the right place, providing wholesome television to little kids willing to get up early on a Saturday morning. Let's take a look at what stories do appear on the discs, listed by episode: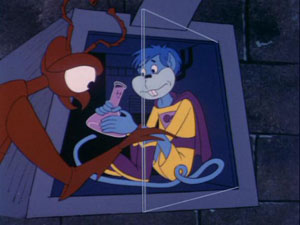 Disc One
1. This set opens with Superman and Aquaman investigating the undersea mystery of The Invisible Menace. The shape-changing Wonder Twins then assist a boy trapped in a cave with a bear as a result of an Initiation. Once you get through that, your reward is seeing the whole team go up against evil insects from outer space in Coming Of The Anthropods (where all the big bugs look like smaller versions of Zorak from Space Ghost). Wonder Woman and Rima look for missing scientists in the jungle, caught in a River Of Doom. Also: Wonder Woman gives kudos to a mother and son who use the crosswalk, Batman & Robin play the word game, Aquaman does a magic trick, and Superman congratulates a youth on not taking drugs.
2. Superman and Aquaman get together again for another undersea outing, facing off against the Attack Of The Giant Squid. Zan and Jayna teach teens why a Game Of Chicken is dangerous. The Super Friends face Manta (colored differently from the Black Manta of the comics, but otherwise having a similar design) and The Water Beast. Superman and Samurai save aliens from the heart of a Volcano. Also: Batman & Robin teach bicycle safety, Aquaman givers word clues, Superman plays magician, and Wonder Woman advises a boy to see the eye doctor.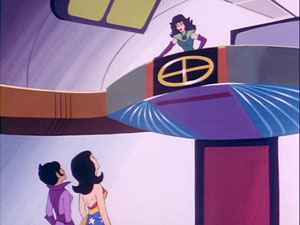 3. Superman and Wonder Woman save world monuments from falling into the grasp of The Collector. A van goes off the road while its passengers are on the way to a fishing trip, and one boy with a Handicap is taught a lesson in courage by The Wonder Twins. In a bid to take over the world, the evil Medula takes over the minds of women, including Wonder Woman and Jayna, as the Super friends face The Mind Maidens. Batman & Robin and Apache Chief take on an abominable snow creature creating an Alaska Peril. Also: Aquaman advises against hitching rides from strangers, Superman enters into word fun, Wonder Woman assists with a craft, and Batman & Robin discuss drinking and driving.
4. Harkening back to a sci-fi classic, Batman & Robin and Wonder Woman face an attack of The Fifty Foot Woman. Zan and Jayna help a cross-country runner who runs into karma while Cheating. The Super Friends must stop Exploration Earth, which involves aliens vacuuming up Earth specimens. Aquaman and Samurai help an African village against an Attack Of The Killer Bees. Also: Aquaman teaches water rescue, Wonder Woman engages in word play, Batman & Robin make a two-way phone, and Aquaman teaches what to do when you get a minor scrape injury.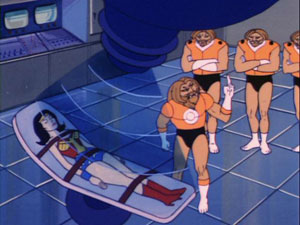 Disc Two
1. Batman & Robin and Wonder Woman go to a mysterious spaceship and face mutant beasts and Forbidden Power. The Wonder Twins go to the desert to educate reckless motorcycling thrill-seekers in Pressure Point. The Super Friends try to prevent The Lionmen from outer space from breaking the Earth up into pieces. Batman & Robin team up with Black Vulcan in The Day Of The Rats. Also, Aquaman tells a little boy not to leave his roller skates sitting out, Wonder Woman does the word decoder game, Robin makes an egg disappear, and Aquaman warns against the dangers of sunburn.
2. Superman and Batman & Robin face a Dr. Moreau type and The Man-Beast Of Xra. Zan and Jayna teach a lesson on Prejudice. The Super Friends find themselves in The Tiny World Of Terror when they take on a misguided (nearly evil) scientist and his shrinking machine. Superman and The Flash protect the victims of a crashed airliner from Tibetan Raiders. Also, Wonder Woman warns against the dangers of eating plants from your back yard, Batman & Robin give decoder clues, Aquaman teaches a magic trick, and Superman tells us to always dress for the weather.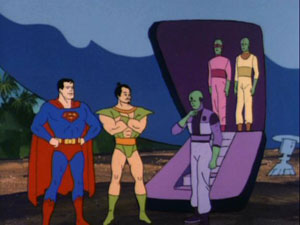 3. Superman and Aquaman face Frozen Peril when they try to end plans of a supervillain to freeze the Earth. The Wonder Twins help a skiing girl deal with a Dangerous Prank. Professor Karloff unleashes The Mummy Of Nazca, forcing the Super Friends to protect the world's treasures. Wonder Woman and The Atom perform a Cable Car Rescue. Also, Aquaman warns against the dangers of playing on construction sites, Wonder Woman plays name games, Aquaman gets crafty to make a piggy bank, and then he helps a little girl wash dirt out of her eye on a windy day. Thanks goodness for superheroes!
4. Batman & Robin and Aquaman take on a pirating Captain Shark in The Protector. Two girls try becoming Stowaways, then need to have Zan and Jayna help them out when things get stormy. The Super Friends take on The Ghost, who looks similar to The Gentleman Ghost from the comics. Superman and Green Lantern travel to India to stop a giant white elephant on a Rampage. Also, Superman talks seatbelts, Batman and Robin give decoder clues, Wonder Woman makes a rocket out of simple household items, and Superman warns against taking medicine not given to you by a grownup.
Really, I made none of that up.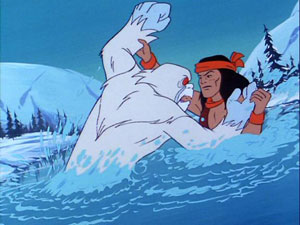 Is This Thing Loaded?
This set receives only one featurette, as the basics of the show were covered last time. This time, we get The Wonder Twins Phenomenon: Zan And Jayna's Impact On Pop Culture (12:04). A variety of speakers, ranging from the usuals such as Jerry Beck and Paul Dini, to participants from Attack Of The Show and Robot Chicken, pontificate on the significance of The Wonder Twins. Of course, this largely serves to spotlight the hilarious ridiculousness of the pair, such as how their monkey Gleek always has to carry Zan in a bucket; and you have to wonder just how significant these characters are when the participants have to be reminded— on more than one occasion— what the names of the Twins were. We also briefly get to see and hear about the previous teens on the original Super Friends program, Wendy and Marvin.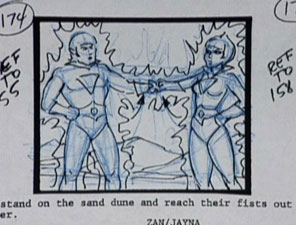 The Trailers included on the set, aside from the Wonder Woman sneak peek that leads off the second disc, are nothing new. The Trailers menu offers only one for The Smurfs, and one for Challenge Of The Superfriends, which came out years ago.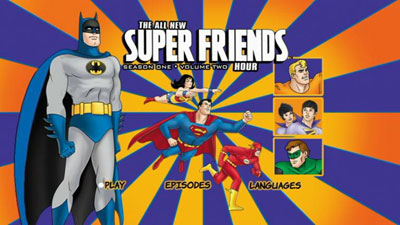 Case Study:
Like the previous release, this one comes in a simple digipack, with both discs overlapping inside on the right. A complete episode listing is inside on the left. The slipcase has the same front cover, but a different back cover. The cover says "32 Cartoons", which is really incorrect. I know there are four cartoons in each of eight episodes, but that's discounting all the other bits, each of which could be called its own "Cartoon". Why not just say "8 episodes?" I know, "32" sounds better, but I think it's pretty silly not just to say how many hour-long episodes you have on the set. The "season one" designation is also iffy, as this show only had a single season anyhow.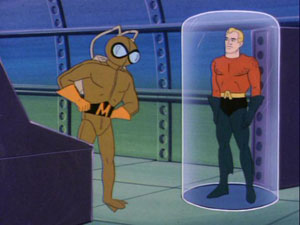 Ink And Paint:
The elements for this show are in decent shape after all these years, and look about as good as one could reasonably hope. The analog, overseas production process is in full evidence, with a nice assortment of dust and other distinguishing physical artifacts.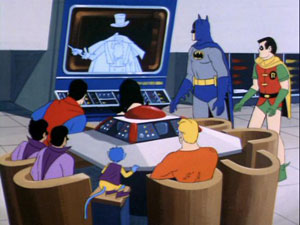 Scratch Tracks:
The mono sound is generally fine, ignoring some occasional instances of minor distortion. There are no additional language tracks, and just English and French subtitles. One of my players kept defaulting to the subtitle track while playing the first disc, which was a minor annoyance.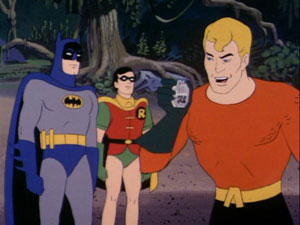 Final Cut:
It's all pretty hokey, especially all the socially conscious tidbits and various tips from the heroes about crafts and healthy living, but it was cartoon gold when I was growing up. Cynical adults will find much to ridicule, nostalgic adults will find lots to enjoy, and smaller kids of today should also get a kick out of it. For those not ready for more sophisticated superheroics, this is a great place to start.
Animated Classic or Back To The Drawing Board?