Comments on the wonderful Wizard Of Oz box set, South Park's movie on Blu-ray, plus Tezuka Osamu's Astonishing Work reviewed!
It's ironic that I should be recommending a film over the production that inspired its existence, but that's just what I'm doing with The Wizard Of Oz today. Produced in response to Walt Disney's Snow White And The Seven Dwarfs (Oz also boasts an in-joke audio cameo of Snow White herself, Adriana Caselotti, singing one line), the film didn't match Snow White's immense success mainly because parents thought it was too gruesome for their kids! It wasn't until later, after many years playing as a perennial television favorite, that the magic of Oz began to take hold.
Nowadays, of course, it's a bona fide film classic, beloved by adults and children alike, and celebrating its 70th Anniversary is a brand-spanking new Blu-ray edition that was released a couple of weeks ago. I've only just got around to looking at my copy, and I have to say that the value that was lacking in last week's Snow White release is packed in spades into this collection.
Forget that $250 deluxe box that Snow White was offered in: even at the $150 online discount it doesn't provide the value that Oz does here. In addition to the gorgeously restored film, naturally, you'll find well over 16 hours of archival and new content, including practically everything from the previous major editions of Oz: the Ultimate Oz LaserDisc box and the three disc Collectors Edition DVD.
So, as well as John Fricke's archival interview supplemented commentary and isolated music and effects track, there are looks at the restoration, 1990 and 2001 television documentary specials, outtakes and deleted scenes, effects tests, an exhaustive audio archive, stills galleries and trailers, amongst other featurettes. New to this four-disc BD is a look at the film's director, Victor Fleming, the 1990 TV movie The Dreamer Of Oz on author L Frank Baum, plus several other screen versions of the Oz stories, as well as the films previously included on DVD, such as a 1925 feature version, and a Digital Copy version of the main feature. On top of all that, the Ultimate Collector's set comes with some neat trinkets including a replica of the film's budget, reproduction of the 1939 campaign press book, a limited edition numbered Oz watch "with genuine crystals" as the packaging notes, and most handsomely of all, a 52-page hardcover book Behind The Curtain!
Phew! And on top of all that, the Blu-ray set comes with the 6-hour miniseries When The Lion Roars, hosted by Patrick Stewart, a retrospective on the MGM Studio. While it's true that certain aspects have been called disappointing (the watch especially, which although I don't quite get the association with anyway, isn't actually offensive) and the transfer of the Dreamer Of Oz movie much criticized, the overall quality, particularly the included hardcover and press books (which notes Oz as the "biggest sensation since Snow White"), is very pleasing. Best of all is the cost: never mind the $250 Disney is asking for its big set, Warners here offer you all that, and more, for a very reasonable $85 – even cheaper online: order from Amazon and receive four additional and exclusive character poster cards all currently for under $50! It really is the deal of the season, even for those with the already excellent 2005 edition. It's a disc of a different color to be sure!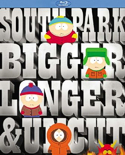 Also new in stores is the BD debut for South Park: Bigger, Longer And Uncut, available at Amazon for under $20. Unlike Oz the extras are pretty limited: just the three theatrical trailers from the original DVD and a What Would Brian Boitano Do? music video from the international DVD release, though they've been joined by a new audio commentary by creators Trey Parker and Matt Stone. I'm sure there was some promotional material that played on TV during the movie's release in 1999 or if not how about including the one-hour Going Down To South Park documentary that looked at the rise of the show's popularity? We can only hope that the duo's follow-up, the hysterical Team America: World Police is coming soon.
Lastly today, and accompanying his recent look at the Astro Boy And Anime Come To The Americas book, Randall Cyrenne goes back to the source to review original Astro Boy creator Tezuka Osamu's later, somewhat experimental film work. The two and a half hour The Astonishing Work Of Tezuka Osamu sounds just that: a collection of sometimes broad, sometimes pointed pieces, ranging from just 13 seconds to 36 minutes. As Rand says, "you are in for a wonderful surprise. To call any of these films a mini-masterpiece is to diminish the others. Even if the themes of the films may be too big for young minds, most of them make for wonderful family viewing in their own way". Praise indeed!
Stay tooned! — Ben.