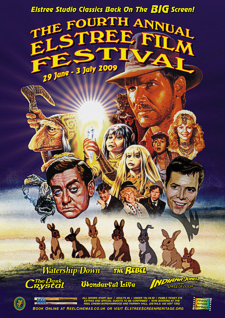 Hey gang — I'm back! Phew, what a summer this has been for me even if, very unfortunately, my lack of show around here has seen the site come to an almost grinding halt. But…things should be getting back to normal any day now — well, about as normal as things get around here!
The reason for my recent no-shows? Regular readers who have stuck with Animated Views through thick and thin may vaguely recall that every year, just before the summer, I am involved in organizing the Elstree Film Festival, a week-long celebration of movies made at the famous studios still alive and kicking in my home town in England.
Well this year was a little different (to say the least!) as I had also taken on a new role in producing an additional town-wide Civic Festival when the previous guy responsible dropped out. Before long my May, June and July were completely filled with preparations for a packed two weeks of events…so my apologies in that this place took a back seat, but this was one occasion where "real life" well and truly took over!
It was a fantastic blur in the end, during which I dressed as a six-foot white mouse in a Carnival Parade, interviewed prolific editor Terry Rawlings during a question and answer session preceding a 30th anniversary screening of Watership Down and — just when I thought holding an Annie at last year's Comic-Con couldn't be beat — ended up with a very real (and very heavy!) Oscar, courtesy of Academy Award-winner Richard Pryke, a "local lad made good" who was one of the lucky Slumdog Millionaire team that picked up an award earlier this year!
Meanwhile, I did manage to drop in to post a single review, for Tom & Jerry: The Chuck Jones Collection, while Rodney and Randall have each added one review too. Most recently, Rodney has appraised Transformers: Complete First Season 25th Anniversary Edition, and without wishing to use the old cliché he finds much more than meets the eye in the set's episodes, extras and packaging, while Randall has gone even further back in time to meet another robotic icon. The Gigantor Collection: Volume One is sure to provide "bigger than big, taller than tall" entertainment to fans of the original iron giant, though Rand is only so-so impressed with this new re-packaging.
Be sure to start checking back more often…I've still a lot of catching up to do behind the scenes, but there are several new reviews on the way — and an exclusive interview with editor Terry Rawlings still to come — so, as always, stay tooned!
By the way, click on the "More" link for a couple of images of a very tall parading mouse (Maximouse?), a larger view of this year's Film Festival poster, and yours truly with that Oscar! – Ben.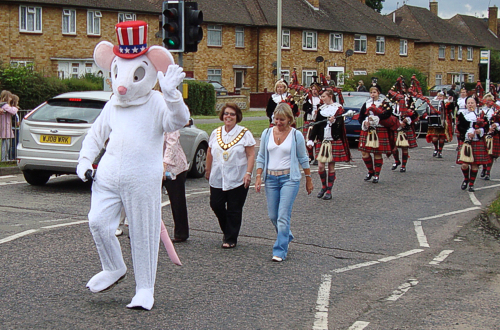 Who's that mouse!? Ben has his first experience of becoming
a costumed character in his annual town carnival parade!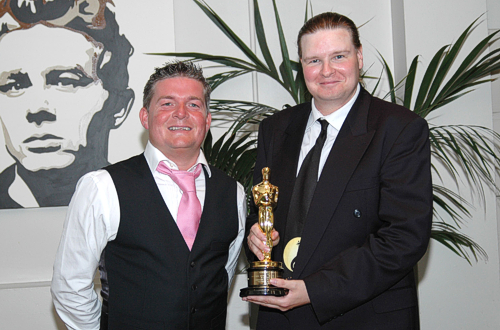 Oscar-winners…Ben holds the (heavy!) Academy Award won by
Richard Pryke (left) as part of the Slumdog Millionaire sound team